Curtis Granderson: 4 Reasons the Yankees Should Trade Granderson Now
Should the Yankees trade Curtis Granderson?
Leon Halip/Getty Images
New York Yankees outfielder Curtis Granderson is in a very interesting situation going into the 2013 season.
Granderson, who will be turning 32 in March, will most certainly be looking for a huge payday when he reaches free agency in 2014.
Sure, the Yankees could hold on to him and potentially contend for another pennant in 2013, but they could also trade him before free agency hits and get valuable prospects in return.
Though he has had issues hitting for average, one thing is for sure, he does not lack in power and production, averaging 42 home runs per year over the last two seasons.
It seems for every reason to keep Granderson, there's another argument to trade him away.
Let's take a look at four reasons the Yankees should consider dealing him before he hits the open market.
His Age
Granderson is 33 years old. Signing him long term will keep him with the Yankees into his late 30s.
Al Bello/Getty Images
Though Granderson is only 33 years old, the center fielder will almost definitely be seeking an enormous contract in 2013 in the five-to-seven year range.
Though he is a decent center fielder that can hit for power, should the Yankees consider signing him long term into his late 30s?
His Current Trade Value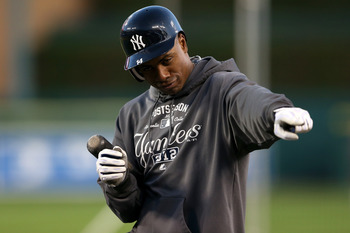 Granderson is at the peak of his value. Should the Yankees trade him now and get valuable young players in return?
Leon Halip/Getty Images
It's obvious that Curtis Granderson will be seeking a large contract at the end of next season.
The Yankees will most certainly be looking to lock up second baseman Robinson Cano long term and will probably pick up Derek Jeter's $9.5 million option for 2014.
With these payroll commitments already in place, wouldn't it be best for the Yankees to trade him now at the peak of his value instead of settling for a first-round pick next year?
His Strikeouts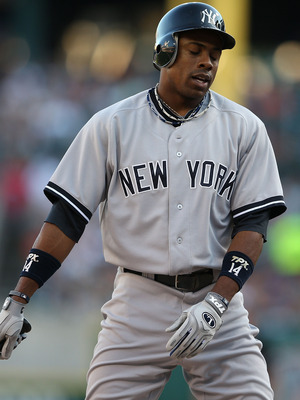 Granderson strikes out way too much.
Leon Halip/Getty Images
Though Curtis Granderson hits a lot of home runs, he also strikes out way too much.
In 596 at-bats in 2012, he struck out an enormous 195 times—beating his own Yankees record he set in 2011 with 169.
With his strikeout numbers going up and his batting average going down, his power numbers may not be enough for the Yankees to keep him around for the long term.
His Defense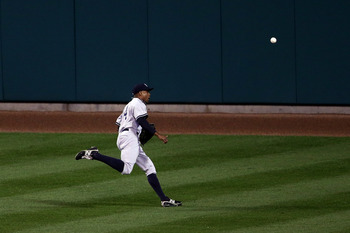 The Yankees have other options in center field.
Leon Halip/Getty Images
Granderson is a decent outfielder, but he is not a great defender.
He may also be a speedy center fielder, but so is Brett Gardner.
With options in center field, moving Granderson wouldn't leave the Yankees with a hole in the outfield—in fact, it will probably help them out defensively.
Keep Reading

New York Yankees: Like this team?