Sunday night. Cowboys-Redskins. FedEx Field. The NFC East championship on the line. What's not to like?
The team that emerges victorious will take the division crown, while the loser—especially in Dallas' case—is more than likely to watch the playoffs on TV. The stakes for this prime-time affair couldn't be much higher, and should lend itself to a high-scoring game.
ESPN's Trey Wingo pointed out an interesting statistic concerning the context of the two teams' recent meetings:
In the last 30 years, Redskins are 5-0 against Cowboys when both enter the game with 8 or more wins including 3 wins by at least 20 pts.

— trey

wingo

(@wingoz) December 28, 2012
The notion that history repeats itself may not hold true here, however, because these two teams are quite evenly matched.
But NFL Network's Elliot Harrison believes that the Cowboys are going to pull off the victory in enemy territory. That prompted the Redskins' official Twitter page to dig into Harrison's preseason prediction about how the team would fare in 2012:
Same guy who had us at No. 30 in Power Rankings. "@nfl: Cowboys down Redskins for NFC East title says @harrison_nfl on.nfl.com/Wk17picks"

— Redskins (@Redskins) December 28, 2012
Here are the keys for each team to get the "W" in the most important game in this heated rivalry's recent history.
Dallas
Establish the Run with DeMarco Murray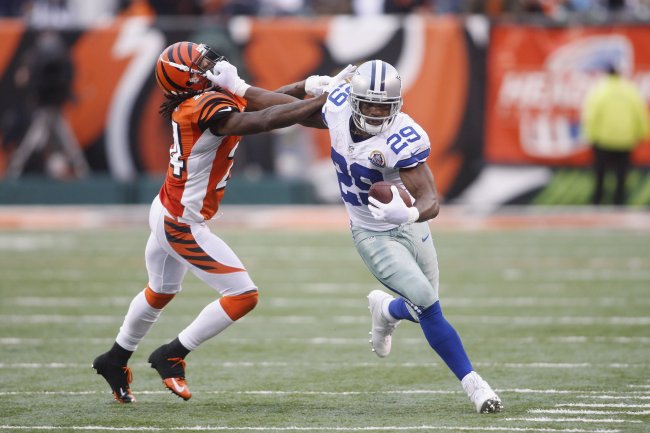 John Grieshop/Getty Images
The longer the Cowboys can hold the ball on offense, the better. Washington has the best running game in the NFL, and will chew up plenty of clock if Dallas can't run the ball themselves.
Murray must be a catalyst for the Cowboy offense on Sunday evening. With the league's second-worst rushing attack (77.7 yards per game), it has been an uphill struggle for Dallas all year, and only puts more pressure on QB Tony Romo.
Despite Romo's 441 yards in the teams' last meeting on Thanksgiving Day, the Cowboys couldn't quite come back after digging themselves a massive hole early on.
Part of that had to do with the tour de force performance from Romo's counterpart, Robert Griffin III, but it also had something to do with the nonexistent Dallas backfield. Felix Jones wound up as the leading rusher with 14 yards on six carries.
That's what makes Murray such an X-factor, along with his ability to catch the ball out of the backfield very effectively.
Limit Mental Mistakes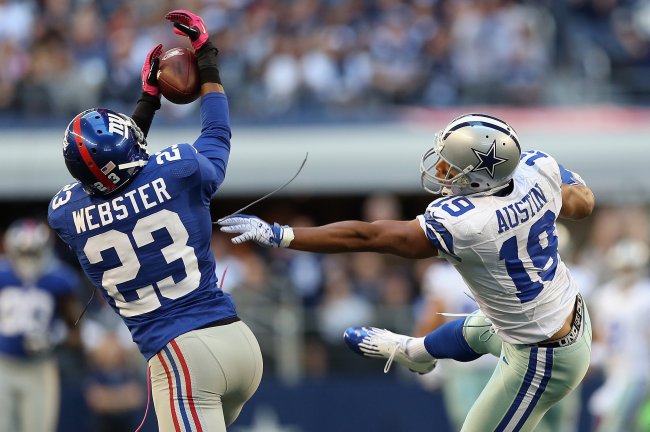 Ronald Martinez/Getty Images
According to TeamRankings.com, the Cowboys commit an average of nine penalties per game on the road. That is incredulous, and certainly not the mark of a potential division champion.
However, it's somewhat of a crowning achievement that they have overcome that to be 4-3 away from home to this point in the season.
As important as ball security is, though, limiting turnovers will be key. That is what QB Tony Romo has done so well lately, throwing 17 touchdowns to just three interceptions over his past five games. For the year, he has 11 TDs and four INTs on the road compared to a 15-to-12 ratio at home.
The knock on Romo has always been that he's choked in the big moments and given the ball away at the most inopportune times.
If he can come up big against a favorable secondary while being supplemented with a halfway decent running game, the Cowboys have a great chance to pull off the upset.
Washington
Protect RGIII When Possible
Ronald Martinez/Getty Images
This may appear obvious in terms of giving Griffin a clean pocket to operate within, but it's also with respect to the game plan.
As the Redskins proved last week, they can win even without Griffin being the typical running threat that he is. As amazing as fellow rookie RB Alfred Morris has been, Washington should design its game plan around him, and give the workhorse back 30 touches.
The fewer times Griffin has to use his legs to make plays, the better. He should have better mobility with his sprained LCL ligament having another week to heal, but it's hard to believe he'll be at 100 percent.
For the Redskins to make a deep run in the playoffs, RGIII will have to be able to run to his full potential. But beating the Cowboys can be done with just his arm.
If there were any doubt that Griffin could win an NFL game almost exclusively from the pocket, it was put to rest in Philadelphia in Week 16.
Although the Eagles have struggled mightily in 2012, a road win over a division foe at this juncture in the season is no small feat, especially for a rookie QB so reliant on his mobility that wasn't at his disposal that day.
Aggressiveness on Defense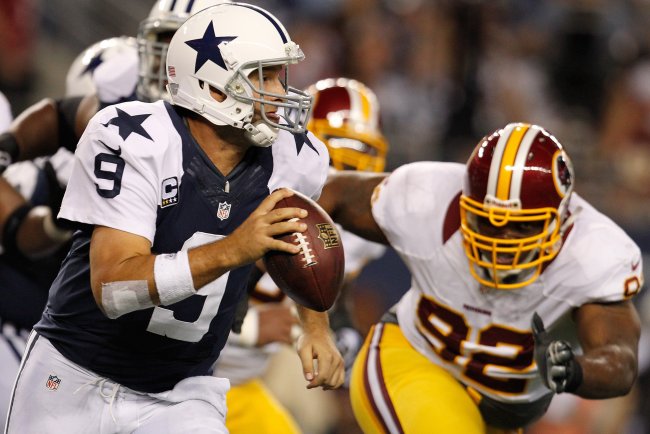 Tom Pennington/Getty Images
Coordinator Jim Haslett sends a lot of exotic blitzes to disrupt the opposing quarterback. He must do everything he can to confuse the Cowboys in pass protection.
The last time these two teams met, Romo torched the suspect Washington secondary, which has suffered even more setbacks since then. Something has to be said about being just good enough for the Skins to win six straight, though.
Since that last showdown with Dallas, the quarterbacks the Redskins have faced have included the likes of a severely struggling Eli Manning, Joe Flacco, Brandon Weeden and Nick Foles. Not exactly the sternest of tests in the context of the New York Giants' season and the general mediocrity of the other three signal-callers.
It's a high-risk scheme that Haslett runs, but it also produced two interceptions in the prior matchup in Dallas.
This secondary may not have the personnel to match up with the likes of Dez Bryant, Miles Austin and Jason Witten in man-to-man coverages, which is why the confusion of having nearly every defender in a two-point stance at the line of scrimmage will serve them well.
It's a matter of executing these pressures properly. If Romo beats the blitz or is able to consistently able to diagnose the coverages, the Redskins are in trouble.
It's also problematic because Romo has wonderful improvisational skills to elude the rush and make huge plays. No matter what happens, though, Washington needs to be in attack mode and play to win rather than dropping back in coverage and letting Romo pick its defense apart underneath.