2013 NFL Draft: Updated Rankings at Every Position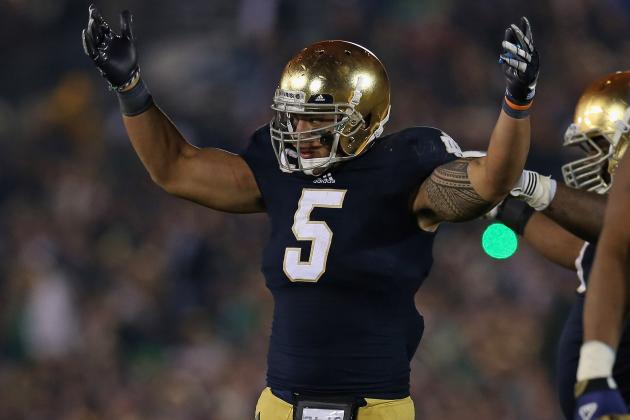 Jonathan Daniel/Getty Images

With the NFL postseason participants coming into focus and the bowl season in full swing, it's time to start thinking draft for both the best of the 2013 crop of collegiate players and fans of the majority of pro franchises.
All-Star games, the combine and pro days will keep draft stock in motion, but we can still get a much clearer picture of the draft class now than we could just a month or two ago.
Let's take a look at what the 2013 NFL draft class will have to offer with a snapshot of the top players at every position.
(Note: * denotes underclassmen)
Begin Slideshow

»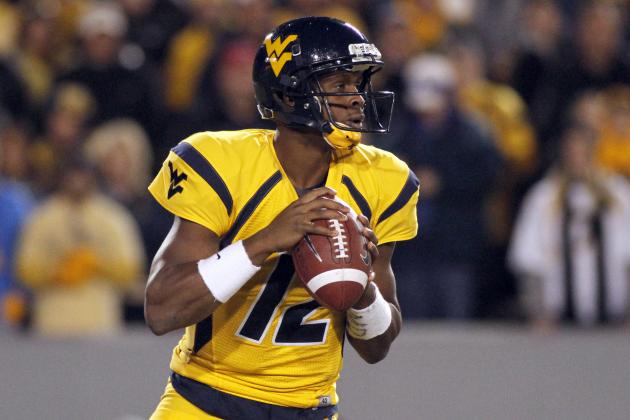 Justin K. Aller/Getty Images

1. Geno Smith, West Virginia
The most accomplished quarterback in the 2013 class and the most scheme-diverse. Smith is also an underrated athlete with better-than-advertised arm strength and mental toughness.
2. Tyler Wilson, Arkansas
Wilson's program crumbled around him this year, but his package of arm strength, willingness to throw into small windows and perseverance may convince scouts to treat his more impressive junior year tape as the "real" Wilson.
3. Matt Barkley, USC
All Barkley had to do was reproduce his 2011 performance, and he would have been a shoo-in to go first overall this year. He failed to do that, but his cerebral approach to the game and offensive coordinator-esque presence on the field will keep him in the first-round mix despite the lack of impressive tools.
4. Mike Glennon, NC State
Surely one of the most polarizing prospects of this year's class, Glennon has the ideal NFL size and arm strength that will infatuate at least one team in a poor year for franchise quarterback prospects.
5. Ryan Nassib, Syracuse
Like Glennon, Nassib made himself a lot of money with a strong senior season. He has good field vision, and Nassib is a patient decision-maker with plus mobility and zip on the ball.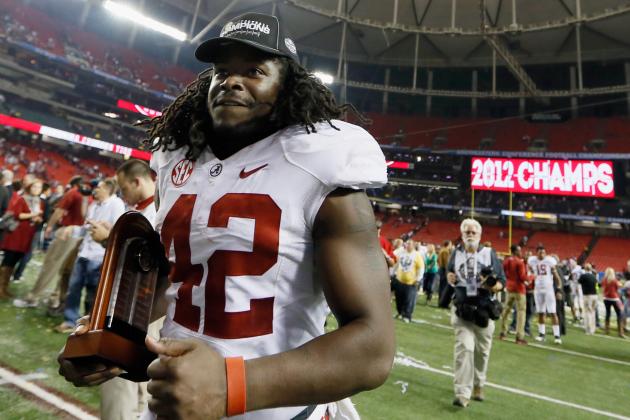 Kevin C. Cox/Getty Images

1. *Eddie Lacy, Alabama
Lacy's power game with big-play ability will fit well in an NFL that is moving away from feature backs and embracing a committee approach that uses backs in situations that best suit their strengths.
2. *Giovani Bernard, North Carolina
Bernard is smart to declare, as he stands out in the weakest running back class in recent memory. He's an elusive runner with good pad level and vision.
3. Andre Ellington, Clemson
Ellington isn't on the level of fellow Tiger C.J. Spiller, but he does have legitimate long speed with surprising power through the hips and sudden moves in space.
4. Stepfan Taylor, Stanford
An underrated element of Stanford's terrific season, Taylor is good at just about everything, but he lacks elite tools. He projects as an excellent backup pro running back.
5. *Marcus Lattimore, South Carolina
Expect to hear the name "Willis McGahee" thrown around a lot in conjunction with Lattimore. His knee injury wasn't as bad as it looked, and some team will give up a mid-round pick for the right to wait on the best running back prospect in this class to get back to full health in 2014.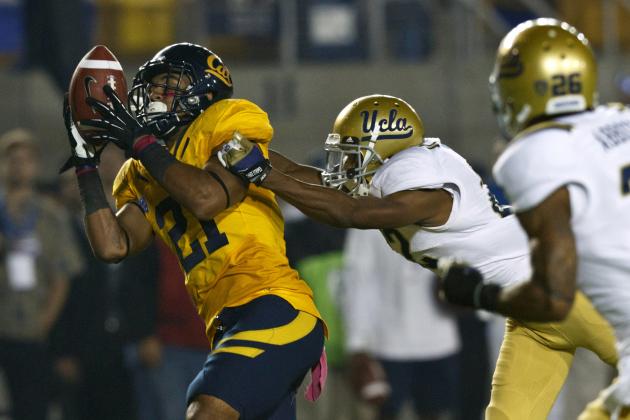 Jason O. Watson/Getty Images

1. *Keenan Allen, California
Allen leads a class of wide receivers that is without an A.J. Green/Calvin Johnson-level prospect. He's a big, physical wideout who is tough to bring down after the catch.
2. *Justin Hunter, Tennessee
Hunter didn't live up to expectations in 2012, but he was only one year removed from an ACL tear. His size/speed combination will stretch NFL defenses, and he easily has the highest ceiling of any wide receiver in the class.
3. Tavon Austin, West Virginia
Austin might never be a strong outside receiver in the NFL, but he can be a Wes Welker-type force from the slot with his speed, lateral agility and playmaker mentality.
4. Terrance Williams, Baylor
After Kendall Wright went in the first round, and Josh Gordon was worth a supplemental second, it might surprise you to learn that Williams could be the best of the Baylor wideout bunch. He's got the length, speed and aggressiveness after the catch to be a lethal NFL pass-catcher.
5. Quinton Patton, Louisiana Tech
One of the top corners in the 2013 draft class, Mississippi State's Johnthan Banks, said that Patton was the toughest wide receiver he faced in college. He's a fluid athlete who can make outstanding adjustments to the ball in flight.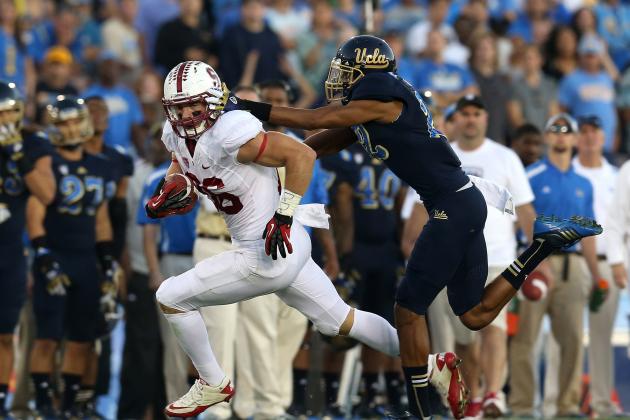 Stephen Dunn/Getty Images

1. *Zach Ertz, Stanford
Ertz is a name that NFL fans will get to know soon as long as he declares for the draft. He's a big, clutch receiver who is a well-rounded, high-effort player in every facet of the game.
2. *Tyler Eifert, Notre Dame
Like Ertz, Eifert has had the good luck to be the understudy for highly drafted tight ends. He owns the middle of the field and the area "above the rim" against smaller linebackers and safeties.
3. *Jordan Reed, Florida
Reed doesn't have the size or game to be a true inline tight end, but like fellow Gator Aaron Hernandez, he's a piece that will fit well in 21st century NFL pass offenses as a pure receiving "joker" tight end.
4. Travis Kelce, Cincinnati
Kelce is an underrated athlete, and like the other players on this list, the NFL has been happy with the tight ends his program has been producing as of late. His brother, Jason, has also been a standout center for the Philadelphia Eagles after being unheralded coming out of Cincinnati.
5. Chris Gragg, Arkansas
Gragg doesn't have the height or bulk to be a strong inline tight end, but like former Razorback and current Green Bay Packer D.J. Williams, he can be shifted around the formation and threaten defenses with sticky hands and strong running after the catch.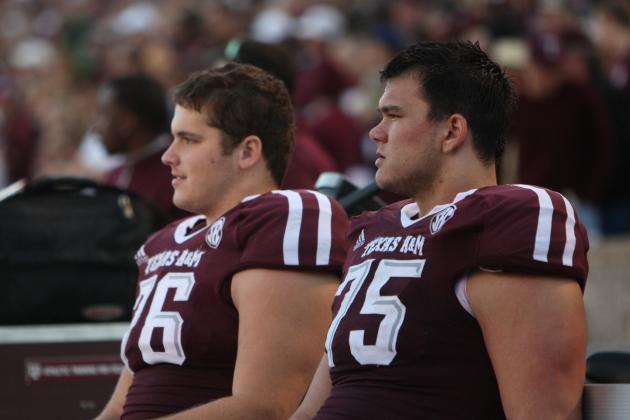 Thomas Campbell-USA TODAY Sports

1. *Luke Joeckel, Texas A&M
Prototype left tackles are hard to find, so in a draft bereft of franchise quarterbacks, Joeckel is a good candidate to go first overall. He has the frame, athleticism, strength and polish to be one of the best in the game from day one.
2. *Taylor Lewan, Michigan
Jake Long's shoes are too big for any Michigan prospect to fill, but Lewan will come close. He's got a massive frame and a mean streak that will fit right in on Sundays. With some refinement, he should be an answer for some NFL team at left tackle for a long time.
3. *Jake Matthews, Texas A&M
Whether Johnny Manziel made Joeckel or Matthews, or they made him, everyone involved with the Aggies offense has seen their profile rise. Matthews is the mauling right tackle counterpoint to Joeckel's shutdown pass-blocking on the left side.
4. Eric Fisher, Central Michigan
Fisher doesn't play in the marquee football programs that the top three tackles do, but he could be just as good in the pros. He has the size and athleticism to handle the elite NFL pass-rushers, which is certainly worth a first-round pick.
5. *D.J. Fluker, Alabama
Alabama's running backs are more well-known than their offensive linemen, but Fluker's powerful drive blocking helped make them what they are today. He's not a great fit for every offense, but Fluker will be a shot in the arm for any run-first team.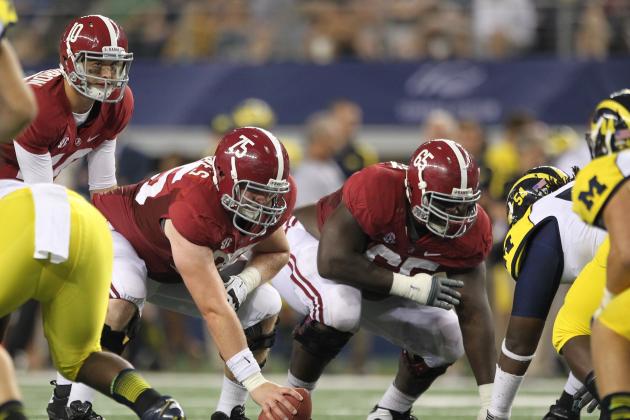 Matthew Emmons-USA TODAY Sports

1. Chance Warmack, Alabama
Warmack lacks an ideal frame, but you can't argue with his results on the field. He's a strong run-blocker, and Warmack can also handle pass-rushers with every possible strategy and strength. He could be the rare guard to go in the top 10 of the draft.
2. Barrett Jones, Alabama
Last year, it was Alabama's defense—this year, it is Alabama's offensive line that will dominate the first round. Jones can play anywhere on the offensive line at a high level, which is immeasurably valuable when injuries strike.
3. Jonathan Cooper, North Carolina
Teams with a zone-blocking running game will value Cooper's outstanding agility, quickness and ability to find blockers at the second level.
4. *Alvin Bailey, Arkansas
Bailey is another Arkansas prospect who should play on Sundays, underscoring just how much of a letdown this season was, beginning with the dismissal of Bobby Petrino. Bailey is big, quick and strong, and he can move very well for an NFL-sized offensive lineman.
5. Larry Warford, Kentucky
A man-mountain who can actually move, Warford has been toiling away in relative obscurity at Kentucky, but his skills got him noticed enough by the media to be named a first-team AP All-American.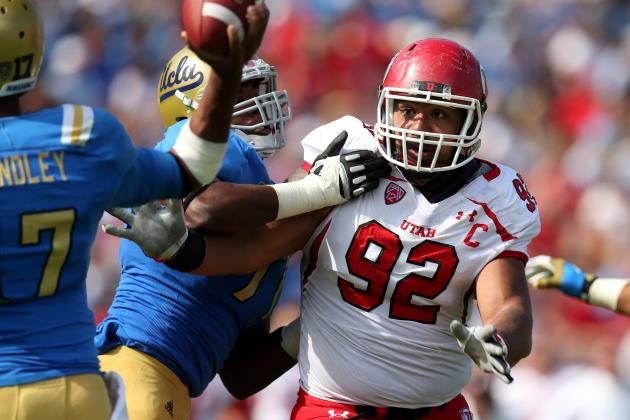 Stephen Dunn/Getty Images

1. Star Lotulelei, Utah
A clone of Ravens standout Haloti Ngata, Lotulelei is massive, strong, quick and relentless. With some quality coaching to ratchet up his technique and more awareness, Lotulelei could be truly dominant.
2. *Johnathan Hankins, Ohio State
Hankins has rare versatility for a big interior defensive lineman, being able to line up anywhere from five-tech defensive end to zero-tech nose tackle and even drop into coverage.
3. John Jenkins, Georgia
Jenkins is an immovable object against the run, but he can also collapse the pocket with the most dangerous kind of pressure coming right into the face of the quarterback.
4. *Sheldon Richardson, Missouri
Richardson is an offense's nightmare at times, with the size, strength, quickness and closing burst to disrupt plays in the backfield and finish off ball-carriers and quarterbacks with ease.
5. Jesse Williams, Alabama
Williams has some of the same traits as Hankins (versatility, strength, ability to tie up double-teams), but he lacks the ability to generate pass rush from the inside.
Sarah Glenn/Getty Images

1. *Damontre Moore, Texas A&M
Moore is the premier pass-rusher in the 2013 draft class, with his lightning-quick first step and ability to turn the corner, transforming offensive tackles into turnstiles.
2. *Bjoern Werner, Florida State
Werner isn't an explosive pass-rusher, but his motor, strength and upside as a relative latecomer to the game of football will make him a safe yet exciting pick in the top half of the first round.
3. *Sam Montgomery, LSU
Montgomery's natural length and athleticism form a rare combination, and he is also very stout against the run for a prospect who projects as an excellent pass-rusher.
4. Ezekiel Ansah, BYU
Like Werner, Ansah has more upside than a typical prospect as a foreign-born prospect who is still developing. His movement and fluid athleticism in a 6'5", 270-pound frame is something to behold.
5. Dion Jordan, Oregon
Jordan might be a better fit at 3-4 OLB because he lacks the sand in his pants to hold up against the run, but there aren't many 6'6" outside linebackers. One way or the other, he'll be drafted highly to get his natural pass-rush ability on the field in any scheme.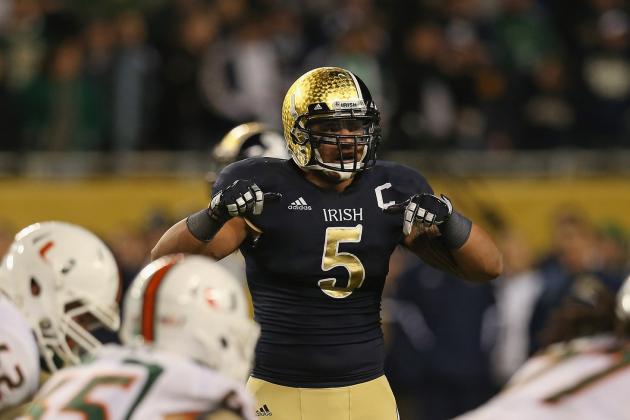 Jonathan Daniel/Getty Images

1. Manti Te'o, Notre Dame
Few players did more for themselves in the draft this year than Te'o, with his inspiring story and knack for being around the ball. He projects as the type of middle linebacker that will take a defense to a higher level for a decade or more.
2. *Jarvis Jones, Georgia
Jones hasn't stood out against better competition, but he has taken over games against weaker opponents in Von Miller-esque fashion. Jones' motor and natural edge-rush ability are rare in any draft class.
3. *Barkevious Mingo, LSU
Mingo didn't have the massive numbers expected in his junior year, lined up opposite Sam Montgomery, but he still projects as the kind of 3-4 OLB that can make that scheme work a la DeMarcus Ware.
4. Arthur Brown, Kansas State
After his brother Bryce raised eyebrows with two massive games at running back for Philadelphia, Arthur Brown should look even better as an instinctive, sideline-to-sideline, every-down linebacker prospect.
5. Khaseem Greene, Rutgers
This safety convert has overcome a gnarly leg injury to be the Big East defensive player of the year in two consecutive seasons, all while leading one of the best defenses in the country.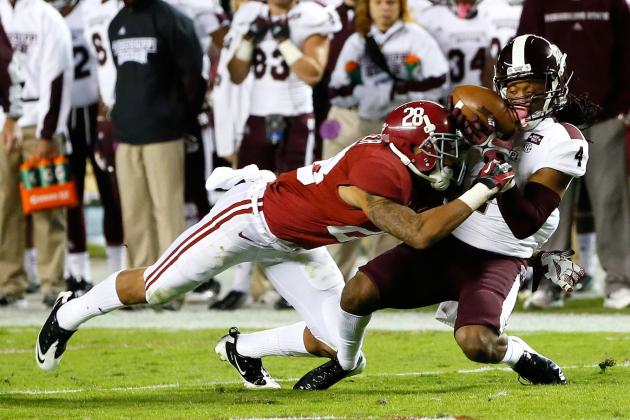 Kevin C. Cox/Getty Images

1. *Dee Milliner, Alabama
What he lacks in straight-line speed and phone-booth quicks, Milliner makes up with smart, hard-nosed, instinctive play and a big, rugged frame for the cornerback position. He should go in the top 10 of the draft.
2. Johnthan Banks, Mississippi State
Banks has a long frame and is a natural ball hawk. Like Milliner, he might not test well in the 40-yard dash at the combine, but his film in the elite SEC speaks for itself.
3. *Xavier Rhodes, Florida State
Rhodes is big and strong enough to manhandle receivers, but he is also quick with good feet and recovery ability. He might have a higher ceiling as a physical talent than Milliner or Banks.
4. Desmond Trufant, Washington
Coming from good bloodlines never hurts in draft season, and Trufant has them, as he'll be the third Trufant brother to play defensive back in the NFL. He's a good, smart athlete at the position, but not a very physical player.
5. Jordan Poyer, Oregon State
Poyer isn't as tall as the other corners on this list, but he possesses quickness, solid tackling ability and great ball skills, in addition to added value as a returner.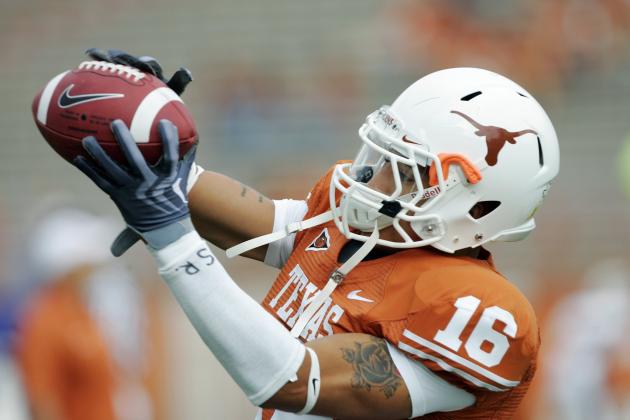 Brian Bahr/Getty Images

1. *Eric Reid, LSU
Reid is the kind of "do everything" safety that can cover the deep third and come up to lay a lick on a running back with equal aplomb. He should benefit from the recent increase of draft value of the top safeties.
2. Kenny Vaccaro, Texas
Vaccaro is a big, physical safety who is versatile enough to play in the box or be the last line of defense on passing downs.
3. Robert Lester, Alabama
Lester has played in the shadow of Mark Barron most of his career at Alabama, but he is a great all-around player who can patrol the middle of the field and rarely miss a tackle or a shot at an interception.
4. *Matt Elam, Florida
Elam was the most visible player on one of the best defenses in college football. He can play on the opponent's side of the line of scrimmage, but he's also a ball hawk and a player who rises to the occasion in big moments.
5. T.J. McDonald, USC
McDonald came into the season with a chance to be a first-round pick, but a poor campaign that lacked big plays and had too many mistakes has dropped him down the board.