25 Players Who Will Jump Up NFL Draft Boards with Big Bowl Games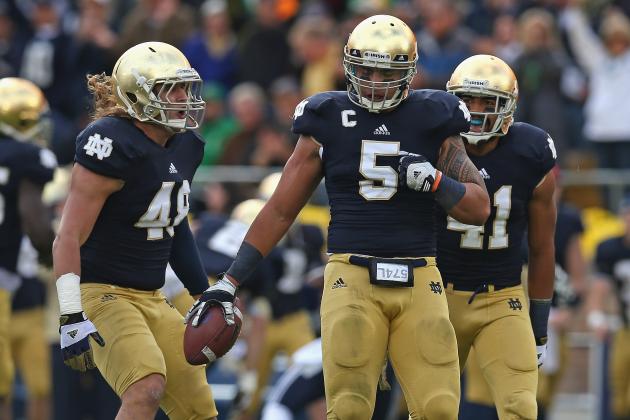 Jonathan Daniel/Getty Images

The bowl season provides one last opportunity for players to make an impact this season, and for many, a last opportunity to impress scouts before pro days and combines.
The 2013 NFL Draft may be a few months away, but these 25 players will have dreams of hearing the commissioner call their name in New York. But before we get to April, there's still work to be done.
With over half of college football playing in the postseason, there's a lot to sort through. Hundreds of players will be vying for coveted draft selections, but these few are in a perfect position to make huge leaps on draft boards with impressive bowl game performances.
Begin Slideshow

»
Wesley Hitt/Getty Images

Dee Milliner has had yet another great year with the Alabama Crimson Tide, and he's pretty much locked up a draft spot at this point.
But with the perfect opportunity to showcase his skills on college football's biggest possible stage—the BCS National Championship Game against none other than Notre Dame—Milliner could easily find his name not only shooting up the draft boards, but into the first round.
Not that he'd be the only SEC defender taken on day one.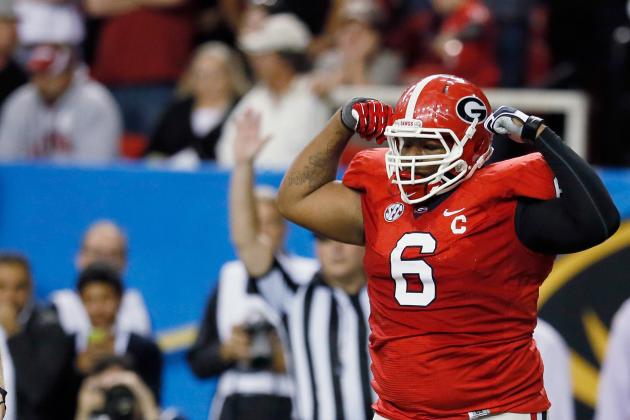 Kevin C. Cox/Getty Images

John Jenkins has been an unsung anchor for the center of Georgia's defensive line all season. Defensive linemen don't usually get a ton of glory, but Georgia's matchup for the Capital One Bowl plays right into his strengths.
Nebraska likes to run the ball. A lot.
The Nebraska Huskers average over 250 yards on the ground per game, and a good chunk of that comes right up the gut. NFL scouts will be keeping a close eye Jenkins as his defensive play-making on January 1 could make or break his draft weekend.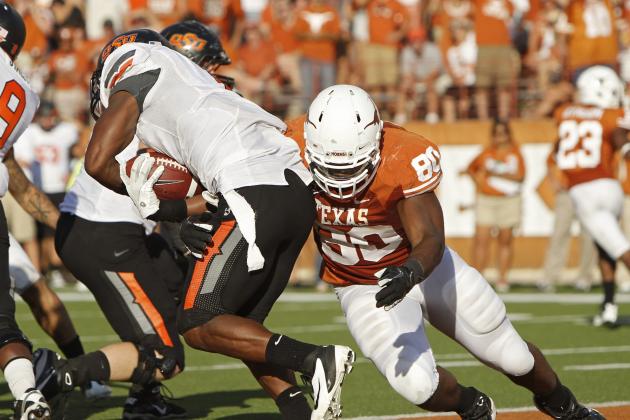 Erich Schlegel/Getty Images

If there's one thing the NFL loves in rookie prospects, it's versatility.
That's exactly what Alex Okafor brings to the table for the Texas Longhorns, and it's what he'll be able to do at the next level. But before he gets there, he'll put on a show for us against Oregon State in the Valero Alamo Bowl.
The Oregon State Beavers have a top 20 passing attack, and Okafor will have ample opportunity to showcase his skills both on the line and at the linebacker position. Being such a major part of the defense, don't be surprised if Okafor ends the day with double-digit tackles—including a sack or two.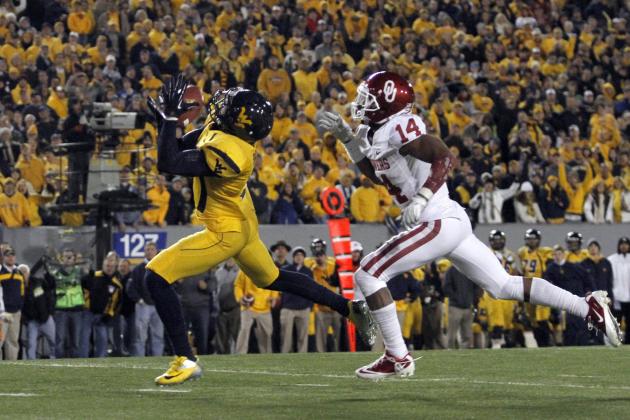 Justin K. Aller/Getty Images

With over 1,500 yards and 23 touchdown receptions, Stedman Bailey leads the way for the pass-happy West Virginia Mountaineers.
Bailey, a junior, has announced his intent to move to the NFL, and you can bet a lot of coaches and GM's will be keeping a close eye on him in the New Era Pinstripe Bowl.
Fellow Mountaineer Tavon Austin gets a lot of press, but Bailey has become one of the most reliable wide outs in the nation, and with NFL superstars suffering through a season plagued with the dropsies, reliability may be at a premium in the 2013 NFL Draft.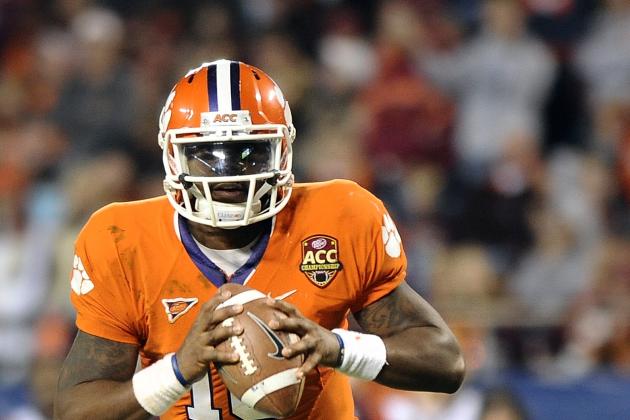 Jared C. Tilton/Getty Images

This junior quarterback has yet to make a decision about where he's going to spend next season, but whether it's in college or playing on Sundays, we have a sneaky suspicion that Tajh Boyd will be successful no matter the color helmet he straps on.
With 3,550 passing yards and 34 touchdowns, Boyd has been a major part of Clemson's resurgence on the national stage. He does have 13 interceptions this season, but few occurred in critical situations or while the game was still in doubt.
He won't go in the first round, but whoever gets this solid youngster will get more pick for their money as Boyd will be one of the most heavily underrated draftees in 2013.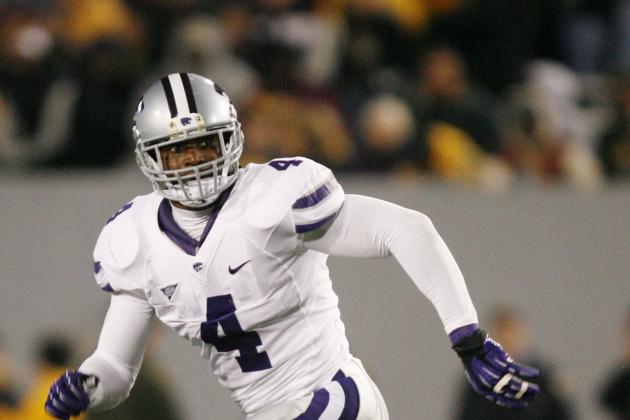 Charles LeClaire-USA TODAY Sports

When comparing the 2012 Kansas State Wildcats football team to its 2011 incarnation, one of the only things that really changed was the defense.
Changed for the better, that is.
While Collin Klein certainly led his team both on the field and in press coverage, the defense quietly put together one of the best Big 12 performances of the season. And senior linebacker Arthur Brown was a big part of that success.
He led the team in tackles (91) and added a pair of interceptions to his résumé this season. He has some of the best lateral movement of any defensive player in the nation, and a solid showing against the explosive Oregon Ducks will do wonders for his draft stock.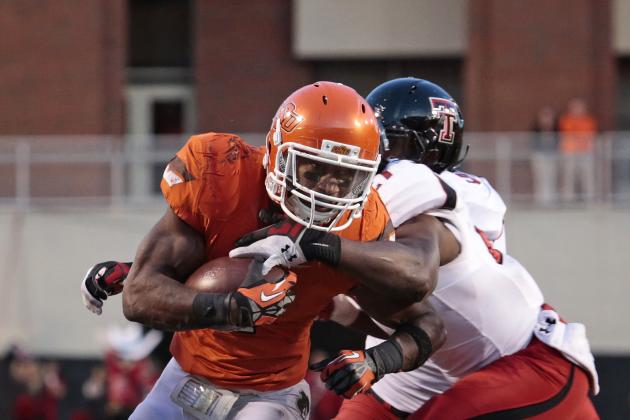 Brett Deering/Getty Images

Oklahoma State has had better-than-average success over the past few seasons, and much of that is attributed to the Oklahoma Cowboys' passing game. But Oklahoma State also has the ability to run the ball effectively with Joseph Randle in the backfield, and his skills haven't been lost on pro scouts.
Randle eclipsed the 3,000 yards, 40 TD milestone in his Oklahoma State career this season, and he's made running with the football popular again in Stillwater. In fact, he's done so well out of the backfield, he's opened up the running game as defenses adjust to defend against his ball-carrying.
If Randle can find the 100-yards mark along with a score or two in this season's Heart of Dallas Bowl, he may earn a first-day selection come April.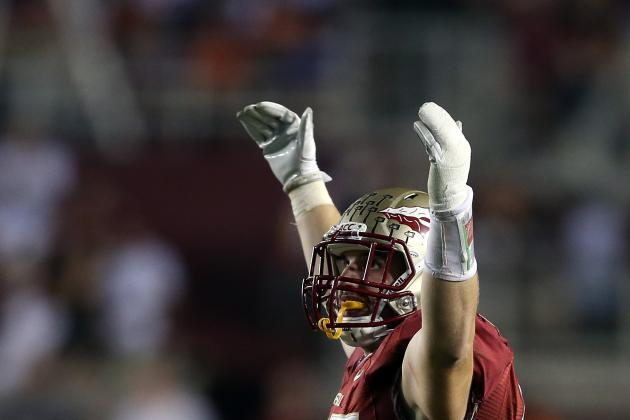 Streeter Lecka/Getty Images

The first time Bjoern Werner stepped onto a football field—an American Football field—he was a junior in high school.
Werner, a German native, was a natural gridiron player, and he improved each and every season before earning first team All-America honors from the AP this season.
Werner is a junior and will quite possibly return to Tallahassee for his senior season. But if he's successful at doing what few others have done this season in slowing Northern Illinois' standout quarterback Jordan Lynch, Werner may find his name moving up draft boards in a hurry.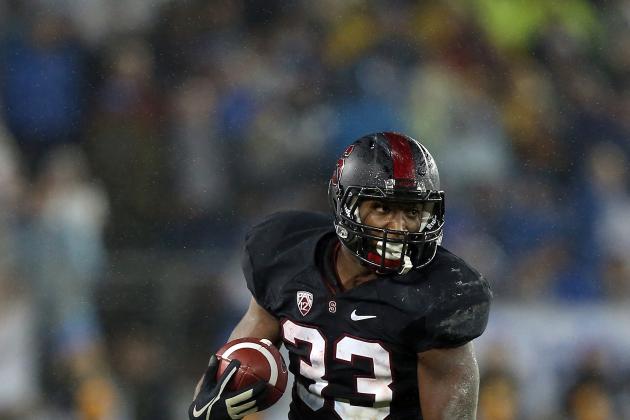 Ezra Shaw/Getty Images

When Andrew Luck left for the NFL, we—like so many across the nation—questioned whether better days for Stanford were in the past.
Question asked, and answered.
Stepfan Taylor, who has become the offensive leader for the Stanford Cardinals, has lead his team to the one game Andrew Luck never did: the Rose Bowl Game.
Taylor is one of, if not the strongest draft prospect at running back, and his skills will be perfectly juxtaposed to those of Wisconsin's Montee Ball for all to see in Pasadena on January 1. If Taylor can upstage Ball, it will only cement his place at the top of the running back draft boards.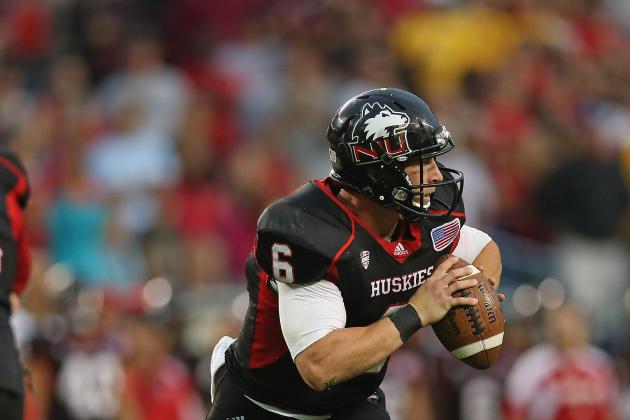 Jonathan Daniel/Getty Images

Jordan Lynch, the standout, do-it-all quarterback for the Oregon Bowl-bound Northern Illinois Huskies is only a junior, and we doubt he'll forgo his senior year at NIU for the NFL.
But he should.
Lynch is perhaps the most physical quarterback of the modern era, and has been more impressive carrying the football than the likes of Terrelle Pryor, Vince Young, or even Tim Tebow. But when you play for NIU, win 12 games, take home the MAC championship, and become the first-ever non-undefeated team from a non-AQ conference to earn a BCS berth, there only way you have left to go is down. Straight down.
We're not predicting an NIU collapse in 2013, especially if Lynch returns. But if he has a solid game against Florida State, his long-term future might be better served by leaving a town no one can find on a map for the NFL.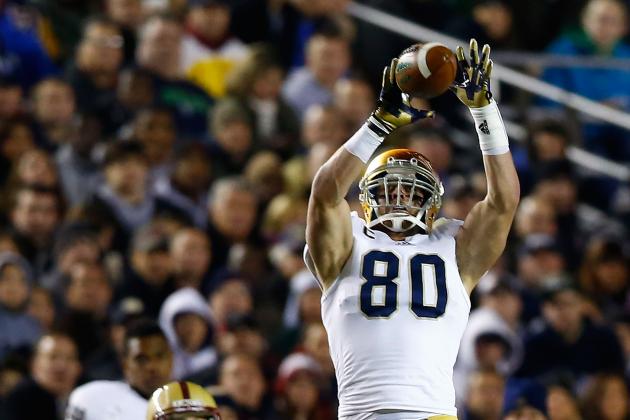 Jared Wickerham/Getty Images

Tyler Eifert is not the fastest tight end you'll ever see. He's not the biggest, either. So what will make Eifert such a great catch on draft day?
Ball skills.
Tyler Eifert may not catch 10 balls a game, but that doesn't mean he won't have a major impact on the BCS National Championship Game against Alabama on January 7. Eifert is so good as a receiving tight end that he'll command coverage on each and every play. Sooner or later, quarterback Everett Golson will get the ball to Eifert, and that's when that old Irish magic really starts to kick in.
Golson to Eifert has become such a lucrative connection that it's become a staple of Notre Dame's big wins this season. And what win could possibly be bigger that dethroning the mighty SEC in the BCS National Championship Game?
If and when that happens, you can bet the farm you'll see every GM in the NFL falling all over themselves trying to "trade up" to snag Eifert on draft day.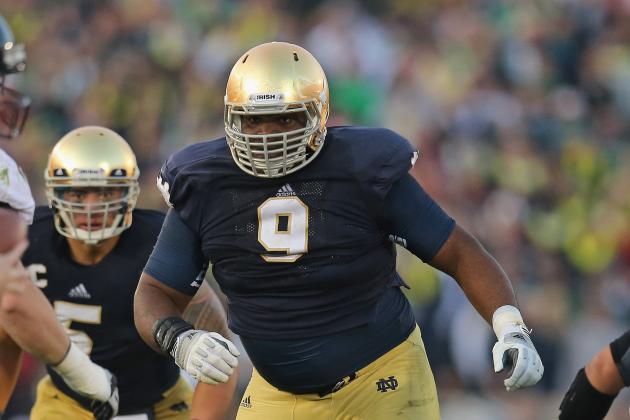 Jonathan Daniel/Getty Images

Manti Te'o may get most of the press when it comes to Notre Dame' defense this season, but Te'o wouldn't be half as successful without some terrific performances from the defensive line.
Enter Louis Nix.
While Nix likely won't enter the draft this season—or so he says—he can still make an impression on NFL scouts against Alabama's unbelievably talented offensive line.
Alabama Crimson Tide center Barrett Jones is no pushover, though. If the Irish defense is going to truly pressure Alabama in Miami, they'll need Te'o to have free reign on defense. And the only way that happens is if Nix can tie up Jones.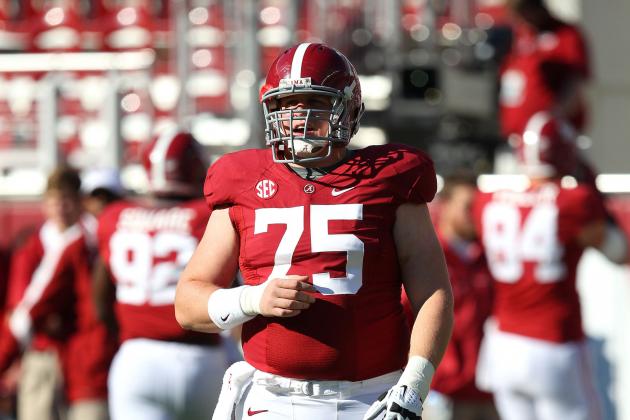 Mike Zarrilli/Getty Images

Barrett Jones is quite simply an impressive specimen of athletic ability.
He's big. Really big. He's strong, too. Really, really strong. And to top it all off, he's a football genius.
Jones currently takes up the center of the offensive line for the Alabama Crimson Tide, but that's not the only place he's spent time in Tuscaloosa. With a seemingly natural instinct at every o-lineman position, Jones will be seen as invaluable to draft scouts.
With a so-so "skill position" draft class likely, Jones has every opportunity to earn the No. 1 pick in the 2013 NFL Draft. Containing the Notre Dame tandem of Nix and Te'o will likely guarantee him that coveted top spot.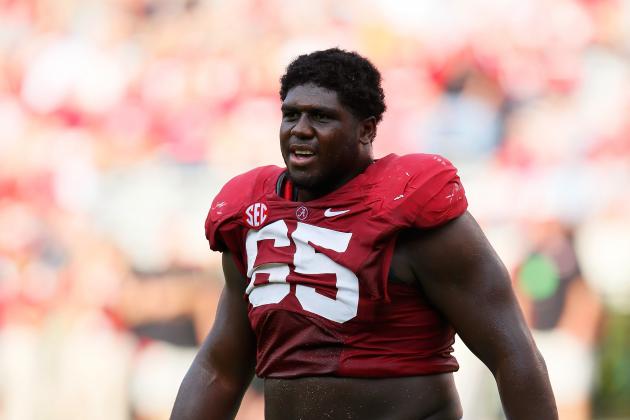 Kevin C. Cox/Getty Images

Chance Warmack is to the guard position what Barrett Jones is to, well, every offensive line position.
Warmack is the top guard prospect this season, and he'll be able to prove he deserves that looming first round selection by shutting down a feisty Notre Dame defense.
Warmack—along with the rest of the Alabama offensive line—struggled a bit with Georgia in the first half of the SEC Championship Game. What better way to put that behind you and erase it from the minds of pro scouts with a dominating performance against the No. 1 team in the nation in the BCS title game?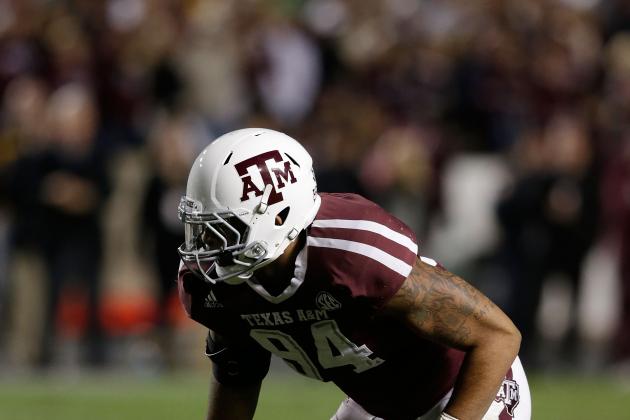 Scott Halleran/Getty Images

With 12.5 sacks and 20 tackles for loss in 2012, Damontre Moore emerged as the best defensive lineman in the nation.
We're not positive which way Moore, a junior, will go when it comes time to declare for the NFL Draft, but if he decides to go pro, you can bet his game tape against Oklahoma in the AT&T Cotton Bowl Classic will be passed around more than... well, you know.
This old Big 12 meeting will be exciting to watch, particularly because Moore will like up opposite Oklahoma offensive tackle Lane Johnson—who also has something to prove in Arlington.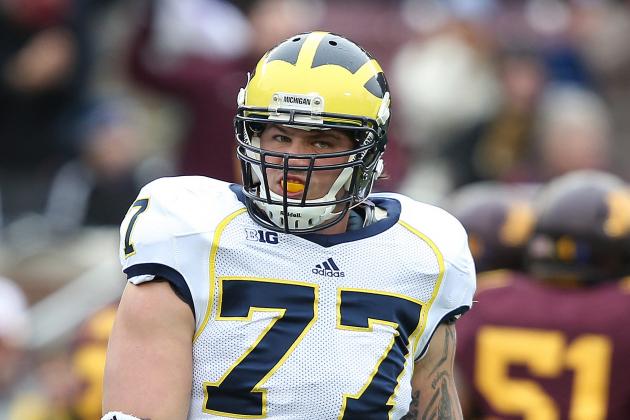 Jesse Johnson-USA TODAY Sports

Michigan has long been known as a producer of top-quality passers.
"Quarterback U" has given us some great names including Tom Brady, Brian Griese, and Elvis Grbac.
But in order to produce great quarterbacks, Michigan has to have the protection up front. And Rivals.com's David Fox may have put it best.
It's not a coincidence that Michigan was Quarterback U, Offensive Tackle U and a runner up for Interior Offensive Lineman U. Being able to stay upright likely helped Michigan quarterbacks read defenses rather than worrying about being sacked.
Well, leave it to "Offensive Tackle U" to give us another guaranteed first round selection.
Taylor Lewan will have the opportunity to showcase his skills like no other player in the nation come bowl season. Lewan and the MIchigan Wolverines will run into the buzz saw named Jadeveon Clowney in the Outback Bowl.
No one has been able to contain Clowney over his time at South Carolina. Lewan is the next up to give it his best shot.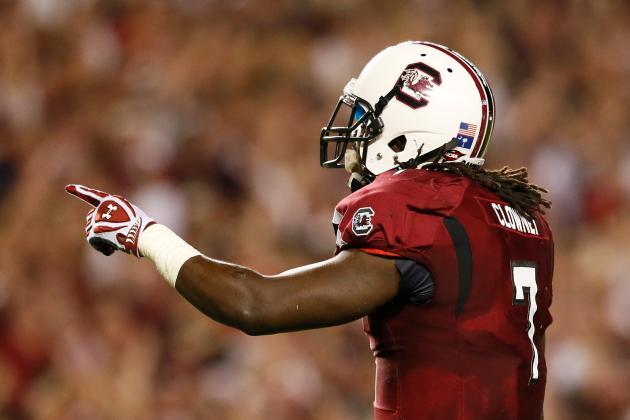 Kevin C. Cox/Getty Images

Okay, so we might be jumping the gun a little bit on predicting Jadeveon Clowney's draft position. After all, he won't enter the NFL until the 2014 draft, or maybe even 2015.
But even though Clowney isn't technically eligible, we decided to add him into the mix.
We also couldn't ignore the herculean battle between Clowney and Michigan offensive tackle Taylor Lewan. Seriously, folks, this matchup will likely be the best one-on-one you'll see all bowl season.
If Clowney can do what he's done to others and fly past Lewan like he's not even there, you'll see coaches, scouts, and GM whip up quite a drool over Clowney's pro chances.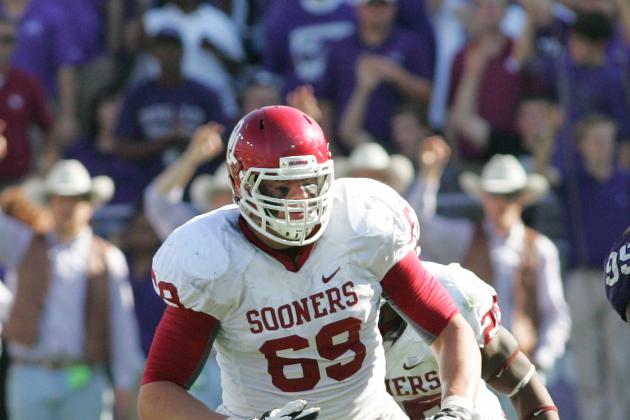 R. Yeatts/Getty Images

What is it Lane Johnson and the Oklahoma Sooners can prove? First off, Johnson could be the first to claim he's been able to contain Demontre Moore this season. Not even Alabama can do that.
Secondly, Johnson can prove that he deserves a first day selection in a draft absolutely stocked with offensive line talent.
The SEC loves to boast about how much biggest and stronger and faster it is than every other conference (funny how quick SEC fans forget that Moore—and the rest of A&M's roster—were Big 12 recruits). This BCS-like meeting of two powerhouses will be the Big 12's chance to counter that argument.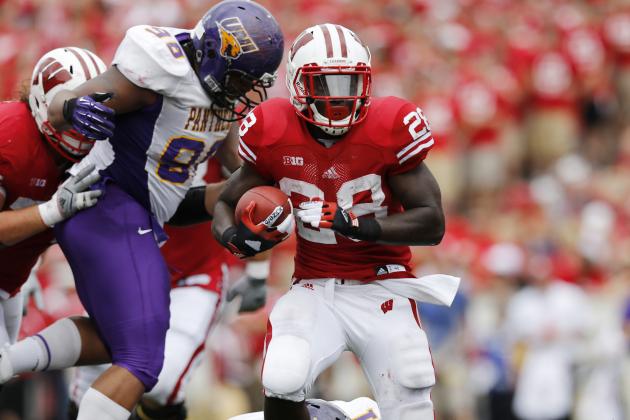 Tom Lynn/Getty Images

Montee Ball picked a heckuva time to break out one of those career performances.
In the Big Ten Championship Game, Ball ran over, around, and though the Nebraska defense en route to 202 yards, three touchdowns, and a 70-31 rout of the Nebraska Cornhuskers.
Does he have one more such game left in his tank?
The all-time FBS rushing touchdowns leader has one more chance to make an impression on GM's in the 2013 Rose Bowl Game against Stanford. And considering UCLA's Johnathan Franklin put up nearly 200 yards on the Stanford Cardinal, it won't look very good if Ball can't at least equal that output.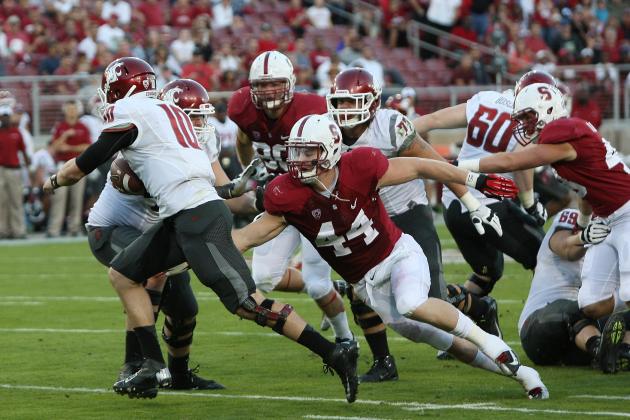 Tony Medina/Getty Images

Chase Thomas, the senior linebacker for Stanford, has some definite room for improvement against the run. He'll have ample opportunity to showcase those improvements against Montee Ball and the Wisconsin Badgers in the Rose Bowl Game.
His draft position—if any—depends heavily on plugging the at times porous Stanford Cardinal run defense. Thomas and the Cardinal were torched by UCLA on the ground, and the UCLA Bruins don't have a talent like Montee Ball.
Stacy Revere/Getty Images

Barkevious Mingo was fairly disappointing this season. With just four sacks heading into the Chick-fil-A Bowl against Clemson, Mingo, a junior, needs to show something truly special to attract any meaningful draft buzz.
He's struggled against explosive quarterbacks this season, and Tajh Boyd is certainly no slouch. If Boyd is able to light up the LSU secondary, Mingo won't even bother entertaining the notion of entering the draft this season.
It wouldn't do him any good.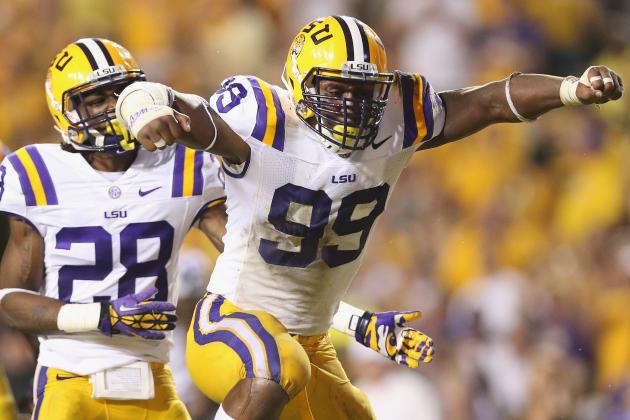 Ronald Martinez/Getty Images

Fellow LSU linebacker Sam Montgomery, also a junior, is in much the same boat as Barkevious Mingo. Only Montgomery's boat hasn't sprung a leak quite yet.
Montgomery had the stronger performance this season with seven sacks and 12 tackles for loss. Still, he showed similar inability to contain explosive passing attacks, and even FCS Towson hung more than a few points on the LSU Tigers this season.
While Montgomery is heading into bowl season from a much stronger position than Mingo, he'll also likely need a senior year in Baton Rouge absent any eye-popping performance in Atlanta.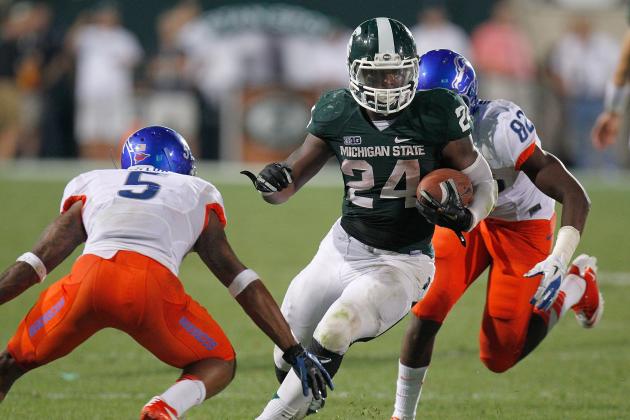 Gregory Shamus/Getty Images

Michigan State had one of the more disappointing seasons in the Big Ten this year, finishing 6-6 on the heels of its 2011 Legends Division title.
But a bright spot for the Michigan Spartans this season has been junior running back Le'Veon Bell. With 137.3 yards per game, Bell finished third in the FBS in that category, and sixth in overall yards with 1,648. He also accounted for 12 combined rushing and receiving touchdowns in 2012.
MSU lost five games by four or fewer points, and in order to avoid its first losing season since 2009, Bell will need to contribute in a monstrous way against TCU in the Buffalo Wild Wings Bowl. If he does, not only might the Spartans pull this one out, but Bell could earn himself a first-day pick in the draft if he chooses to declare himself eligible.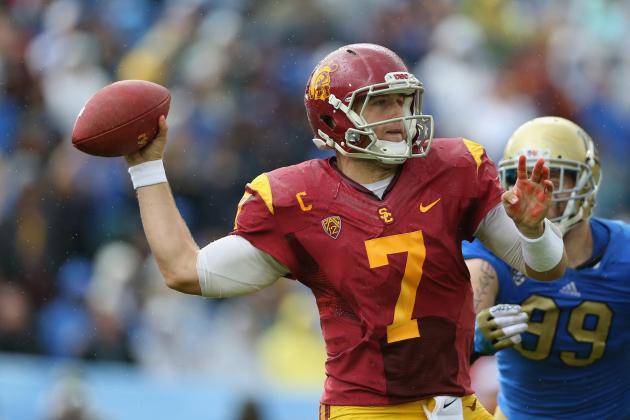 Jeff Gross/Getty Images

Matt Barkley started the season as the Heisman front-runner, quarterbacking the preseason No. 1 team in America.
Five losses later, all of that is a distant memory.
But the USC Trojans are finally back in a bowl game after two seasons on the sidelines due to NCAA sanctions, and that will give Barkley one last go in a Trojans uniform.
The biggest thing for Barkley isn't necessarily a big win (although that certainly wouldn't hurt). Right now, pro scouts just want to see how Barkley is recovering from his shoulder injury suffered against UCLA late in the season. If he comes out and lights up Georgia Tech in the Hyundai Sun Bowl, you can expect him to regain much of what he's lost this season in terms of draft position.
But if he struggles, we may be talking not only about dropping out of the top round or two, but the entire first day of the draft.
What a difference four months can make.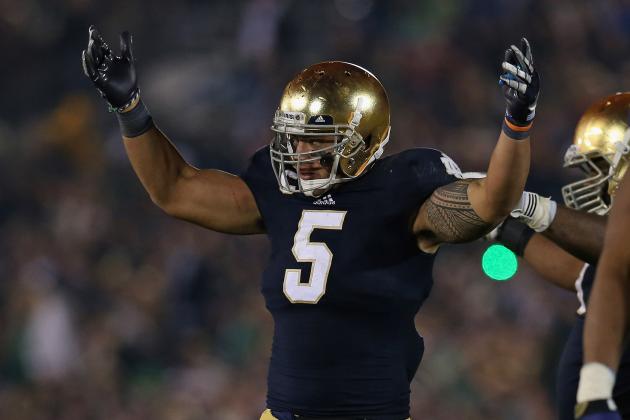 Jonathan Daniel/Getty Images

Speaking of Manti Te'o, we'd be remiss if he wasn't added to the list.
Is Te'o a first round draft pick? Yes. Will he command a huge contract? Yes. How high will he go in the first round?
That's really the only question left.
Manti Te'o has emerged as not only the top defensive player probably of this generation, but also one of the best on-field leaders we've ever seen in a college athlete. The only thing missing on his list of things to do before leaving South Bend is winning a national title.
He can take care of that on January 7.