Who Are the Favorites for Every Major NFL Award After Week 15?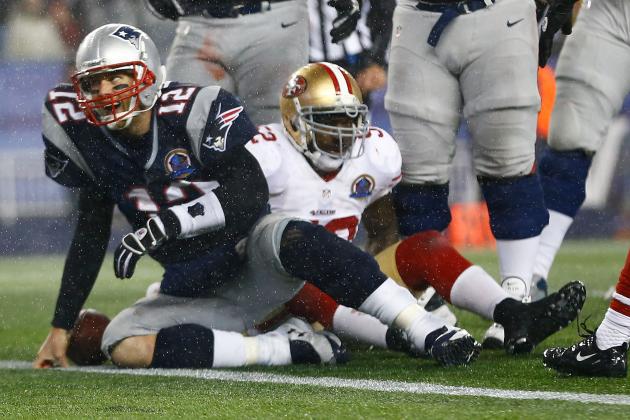 Jared Wickerham/Getty Images
Tom Brady's comeback came up just short against San Francisco.
With only two games remaining in the 2012 NFL regular season, the favorites for every major award at the end of the year are becoming easier to identify.
There are still a couple major awards that look like they will require us to wait until all 17 weeks have been played out before we can make final predictions, but we can continue to narrow down the potential candidates into a select few for the majority of the awards.
For all of the readers of this weekly column that have been inquiring in the comments section, yes, we will be coming out with our own predictions for who will win each award and why. Those picks will be part of the presentation two weeks from now, right after Week 17 concludes.
Meanwhile, Week 15 was an entertaining and important week in helping to determine the major individual awards, but also for the playoff picture to get a little more clear as well. During a show last week on Pro Football Talk, they revealed that the Week 15 lineup was only the fourth time in NFL history that featured five games this late in the season where both teams were at least three games over .500.
With so much at stake, it was a shock to see both the New York Giants and Tampa Bay Buccaneers get shut out in games that they had to win. To see the Kansas City Chiefs get shut out, not so much. But that is part of the beauty of the NFL—it doesn't always make sense, which is what helps to keep you glued to the games every week.
In the interim, feel free to make a comment to state your case for who you think should win each of the awards. This weekly column has seen some spirited debates already, and Week 15 performances should only add more fuel to the fire.
Begin Slideshow

»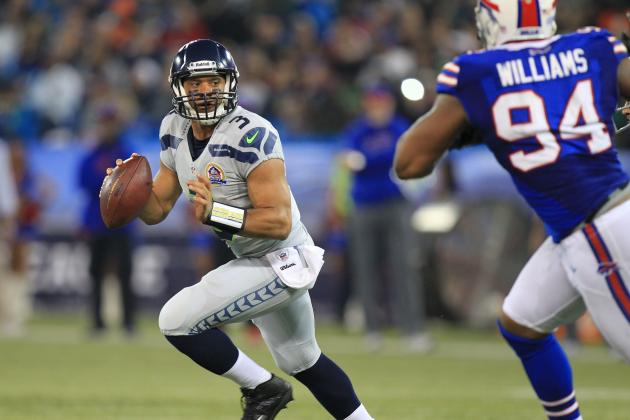 USA TODAY Sports
Russell Wilson put on a show in Week 15.
Was there any rookie on offense that was more effective or dynamic than Seattle Seahawks QB Russell Wilson in Week 15? Wilson led the Seahawks to their second straight game of scoring at least 50 points, as the Seahawks embarrassed the Buffalo Bills up in Toronto.
After the game, head coach Pete Carroll said that the team has been gradually removing restrictions on Wilson as the season has progressed. What everybody is watching now is how productive he can be when he is allowed to turn it loose. While Carroll's admission is great for Wilson's personal development, the fact that Carroll held him back in the first half of the season might be the main reason that Wilson comes up short in the OROY voting.
If you have a chance to watch a replay of the game, you will be amazed to see how Wilson was able to constantly escape pressure from the front seven. The Bills sacked him the first two drives, but nobody could lay a hand on him after that. He toyed with the defenders like they were standing in cement.
Wilson set two Seattle franchise quarterback records for yards rushing (92) and rushing touchdowns (three) in a game. He had already broken both team records by the end of the first half, which shows you how dominant he was. Wilson is becoming a more serious challenger for the NFL Offensive Rookie of the Year award with each passing week.
With Washington QB Robert Griffin III sitting out due to injury and Indianapolis QB Andrew Luck not even completing half of his passes in a loss to Houston, it allows Wilson to garner more support for the award. Wilson threw for 205 yards and a touchdown, with a Total QBR rating of 99.3. He also ran for 92 yards on just nine rushes, accounting for four touchdowns in total.
On the year, Wilson leads all rookie quarterbacks with 21 touchdown passes. Luck has 20, while RG3 has 18. All three of these gifted rookie QBs are now in the top 12 when it comes to Total QBR scores. Griffin is No. 6 (71.3), followed by Wilson at No. 8 (68.7) and Luck at No. 12 (65.5).
As for the other contenders, Washington RB Alfred Morris had two touchdown runs and gained 87 yards on 27 carries, but Tampa Bay RB Doug Martin's chances for the OROY award took a hit when he was only able to gain 16 yards on nine carries for an anemic average of 1.8 yards per rush. That won't cut it in this rookie class.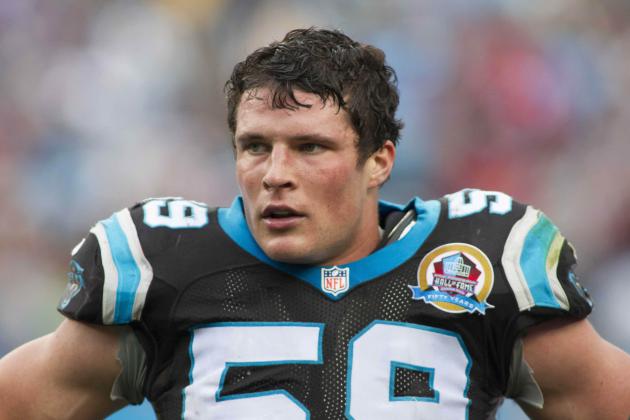 USA TODAY Sports
Luke Kuechly is No. 2 in the NFL in tackles.
While some of the races are quite clear, the race for NFL Defensive Rookie of the Year is anything but clear. The reason is that there are some rookie defensive players who have been outstanding in one category, or possibly two, but not making major contributions across the board like J.J. Watt or Von Miller does.
To reduce the entire defensive rookie class into tiers for consideration, the top tier would have five names: Green Bay CB Casey Hayward, Tampa Bay LB Lavonte David, New England DE Chandler Jones, Carolina LB Luke Kuechly and Seattle LB Bobby Wagner.
The second tier includes Minnesota S Harrison Smith, St. Louis CB Janoris Jenkins, Indianapolis LB Jerrell Freeman, Seattle LB Bruce Irvin and Cincinnati LB Vontaze Burfict.
A brief rundown of the top 10 players for Defensive Rookie of the Year
Luke Kuechly: leads Carolina with 138 tackles and 10 tackles for loss. He is ranked as No. 2 in the NFL for tackles and is just two tackles behind NFL leader Chad Greenway of the Minnesota Vikings.
Chandler Jones: was the DROY favorite during the first half of the season, but his stock has been slipping due to injury, which forced him to miss two games. Jones has six sacks, which is second on the Patriots team.
Casey Hayward: intercepted a pass against the Chicago Bears in their pivotal game for the NFC Central title. Hayward returned it for 34 yards and now leads all rookies with six interceptions on the year. He is tied for the No. 4 ranking in the entire NFL for interceptions. Hayward also leads all NFL rookies with 19 passes defended, which is good for a tie for No. 2 in the NFL.
Bobby Wagner: is No. 9 in the NFL with 121 tackles. Leads Seattle with six tackles for loss, has two sacks and three interceptions.
Lavonte David: has been as disruptive as any rookie with 18 tackles for loss, easily leading Tampa Bay in the category. Has 124 tackles on the year (No. 7 in NFL), which also leads the Bucs.
Harrison Smith: came up with 10 tackles against St. Louis. Smith now has 91 tackles for the year, including one tackle for loss, 10 passes defended, tied for the team lead with three interceptions and has scored touchdowns on two returns.
Janoris Jenkins: has been able to fill up the stat line across the board—66 tackles, three tackles for loss, 13 pass deflections, three interceptions, three defensive touchdown returns, one fumble recovery and one blocked kick.
Jerrell Freeman: is tied for No. 5 in the NFL with 125 tackles. Has two sacks, six tackles for loss, two pass deflections, one interception to go along with a touchdown return and one forced fumble.
Vontaze Burfict: Burfict has gone from undrafted rookie free agent to the No. 2 tackler on the Bengals team with 101 tackles on the year. Is tied for team lead with six tackles for loss and also has two fumble recoveries.
Bruce Irvin: tied for No. 23 in the NFL with eight sacks on the year. Mostly a one-trick pony, however, with just 14 tackles on the entire season. Has one forced fumble and one fumble recovery. Rest of stat line is blank.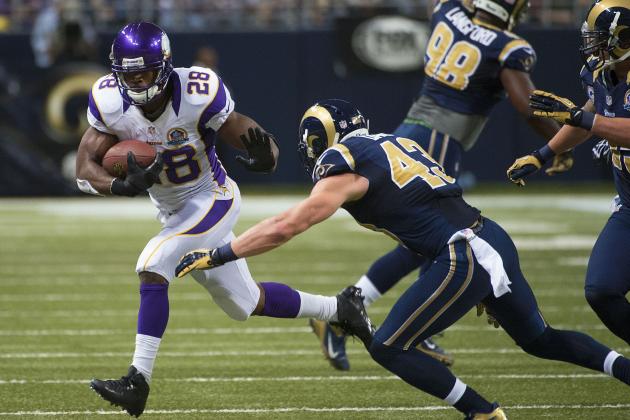 USA TODAY Sports
Adrian Peterson racked up over 200 rushing yards against the Rams.
This is sounding like a broken record, but there isn't anybody else up for consideration for the NFL Comeback Player of the Year award other than Minnesota RB Adrian Peterson and Denver QB Peyton Manning.
In Week 15, Peterson continued his assault on the NFL all-time single-season rushing record by gaining 212 rushing yards against the St. Louis Rams on just 24 carries. The all-time record is 2,105 yards by Eric Dickerson, back in 1984 with the Los Angeles Rams. After the big week, Peterson now has 1,812 yards, leaving him just 294 yards shy of breaking the record.
Not only does Peterson now have a commanding 433 rushing yards lead over Marshawn Lynch, but by leading the Vikings to a win on Sunday, his team is now 8-6. If the Vikings can win their final two games, they hold enough tiebreaker scenarios where they could qualify for the postseason. That development would also help Peterson's cause for postseason award contention.
Manning, meanwhile, guided Denver to their ninth straight win in Week 15, as he threw for 204 yards and a touchdown without committing any turnovers. The Broncos now have the No. 2 seed in the AFC and will be hosting at least one playoff game.
Peterson had the bigger game this week, but there is no denying that they are both viable candidates for the award.
By the way, if anybody was still holding out hope for Kansas City RB Jamaal Charles, his candidacy officially was snuffed out when he gained just 10 yards on nine rushes against the Oakland Raiders on Sunday.
Some readers have wanted to make a push for Carolina LB Thomas Davis, who has come back from multiple surgeries. While it is great to see Davis play again, the reality is that he isn't playing at the same level as Peterson or Manning. That is why he isn't considered to be in the running.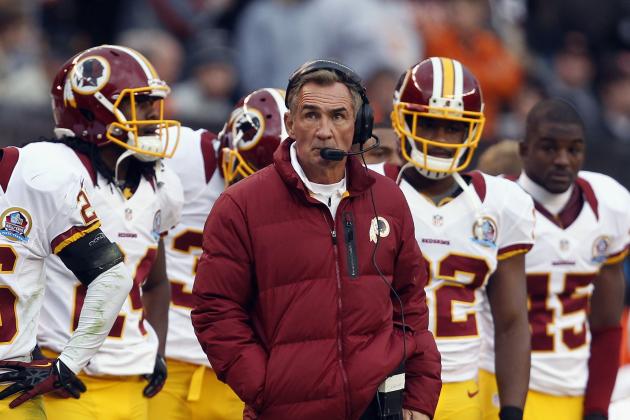 Matt Sullivan/Getty Images
If Washington wins NFC East, should Shanahan win Coach of the Year?
The NFL Head Coach of the Year award is another race that won't be easy to predict until we have all the results in from the regular season.
Things could change drastically over a two-week span. If you aren't convinced about that, ask the New York Giants, Chicago Bears and Pittsburgh Steelers.
Here are six names that appear to be in contention for the NFL Coach of the Year award and what they have to do to win it.
The six coaches in question are Mike Shanahan (Washington), Pete Carroll (Seattle), Marvin Lewis (Cincinnati), Bruce Arians (Indianapolis), Gary Kubiak (Houston) and Mike Smith (Atlanta).
Mike Shanahan: if the Redskins are able to somehow win the NFC East, that might be sufficient for Shanahan to capture the Coach of the Year award. How many people realistically thought that the Redskins had any chance to win the division at the start of the year? Exactly.
Pete Carroll: the Seattle Seahawks went from the controversial decision of letting three quarterbacks compete in training camp to ultimately falling just short of winning the NFC West. If Seattle wins their final two games, which would include defeating San Francisco, Carroll's stock goes up.
Marvin Lewis: trailing Baltimore by just one game, it is not out of the question that Cincinnati could win the AFC North. They would have to win their final two games and get some help, but if the Bengals capture the division, that would bode well for Lewis to win the award.
Bruce Arians: The Colts rode the back of rookie QB Andrew Luck, got some incredible team bonding thanks to Chuck Strong and rode an improbable run to a playoff berth. A Colts win against Houston could give some further proof that Arians deserves the award.
Gary Kubiak and Mike Smith: if all four of the above coaches stumble down the final two weeks, another obvious path would be for the voters to honor the coach with the best regular-season record. Since they are tied, it could go to either Kubiak or Smith, as they are both deserving.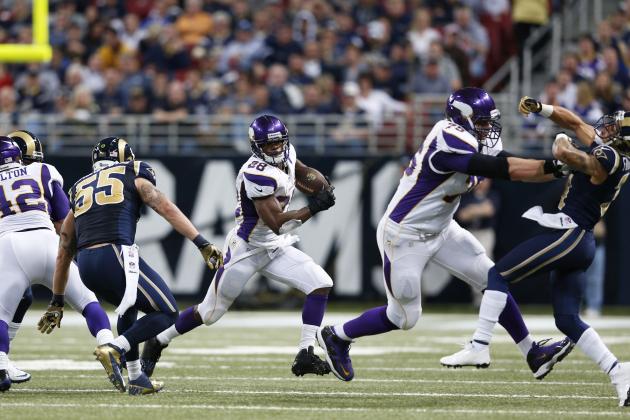 Joe Robbins/Getty Images
Adrian Peterson is off to the races against the Rams.
Minnesota RB Adrian Peterson has set the bar extremely high for the NFL Offensive Player of the Year. The only players that conceivably compete with him are Denver Broncos QB Peyton Manning and New England Patriots QB Tom Brady. It could easily be argued that all three of the players just named are the leading candidates for the NFL MVP award as well.
Brady helped his cause when he torched the Houston Texans defense on Monday Night Football in Week 14. With a short week of preparation, he came up with a rough first half against San Francisco this weekend. But Brady made the adjustments and came out in the second half to rebound with four straight touchdown drives against one of the top NFL defensive units.
There are fans that no doubt will want to argue for Aaron Rodgers, Matt Ryan, Marshawn Lynch, A.J. Green and Arian Foster, but they are not playing at the same level of the top-tier group we identified on a weekly basis.
In a perfect world, Peterson, Manning and Brady would all walk away with some major hardware, but that probably depends on how high Peterson is able to push his rushing total. The momentum and publicity seems to be favoring Peterson right now, and if he can pull off one more 200-plus yard game this season, then he might actually wind up with multiple major awards.
Thomas Campbell-USA TODAY Sports
J.J. Watt gave Andrew Luck a rude reception in Week 15.
The competition for the NFL Defensive Player of the Year has been swinging back and forth over the past month, primarily between three players. The three leaders are Houston Texans DE J.J. Watt, Denver Broncos LB Von Miller and San Francisco 49ers LB Aldon Smith.
A fourth player who is gaining more kudos by the week is Cincinnati Bengals DT Geno Atkins. Getting quarterback sacks is apparently now a staple in the Atkins Diet. Or not.
From our favorite group of players, Watt stood out in Week 15 with a major effort when the Houston Texans gave the Indianapolis Colts a dose of reality to clinch the AFC South division title. Watt was a monster in this game, as he recorded 10 solo tackles, three sacks, six tackles for a loss and added four quarterback hits for good measure.
Watt's production is the kind of effort that will vault him back into the lead for the NFL DPOY award race.
As for the other star defenders who we have been keeping close tabs on, in Week 15 Von Miller had three tackles, one tackle for loss, two quarterback hits and that was it. No sacks.
Playing against Tom Brady and a national audience on Sunday Night Football, Aldon Smith came up with one interception, one tackle, one pass deflection and two quarterback hits.
Regarding Atkins, he had a chance to showcase his skills in front of a nationally televised audience on Thursday Night Football against a maligned Philadelphia Eagles offensive line. What did Atkins do to prove that he belonged in the DPOY conversation? Nothing. Not a single mark on his stat line. No tackles, quarterback hits, tackles for loss or sacks. Case closed.
Based on the above breakdown, it looks like Watt has forced his way back into the lead.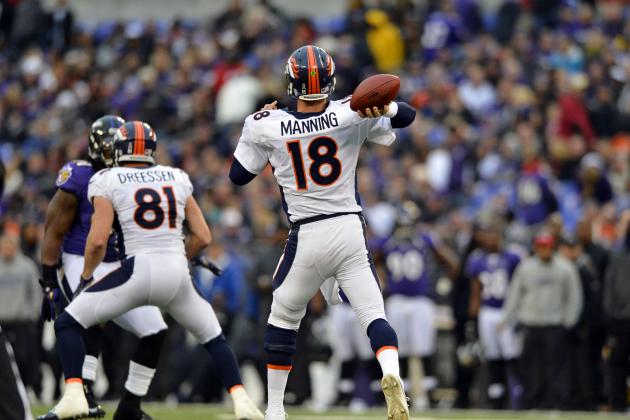 Ron Chenoy-USA TODAY Sports
Peyton Manning and the Denver Broncos have the longest winning streak in the NFL.
Peyton Manning and the Denver Broncos are the current owners of a nine-game winning streak, which is the longest right now in the NFL. If the Broncos can close out the season with two more victories, that 11-game winning game streak will be something that will be difficult for NFL MVP honors to ignore.
As we cited on the NFL Offensive Player of the Year award, that race looks like it is boiling down to Adrian Peterson, Manning and Tom Brady. The same players could easily be the top three votes for the MVP award. All three have excelled this year in their play, their teams have a winning record and all three could wind up in the playoffs.
While the MVP voters have historically favored Manning and Brady, the type of season that Peterson is having could be sufficient to dislodge the voters out of the "best quarterback mentality" style of voting.
The final two games will help to determine what the ultimate pecking order should be. This late in the season, there just isn't anybody else who has played on a consistent and outstanding enough level to leap over any of the three finalists we are showcasing here.
Thanks for checking out the presentation. We will be back with the Week 16 edition next week.