NFL Coaching Carousel: Latest Look at Who Should Land Where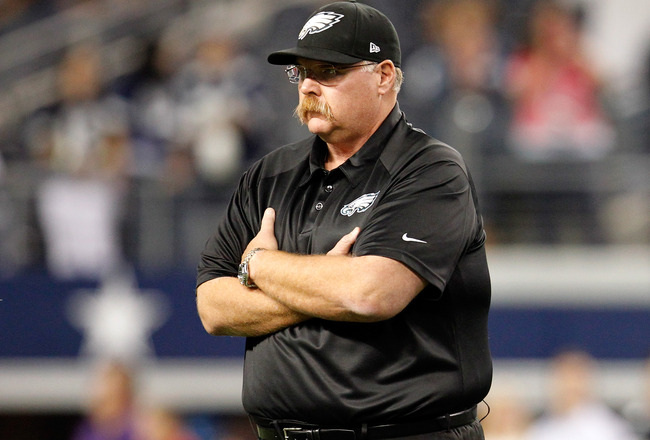 Does Andy Reid have a job next season?
Tom Pennington/Getty Images
Every year in the NFL, there are head coaching jobs that become available in late December and early January. Last season, the Kansas City Chiefs, Jacksonville Jaguars, St. Louis Rams, Miami Dolphins, Oakland Raiders, Indianapolis Colts and Tampa Bay Buccaneers all replaced their head coach.
Of those seven jobs, amazingly, two of them, the Chiefs and Jaguars, may be open again heading into the 2013 season. After studying each team's record, history, etc., there looks to be another seven NFL head coaching jobs soon to be available.
The caveat is that somewhere along the way, there will be a firing that is not predictable.
Here are a list of the seven openings that look to be coming available and a coach that fits that team, city and ownership.
San Diego Chargers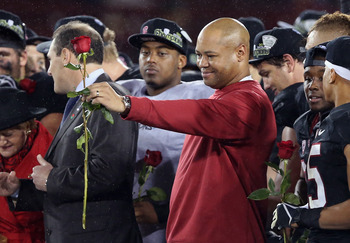 Ezra Shaw/Getty Images
It's a foregone conclusion that the entire front office and coaching staff will be let go in San Diego.
If the Spanos family wanted to get a jump on the other teams, they would let Norv Turner and A.J. Smith go as soon as possible and begin the search to find their replacements now. Most teams would like a general manager in place first, having the extra time to compile a list of candidates would allow the Spanos to get the best fit.
Most personnel men have a list of head coaching candidates that they will interview right away if they were to get the head job. So this head coach will be directly determined by the hiring of the general manager.
Hot names for general manager and head coach are San Francisco 49ers player personnel director Tom Gamble and Stanford head coach David Shaw.
Shaw comes for the Jim Harbaugh coaching tree, and Gamble has been able to see firsthand the success that hire has brought San Francisco. Shaw is smart, innovative and understands the NFL due to his past pro coaching experience. Shaw could help revitalize a San Diego offense that has gotten stale and predictable under Turner.
Shaw has NFL coaching experience with the Eagles, Ravens and Raiders, so he already understands the challenges that come with being an NFL head coach. With Shaw as head coach, a logical choice for defensive coordinator would be either San Francisco's defensive coordinator Vic Fangio or Raiders defensive coordinator Jason Tarver.
Shaw worked with both at Stanford and could poach them by giving them assistant head coaching titles.
Philadelphia Eagles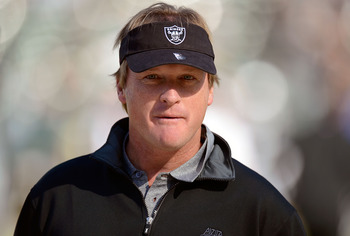 Thearon W. Henderson/Getty Images
Much like the fate of Jeff Fisher with the Tennessee Titans, Andy Reid's time in Philadelphia has come to an end. Reid is a good coach and will be interviewed for other NFL jobs, but depending on his family issues and whether he is ready to jump right back into coaching, Reid could decide to take a year off.
Of all the openings that are possible, Philadelphia may have the biggest issues. The quarterback situation needs to be addressed, the offensive line is in shambles and the defense does not have many dynamic playmakers.
There are offensive weapons, though, and if the new head coach decides that Nick Foles is the quarterback of the future, the Eagles could show progress quickly. General manager Howie Roseman needs to make a splash with this hiring. Whoever follows Reid will be following the best coach in team history and will need to have a strong backbone.
That is why Jon Gruden is the best fit for Philadelphia.
Gruden will find ways to use LeSean McCoy, Jeremy Maclin and DeSean Jackson in an explosive offense. Gruden runs a version of the West Coast offense, so the terminology would not be much different for Foles.
Gruden could hire his old friend Monte Kiffin to run his defense and bring toughness back to Philadelphia. Kiffin runs the Tampa 2 defense, and the Eagles have the right defensive personnel to succeed in that scheme.
Cleveland Browns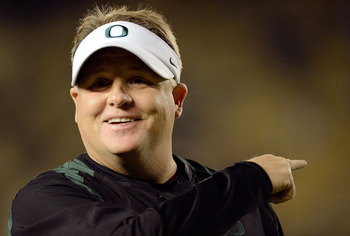 Thearon W. Henderson/Getty Images
While I personally believe Pat Shurmur deserves another year to work with this young team, a new general manager will probably want to hire his own man.
Rumors say NFL Network's Mike Lombardi is going to be the general manager (via profootballtalk.nbcsports.com) and Patriots offensive coordinator Josh McDaniels will be hired as the head coach.
Not sure if either hire makes sense in Cleveland.
New team president Joe Banner needs fresh, new blood in a building and town that is craving a winner. Banner can pick from the Belichick tree by hiring Arizona Cardinals director of pro personnel Jason Licht for the general manager job. Banner worked with Licht in Philadelphia and Licht was very successful as a scout in New England.
With that hire in place, Banner and Licht need to hire an offensive-minded coach who can work with quarterback Brandon Weeden and running back Trent Richardson. The Browns have a solid offensive line and up-and-coming receivers. Oregon's Chip Kelly would be a surprising but outstanding hire in Cleveland.
Kelly would open up the offense and get all the young playmakers involved. The offense would be explosive and fun to watch. Kelly's hire would definitely pump some new blood into a city and team that needs the pick-me-up.
Anytime a coach makes the jump from college to the pros that coach needs to surround himself with other coaches who have NFL experience, preferably head coaching experience. Kelly should hire current but soon-to-be-out-of-work head coach Ron Rivera to run his defense. The current Carolina Panthers' head coach is a respected former NFL player who could help Kelly navigate the coaching landmines.
Carolina Panthers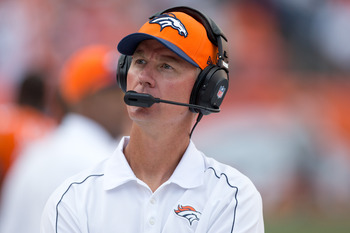 Justin Edmonds/Getty Images
Carolina is another team that needs an infusion of young coaching blood to relate to quarterback Cam Newton. The Panthers are also looking to hire a new general manager before they hire a new head coach.
Two names to keep an eye on in Carolina for the GM job are Miami's assistant general manager Brian Gaine and Denver's director of player personnel Matt Russell. Both have extensive scouting experience under different regimes and both are ex-players.
The best coach to fit the Panthers—and someone with ties to both candidates—is Denver's current offensive coordinator, Mike McCoy.
McCoy was the offensive coordinator in Carolina under John Fox so he understands the fanbase and the organization. McCoy has coached to success the likes of Jake Delhomme, Tim Tebow and now Peyton Manning. McCoy has molded his game plan to fit each of his quarterback's strengths.
A great hire for McCoy on the defensive side of the football would be current Kansas City Chiefs head coach Romeo Crennel. Crennel has ties to both Russell and Gaine through Bill Parcells and would give McCoy a calm, confident voice in the meeting rooms.
Jacksonville Jaguars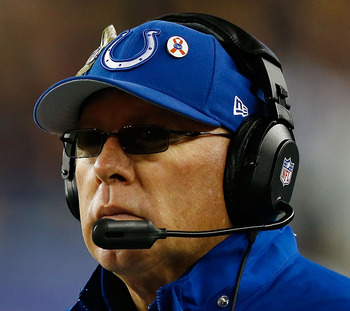 Jared Wickerham/Getty Images
As with other teams looking for a new coach, Jacksonville's will be starting from scratch.
From the general manager on down, the Jaguars are due for a facelift. The list of general manager candidates is extensive, but the best fit for a new head coach in Jacksonville is current Indianapolis Colts' interim head coach Bruce Arians.
Arians is an offensive genius who has had success with quarterbacks Ben Roethlisberger and Andrew Luck. Given that the Jaguars may very well have the No.1 over selection in the 2013 NFL draft, Arians could coach quarterback Geno Smith and duplicate those quarterback successes with the former West Virginia quarterback.
Jacksonville has a solid defense when healthy, and though Jaguars are clearly rebuilding, Arians has proven he can win right away with a team that was supposed to be rebuilding too.
Kansas City Chiefs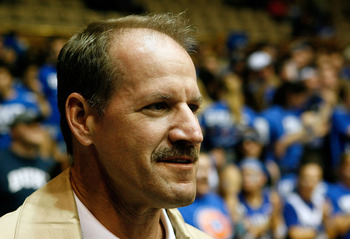 Kevin Cox/Getty Images
If Chiefs CEO Clark Hunt wanted to do what was the best for his team, hiring Bill Cowher and allowing him to call the shots would be the best move.
By giving Cowher a majority of the front office control with oversight by a trusted confidant like Steelers director of football and business administration Omar Khan, Hunt could talk Cowher into the job.
Money and power would get Cowher out of the studio and back on the sidelines.
Cowher has ties to the Kansas City area, having been the Chiefs defensive coordinator for three seasons (1989-91). The Chiefs have a solid defense in place and young, talented weapons on offense. The Chiefs are a legitimate quarterback away from being a playoff contender.
What the Chiefs do not have at the moment is a vision of what the team is or can be. Cowher's pedigree brings instant credibility and relevance to the organization. Cowher could hire a strong offensive coordinator like Norv Turner and completely turn the Chiefs around overnight.
Buffalo Bills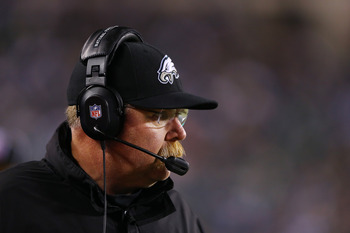 Al Bello/Getty Images
The Bills have not been relevant for a long time and unless Marv Levy wants to coach again, the Bills job is probably one of the least attractive in the NFL.
Buffalo fans are some of the best in the game but have had to deal with misery far too long. None of the past head coaching hires had any "wow" factor, so this hire needs to have some juice.
The problem is owner Ralph Wilson is from the old guard and tends to lean toward coaches with tons of experience. With this new hire, Wilson can get great experience and get the fanbase excited again.
The Bills next coach should be Andy Reid.
Reid is a proven winner who just needs a new start. He brings instant credibility to the Bills organization and his track record speaks for itself. Reid has proven with a healthy offensive line and a good quarterback that he can lead a team deep into the playoffs.
This hire benefits both sides. Reid gets a chance to rebrand himself, and the Bills get a head coach who knows what it takes to win.
Keep Reading