MLB Free Agents: Relievers You've Probably Never Heard of
Ronald Martinez/Getty Images
The MLB winter meetings may have left baseball fans with more questions than answers as a number of top names still have yet to find new homes, but that will only add drama to the coming months leading up to spring training.
The biggest free-agent names will get all the attention. But while closers like Rafael Soriano, Joakim Soria and Jose Valverde have made headlines, they're not the only relievers who could make a difference next season.
There are a number of late-inning options who may not receive the accolades of their counterparts, but that doesn't mean they can't be just as effective.
Here are five who fit that description.
1. Takashi Saito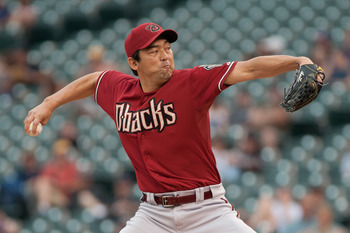 Dustin Bradford/Getty Images
Though he may not get much attention outside of the markets he's played in, a number of teams figure to get into the mix for Takashi Saito as they look to bolster their bullpens this offseason.
Saito is a one-time All-Star. And although he struggled in 2012, posting a 6.75 ERA in 16 appearances with the Arizona Diamondbacks, his body of work is strong.
He's a seven-year veteran who, aside from last season's performance, has never seen his ERA go as high as 3.00 while maintaining a better than 10 strikeouts per nine-inning average.
2. Brandon Lyon
Tom Szczerbowski/Getty Images
Having been in the league for more than a decade now, Brandon Lyon has made his way through five franchises and is once again a free agent this offseason.
Starting his career with the Toronto Blue Jays as a starting pitcher, Lyon struggled and made the transition to relief pitcher when he signed with Boston prior to the 2003 season.
He's posted sub-3.25 ERAs four times since 2007. With a 3.10 ERA in 2012 and a career-high K/9 rate of 10.1, he could fit into a bullpen looking for additional late-inning help.
3. Pat Neshek
Leon Halip/Getty Images
After missing the entire 2009 season while rehabbing from surgery, Pat Neshek came back to the Minnesota Twins in 2010 but failed to impress anyone and was quickly demoted.
He was sent to the San Diego Padres in 2011 and would move up the coast in 2012 to Oakland, where he began to return to form.
In 24 appearances with the Athletics last season, Neshek posted an impressive 1.37 ERA and saw his walk numbers finally get back to a respectable level, going from eight per nine innings in 2010 and 2011 to 2.7 in 2012.
4. Mike Adams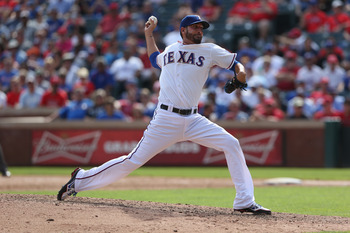 Ronald Martinez/Getty Images
Having spent time with the Texas Rangers over the past two seasons, it's likely that many baseball fans know about Mike Adams.
The eight-year veteran has never made an All-Star Game appearance but has been a force wherever he's gone, including the 1.66 ERA he posted in more than 200 games with the San Diego Padres from 2008-2011.
Adams was paid $4.4 million in 2012 and could well see his price go well above that this offseason.
5. Kyuji Fujikawa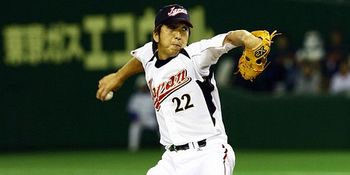 truebluela.com
Kyuji Fujikawa has yet to play a major league game, but he's already gaining plenty of attention as a late-inning option this offseason.
In six seasons playing in the Japan Central League, Fujikawa went 26-18 with an ERA below 1.50.
His control has always been on point, allowing 2.3 walks per nine innings while striking out nearly 13.
Until recently, Fujikawa hadn't made a decision on his major league destination, but that all got cleared up this past week when he signed a two-year, $9.5 million deal with the Chicago Cubs.
Keep Reading