MLB Trade Rumors: 5 Teams That Should Target NY Yankees CF Curtis Granderson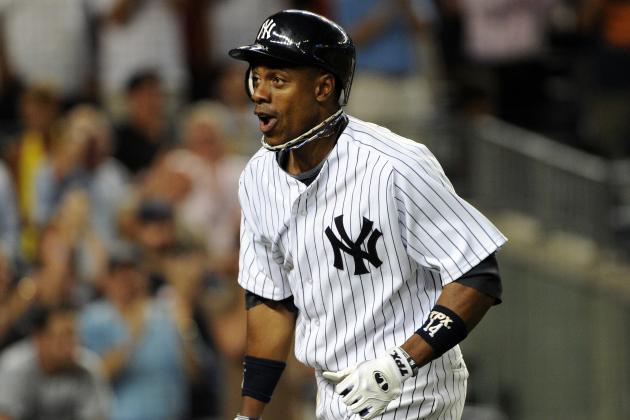 Christopher Pasatieri/Getty Images

This year's free-agent market was set to be rich with center field options, but the supply is running low and the demand is still high. Clubs still in need of a new centerfielder may be forced to overspend.
Or they could just pick up the phone and give the New York Yankees a call about Curtis Granderson. According to ESPN's Buster Olney, Granderson is available:
NYY have been open to talks about Curtis Granderson. If they move his $15m salary, it would provide more flexibility to do other things.

— Buster Olney (@Buster_ESPN) December 4, 2012
With a $15 million salary headed his way in 2013, Granderson isn't exactly cheap. However, there's not much risk in a one-year commitment, and $15 million will be a fair price to pay for Granderson if he hits his usual 40 home runs in 2013.
Teams with some payroll flexibility and a need for a centerfielder should have Granderson on their radar. So should teams that just need power, period.
By process of elimination, that means the following five teams should consider giving the Yankees a call.
Note: Stats courtesy of Baseball-Reference.com unless otherwise noted. Salary information courtesy of Cot's Baseball Contracts.
Begin Slideshow

»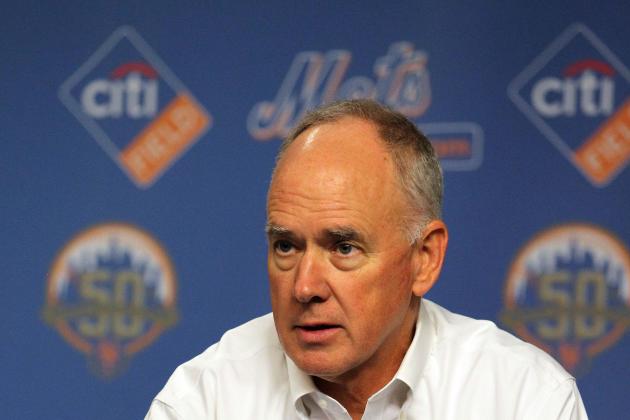 Brad Penner-USA TODAY Sports
Mets GM Sandy Alderson
Mets centerfielders generated more than a few headaches in 2012, combining to post a slash line of .247/.326/.384 with 13 home runs.
At the moment, the Mets are short on options for center field in 2013. Utility outfielder Scott Hairston is a free agent, and the club non-tendered Andres Torres last week. Young outfielder Kirk Nieuwenhuis had his moments in 2012, but the jury is out on whether he has the goods to be a quality everyday player.
Thus, the stars are aligned for the Mets to make a move for a centerfielder this winter. It would be ideal if they got one with a little power, as their centerfielders contributed little power in 2012 and the club hit only 139 home runs as a whole.
Granderson is not without his shortcomings—he strikes out too much, doesn't get on base enough to show off his speed and is at best an average fielder—but power is something he has plenty of. He's hit more home runs that any player in the majors over the last two seasons, and he ranks third in slugging percentage behind Matt Kemp and Josh Hamilton (see FanGraphs).
Clearly, he'd be a nice upgrade for the Mets.
But...
Whether or not the Mets can afford Granderson's $15 million salary for 2013 is a big question mark. They already have about $75 million in salaries committed for next season (including the money they owe Jason Bay). Their Opening Day payroll was under $100 million in 2012, and it may not go much higher in 2013 given the financial state of the franchise.
The Mets would likely need to Yankees to eat part of Granderson's salary, and they won't do that unless they're getting something significant back from the Mets. Beyond Cy Young-winner R.A. Dickey, the Mets don't have many significant parts that also happen to be expendable.
Given the circumstances, I'd call the idea of Granderson going to the Mets a long shot, even if it is a possibility that can't be ruled out.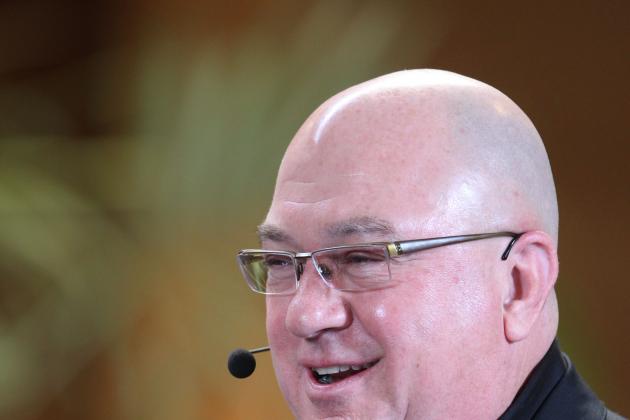 Matthew Emmons-USA TODAY Sports
Mariners GM Jack Zduriencik.
The Mariners are understandably desperate to find some offense this winter, and they've been linked to the best of the best that the free-agent market has to offer for centerfielders.
According to Jon Heyman of CBSSports.com, the Mariners are emerging as a possible fit for speedy leadoff man Michael Bourn, and they've also shown some interest in Josh Hamilton. He would provide a huge power upgrade to a lineup that could use one.
So could Granderson, and the appeal of acquiring him in a trade instead of signing Hamilton is that the risk would be significantly lower. A long-term commitment to Hamilton could cripple the Mariners if it didn't pan out, whereas a one-year experiment with Granderson would only hurt if it didn't pan out.
The Mariners have the pieces to go get Granderson. They have some quality pieces on their major league roster they can afford to part with, including outfielders Michael Saunders, Casper Wells and Franklin Gutierrez. They could also offer the Yankees Brendan Ryan as a potential solution for the woes on the left side of their infield, as well as any of several highly-regarded pitching prospects.
The bigger question would be the money. The Mariners aren't big spenders, as they haven't had an Opening Day payroll over $100 million since 2008. Plus, they may not be willing to spend good money on Granderson unless they believe that they have a legit shot at contending in 2013.
However, they just might believe that. The Mariners played decent baseball in the latter half of the 2012 season, and they have a good core of young players with more talented youngsters on the way. With the right kind of push, they could be the 2013 version of the Oakland A's.
The fact that the Mariners are kicking the tires on high-priced free agents like Bourn and Hamilton says a lot about what they think of their chances of contending in the near future. If free-agent options prove to be too expensive for them, they could turn to Granderson as a worthwhile one-year gamble.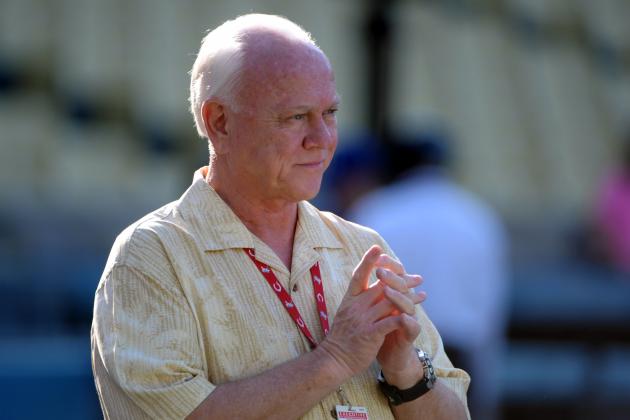 Kirby Lee-USA TODAY Sports
Reds GM Walt Jocketty.
Thanks mainly to Drew Stubbs, center field was a source of much frustration for the Reds in 2013. Their centerfielders combined to post a meager slash line of .226/.282/.339, hitting only 16 homers.
The Reds have been rumored to be on the lookout for a new centerfielder this winter, but it's hard to tell what their options are. The word from Mark Sheldon of MLB.com is that the Reds don't appear all that interested in trading for Dexter Fowler or Coco Crisp, and Michael Bourn and Josh Hamilton may be getting priced beyond Cincinnati's reach.
Even Granderson's $15 million salary may be too much for the Reds. They have about $75 million in salaries committed for 2013, and John Fay of the Cincinnati Enquirer has speculated that their payroll may not climb much higher than $92 million.
However, I'm inclined to believe that it could. The Reds already have the pieces to be a World Series contender in 2013, meaning they have a good excuse to be aggressive this winter. If they were to add Granderson to their lineup, they'd be going for broke with a relatively high payroll, but it would only have to be a one-year thing with a potentially huge payoff.
There are few ballparks that are better fits for Granderson than Yankee Stadium, but Great American Ballpark may be one of them. A move to Cincinnati could push Granderson's home run output from around 40 to closer to 50, which would be just fine by him with free agency looming next offseason.
The Reds don't have an overabundance of trade chips on their major league roster, but one idea would be to base a package for Granderson around Stubbs and/or Mike Leake. Stubbs doesn't seem to have much untapped potential left, and Leake is going to be the odd man out in Cincinnati's rotation if Aroldis Chapman is indeed converted into a starter this spring.
Beyond these guys, the Reds also have some young shortstops they can trade in Zack Cozart and Didi Gregorius. That should appeal to the Yankees, who will soon need to worry about replacing Derek Jeter.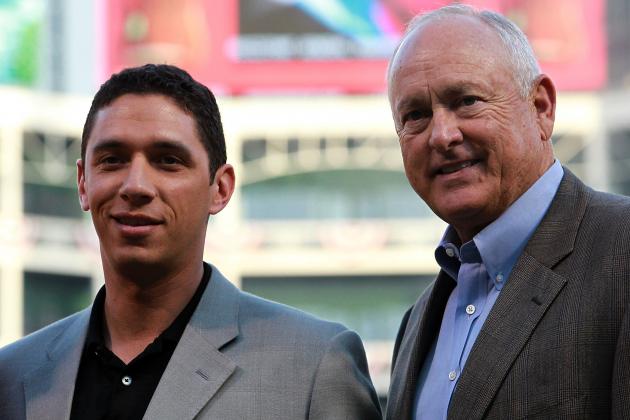 Ronald Martinez/Getty Images
Rangers GM Jon Daniels and principal owner Nolan Ryan.
I'm including the Rangers on this list with one giant caveat: If they re-sign Josh Hamilton, their center field need will be all taken care of.
For that matter, it's debatable whether or not the Rangers will have to acquire a centerfielder even if Hamilton walks. They could just use Craig Gentry as their everyday centerfielder, which is precisely what they'll do if they determine that they can succeed with a pitching-and-defense approach in 2013. Gentry will be a Gold Glove-caliber defender if he gets regular playing time.
However, the Rangers are going to have a ton of power to replace if Hamilton follows Mike Napoli out the door. The two of them combined to hit 67 home runs in 2012, more than a quarter of the team's total home run output.
Granderson, of course, hit just as many home runs as Hamilton did in 2012. He'd thus be a fine option for the Rangers to account for the power they'll be missing if Hamilton walks.
The Rangers have the money to afford Granderson's $15 million salary, and they may be just fine with adding him as a one-year solution to help them get back to the World Series in 2013.
The Rangers also have plenty of trade chips to entice the Yankees. It's doubtful that they'd be willing to deal the Yankees Mike Olt to help out the left side of their infield, but young left-hander Martin Perez could be in play.
Texas could also base a package around Gentry, whose defense and controllability could be very appealing to the Yankees.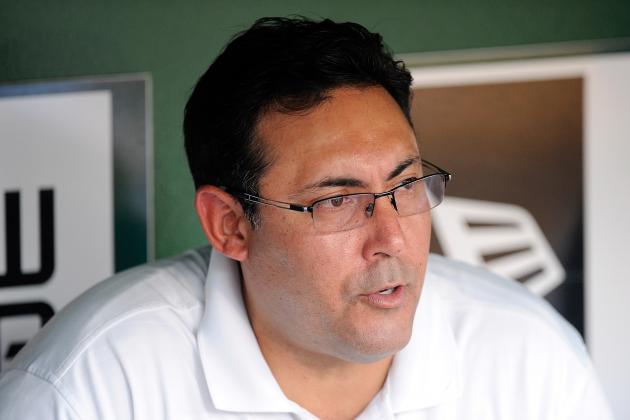 Greg Fiume/Getty Images
Phillies GM Ruben Amaro Jr.
No team has been burned more by the happenings on the center field market more than the Phillies. They need a new centerfielder, yet they've had to watch several potential targets sign elsewhere.
ESPN's Jayson Stark tweeted on Tuesday that center field is still a primary area of need for the Phillies, but they face a problem similar to the one the Mariners are facing. Michael Bourn and Josh Hamilton may be beyond their reach, and it may be hard for them to secure a reunion with former centerfielder Shane Victorino.
Granderson is a different story. The Phillies probably wouldn't mind taking on his $15 million salary if they feel they can win it all in 2013, and they'll have a shot to do that if their starting pitching returns to its 2011 level and Chase Utley and Ryan Howard stay healthy.
The hang-up is that Utley and Howard fit into the middle of a lineup that is already heavy on lefties. If Granderson were to join the two of the Phillies, they'd have three lefty power hitters stationed very close to one another, perhaps even in a row. A lack of versatility such as that could be a problem.
However, Citizens Bank Park would be a good fit for Granderson in the same ways that Yankee Stadium and Great American Ballpark are good fits for him. It's a park that favors home run hitters, and Granderson could take aim at the right field bleachers just like Utley and Howard are used to doing.
The Phillies are pretty short on trade chips, but it's possible that a deal could be structured around right-hander Kyle Kendrick, or maybe even former top prospect Domonic Brown.
If Ruben Amaro were to take a liking to Granderson, he could get something done. A Granderson trade would be precisely the kind of big-splash deal that Amaro loves to make.
If you want to talk baseball, hit me up on Twitter.