5 Winners and Losers of Indianapolis Colts vs. Detroit Lions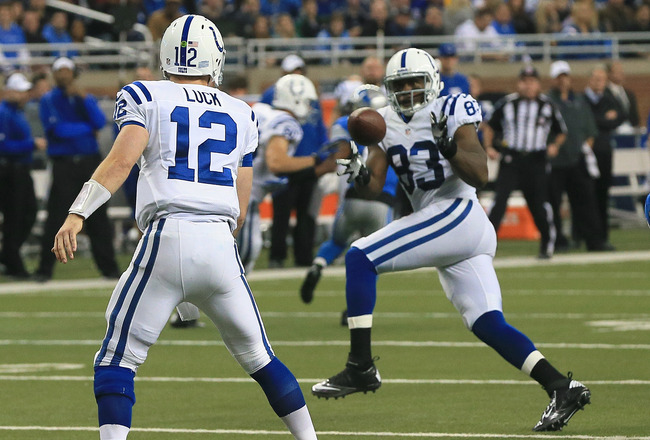 Dave Reginek/Getty Images
The Indianapolis Colts pulled up a monumental comeback in the final three minutes to overcome a 12-point deficit and defeat the Detroit 35-33 on a last second pass from Andrew Luck to Donnie Avery. The win gave the Colts their sixth in the last seven games and dropped the Lions to their fourth straight loss.
The victory for the Colts all but secured an AFC playoff berth as they are now 8-4 with two winnable games still left on the schedule. The Lions' playoff hopes diminished in the air as Avery crossed the goal line in the game's final seconds.
Winner: Colts' Rookie Receivers
Leon Halip/Getty Images
It was yet another epic day for Indianapolis' young receiving corps. They showed they can win without huge production by Reggie Wayne.
Both Coby Fleener and LaVon Brazill scored their first career NFL touchdowns, and T.Y. Hilton reached 100 receiving yards for the fourth time this season. Hilton was the 12th receiver selected in last April's draft and he's showing he could be the best one of the bunch. He had six receptions for 100 yards.
The other rookie Dwayne Allen also had a productive day as he finished with 50 yards on two receptions. Mix that with rookie running back Vick Ballard's three catches for 21 yards and the rookies combined to have 239 yards receiving on 13 catches.
Winner: Colts' Future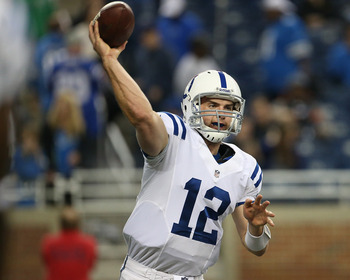 Leon Halip/Getty Images
Everyone thought that the Colts would never replicate the success of the Peyton Manning era. After all, that was one of the most dominate eras of not just football, but in all of sports. The Colts won countless division titles and won 10-plus games in 11 seasons. They also made two Super Bowl appearances and won one of them.
Their future now looks like it could rival that dynasty.
Today was the eighth win of the season for the Colts after winning only two games last season. That's remarkable considering they only won three games in Manning's first season.
This team looks so far ahead of the curve it's scary. Andrew Luck does make some bad decisions on the road at times, but the poise he had on the game's final two drives was nothing short of remarkable. He looked like a seasoned veteran, not a rookie playing in his 12th career game.
Also take into consideration how young this team is. The rookies are going to keep improving. Mix that with having the most cap room in the NFL next year and this team is possibly going to win multiple titles.
Winner: Robert Mathis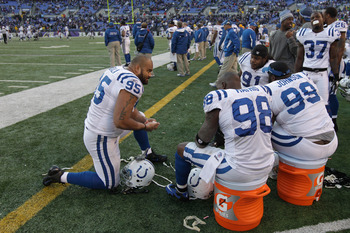 Rob Carr/Getty Images
The defense didn't have much to hang their hats on after getting trounced by the Lions, but one of the bright spots was Robert Mathis getting his first career interception. That was a takeaway that the Colts desperately needed.
Mathis will go down as one of the best pass-rushers in NFL history, but getting an interception in coverage shows he's learning the linebacking position quicker than expected and should eventually be a dominant force for the future.
Kudos to Mathis for being able to get his first interception.
Loser: Colts Pass Rush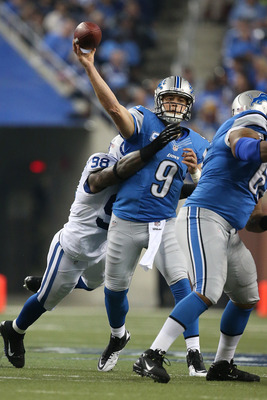 Leon Halip/Getty Images
The Colts defense looked bad today. They got beat by one guy and that could be blamed on two things. One of them is the lack of a pass rush.
Matthew Stafford had all day to throw the ball, dropping back 46 times without being sacked once. That's inexcusable by the Colts front seven.
In their last road game in New England, Tom Brady passed the ball 35 times and wasn't reached for a sack. That's now 81 straight times on the road the opposing team's quarterback has dropped back to pass and was not sacked.
If the Colts want to make some noise in the playoffs this has to get corrected. Their road to the Super Bowl is going to likely be all road games.
Loser: Colts Secondary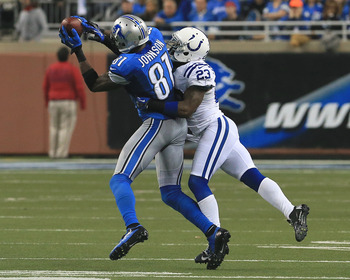 Dave Reginek/Getty Images
It should have been a simple game plan today for the Colts' defense. All they needed to do was force someone other than Calvin Johnson to beat them. Johnson had one of the best months in NFL history during November and was coming in hot.
But the Lions had two receivers inactive today and lost Ryan Broyles to injury early in the game, forcing them to rely solely on Johnson for nearly four quarters.
Why not put up double or even triple coverages his way and force the Lions to either beat you on the ground or with another unproven receiver? Instead, Johnson caught a career high 13 receptions for 171 yards and a touchdown.
He had the same amount of catches as the rest of the Lions team combined. Shame on Indianapolis for not allowing someone else to beat them. They nearly lost the game today because of this.
Keep Reading

Indianapolis Colts: Like this team?