Who Are the Favorites for Every Major NFL Award After Week 13?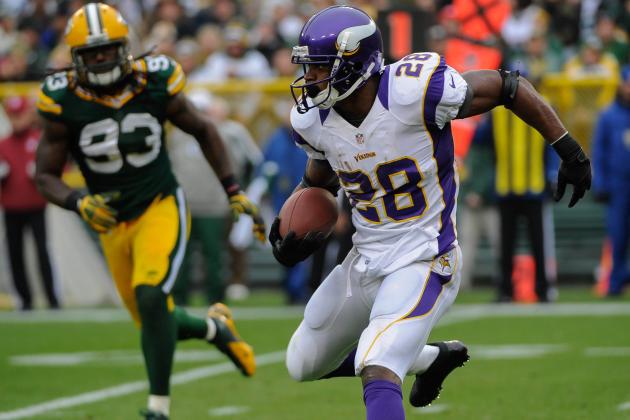 Benny Sieu-USA TODAY Sports
Adrian Peterson rushed for 210 yards against Green Bay in Week 13.
The individual races for every major NFL award in 2012 continue to be waged as we turn the calendar to December. With just four weeks of action left in the season, it's time to see how Week 13 action changed the forecast for every award.
The NFL announced the players of the month awards for the month of November, so those winners will be detailed in the appropriate slides.
Week 13 highlights included a couple of thrilling overtime games, some upsets and some great individual games. Week 13 action ended with the Monday Night Football game in which the Washington Redskins narrowed the gap in the NFC East by defeating the New York Giants.
A touchdown pass from Andrew Luck on the game's final offensive play lifted the Indianapolis Colts over the Detroit Lions. Luck passed for 391 yards and four touchdowns. RB Adrian Peterson of the Minnesota Vikings rushed for 210 yards in a loss. WR Calvin Johnson caught 13 passes for 171 yards, but like Peterson, finished up on the short end of the scoreboard.
We will look to narrow down the field for every race to a shortlist of top-tier options.
Begin Slideshow

»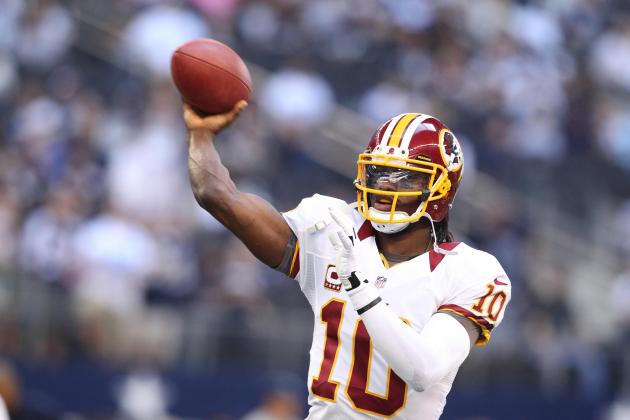 Tim Heitman-USA TODAY Sports
RG3 won NFL Offensive Rookie of the Month award in November.
As we enter the start of December games in the regular season, a brief review of the past three votes for NFL Offensive Rookie of the Month is in order.
Washington QB Robert Griffin III has now won the monthly award in September and November, which seems to be a strong indicator of where the voters are leaning. A couple items on Griffin, courtesy of the ESPN broadcast of the Monday Night Football game between the Redskins and Giants.
Griffin is the first rookie in the NFL to throw for eight touchdown passes and no interceptions over a two-game period. Griffin also holds the highest QB passer rating (146.3) of any rookie QB in NFL history over a two-game span, with a minimum of 40 pass attempts.
RG3 didn't have a great passing game against the Giants, but he broke Cam Newton's all-time rushing record for a quarterback, and most importantly, the Redskins won the game.
The only other Offensive Rookie of the Year candidate that won the monthly award was Tampa Bay RB Doug Martin, who did that in October.
The other rookies who have separated from the rest of the pack for OROY award consideration are: Indianapolis Colts QB Andrew Luck, Seattle Seahawks QB Russell Wilson and Washington Redskins RB Alfred Morris. Can any of them overtake Griffin and Martin with only four games left in the season? It is possible, but the pecking order favors Griffin by the voters.
Martin and Morris have both eclipsed 1,000-plus rushing yards already and would have been excellent candidates to win the award if Griffin wasn't having such a huge year.
Looking at the rookie quarterbacks from the NFL draft class of 2012, here are some key categories to see how they are performing, noting that this is being written prior to the Monday Night Football game.
QB passer rating: Griffin is No. 3 in NFL with a 104.6, followed by Wilson (No. 7 at 95.2), Luck (No. 29 at 76.1), Brandon Weeden (No. 30 at 72.3) and Ryan Tannehill (No. 31 at 72.3).
Most touchdown passes: Wilson (19), Luck (17) and Griffin (16).
Most passing yards: Luck (3,590), Weeden (2,820), Tannehill (2,559) and Griffin (2,497).
Yards per passing attempt: Griffin (8.21), Wilson (7.39), Tannehill (7.05).
QBR Rating: Griffin (No. 4 at 72.1), Luck (No. 6 at 71.6) and Wilson (No. 11 at 65.3).
We should also note wins: Luck (8), Wilson (7) Griffin (6), Tannehill (5) and Weeden (4).
The comeback win for Luck was the fifth game-winning drive he engineered in 2012. Luck is the first quarterback that was selected to the No. 1 overall draft pick that has led his team to at least eight wins as a rookie. The biggest downside is Luck's 16 interceptions compared to his 17 touchdown passes.
Since becoming the starting running back two weeks ago, Philadelphia RB Bryce Brown has rushed 43 times for 347 yards, four touchdowns and an average of 8.0 yards per rush. Unfortunately, that also includes three fumbles.
Indianapolis WR T.Y. Hilton caught six passes for 100 yards and has become an important part of the Colts offense.
We also wanted to acknowledge the fine kicking of St. Louis Rams kicker Greg Zuerlein, who leads the NFL with seven field goals of at least 50-plus yards.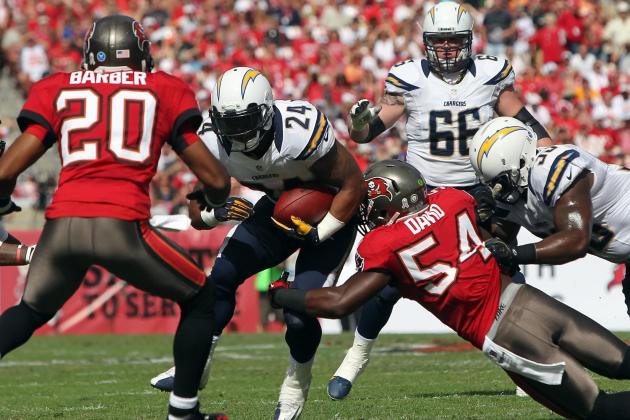 Kim Klement-USA TODAY Sports
Lavonte David won NFL Defensive Rookie of Month in November.
Three months of the regular season are in the books, and we now have three different winners of the NFL Rookie Defensive Player of the Month award.
The three winners in question are New England DE Chandler Jones (September), Green Bay CB Casey Hayward (October) and Tampa Bay Buccaneer LB Lavonte David (November).
St. Louis CB Janoris Jenkins must have liked his chances for November, but apparently two interception returns for touchdowns weren't enough to convince the voters.
If anything, the voting trends to date suggest that this is one race that is very much up in the air, so the eventual winner has just four weeks left to leave a lasting impression with voters.
Reviewing the NFL leaderboards, we have four rookies that are ranked in the top 10 in the NFL in tackles, starting with Carolina LB Luke Kuechly (No. 4 with 114), Bucs LB David (No. 5 with 108), Indianapolis LB Jerrell Freeman (No. 7 with 107) and Seattle LB Bobby Wagner (No. 10 with 101).
Seattle LB Bruce Irvin is tied for No. 20 in the league with seven sacks.
Pass deflection leaders are Hayward (No. 3 with 16), Buffalo CB Stephon Gilmore (No. 7 with 14), and Jenkins (No. 12 with 12).
There are five rookies ranked in the top 17 for interceptions. They are: Heyward (No. 2 with 5), New England S Tavon Wilson (No. 7 with 4) and a trio of rookies tied for No. 17 with three interceptions each (Jenkins, New England CB Alfonzo Dennard and Tampa Bay CB Leonard Johnson).
With so many different defensive rookies excelling in so many categories, it will make the DROY voting very difficult. Nobody is really pulling away from the competition like Griffin is for the OROY or like Peyton Manning and Adrian Peterson are for the NFL Comeback Player of the Year award.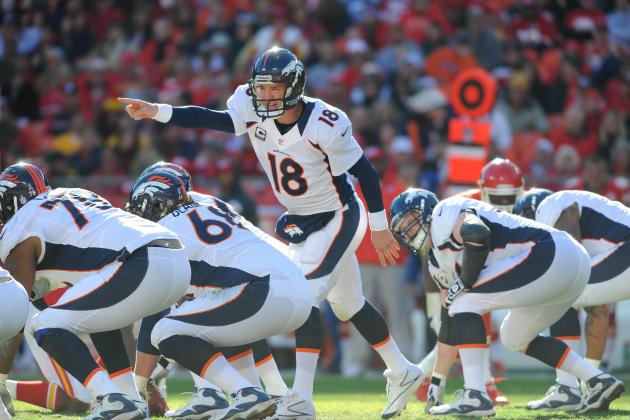 Denny Medley-USA TODAY Sports
Peyton Manning has led Denver to seven straight wins.
For at least the past month, we have narrowed the field for the NFL Comeback Player of the Year award to Denver QB Peyton Manning and Minnesota RB Adrian Peterson.
During the Monday Night Football game, ESPN asked the question: "Who is the NFL Comeback Player of the Year?" The poll only listed two options, Manning and Peterson. The national vote had Manning ahead at halftime of the game.

Surprisingly, we get comments every week from readers that don't believe that Peterson should deserve any consideration for the Comeback award, primarily due to the fact that he missed so few games. So, with that backdrop, it is time to re-introduce the Comeback Player of the Year award qualifications, (via Dan Hanzus, NFL.com):
The CPOY award is given to a player who "shows perseverance in overcoming adversity, in the form of not being in the NFL the previous year, a severe injury, or simply poor performance."
Anybody that ignores the severe injury portion of the qualifications is simply missing the boat. Peterson has every right to the award, just as much as Manning deserves it.
Of every major award race, the one between Manning and Peterson is the only one that warrants a co-winner approach.
Peterson ran through the Green Bay Packers for 210 yards in just 21 carries, averaging 10 yards per rush.
Manning, meanwhile, led the Broncos to their seventh straight win and threw for three more touchdowns. On the year now, Manning has amassed 29 touchdowns and only nine interceptions.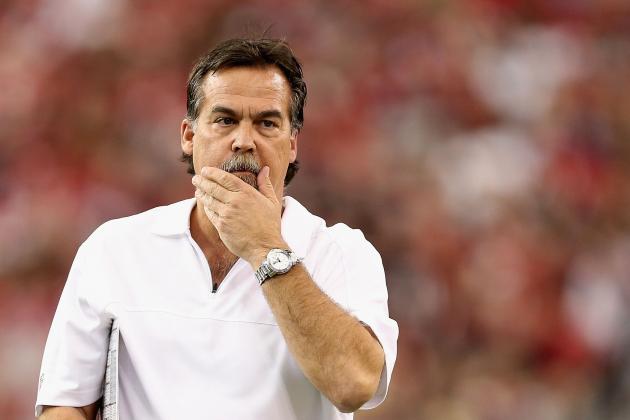 Christian Petersen/Getty Images
Jeff Fisher has led the Rams to upset wins over 49ers and Seahawks.
With identical records of 11-1, Houston Texans head coach Gary Kubiak and Atlanta Falcons head coach Mike Smith continue to guide their teams to one win after another. The big question for both of these two coaches will be how far can they take their teams in the postseason. It would be a surprise if both teams didn't maintain home-field advantage throughout the postseason.
From the teams that weren't expected to be that great, the four biggest surprise coaches are Indianapolis coach Bruce Arians, Seattle coach Pete Carroll, Tampa Bay coach Greg Schiano and St. Louis coach Jeff Fisher.
Fisher has extended the San Francisco 49ers to overtime in both games this year, which tells you that the Rams are much improved from 2011.
The voters will have to opt for either a dominating team like Houston or Atlanta, or one of the surprise teams, especially if one of them goes on a winning streak during the stretch run.
One other name to ponder is Denver coach John Fox. The Broncos have their seven-game winning streak going strong and can boast a top-10 offense as well as a top-10 defense. The only NFL team that can make that claim is the Houston Texans. With both units playing so effectively and efficiently, that bodes well for the chances for both Fox and Kubiak.
Benny Sieu-USA TODAY Sports
Can Aaron Rodgers claim the NFL OPOY award?
The NFL Offensive Player of the Year award has a number of serious contenders, with just four weeks to go.
For the month of November, Detroit Lions WR Calvin Johnson was voted NFC Offensive Player of the Month, while Houston Texans WR Andre Johnson received the honor for the AFC. In October, the winners were Denver QB Peyton Manning in the AFC and Green Bay QB Aaron Rodgers in the NFC. Atlanta QB Matt Ryan won the NFC award in September, while Cincinnati WR A.J. Green claimed the AFC award.
Six winners and all of them different. That shows you how widespread the distribution of offensive talent is in the NFL in 2012. It is difficult to imagine anyone winning this award unanimously, due to so many potentially deserving candidates.
As of the end of Week 13 action, the leading candidates are Denver QB Peyton Manning, New England QB Tom Brady, Minnesota RB Adrian Peterson, Green Bay QB Aaron Rodgers and Detroit WR Calvin Johnson.
There are a vast number of players that have turned in high-quality seasons like Cincinnati WR A.J. Green, Seattle RB Marshawn Lynch, Atlanta QB Matt Ryan and New Orleans QB Drew Brees, but this second tier of offensive stars is a notch or two below the five players listed above.
Brady, Manning and Rodgers will be battling it out for the top quarterback, while Johnson and Peterson are the leading wide receiver and running back in the league in 2012.
Scott Rovak-USA TODAY Sports
Aldon Smith won NFC Defensive Player of the Month in November.
The NFL Defensive Players for the month of November went to a pair of linebackers. Denver LB Von Miller (AFC) and San Francisco LB Aldon Smith (NFC). Earlier, Chicago CB Charles Tillman (NFC) and Miami DE Cameron Wake won the award in October. Chicago CB Tim Jennings and Houston DE J.J. Watt won the award for September.
So just like we ran into for the NFL Offensive Player of the Year, the NFL Defensive Player of the Year also has six different monthly winners with no repeat winners. That makes the job for the voters a little tougher.
If we were asked to narrow down our field to the top four candidates that represent the top tier, the nominations here would be Texans DE J.J. Watt, Denver LB Von Miller, Chicago CB Tim Jennings and Chicago CB Charles Tillman.
The second tier would be led by Arizona LB Daryl Washington, San Francisco LB Aldon Smith, Cincinnati DT Geno Atkins, San Francisco LB NaVorro Bowman and Miami DE Cameron Wake.
The reasons for limiting the top tier to just four players is that Watt and Miller represent the two players with the best overall game that continues to fill up the stat sheet across the board. They are dominating games from their position, and one of the two will probably walk away with the award.
After 12 games, Watt has come up with 59 tackles, 15.5 sacks, 14 tackles for loss, 15 pass deflections, one forced fumble and two fumble recoveries. Miller has 53 tackles, 15 sacks, 12 tackles for loss, two pass deflections, one interception (returned for a touchdown) and five forced fumbles. Both are the leaders of a top-10 NFL defense.
The stats for Watt and Miller are clearly more complete across the board than Aldon Smith's, for example. Smith does have 17.5 sacks but only two tackles for loss, 51 tackles and three forced fumbles. Everything else is a goose egg.
Tillman and Jennings form one of the best cornerback tandems in the NFL, and both are having great years.
From leading the NFL in interceptions, pass deflections, forced fumbles and returning interceptions for touchdowns, what else could you possibly ask these two corners to do that they aren't already doing? The only problem for the DPOY award is that both corners will wind up taking votes away from each other, making it very difficult for either one to win.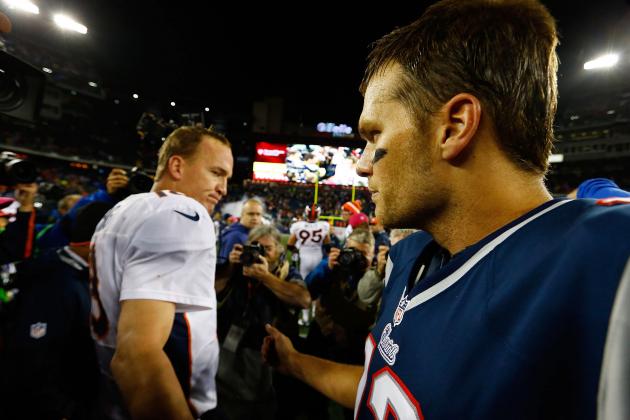 Jared Wickerham/Getty Images
Tom Brady and Peyton Manning could end up atop the MVP race again.
Like fine wine, Denver QB Peyton Manning and New England QB Tom Brady continue to get better with age. The duo is once again having a banner regular season and look like they will be getting plenty of support for the NFL Most Valuable Player award.
Manning has the Broncos on a seven-game winning streak, while Brady has the Patriots on a six-game winning streak. Both quarterbacks are in the top four for touchdown passes. Both offenses are in the top five in the NFL. They are both in the top five for QB passer rating and are No. 1 and No. 2 in Total QBR.
As Brady and Manning continue to crank out one win after another, it is going to become harder for anybody else to dislodge these two quarterbacks from gaining the lion's share of the votes.
If we deem that Brady and Manning are atop the MVP shortlist right now, who else possibly has a shot? That list would include Green Bay QB Aaron Rodgers, Minnesota RB Adrian Peterson and Houston RB Arian Foster.
The tendency is for quarterbacks to receive the MVP trophy, and there is something special about the way that Manning and Brady continue to carve up defenses every week even though they are on the wrong side of 35 years old.
The final four weeks will be the critical in establishing the favorite MVP candidate. Based on strength of schedule, that would favor Manning.
His final four games are at Oakland, at Baltimore, home against Cleveland and home against Kansas City. Brady, on the other hand, is home against Houston, home against San Francisco, at Jacksonville and closes up at home against Miami.
The defenses that Manning goes up against are much softer than what Brady will see, so that could have an impact on the final voting.
Thanks for checking out the presentation. We will be back next week with the Week 14 installment.