The Top 5 Fantasy Football Waiver-Wire Adds at Every Position for NFL Week 13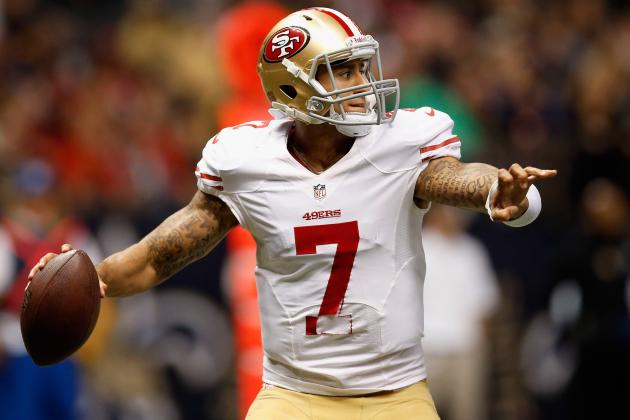 Chris Graythen/Getty Images

If you've been hesitant about the waiver wire in weeks past, Week 13 is the perfect time to jump on board. The playoffs are right around the corner, and the waiver wire is guaranteed to help you make a run in the final weeks of the season.
Week 12 of the fantasy football season brought us a handful of breakout performances. These players will be crucial down the stretch and deserve serious consideration as Week 13 pickups.
We'll break down every position on your team today and let you know the top fantasy football waiver-wire additions for Week 13.
Begin Slideshow

»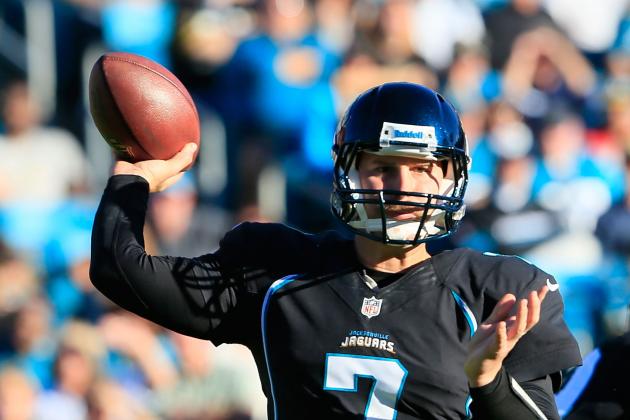 Sam Greenwood/Getty Images

1. Colin Kaepernick, San Francisco 49ers
While Alex Smith could still be named the starter in San Francisco, it would appear that Kaepernick has the leg up heading into Week 13.
He's played fantastic football in the past two weeks with four total touchdowns and only one interception. However, it his ability to run the ball that makes him such a dangerous threat in fantasy football.
Kaepernick has only logged 37 rushing yards in his two starts, but he is always a threat to break off a big run. In Week 10 and Week 4, he went over 50 yards with a touchdown in limited playing time.
There is a chance that he'll struggle against the talented secondary of the St. Louis Rams, but if Kaepernick starts for the remainder of the season, he is a top priority on the waiver wire.
2. Chad Henne, Jacksonville Jaguars
Who would have thought that Henne would be this much better than Blaine Gabbert?
Not only does Henne have Jacksonville playing competitive football, he is also putting up great statistics while doing it. In Weeks 11 and 12, Henne threw for 615 yards, six touchdowns and only one interception.
However, what makes Henne such a great addition in Week 13 is the remainder of his schedule. With games against New England, Buffalo and Tennessee, Henne has a chance to finish the season putting up huge points.
3. Russell Wilson, Seattle Seahawks
Wilson went through a period in the middle of the season where he'd have one good performance followed by a really poor performance. However, he's been great the past three weeks, and that shouldn't slow down anytime soon.
Since Week 9 (Seattle had a bye in Week 11), Wilson has thrown seven touchdowns without throwing an interception. While he isn't throwing for a large amount of yards, the fact he isn't turning over the football makes up for it.
Wilson has a difficult matchup in Week 13 against the Chicago Bears, but back-to-back games with the Arizona Cardinals and Buffalo Bills makes Wilson well worth a pickup off the waiver wire this week.
4. Jake Locker, Tennessee Titans
With each week that passes, Locker appears to be more and more of a boom-or-bust player.
For example, Locker has the ability to throw for 378 and two touchdowns like he did in Week 4. However, he can also struggle like he did last week with only 261 yards and two interceptions.
If you're dealing with injuries at the quarterback position, Locker certainly deserves some consideration this week.
5. Kevin Kolb, Arizona Cardinals
While Ryan Lindley is still the starter in Arizona in Week 13 (according to ESPN.com), Kolb should get back his starting job once he is healthy.
Whether that happens this week or in Week 14 doesn't matter because Kolb has the potential to put up big points when he is on the field. Pick him up now and hope he is healthy enough to give you big points in the playoffs.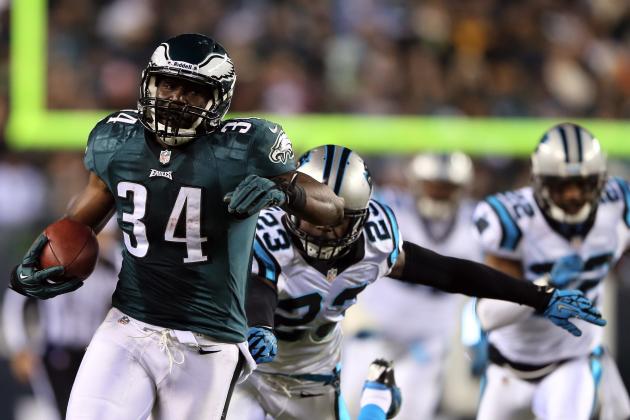 Elsa/Getty Images

1. Bryce Brown, Philadelphia Eagles
Just how far Brown can take you in the upcoming weeks depends on the health of LeSean McCoy. If McCoy misses another week, don't be surprised if Brown has another performance like he did in Week 12 (189 total yards, two touchdowns).
However, even if McCoy does return, Brown did enough on Monday night to deserve more touches in the upcoming weeks. While he might not be starting material if he is backing up McCoy, he still has major potential at the flex position.
2. Jonathan Dwyer, Pittsburgh Steelers
With Dwyer becoming the starting running back in Pittsburgh, he instantly becomes a fantastic addition off the waiver wire.
The Steelers simply don't have much going for them in the passing game without Ben Roethlisberger, meaning Dwyer will get plenty of carries moving forward. He's definitely got the potential to be a big-play back and become a quality fantasy football starter.
3. Knowshon Moreno, Denver Broncos
After Willis McGahee was injured in Week 11, it appeared as if Ronnie Hillman would become the No. 1 back in Denver. However, that wasn't the case, as Moreno got the majority of the touches last week for the Broncos.
His 24 total touches in Week 12 resulted in 111 total yards on offense. By comparison, Hillman only received three touches for nine yards.
As long as Moreno can keep from turning the ball over, he should remain the top ball-carrier for the Broncos.
4. Beanie Wells, Arizona Cardinals
In his first game since Week 3, Wells had a solid outing against the St. Louis Rams. His 48 rushing yards weren't overly impressive, but his two touchdowns certainly helped boost his production.
With Arizona continuing to struggle throwing the ball, Wells should see way more than 17 carries this week. Look for him to be the focal point of the offense moving forward and put up some major points for the remainder of the season.
5. Marcel Reece, Oakland Raiders
The only reason that Reece ranks this low as an addition off the waiver wire is because of the possibility that Darren McFadden returns in Week 13.
McFadden could return to practice this week, making Reece less valuable in terms of fantasy football. However, if McFadden is forced to sit out another week, Reece will once again be a great start at either running back or at the flex position.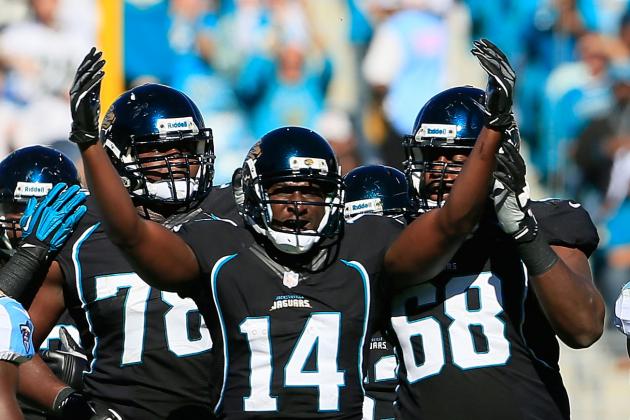 Sam Greenwood/Getty Images

1. T.Y. Hilton, Indianapolis Colts
Over the past four weeks, Hilton has been rather productive for the Colts. He has 235 receiving yards to go along with four touchdowns over that span of time.
What makes Hilton such a dynamic pickup this week off the waiver wire is his unique ability to make plays with the ball in his hands. He's a legitimate deep threat and is getting more and more looks from Andrew Luck.
With the Detroit Lions and Tennessee Titans in back-to-back weeks, look for Hilton to continue to produce at a high level in Week 13.
2. Justin Blackmon, Jacksonville Jaguars
It seems that all Blackmon needed to live up to his potential was a change at quarterback. In two games with Chad Henne, Blackmon has recorded 298 receiving yards and two touchdowns.
With the Buffalo Bills on the schedule for Week 13, Blackmon will once again be expected to put up great numbers in fantasy football.
3. Cecil Shorts, Jacksonville Jaguars
Don't call me crazy for having a number of Jaguars players as top waiver-wire additions this week. This offense has hit a stride under Henne, and that won't change anytime soon.
Since Henne was named the starter in Jacksonville, Shorts has been fantastic. He has 186 receiving yards and two touchdowns in his last two games to go along with 13 targets.
Shorts should continue to see a bunch of looks for the remainder of the season and should garner some consideration as a starting wide receiver on your roster.
4. Pierre Garcon, Washington Redskins
Injuries have ruined the majority of Garcon's season, but he finally looked healthy in Week 12. He recorded five receptions, 93 yards and one touchdown against the Dallas Cowboys on Thanksgiving Day.
With Robert Griffin III playing at a truly elite level, Garcon should be able to finish the season with more performances like the one in Week 12.
5. Brandon LaFell, Carolina Panthers
Monday night was the first time that Cam Newton looked like the 2011 version of himself. The biggest benefactor of that was LaFell, who was targeted seven times and recorded 74 yards and a touchdown.
As long as Newton doesn't take a step back in Week 13, LaFell could be a sneaky start at the flex position.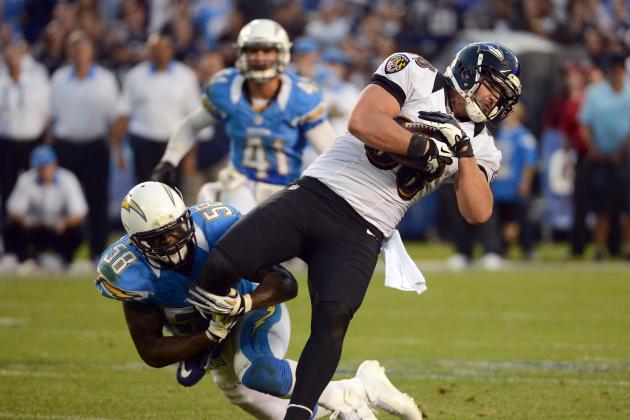 Harry How/Getty Images

1. Dustin Keller, New York Jets
With each week that passes, Keller becomes a bigger part of what the Jets are doing offensively. In Week 12, Keller was literally the only player who had a decent game against the New England Patriots.
He recorded five receptions for 64 yards and a touchdown. While those aren't eye-popping numbers, they are numbers that will be pretty consistent for the remainder of the season.
2. Dennis Pitta, Baltimore Ravens
Pitta has been widely inconsistent this year, but if Week 12 is any indication of how things may go for the remainder of the season, he's worth picking up off the waiver wire.
In that game, he was targeted a total of nine times, the most targets he has seen since Week 2. He finished with six receptions, 42 yards and a touchdown.
Once again, not stellar numbers, but if that can be a consistent performance from Pitta, he is definitely worth picking up off the waiver wire this week.
3. Dallas Clark, Tampa Bay Buccaneers
It hasn't been a banner year for Clark, but he is quietly playing some solid football for the Buccaneers.
Over the past three weeks, Clark has managed 126 receiving yards and two touchdowns. However, what makes him really valuable is the fact that he has been targeted 16 times in those three games.
As long as Josh Freeman continues to look in Clark's direction, he has decent value on your roster.
4. Marcedes Lewis, Jacksonville Jaguars
Yep, another Jaguars player is on our waiver-wire addition list.
Lewis is also enjoying the play of new quarterback Chad Henne. In the past two weeks, Lewis has seven receptions, 96 yards and two touchdowns. For comparison, Lewis had only two touchdown receptions in the previous eight games before Henne took over.
While he isn't worth starting unless you're in a deep league, he is definitely worth stashing on your bench for emergency purposes.
5. Benjamin Watson, Cleveland Browns
With the Oakland Raiders on the schedule this week, the entire Browns offense could be in for quite the game.
Watson is a risky start but could potentially have a big week against such an easy matchup. Two weeks ago we saw him record two touchdown receptions, and another performance like that is definitely possible.
Don't start Watson over a premier tight end, but he could be an interesting play if that position has been weak for you recently.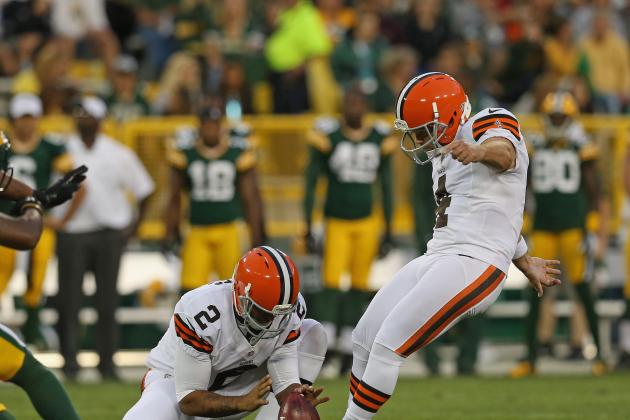 Jonathan Daniel/Getty Images

1. Connor Barth, Tampa Bay Buccaneers
The Buccaneers have been on a scoring rampage in recent weeks, making Barth an extremely attractive option for fantasy football.
The last time Tampa Bay scored less than 23 points was back in Week 4. Over that same stretch of games, the Buccaneers have put at least 30 points on the board four times.
As long as they can continue to score, Barth should continue to be one of the highest scoring kickers in fantasy football.
2. Phil Dawson, Cleveland Browns
The Browns are coming off a huge win over the Pittsburgh Steelers and now get the privilege of playing the Oakland Raiders in Week 13.
This is the same Oakland team that has given up an average of 42 points over the past four weeks. Needless to say, it wouldn't be surprising to see Cleveland have their best offensive performance this week.
If that happens, Dawson could end up being the surprise pickup of Week 13.
3. Adam Vinatieri, Indianapolis Colts
A matchup with the friendly defense of the Detroit Lions this week is great news for those who decide to start Vinatieri.
The Colts could have a big offensive week led by Andrew Luck, which would give Vinatieri some serious fantasy value for at least one week.
4. Mike Nugent, Cincinnati Bengals
Few teams have been as hot as Cincinnati has been in recent weeks. Andy Dalton, A.J. Green and the rest of the offense really seem to be clicking finally.
The only thing a little concerning about starting Nugent this week is his matchup with the San Diego Chargers. The defense in San Diego has been solid in recent weeks and could pose problems for the Bengals and Nugent.
5. Josh Scobee, Jacksonville Jaguars
I know it seems crazy to have so many Jacksonville players on as pickups in fantasy football this week, but the offense has been stellar the past two weeks.
On top of that, the Jaguars have a cake matchup in Week 13 against the Buffalo Bills. There should be plenty of points by both teams, and Scobee should have his best week in terms of fantasy football this season.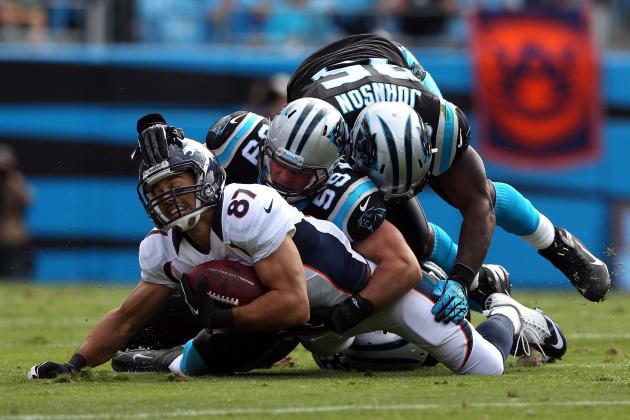 Streeter Lecka/Getty Images

1. Dallas Cowboys
The Cowboys play the Philadelphia Eagles this week, just three weeks after dominating them defensively.
With Michael Vick and LeSean McCoy still potentially out, Dallas should have no difficulty slowing down whatever the Eagles try on offense.
2. Carolina Panthers
Playing the Kansas City Chiefs is like gold for defenses in fantasy football. That is who the Panthers get this week and why they need to be a must-start option on defense.
If this game turns into a shootout and Brady Quinn is forced to throw often, the Panthers could finish Week 13 as the top scoring defense.
3. Arizona Cardinals
I'm not a big fan of the Cardinals defense, but I'm even less of a fan of the Jets offense.
Watch for the Cardinals to bring plenty of pressure on Sunday and for Mark Sanchez to make mistake after mistake.
4. New York Jets
I mean, the Jets are going up against Ryan Lindley on Sunday. Considering Lindley threw four interceptions, including two pick-sixes, in Week 12, I'd say the Jets have some value this week on defense.
This is one of those games where both teams will struggle getting into double-digit points.
5. Cleveland Browns
With Cleveland traveling to play the Oakland Raiders this week, we could see the Browns allow quite a few points.
However, if Darren McFadden can't play, I think the Browns defense will be able to slow down the Raiders. Carson Palmer looks more and more tired each week and has become much less effective.
If they can slow down the ground game, Cleveland should have little trouble producing on the defensive side of the ball.