NFL: 9 Bold Predictions for the Rest of the Season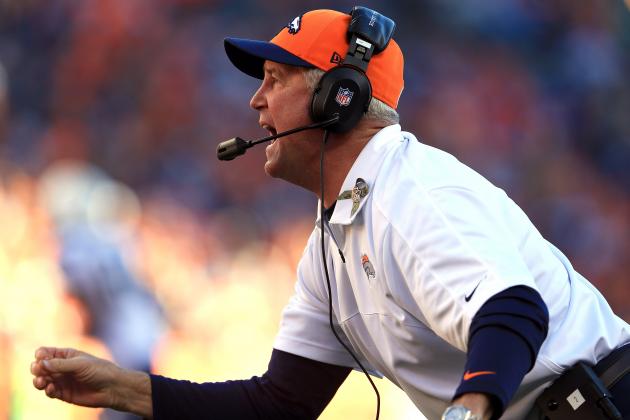 Doug Pensinger/Getty Images

It's hard to believe that the season is already approaching Week 13. I'm actually a little sad—whether it's because the season is almost over or because I'm 6-5-1 in my fantasy league, I'm not sure.
Nonetheless, it's that time of year for all of the big predictions to start, and I'm no different. With five weeks left, it really is the perfect time to start speculating about who's going to the playoffs, who will win what awards and so on down the line.
That all being said, here are some predictions you can take to the bank.
Begin Slideshow

»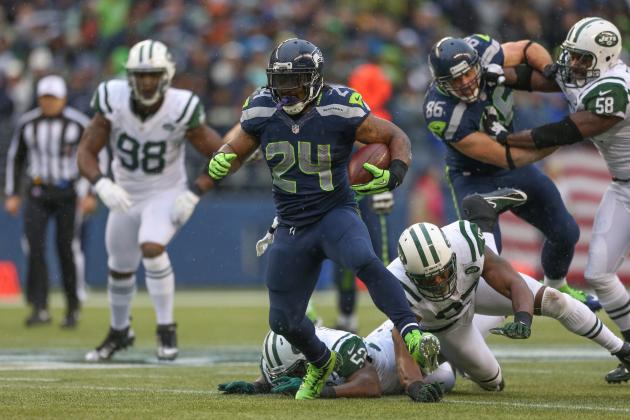 Otto Greule Jr/Getty Images

Even Beast Mode will have trouble saving the Seahawks in the tough NFC. I had to lead off with this one, though, because at the beginning of the season I predicted Seattle—not San Francisco—to win the NFC West.
While that's still a very realistic possibility, it isn't very likely given both teams' remaining schedules. Given how good the 49ers are this season, Seattle would likely have to win out to even have a shot at the division. With two road games left, it's not likely.
At 6-5, the Seahawks are in pretty good shape for the postseason, but their coming loss in Chicago this week (we'll call that a mini-prediction) is likely going to be the end. Keep in mind, I base that off predictions for the other NFC contenders.
It will have been a fantastic run for one of the league's best defenses and a surprising rookie quarterback, but Seattle will fall just short in 2012.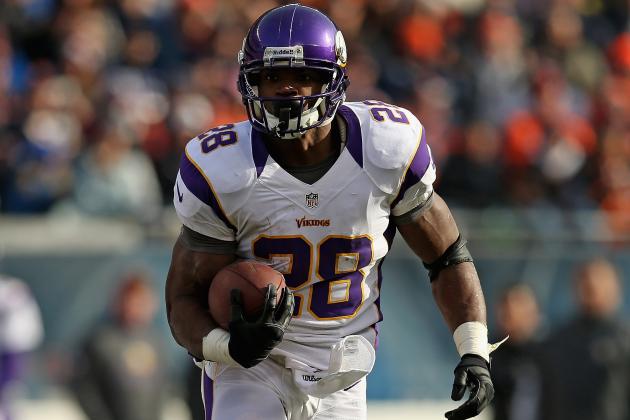 Jonathan Daniel/Getty Images

Through 11 games, Adrian Peterson has managed to rack up a whopping 1,236 yards. With five games left, it's feasible that he could get to that legendary 2,000-yard mark.
However, he will fall just short. Given his current pace, he shouldn't have any problems running away from the competition, barring any epic games from Arian Foster.
What AP has done coming off a knee injury has been pretty amazing and he's doing it rather quietly. If the Vikings were going to the playoffs, he'd be a contender for the MVP award.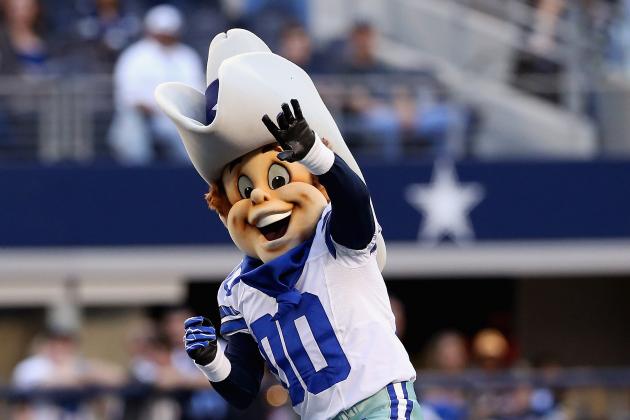 Ronald Martinez/Getty Images

Only the mascot is cheering in Dallas these days. Their absence from the playoffs will not come as a shock to anybody—fans in Dallas are calling for Jerry Jones's head.
As for the Bucs and Saints, they still had an outside shot going into Week 12. New Orleans, under Joe Vitt's leadership, appeared to be making a startling and surging comeback to get into the postseason.
And then they ran into the San Francisco 49ers, who dropped them to 5-6, and in all likelihood will be on the outside looking in. They still have road games against Atlanta and the New York Giants.
Tampa Bay has been a good story under first-year head coach Greg Schiano. They're 6-5 and had put together a pretty good string of victories. They welcomed Atlanta this past weekend and allowed the Falcons to slip out with a victory.
It will prove to be a detrimental loss—with games in Denver, New Orleans and Atlanta still coming, the game was a must-win. The loss has doomed the Bucs, but they should continue to contend for the next few seasons with such a young team.
Ronald Martinez/Getty Images

He's been well outthrown by Andrew Luck, but RG3 has more touchdowns and far less interceptions than Luck—and that's with less talent at the wide receiver position.
He has breathed new life into the nation's capital, and it seems that they are poised to go on a run of epic proportions.
Which leads me to my next slide.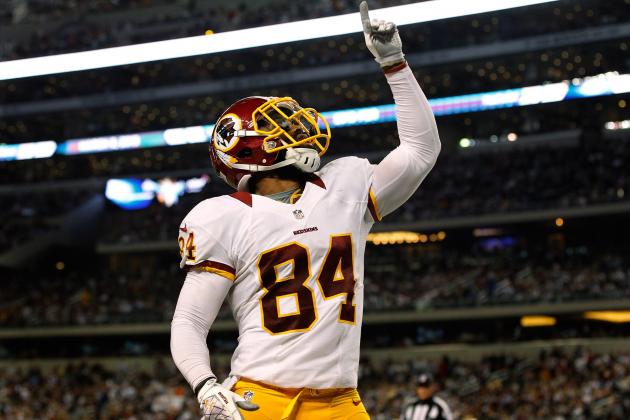 Tom Pennington/Getty Images

At least one of these had to be ridiculously bold, and of all the predictions on this list, this one probably wins the award.
I had some doubts about this prediction following the Giants' beatdown of the Green Bay Packers, but I will stand by it because I love what I'm seeing from the Washington Redskins. Robert Griffin III has now thrown for four touchdowns in each of the last two games, Alfred Morris is heating up and the rush defense is one of the best in the league.
There's no doubt that the 'Skins have some tough games left—a Monday night showdown with the Giants will come this week and will be followed by a game against the Ravens next week.
In the end, I see both teams finishing 10-6, stealing a playoff spot from the Seattle Seahawks.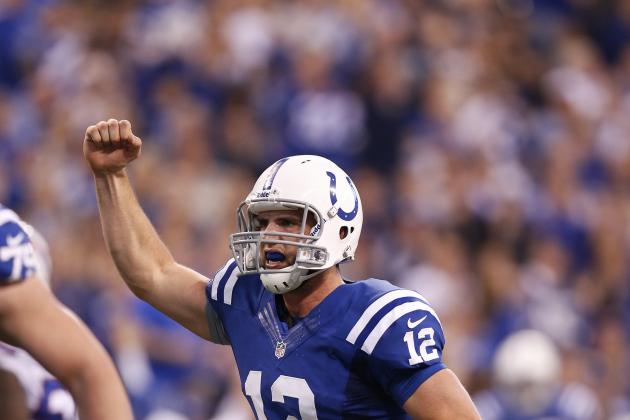 Joe Robbins/Getty Images

What Indianapolis has done this season has been amazing. The team was awful last season, and it seemed like no matter who they drafted it would be that way for awhile.
Under Andrew Luck's leadership and playing through Chuck Pagano's illness, the Colts have racked up seven wins and are in prime position to be in the postseason.
Here's what scares me about Indy—two of their losses came against Jacksonville (at home) and they were pummeled against the Jets. There are flaws on this team that, for some reason, come up against some of the bottom-feeders of the league.
Their remaining schedule isn't easy. Two games against Houston are still coming, and playing in Detroit is never easy. They will enter Week 16 with an 8-6 record with two games left—in Kansas City and home against a Houston team that likely will have locked up home-field advantage.
They'll win Week 17. However, it is my belief that in an effort to play some kind of role in the season, the Chiefs will knock off the Colts in Week 16, opening the door for other teams to step up.
A 9-7 season will be extremely impressive from this team, but it won't be enough.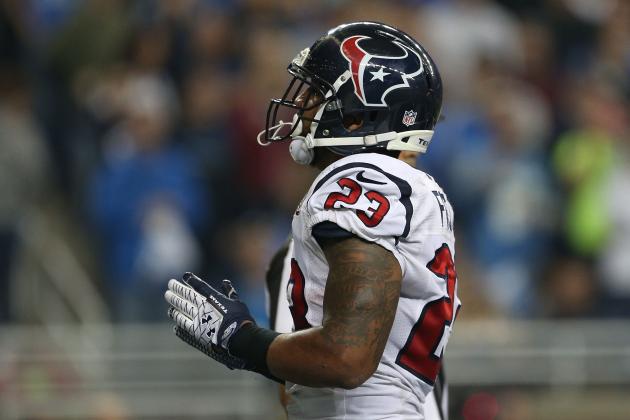 Leon Halip/Getty Images

Besides some reseeding, the AFC will look pretty familiar—in fact, it'll be identical to last season.
The wild cards will go to the 10-6 Pittsburgh Steelers and the 10-6 Cincinnati Bengals. Both teams have pretty favorable schedules going down the rest of the way.
Baltimore, also 10-6, will win the AFC North and be the fourth seed, while the Patriots will win the AFC East at 12-4. There are a couple of trap games left on New England's schedule, but it won't make a bit of difference—they'll win the division easily.
The top two seeds will go to the 13-3 Denver Broncos and 14-2 Houston Texans. Denver is the hottest team in football right now, and seeing them losing anytime soon would be stunning.
Al Bello/Getty Images

Yep, it's going to happen again. I've never been a huge believer in the Giants, but they catch fire at the right time.
We'll be out of November by the time Week 13 starts, and that means the NFL should be on notice. Eli Manning and company may not win the division, but they'll sneak in as they usually do, and the beast will run wild on the NFC once again.
They'll take down third-seeded San Francisco in Round 1—no muffed punts, they're just the better team.
Following that, they'll beat up the Atlanta Falcons, as we all know that they can't play when it matters the most.
In the NFC championship game, the Giants will meet the second-seeded Chicago Bears. Eli will have a rough game against a rough Bears' secondary, but Ahmad Bradshaw will come to life. The running game keeps the Giants alive, and they go to the Super Bowl for a second consecutive season.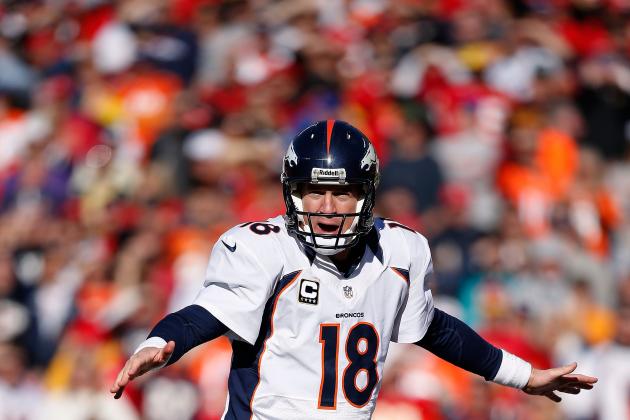 Jamie Squire/Getty Images

The Denver Broncos and New York Giants are going to clash in the Super Bowl, and it is going to be a matter of which Manning can be the better quarterback.
Denver's defense is obviously the better of the two. Peyton's offensive line is better, his running game is better, everything about the Broncos, on paper, is better than the Giants.
Despite that, this one is going to go down to the wire, with Eli and Peyton going blow for blow. Each of them are going to toss at least three touchdowns in a high-scoring affair.
In the end, the Broncos aren't going to lose another game, and Peyton will get his second Super Bowl victory and another MVP.