5 Players the Atlanta Falcons Could Take in the First Round of 2013 NFL Draft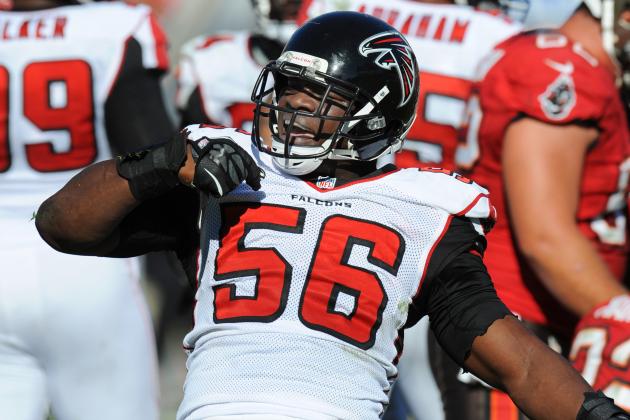 Al Messerschmidt/Getty Images

The Atlanta Falcons are 10-1 and would be picking 31st if the NFL Draft happened tomorrow based on current records and strength of schedule. However, it's never too early to look at the possible options of who can help the Falcons in the NFL draft.
We're currently six months away from the draft, and despite the great season for the Falcons so far, Thomas Dimitroff is always going to be looking at prospects. The following options all fit the Thomas Dimitroff philosophy on drafting.
Dimitroff prefers players who are known as hard workers. He prefers team captains and players who have great versatility not just at their own position, but the ability to play multiple spots as well. He also doesn't even look at players with any off the field issues such as arrests or suspensions, and the following guys all fit the Dimitroff profile.
Begin Slideshow

»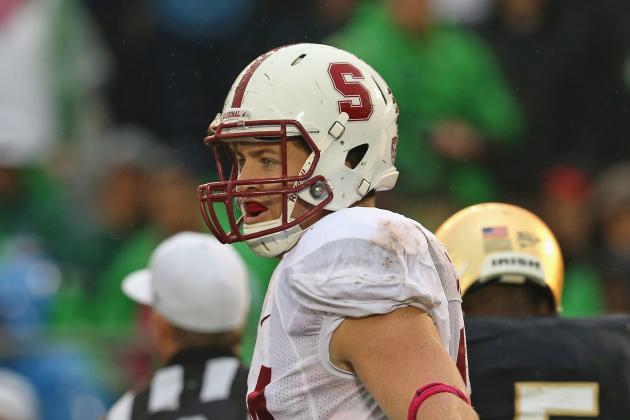 Jonathan Daniel/Getty Images

At first look, an outside linebacker makes no sense. However, Chase Thomas is a rare exception. He's got a combination of being a local talent coming from Walton High School in Marietta, Georgia, and a true leader on and off the field as one of Stanford's team captains.
He also would create another option to work around in the multiple front and amoeba defenses. Thomas can line up at defensive end, outside linebacker, inside linebacker and even safety in some sets, similar to how Kroy Biermann is used.
The versatility and intelligence that he has on the field would create similar results to his college production in the pros. He has averaged 6.0 sacks and multiple forced fumbles in each of his college season. The Falcons would love to have another John Abraham/Kroy Biermann type in the defense and Chase Thomas is exactly that.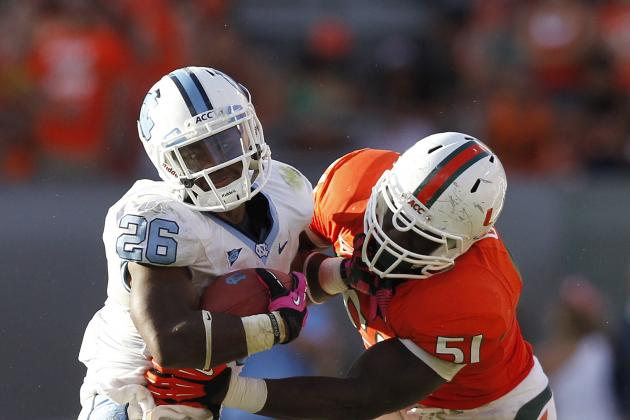 Joel Auerbach/Getty Images

As I've noted in previous articles, the Atlanta Falcons need someone to replace Michael Turner next year. He's at the end of his rope and has been completely ineffective all season, failing to gain short yardage multiple times.
Enter Giovani Bernard who fits not only as an all-around back but as a back who can power for the short yardage. Bernard is no slouch averaging 6.67 yards per carry this season on just under 200 carries.
Add in his 10.43 yard per catch average on 47 catches, and Bernard has over 1,700 yards from scrimmage this season. While his 5'10" 205 pound frame doesn't make him the biggest back in the league, his talent alone is what makes him the best back in the draft and the best option for the Falcons new offense based around the passing game.
Greg McWilliams/Getty Images

Atlanta isn't running a full time 3-4... yet. However, it's doubtful that they ever will under Mike Nolan. Nolan likes to run out of multiple looks and needs a true 1-tech nose tackle who can also play a 0-tech if need be. He doesn't have that right now with Corey Peters, Vance Walker or Jonathan Babineaux.
However, Jesse Williams—the nose tackle from the Alabama defense—would be an excellent fit for the Falcons new scheme. At 6'4" 320 pounds, Williams is a bigger defensive tackle than any of what Atlanta has on the roster.
He is just as quick as any of them though. The mix of Williams in the rotation would allow the Falcons to let Vance Walker and/or Peria Jerry walk in the offseason and build around the combination of Peters and Williams long term.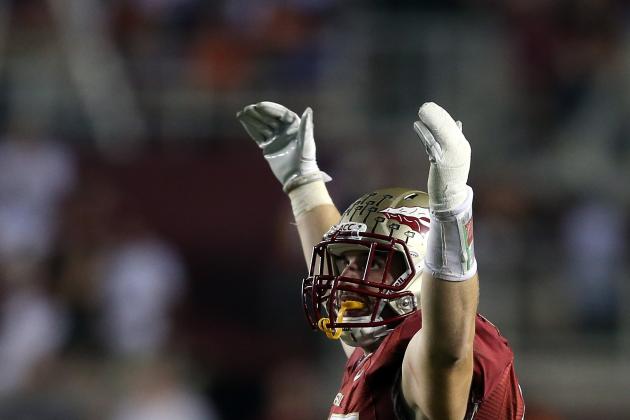 Streeter Lecka/Getty Images

Atlanta cut Ray Edwards because he just didn't fit what they were trying to do. This leaves a huge hole in the defensive end rotation for the Falcons should they decide to stick with the base 4-3 look under Nolan.
After losing nearly 20 pounds from his junior campaign, the 6'4" 255 pound Bjoern Werner from Florida State has proven to be one of the best all around talents at the defensive end position. And much like the Falcons own Kroy Biermann, he could pick his hand up off the ground and play in the multiple sets.
Werner is a beast of a pass rusher and penetrates against the running game. His 13 sacks this season show that he can get pressure on everyone. Add in the way he knocked away another seven passes and Werner could end up being a huge disruptive force for the Falcons.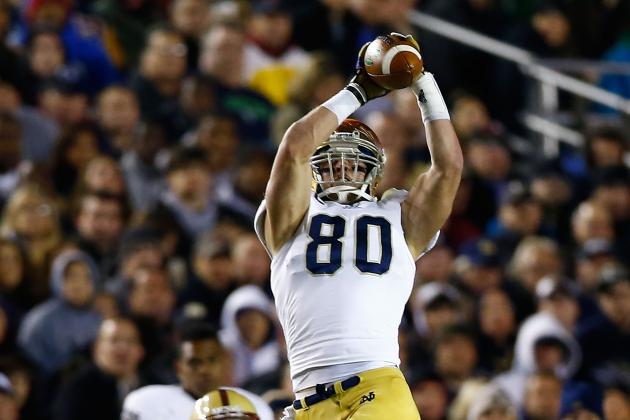 Jared Wickerham/Getty Images

Tony Gonzalez has said that he is 95 percent sure that he will be retiring after this season (h/t Brian McIntyre of NFL.com). Who better to replace him than the offensive captain of a national title competing Notre Dame Fighting Irish, Tyler Eifert?
He's a 6'6", 251 pound wide receiver in a tight end's body similar to Tony Gonzalez. While he isn't going to be as good coming out, he has the same kind of raw talent that Gonzalez did. He's a playmaker as a receiver as he has over 40 catches, 600 yards and 4 touchdowns in each of the past two seasons.
As a third down option, he has been a big reason why the Irish offense can move the ball. Unfortunately, he is very raw as a blocker. He has talent there but needs to work on it. Eifert could be the best tight end prospect for the Falcons schemes though and that's what matters most.
All stats used are either from Pro Football Focus's Premium Stats, ESPN.com, CFBStats.com or NFL.com.
Scott Carasik is a Featured Columnist for Bleacher Report. He covers the Atlanta Falcons, NFL and NFL Draft. He is also the Falcons analyst at Drafttek, runs the NFL Draft Website ScarDraft.com and hosts Kvetching Draftniks Radio.