Start 'Em Sit 'Em Week 12: Fantasy Advice for Sunday Night Football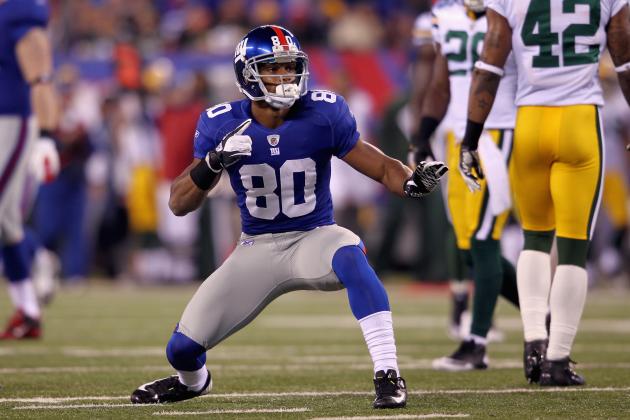 Nick Laham/Getty Images

If the expectation is that the Green Bay Packers and New York Giants will follow in the footsteps of their 2011 regular season matchup at MetLife Stadium, fantasy owners should have no problems picking out the starts and sits for Sunday night's clash.
The Packers and Giants scored 73 points in December of last season. Aaron Rodgers and Eli Manning combined for over 700 yards and seven passing touchdowns, and five different receivers went for over 80 yards.
Will the same offensive showcase be displayed on Sunday night from MetLife Stadium?
In the following slides, we break down the must-starts and must-sits for both the Packers and Giants in Week 12.
Begin Slideshow

»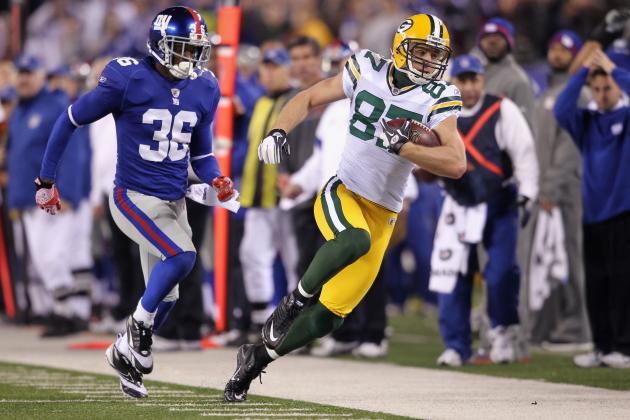 Nick Laham/Getty Images

QB Aaron Rodgers
Rodgers is a must-start every week, so this comes as no surprise. But he's even more of a can't-miss against the Giants. Against them, Rodgers has thrown for an average of 386 yards and eight total touchdowns in two regular-season meetings. Unless the Giants bring relentless pressure, Rodgers will produce.
WR Randall Cobb
No Greg Jennings (we'll get to this next) means more of Cobb in the slot for the Packers. That's good news for owners of Cobb. Over his last six games (all with Jennings out), Cobb has scored seven touchdowns and averaged 14 fantasy points. Against a pass defense averaging almost 260 yards this season, Cobb is a must-start.
WR Jordy Nelson
Nelson has arguably been the biggest beneficiary of Rodgers' dominance of the Giants in the regular season. In the two games against New York, Nelson had eight catches for 218 yards and an 80-yard score. His ankle and hamstring should be 100 percent now, too.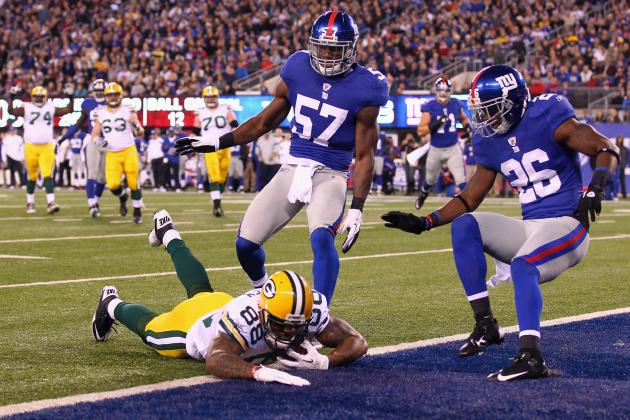 Al Bello/Getty Images

WR Greg Jennings
According to ESPN's Adam Schefter, Jennings is not expected to play against the Giants on Sunday. While he did participate in Packers' practice this week, the conditioning level isn't there yet for Jennings. He's a good bet to be back next week, but Jennings is a must-sit against the Giants.
TE Jermichael Finley
Finley caught his first touchdown in eight weeks last Sunday against the Lions, and he actually found the end zone last season against the Giants. But New York made it a priority to beat up Finley in the playoffs, and the result was a shutdown effort. The Giants have also been very good against tight ends, save for one stinker against Jason Witten a few weeks back. Finley isn't the worst start on this list, but there's bust potential.
RB James Starks
Starks has received 42 carries the last two games, but he hasn't broke 75 rushing yards or found paydirt. Alex Green also takes away most of his potential in the passing game, where the Packers will likely spend most of its time on Sunday night. The Giants are the sixth-best fantasy defense against opposing running backs, too.
Packers DEF/ST
The Giants have been turnover-prone lately, but there's a lot working against the Packers defense here. New York has scored 72 points over the last two meetings between these two teams (including the playoffs), and the Packers will be without Clay Matthews. The Giants are also allowing the least amount of sacks in the NFL through 10 games.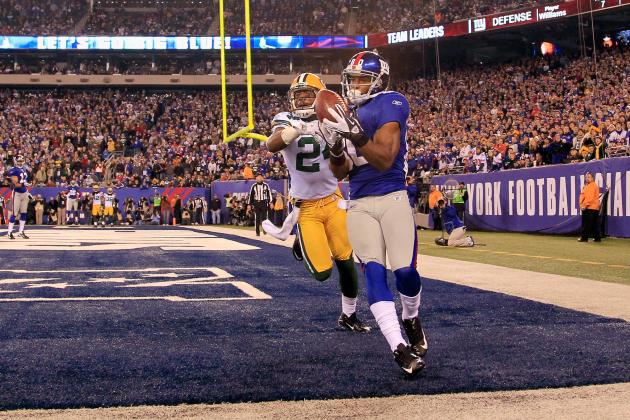 Chris Trotman/Getty Images

QB Eli Manning
Manning has struggled the last three weeks (just 10 combined fantasy points, ouch), but there's big rebound potential against the Packers. Over his last two games facing this defense, Manning has 677 passing yards and six touchdowns. No Charles Woodson or Sam Shields for the Packers' secondary should mean more production and scores for Manning.
WR Victor Cruz
As Manning has struggled, so has Cruz. Over his last three games, Cruz has just 10 catches and 10 total fantasy points. But like Manning, Cruz should have production potential against the Packers. Facing Cruz inside will likely be rookie Casey Hayward, who has played well this season but is still a young player. Cruz caught seven passes for 119 yards against the Packers during 2011's regular season.
WR Hakeem Nicks
Nicks has been the Packers' worst enemy over the last 12 months. In two games against Green Bay last season (including the playoffs), Nicks caught 14 passes for 253 yards and four touchdowns. And after a nine-catch performance in Week 10, Nicks appears to be healthy, too. Expect a healthy fantasy performance.
RB Andre Brown
While we don't love Ahmad Bradshaw (more later), Brown has some fantasy potential. The expectation Sunday night is that the Giants will have scoring chances, and some of those could come close to the goal line. Brown (with touchdowns in four straight games) is clearly the team's go-to back as the end zone nears, so another short score may be in the cards Sunday night.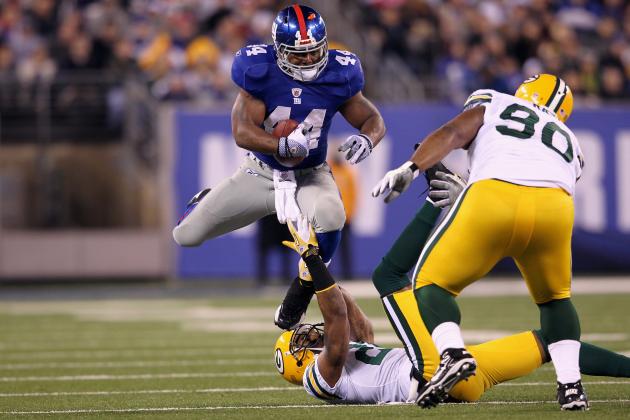 Nick Laham/Getty Images

RB Ahmad Bradshaw
Bradshaw will get touches, but the Packers defense has actually been very stingy against opposing running backs lately. Since Week 4, Green Bay has allowed an NFL-best 84.0 rushing yards per game. Bradshaw only had 38 yards on 11 carries against the Packers in New York last season, too.
Giants DEF/ST
If the Giants play defense like they did in Green Bay last January, New York's unit has some fantasy potential. But if it's anything like the group we saw in December in New York, you're going to be looking at negative fantasy points. There are better options for Week 12 than risking points against one of the NFL's top offenses.