Eli Manning and Aaron Rodgers will do battle for the first time since the New York Giants eliminated Rodgers' Green Bay Packers from the playoffs last season.
Both teams are at a critical point in their quest for yet another playoff berth.
Green Bay has won their last five games, thanks to an MVP-like resurgence of Aaron Rodgers. The Giants are going in the opposite direction, losing their last two games.
Let's take a look at the quarterback matchup of Sunday night's showdown.
Positives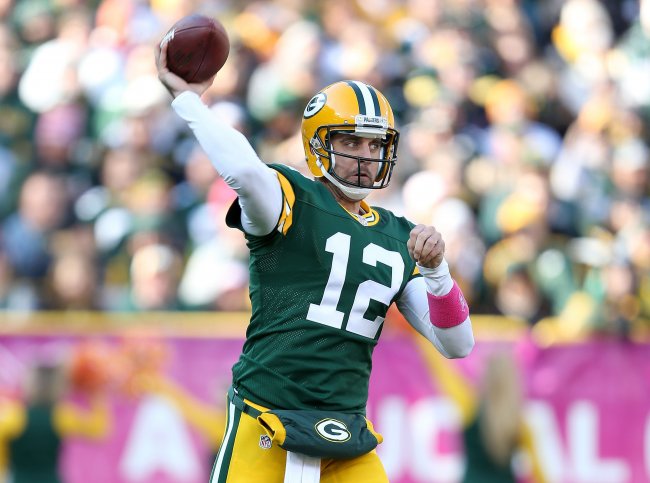 Andy Lyons/Getty Images
There's a lot to like about both of these quarterbacks as individual players. Both have a championship pedigree after achieving Super Bowl success. It's the motivation and continued excellence that is distancing them from their peers.
Manning has been excellent at getting the ball out of his hands quickly, and that's help make him the least-sacked quarterback in the NFL this season. He does a good job improvising by finding receivers after scrambling.
Rodgers' strength lies primarily in his pinpoint accuracy and velocity behind those throws. That helps him in the vertical downfield passing game. After struggling early in the season, he's posted a 89.9 QBR when throwing the ball down the sidelines over the past five games.
Negatives
Manning has been erratic at times, especially in the team's past three games. He's not thrown one touchdown over that span—the first time he's done that since his rookie season. There's also his 27.1 QBR during that span, which leaves much to be desired.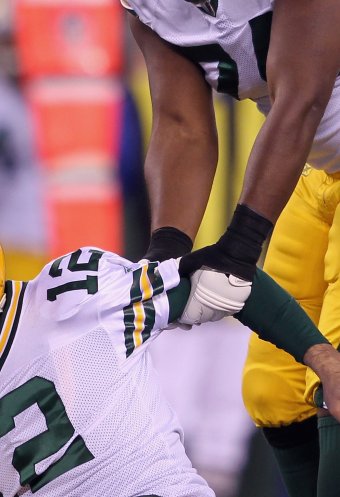 Nick Laham/Getty Images
Part of the problem is that teams have been taking away the quick throws and getting heat on him because the Giants' running game hasn't been able to get in gear. If Green Bay's four-man front is able to apply quick pressure as they have been, Manning will continue to struggle with inconsistency down the field.
Rodgers is a patient quarterback, perhaps too patient at times. He's the most sacked quarterback in the NFL through 10 games but is one of the most proficient while under pressure. As a mobile quarterback, Rodgers is able to extend plays and succeeds by completing 77.4 percent of his throws while under pressure.
The reason for his high-level of sacks may be because of his confidence in his ability to handle the pressure, and as a result, holding onto the ball too long.
Thirty of his 33 sacks have come when he's held onto the ball for 2.5 seconds or longer, according to Pro Football Focus.
What They're Up Against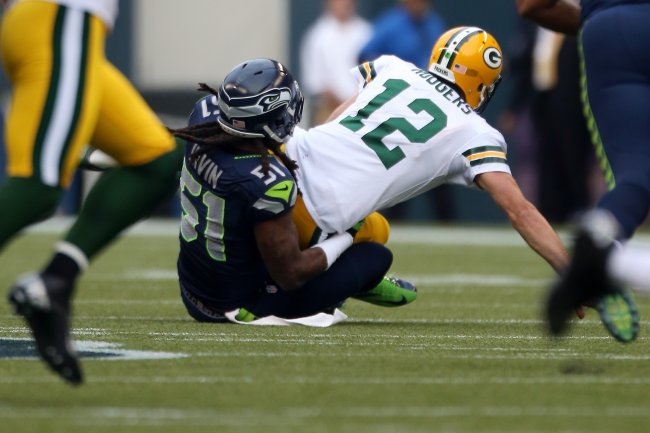 Otto Greule Jr/Getty Images
Green Bay's offensive line has yielded the most sacks in the NFL (33) through the first 11 weeks of the season. That could pose a problem for Rodgers and the Packers offense against the athletic defensive front of the Giants.
Eli Manning's supposedly rested arm will be facing a Green Bay defense with some new faces from the team he beat in the playoffs last season. Despite the absence of Sam Shields and Charles Woodson in the secondary, the Packers have gotten great play from rookie Casey Hayward and safety M.D. Jennings.