Atlanta Falcons vs. Tampa Bay Buccaneers: Live Score, Highlights and Analysis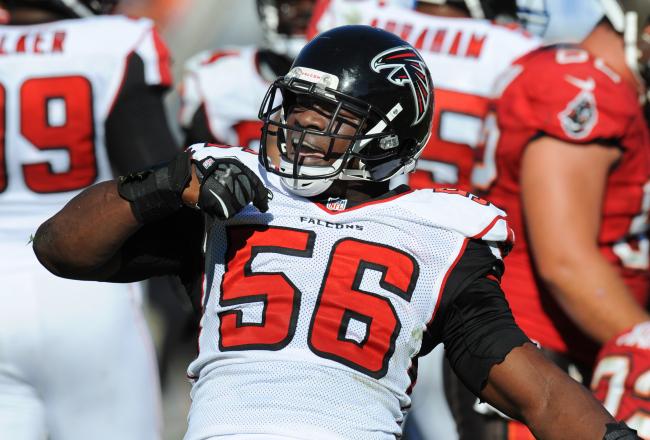 Al Messerschmidt/Getty Images
Atlanta Falcons 24, Tampa Bay Buccaneers 23 — Final
The Atlanta Falcons have created a clinching situation for the division title next week with the win over the Tampa Bay Buccaneers. To those who follow baseball's magic number, they have cut it down to just two in order to clinch the division.
Matt Ryan cleaned up his game this week going 26-for-32 (81.3 percent) for 353 yards, a touchdown and an interception. Julio Jones and Sean Weatherspoon also played huge roles coming back from injury with each making plays in the clutch.
Atlanta also played great run defense today holding Doug Martin to just 50 yards on 21 carries for a 2.38 yards per carry average. Add in an excellent game creating pressure on Josh Freeman all day and the Falcons defense was there all day.
However, the game ball goes to Asante Samuel. He had three key dropped interceptions that would have changed the game had he not knocked the balls away. Each one was crucial and if he is injured for the Saints game, it will create a ton of trouble.
All stats used are either from Pro Football Focus's Premium Stats, ESPN.com or NFL.com.
Scott Carasik is a Featured Columnist for Bleacher Report. He covers the Atlanta Falcons, NFL and NFL Draft. He is also the Falcons analyst at Drafttek, runs the NFL Draft Website ScarDraft.com and hosts Kvetching Draftniks Radio.
Atlanta won today because it held Doug Martin to 50 yards on 21 carries. Or a 2.38 yards per carry average.
Good win for Falcons. Big game upcoming on Thursday. Must get the Saints monkey off the back. #atltb12 #atlno12

— FalcFans (@falcfans) November 25, 2012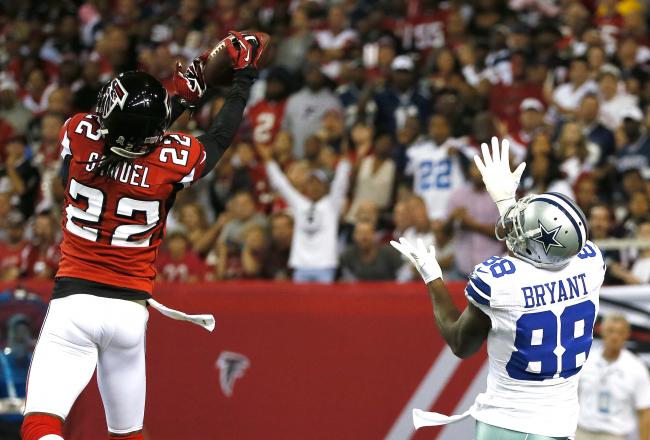 From 48 yards out, Matt Bryant missed it wide right to give the Buccaneers just 8 seconds to get down the field.
Taking over at his own 38-yard line, Josh Freeman hit Dallas Clark for a 10-yard completion to give Freeman 52-yards to go on the final pass.
On the final play of the game, Asante Samuel knocked the ball away and dropped his third interception of the game.
Atlanta Falcons 24, Tampa Bay Buccaneers 23 — Final
On 2nd-and-11 from the Buccaneers 29-yard line, Michael Turner got crushed for a huge loss. After that, Matt Ryan hit Tony Gonzalez for the 7-yard completion at the 30 yard line. Atlanta called their final timeout with 13 seconds left to set up a 47-yard field goal attempt by Matt Bryant.
After the 2nd down run causes a loss, Tampa calls their first time out of the half. Atlanta on 3rd-and-6 ran the easy slant pass to Roddy White for another first down pass.
Are we actually witnessing a Falcon game where I'm not hyperventilating with less than 2 minutes to go? #atltb12

— FalcFans (@falcfans) November 25, 2012
After a first down run by Jacquizz Rodgers gave the Falcons a 12-yard gain, Matt Ryan handed it to Michael Turner for a 4-yard gain on the second first down of the drive to bring it to the two minute warning. Atlanta needs just one or two more first downs to seal this game.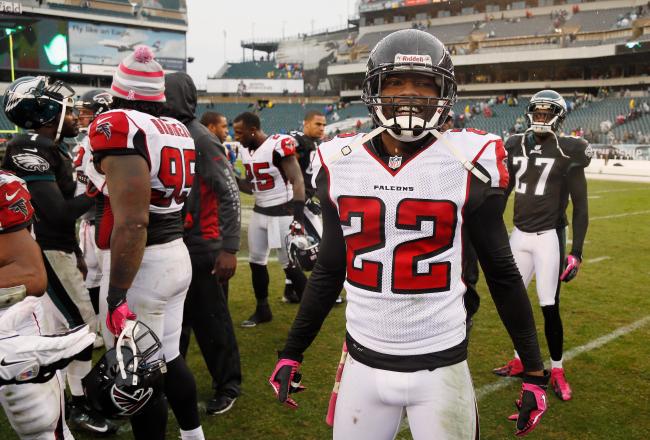 After a pair of plays gained just three yards, Tampa faces another third down. On 3rd-and-7 from the Falcons 37, Asante Samuel dropped a second interception opportunity to create another fourth down and a 56-yard field goal.
Connor Barth missed the long field goal attempt, and Atlanta will take back over at their own 46-yard line to try and close the game out.
After a short 2-yard run again on first down, Doug Martin has just 51 yards on his first 20 rushes today. On second down, Robert McClain stepped up again to knock a ball away and force a long third down that was completed by Freeman to Dallas Clark for 22 yards.
Atlanta needs to get much more aggressive in it's defensive scheme today or it will end up allowing a touchdown here.
Forcing another short run, the Atlanta defense is having a ton of trouble with the receivers today. Josh Freeman is just hitting the holes in the zone all day.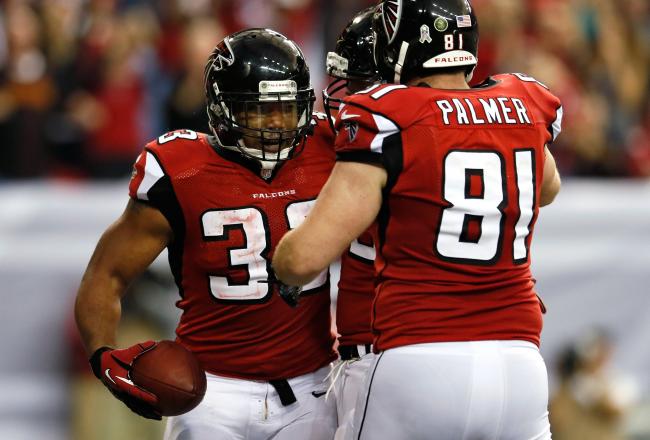 And on 1st-and-goal from the Buccaneer 2-yard line, Michael Turner received the pitch for the touchdown.
Atlanta Falcons 24, Tampa Bay Buccaneers 23 — 7:55 4th Quarter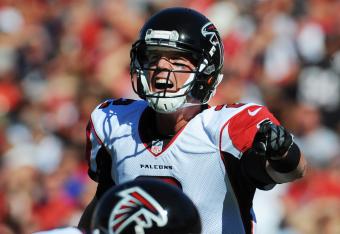 Matt Ryan hit Roddy White and Julio Jones on back to back plays for another pair of completions and another first down and a 1st-and-goal from the 10.
On 1st-and-goal, Ryan hit Harry Douglas for another five yards. On 2nd-and-goal, Julio Jones missed the catch for an easy touchdown. On 3rd-and-goal from the Tampa 6, Ryan threw the ball out of the back of the end zone to get Ahmad Black for an easy holding call and three more shots.
After holding the Buccaneers to just a field goal, Jacquizz Rodgers brought it out to the Atlanta 36-yard line.
Matt Ryan lined up ready to throw it again. This time he hit Jacquizz Rodgers who brought it to the Buccaneer 33-yard line after a huge screen play on an obvious blitz.
INJURY UPDATE: Dunta Robinson has been cleared to return to the game. #atltb12

— Jay Adams (@FalconsJAdams) November 25, 2012
Asante Samuel also back in the game for the Falcons #atltb12

— Jay Adams (@FalconsJAdams) November 25, 2012
The Falcons held the Buccaneers to a three-and-out after the turnover. Connor Barth hits a 48-yard field goal down the middle.
Atlanta Falcons 17, Tampa Bay Buccaneers 23 — 10:28 4th Quarter
Atlanta needs to pull Michael Turner out. He doesn't have anything left anymore.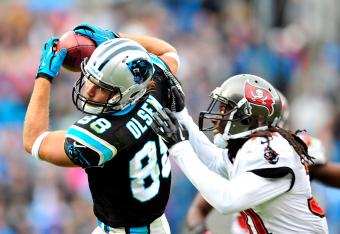 Julio Jones got another nine-yards on first down then Tampa stuffed a short run for another yard. Then on an obvious pass, E.J. Biggers forced a fumble that was picked up by the Buccaneers.
Atlanta opened up at their own 20-yard line and misguidedly tried having Michael Turner run the ball again. On 2nd-and-12, Matt Ryan hit Turner for a five-yard gain. Then on third down, Matt Ryan hit Tony Gonzalez for an easy first down.
INJURY UPDATE: Asante Samuel has a shoulder injury and Dunta Robinson has a head injury. Both are questionable to return. #atltb12

— Jay Adams (@FalconsJAdams) November 25, 2012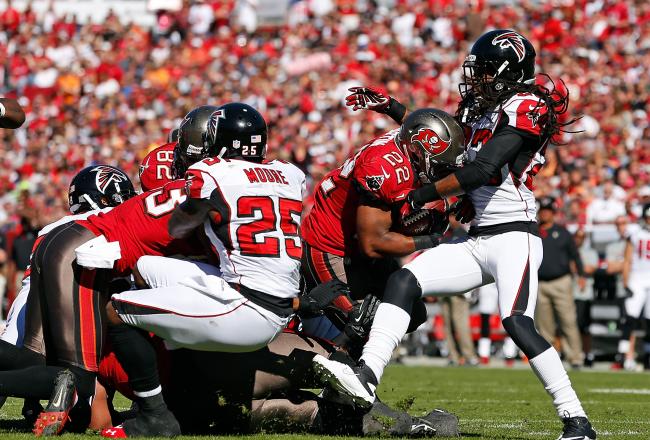 Doug Martin took the first play of the fourth quarter in for an easy one-yard touchdown.
Atlanta Falcons 17, Tampa Bay Buccaneers 20 — 14:56 4th Quarter
Your CBs right now are McClain and Franks on the outside with Owens at nickel. #atltb12

— Jay Adams (@FalconsJAdams) November 25, 2012
Those corners will have to step up. Robert McClain has been a pleasant surprise this year. It will be interesting to see how Dominique Franks does at left corner versus Vincent Jackson.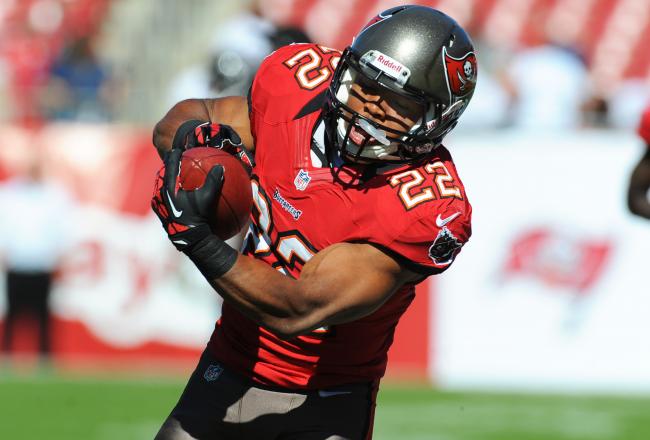 On first down play from the 11, Atlanta knocked the ball away. Then on second down, Doug Martin got another good run for a first down to close the quarter out.
Atlanta Falcons 17, Tampa Bay Buccaneers 13 — End 3rd Quarter
Atlanta can tell when there is going to be a first down run as they have been keying on it. But they can't seem to stop the pass right now. Josh Freeman hit Vincent Jackson for the first down against Samuel on second down.
Doug Martin finally got more than five yards on a run by breaking a couple tackles in the backfield. Then Freeman went back to Jackson again for another first down in the redzone.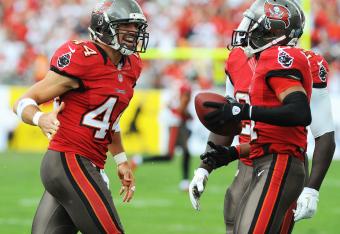 After a ton of pressure on first down again, josh Freeman hits Vincent Jackson for just 10 yards. Atlanta needs to stop Tiquan Underwood. He's been the key player today attacking the zones.
After starting at their own 18-yard line, Tampa Bay had a false start. On 1st-and-15 from their own 13, Josh Freeman felt pressure but hit Dallas Clark. There was another flag on Tampa Bay for illegal use of the hands to force yet another longer first down.
On an ugly protection breakdown, Michael Turner caught a screen pass for no gain. After a short gain on second down, Matt Ryan missed Roddy White for a potential first down.
After a 5-yard delay of game, the Falcons took the punt after a failed fake. Atlanta takes over with the ball at their own 34-yard line.
Nice play by Robert McClain on 3rd down. Get the ball right back in the offense hands for the #Falcons.

— Matt Chernoff (@RealMattlanta) November 25, 2012
This article is
What is the duplicate article?
Why is this article offensive?
Where is this article plagiarized from?
Why is this article poorly edited?