NFL Power Rankings: How Play After Week 11 Compares to Quarter Mark
Kevin C. Cox/Getty Images
One thing we love to do when evaluating NFL teams is put an emphasis on how teams have played at the quarter mark of the season—because, you know, teams always end the season as the same team they were after four games.
These power rankings are dedicated to comparing each NFL team to where it sat after the first four games and whether they've progressed or regressed.
This is not a straight up power rankings list.
32-17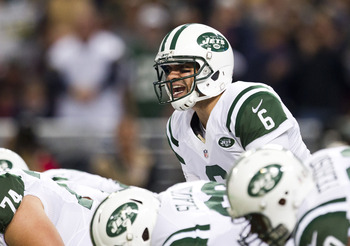 David Welker/Getty Images
32. Arizona Cardinals
Started: 4-0, Since: 0-6
Imagine having the option to choose between dating Kate Upton, Scarlett Johansson and Olivia Wilde. Now imagine the exact opposite of that and you have Arizona's quarterback situation.
This team could not look any further from the team that started the season 4-0. Those might be the only four games they win all season.
31. Philadelphia Eagles
Started: 3-1, Since: 0-6
Two weeks ago, Eagles fans had the hope of looking forward to the Nick Foles era. Eagles fans wish they could go back two weeks.
30. Kansas City Chiefs
Started: 1-3, Since: 0-6
The Chiefs have not been very good, but have taken an in-game lead for two games in a row. That's progress, right?
29. Jacksonville Jaguars
Started: 1-3, Since: 0-6
Chad Henne will be the starter for Jacksonville's game against the Titans, which might be the bright spot for the Jaguars season. Is it too late to still trade for Tim Tebow? Oh, it is? Oh well.
28. San Diego Chargers
Started: 3-1, Since: 1-5
OK, for real this time, Norv Turner can't come back next year, right? Having the Chargers start strong, then fading instead of starting slow and coming on strong at the end isn't fooling anyone, Norv.
27. Carolina Panthers
Started: 1-3, Since: 1-5
The Panthers have not played to many preseason expectations. On the bright side, expectations won't start as high next year with a new head coach.
26. St. Louis Rams
Started: 2-2, Since: 1-3-1
The Rams had some promise in the beginning of the season, but that promise has worn off a little. St. Louis is still a very young team, so the future still looks bright, but not for this season.
The Rams also need to figure out another game plan on offense than "throw the ball to Danny Amendola when he's healthy." Other teams are going to catch onto that.
25. Washington Redksins
Started: 2-2, Since: 2-4
Robert Griffin III continues to put up impressive completion percentage numbers, but with the exception of Alfred Morris there's not much else to look forward to on this Redskins team. Washington has only one impressive win against a decent opponent—Week 6 against the Vikings.
The 31-6 win against the Eagles is closer to an indicator of where Philadelphia is this at this point of season than good Washington play.
24. Oakland Raiders
Started: 1-3, SInce: 2-4
The Raiders can pass the ball pretty well, which helps when you're throwing to get back into games you're losing by 20 points. Carson Palmer is wondering why he can't throw against Oakland's secondary during games.
23. New York Jets
Started: 2-2, Since: 2-4
The Jets' last five games have been blowing out the Colts, playing close to the Patriots, getting blown out by the Dolphins and Seahawks while scoring single digits in both games, then putting up 27 points against the Rams.
If that doesn't sum up this Jets season perfectly, nothing does.
22. Buffalo Bills
Started: 2-2, Since: 2-4
At some points this season, Buffalo has looked pretty good. At some points, Buffalo has looked awful. Sometimes they've looked both in the same game.
The Bills are almost as bad stopping the run on defense as they are running the ball on offense.
Can someone let the Bills know when Mario Williams finally shows up in Buffalo?
21. Cleveland Browns
Started: 0-4, Since: 2-4
Cleveland has been competitive in a lot of games this season. Can you really ask more from the Browns than that?
20. Minnesota Vikings
Started: 3-1, Since: 3-3
The Vikings hopefully enjoyed their bye week because they won't get much rest for the rest of the season. Minnesota's remaining schedule includes Chicago and Green Bay twice each, St. Louis and Houston. That's a schedule even the immortal Adrian Peterson won't be able to overcome.
19. Miami Dolphins
Started: 1-3, Since: 3-3
The Dolphins have been streaky this season—stretches of 1-3, 3-0 and 0-3. The last 0-3 stretch seems like Miami has regressed to how the team was playing in the beginning of the season.
New England is still on the schedule twice, which probably won't go well.
18. Dallas Cowboys
Started: 2-2, SInce: 3-3
It took the Cowboys a last minute field goal and overtime to beat the Browns, but an addition to the win column is all that matters. Dallas hasn't played great, but luckily the division leading Giants have given the Cowboys some playoff hope by playing worse.
Dallas started 2-2 and is now 5-5, so 8-8 mathematically makes sense and matches the team's play pretty well.
17. Tennessee Titans
Started: 1-3, Since: 3-3
Tennessee has been all over the place this season. It's gone from horrible to surprisingly decent. In their past two games, the Titans have lost by 31 to the Bears and won by 34 against the Dolphins—because that point range makes complete sense.
16-1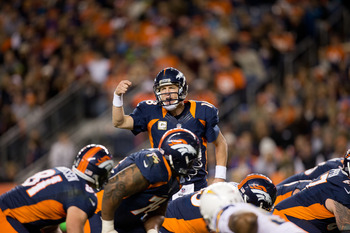 Justin Edmonds/Getty Images
16. Cincinnati Bengals
Started: 3-1, Since: 2-4
The Bengals might be playing some of the best football in the league right now. Cincinnati erased a four game losing streak with dominant wins over the Giants and Chiefs. The next two games against the Raiders and Chargers could put them in a position to make the playoffs, especially if the Steelers have to keep playing backup QBs.
15. Detroit Lions
Started: 1-3, Since: 3-3
Detroit has improved since a 1-3 start, but not nearly enough. At 4-6, the Lions are out of the playoff race and only have one remaining opponent, Arizona, with a record under .500.
On the bright side, Calvin Johnson doubled his season touchdown total against the Packers—to two.
14. New York Giants
Started: 2-2, Since: 4-2
The Giants bye week seemed to come at a perfect time after two lackluster losses against Cincinnati and Pittsburgh. The problem is the Giants had to spend their bye week rooting for the Browns, which shouldn't be wished upon anyone.
The next game, Sunday night against the Packers, will be big with Dallas now only one game back in the division.
13. Pittsburgh Steelers
Started: 2-2, Since: 4-2
The good news: At least Byron Leftwitch won't be starting the next game.
The bad news: Charlie Batch might be starting the next game.
12. Indianapolis Colts
Started: 2-2, Since: 4-2
The loss to New England was humbling, but the Colts are not a bad team. This Andrew Luck kid is worth watching if you haven't done so yet.
Unfortunately for Indianapolis, Andrew Luck can't play defense.
11. Chicago Bears
Started: 3-1, Since: 4-2
It's impossible to not have more respect for what Jay Cutler has done this season after watching Jason Campbell attempt to play behind the Bears' offensive line Monday night. "Attempt" is used lightly.
10. Seattle Seahawks
Started: 2-2, Since: 4-2
Russell Wilson is good. Accept it, there's no debate anymore. Between his ability to throw deep, Marshawn Lynch's hatred of getting tackled by the first defender and a secondary almost impossible to pass on, the Seahawks could be a team you want to stay away from in the playoffs—especially if they somehow manage to get a home game.
9. Atlanta Falcons
Started: 4-0, Since: 5-1
The record might say 9-1, but the Falcons haven't played great football for the past three games. Atlanta is eventually going to run into trouble if they keep playing like they have the past few weeks. Unfortunately they don't get to play Arizona every game.
8. Baltimore Ravens
Started: 3-1, Since: 5-1
Baltimore is 8-2, but it doesn't feel like a very impressive 8-2. The Ravens only beat the Steelers by three while Pittsburgh was led by a quarterback who couldn't throw 30 yards down the field at points during the game.
Something about that just doesn't scream dominant.
7. San Francisco 49ers
Started: 3-1, Since: 4-1-1
San Francisco's tie against St. Louis was more of the exception than the rule to how the 49ers have played this season. Putting up 32 points against the Bears' defense is impressive for any team, especially one led by a backup quarterback.
If San Francisco can add a dangerous offense to their already dominant defense, they could be the best team in the league.
6. Houston Texans
Started: 4-0, Since: 5-1
Houston escaped with a win against offensive juggernaut Jacksonville to go to 9-1 on the season. The Texans won't have to rely on Matt Shaub to throw for over 500 yards to win may games, though.
5. New England Patriots
Started: 2-2, SInce: 5-1
If the addition of Aqib Talib makes the New England secondary competent—that's all it has to be, competent—it's gong to be hard to outscore Tom Brady and the offense.
With or without Rob Gronkowski, there's so many ways for the Patriots to beat teams on offense. They haven't scored less than 20 points in a game since Week 2 and have scored 45 points or more three times.
4. Denver Broncos
Started: 2-2, Since: 5-1
Peyton Manning has found his groove again—throwing touchdowns and shooting a billion commercials—it's like he never left. Houston and Baltimore may have better records, but Denver might be the best team in the AFC. They also might not lose again in the regular season.
3. Green Bay Packers
Started: 2-2, Since: 5-1
The Packers have scored less than 20 points in one game this season and have won five in a row. This might not be the explosive offense of 2011, but it's not like this is Kansas City. Depending how long Jay Cutler is out in Chicago, Green Bay could have a chance to get back on top of the division as they continue to improve.
2. Tampa Bay Buccaneers
Started: 1-3, Since: 5-1
The Tampa Bay offensive explosion has continued. The Josh Freeman-led passing game has made opposing defenses look like the Tampa Bay secondary (yes, that's the second playing-his-own-secondary joke, deal with it).
The Bucs are 5-1 since their Week 5 bye. They still have to play Atlanta twice, but at 6-4 Tampa is one of the few teams with a shot at the playoffs.
1. New Orleans Saints
Started: 0-4, Since: 5-1
After an 0-4 start, everyone obviously knew New Orleans would be fighting for a playoff spot at the end of the season.
The Saints not only have to outscore opposing defenses on Sundays, they have to outscore their own defense as well—which has had a hard time stopping anyone, even when they play well.
Still, no other team has made a more drastic change in play than New Orleans.
Keep Reading