Fantasy Football: Top Week 12 Waiver Adds for Each Position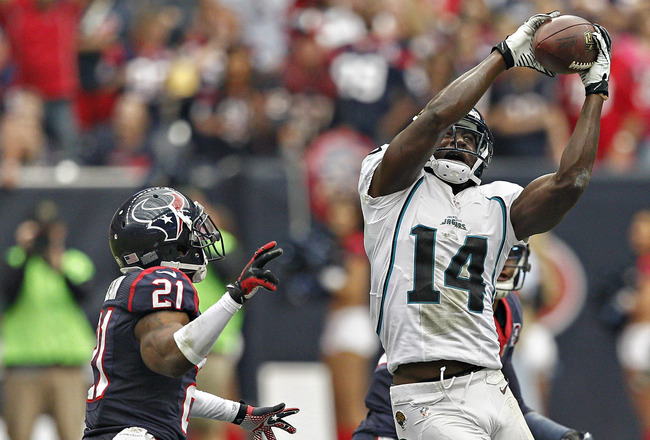 Bob Levey/Getty Images
Regardless of the outcome of your fantasy matchups, you still had a better week than the Chicago Bears.
The Bears took a beating in San Francisco on Monday night. It was the kind of unadulterated thumping you usually have to pay extra to watch. Jay Cutler may want to ride out his time on the sidelines until the Bears learn to block.
While backup Jason Campbell got smacked around Monday, Robert Griffin III had arguably his best performance of the season on Sunday. He completed 14 of his 15 passes for 200 yards and four touchdowns and tacked on 84 yards on the ground.
Justin Blackmon also had a career game in Week 11. Chad Henne took over for Blaine Gabbert in the first quarter, and scoring ensued. Blackmon has had a disappointing season, but now may be a good time to take a flyer on him.
The fantasy football season is coming to a head. For many owners, this week could be the difference between a playoff run and an unsavory exit. With a rash of injuries upsetting the balance in fantasyland, midweek waiver adds are especially important in the pursuit of a fantasy football crown.
For a complete list of top waiver adds at each position, read on.
Quarterbacks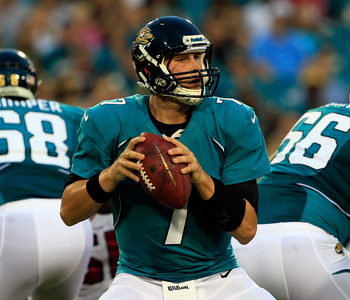 Sam Greenwood/Getty Images
Chad Henne
Mike Mularkey named Henne Jacksonville's starter in Week 12, and the matchup is mouthwatering.
No one expected Henne to have the kind of success he had in Week 11 against such a stiff Houston defense, but he silenced his critics. He threw for 354 yards and four touchdowns, despite completing just 48.5 percent of his passes.
Still, Henne's big performance led to Justin Blackmon's first big game of his career, and that could breathe new life into an offense in desperate need of resuscitation.
Henne has been inconsistent in his five-year career, but with the state of the Jaguars offense, it may not hurt to give him another shot this week against a Tennessee defense ranked 28th against the pass.
If you need an emergency quarterback fill-in, Henne may be one of the best available in Week 12. If he continues to start for Jacksonville past this week, he'll also face Buffalo in Week 13.
Ryan Fitzpatrick
Despite Fitzpatrick's inconsistency, he's having a pretty solid season for fantasy purposes. It just depends on which weeks you started him.
Fitzpatrick has thrown three or more touchdowns in four contests this season, but he has also gone without one in four games. Fitzpatrick is a matchup play, though he has a pretty good one this week.
The Colts entered Week 11 ranked 14th in the NFL against the pass, but they were also allowing 7.4 yards per pass attempt. Buffalo's defense isn't stopping anyone right now, so this game could turn into a shootout. Fitzpatrick could go over 300 yards this week against the Colts.
Alex Smith
Smith is owned in just 41 percent of Yahoo! leagues, but there's no indication that he's no longer the starter in San Francisco, despite Colin Kaepernick's strong performance on Monday night against the Bears. If Smith is healthy enough to go against the Saints in Week 12, you should pick him up.
New Orleans' defense should be exploited whenever possible. Entering Week 11, the Saints were ranked 31st in the league in pass defense. They also have afforded opposing passers an average passer rating of 104.4 this season.
New Orleans has been on a roll after getting off to a putrid start, and the Niners could find themselves in a shootout Sunday. Kaepernick could steal some snaps from Smith even if Smith is the starter, but don't let that worry you. If Smith starts, he's in for a big day against the Saints.
Running Backs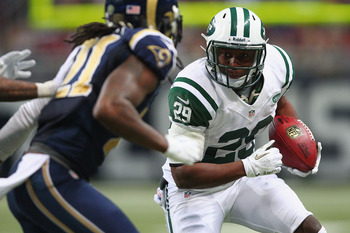 Dilip Vishwanat/Getty Images
Bilal Powell
Sorry, Shonn Greene owners. Week 11 wasn't fun for you.
Powell vultured a couple of touchdowns from Greene against the Rams, and he rewarded owners who had enough brass to start him. Powell isn't going to get the bulk of New York's carries, but he runs hard and should continue to see a lot of goal-line work.
New England has played quality defense against the run this season, but one can expect the Jets to play a balanced game against their division rivals. Mark Sanchez can't throw the ball 40 times if the Jets hope to win, so look for Powell to get enough carries near the goal line to do some damage.
Marcel Reece
Reece had himself a day against the Saints in Week 11, and he will continue to produce for the Raiders until Darren McFadden returns to action.
Reece rushed for 103 yards on 19 carries and added 90 receiving yards against New Orleans. He's one of Carson Palmer's favorite check-down targets, and seems well suited for an all-purpose role in Oakland.
Cincinnati hasn't been especially stout against the pass or the run this season, and next week's contest between the Bengals and Raiders could end up being a high-scoring affair. Monitor McFadden's status as the week progresses, but don't be afraid to plug Reece into your starting lineup if McFadden is still on the shelf.
Beanie Wells
Wells is expected to return to the starting role in Week 12, and he says it will be the "real deal."
Wells has had his issues with injury since being drafted in the first round in 2009. His latest turf toe injury sidelined him for nearly eight weeks, and he wasn't playing particularly well prior to his time on the shelf. Still, Wells could be a valuable add for your fantasy team down the stretch.
Consider adding Wells for Week 12 at least. St. Louis is ranked 17th against the run this season. With no real complement to the speedy LaRod Stephens-Howling, Wells fills an immediate need, and he should hold onto the starting role barring another injury setback.
Ronnie Hillman
Willis McGahee suffered a torn MCL and fractured lower leg in Week 11, and he stands to miss six to eight weeks as a result. Hillman is the guy to get.
Hillman has seen limited action this season, but he offers plenty of upside with McGahee on the sidelines. Denver's remaining schedule is one of the softest in the league, and it faces a porous Kansas City defense in Week 12. The Chiefs are ranked 15th in the league in total defense, but their turnover differential is a league-worst minus-21.
Given Denver's balanced offensive attack and a schedule that includes Kansas City (twice), Tampa Bay and Oakland, Hillman should amass some nice fantasy stats the rest of the season.
Wide Receivers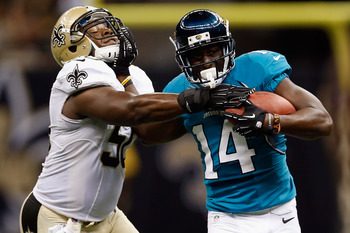 Chris Graythen/Getty Images
Justin Blackmon
Blackmon is finally playing like a first-round pick, though it took a new quarterback to get him going.
Chad Henne entered Jacksonville's Week 11 contest against the Texans due to an elbow injury to Blaine Gabbert. Henne had a big day, and so did Blackmon. He caught seven passes for 236 yards and a touchdown, which will go a long way toward instilling confidence in Blackmon and his quarterbacks.
Cecil Shorts may prove to be the more consistent receiving option in Jacksonville, but Blackmon offers a ton of upside. The Titans came into Week 11 ranked 28th in the league against the pass. As long as Jacksonville can get decent quarterback play, Blackmon has an opportunity to put together another nice fantasy line.
T.Y. Hilton
Hilton is a true boom-or-bust player at wide receiver.
In the three games in which Hilton has caught a touchdown this season, he has also eclipsed the 100-yard mark. In his other six games, Hilton hasn't surpassed 37 yards, nor has he recorded a touchdown.
Buffalo entered Week 11 ranked 25th in the league against the pass, which means Hilton should see his share of targets against the Bills this week. Hilton won't be a consistent option moving forward, but if you need a player with huge upside down the stretch, take a flyer on him.
Danario Alexander
The Rams probably wish they'd given Alexander a little more time.
Alexander signed with the Chargers in October after the Rams allowed him to walk in free agency, and he's developing into one of San Diego's best receiving options. Alexander has 12 catches for 230 yards and three touchdowns in the last two weeks, but don't write off his surge as a fluke.
Alexander is a big, physical receiver with good hands. He's exactly the kind of player the Chargers love to put around Philip Rivers, and there's really no clear-cut No. 1 option in San Diego. Alexander can fill that need.
The Chargers face an uncharacteristically porous Baltimore defense in Week 12, which is without its No. 1 corner in Lardarius Webb. Cornerback Jimmy Smith also missed last week's game against the Steelers. Rivers may have a tough time against Baltimore's pass rush, but Alexander still stands to have another solid performance in Week 12. Go get him.
Tight Ends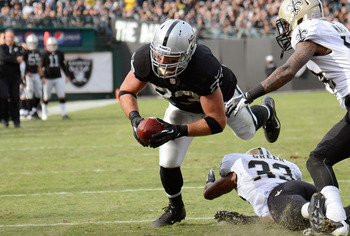 Thearon W. Henderson/Getty Images
Brandon Myers
Myers appears on this list nearly every week, and there's no reason to take him off now.
Myers has been one of the most consistent tight ends in the league this year. He hasn't put up flashy statistics, but he has yet to go a game without at least one catch. Last week against the Saints, Myers caught six passes for 55 yards and a touchdown.
The touchdowns are starting to come for Myers, who has hauled in three in the last three weeks. Oakland faces the 17th-ranked passing defense in the league in Week 12 in the Bengals, which means Myers should see his share of targets.
With bye weeks out of the way, Myers is likely sitting on the waiver wire in your league, and he's a nice replacement if you're battling injury issues at the tight end spot.
Dwayne Allen
Allen has come on strong since Coby Fleener's injury, though he did drop a couple passes last week against the Patriots.
Allen was a highly regarded tight end prospect coming out of Clemson, but it will take some time for Allen to reach his potential. He has a terrific quarterback throwing to him, though, and he faces a pass-friendly defense in the Buffalo Bills this week.
Allen hasn't found the end zone since Week 5, but that could change this week. Allen is a deep-league play at this point, but he could offer some relief to owners in desperate need of an injury fill-in or flex-play option.
Dustin Keller
Keller hasn't been producing, and the skepticism about adding him is understandable.
Still, Keller offers a lot of upside for fantasy owners in need of a tight end. He's arguably the best receiving threat Mark Sanchez has, and he is especially valuable as a check-down option for a team without a running back adept at catching the ball out of the backfield.
Coming into Week 11, the Patriots were ranked 26th in the league against the pass. The Jets are riding some momentum after a solid win against the Rams, and Keller could be one of the biggest beneficiaries on Thursday.
He's due for a big game, and it could happen this week against the Patriots.
Kickers
Justin Edmonds/Getty Images
Matt Prater
The good news: Prater has had six field-goal attempts in the last two weeks (including extra points).
The better news: Denver plays Kansas City in Week 12. Prater should get plenty of work this week and be a top-five scorer at the kicker position.
Shaun Suisham
With third-stringer Charlie Batch at quarterback, the Steelers are going to have a hard time finding the end zone in Week 12. Cleveland's rushing defense is back at full strength with Phil Taylor healthy, and this game could end up coming down to Suisham and Phil Dawson.
Prediction: Suishams 16, Dawsons 6.
Alex Henery
It's no secret the Eagles are struggling in every facet of the game right now, but that's good news for Henery owners. Philadelphia can't score, especially with injuries at the quarterback and running back positions. Don't count on too may PAT attempts, but bank on at least one field goal of 45-plus yards.
Defenses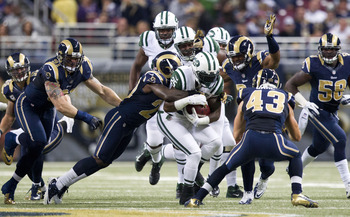 David Welker/Getty Images
St. Louis Rams
Arizona's Ryan Lindley managed just 64 passing yards against the Falcons in Week 11, and the Cardinals face an even tougher defense in Week 12.
St. Louis isn't a defensive juggernaut, but the Rams have 26 sacks on the season, which is good for seventh in the NFL. As bad as the Cardinals offensive line is, St. Louis should have a field day in Week 12.
Carolina Panthers
Nick Foles may start for Philadelphia again in Week 12, but whether it's Foles or Michael Vick, Carolina should win the turnover battle.
Carolina ranks in the middle of the league in total defense, though it could be a top-five unit against a Philadelphia offense that hasn't utilized LeSean McCoy enough this season. Putting the ball in the hands of either Foles or Vick is a recipe for a big fantasy day for the Panthers defense.
Arizona Cardinals
Arizona is ranked ninth in total defense this year, yet it is only owned in 39 percent of Yahoo! leagues. This is a good week to pick up the Cardinals defense.
Arizona picked off Matt Ryan five times in Week 11, and Sam Bradford is on notice. The Cardinals are coming for him in Week 12.
Keep Reading