Fantasy Football's Biggest Winners & Losers from NFL Week 11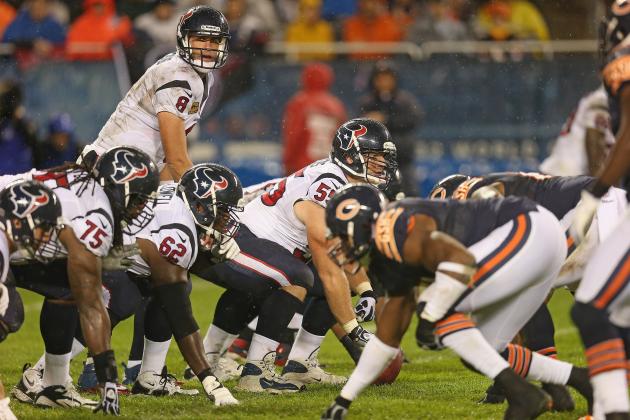 Jonathan Daniel/Getty Images

Week 11 of the 2012 NFL season is just about in the books, and it brought with it a weekend of absolute craziness, including a shootout that grew from a game everyone thought would be a blowout in Houston.
The games brought with them fantasy performances that ran the gamut from going off to goose egg, and beginning with that shootout in Houston, here's a look at the best and worst from Week 11 in fantasy football.
Also, for the record, you won't see Chad Henne or Justin Blackmon of the Jacksonville Jaguars listed here. Sure, they had great games, but since no one started them, it was the fantasy football equivalent of a tree falling in the forest with no one around to hear it.
Begin Slideshow

»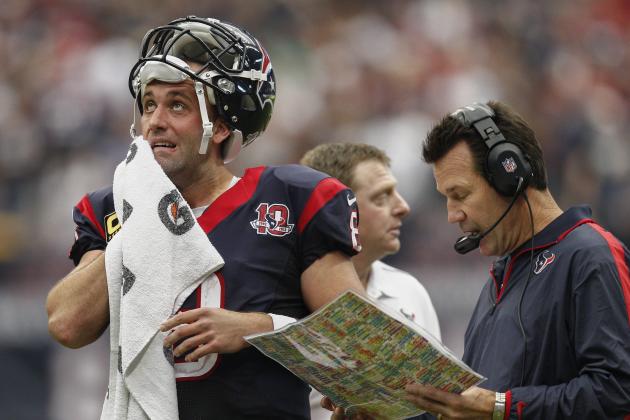 Bob Levey/Getty Images

I'll bet rent money that when Houston Texans quarterback Matt Schaub got out of bed this morning, he didn't think he'd need overtime to beat the lowly Jacksonville Jaguars.
Still, that's exactly what happened, and by the time the dust had settled on a wild 43-37 affair at Reliant Stadium, the ninth-year pro had eclipsed 500 passing yards and thrown five touchdown passes.
Other winners at quarterback: Robert Griffin, Washington Redskins (200 passing yards, 4 touchdowns, 84 rushing yards); Andy Dalton, Cincinnati Bengals (230 passing yards, 2 touchdowns, 13 rushing yards, 1 touchdown), Tom Brady, New England Patriots (331 passing yards, 3 touchdowns)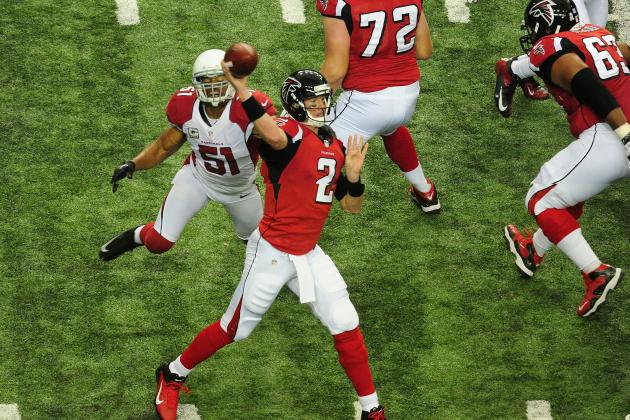 Scott Cunningham/Getty Images

Meanwhile, one of the safest fantasy plays at the quarterback position all season long decided to go out and lay an egg when his fantasy owners could least afford one.
Granted, more than one of Matt Ryan's career-high five interceptions came on tipped passes, and the Atlanta Falcons rallied to beat the Arizona Cardinals, but ask his fantasy owners if that makes them feel a bit better about that single-digit fantasy outing.
Other losers at quarterback: Nick Foles, Philadelphia Eagles (204 passing yards, 2 interceptions); Ryan Fitzpatrick, Buffalo Bills (168 passing yards, 15 rushing yards)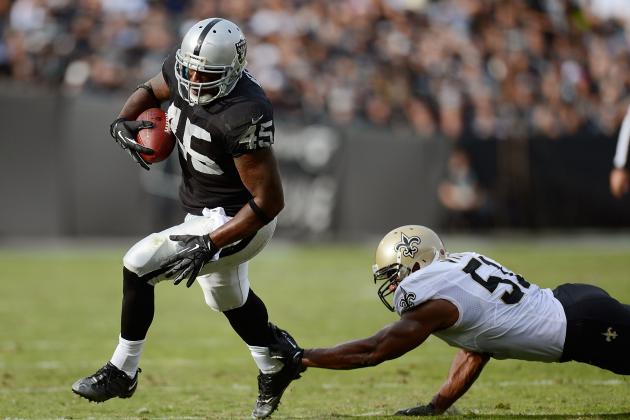 Thearon W. Henderson/Getty Images

Oakland Raiders fullback Marcel Reece is a fantastic example of both how important late-season waiver-wire pickups can be in fantasy, and how much different fantasy football and the real thing can be at times.
Granted, the Oakland Raiders were blown out by the New Orleans Saints on Sunday, but unless Reece's fantasy owners also happened to be Raiders fans, they didn't care after the fourth-year pro piled up nearly 200 total yards in the loss.
Other winners at running back; LaRod Stephens-Howling, Arizona Cardinals (127 rushing yards, 6 receiving yards, touchdown); BenJarvus Green-Ellis, Cincinnati Bengals (101 rushing yards, 7 receiving yards, touchdown); Doug Martin, Tampa Bay Buccaneers (138 rushing yards, 23 receiving yards)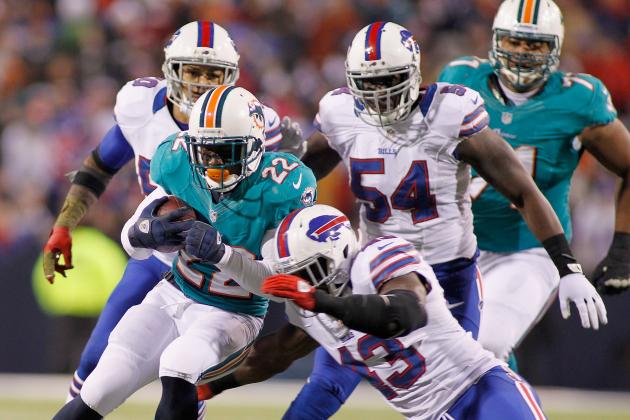 Rick Stewart/Getty Images

After getting off to a very hot start to the season, someone might want to check Reggie Bush's toes, because it appears that the seventh-year veteran has developed fantasy frostbite.
For the second straight week, Bush was a complete non-factor in the Miami Dolphins offense, gaining a measly 35 total yards in a loss to the Buffalo Bills.
Other losers at running back: Alex Green, Green Bay Packers (no carries); Rashad Jennings, Jacksonville Jaguars (3 carries, -1 yards)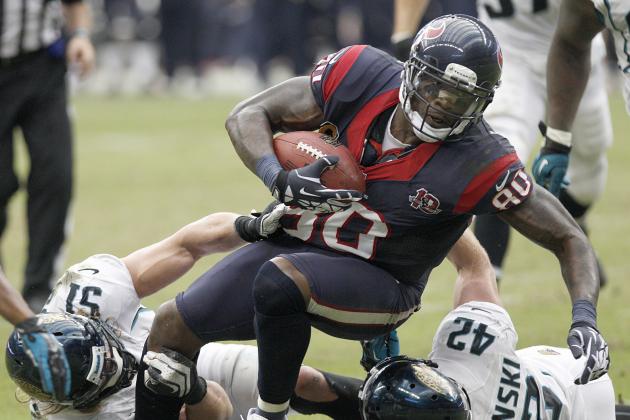 Thomas B. Shea/Getty Images

w
There were quite a few big games from wide receivers in Week 11.
Then there was the day that Andre Johnson of the Houston Texans had.
The 10th-year veteran put many a fantasy team (and the Texans) on his back and single-handedly led them to victory, hauling in an absolutely obscene 14 catches for 273 yards and a touchdown in the Houston win.
Other winners at wide receiver: Danario Alexander, San Diego Chargers (7 catches, 96 yards, 2 touchdowns); Dez Bryant, Dallas Cowboys (12 catches, 145 yards, touchdown); Calvin Johnson, Detroit Lions (five catches, 143 yards, touchdown); T.Y. Hilton, Indianapolis Colts (6 catches, 100 yards, 2 touchdowns)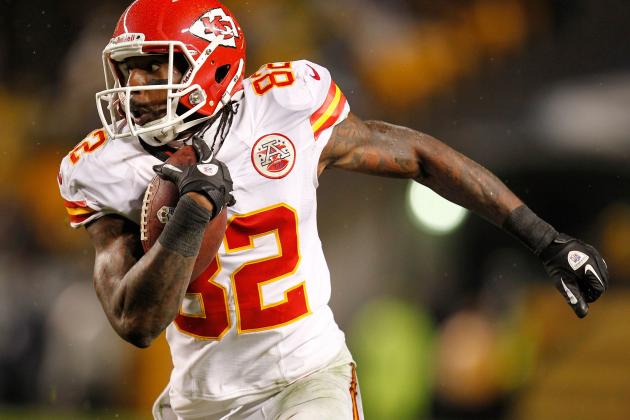 Gregory Shamus/Getty Images

Just as there were plenty of big games from wideout this week, there were more than a few clunkers as well.
In memory of them, please bow your head in a moment of silence to mourn the passing of Dwayne Bowe's fantasy value.
It was bad enough when the Kansas City Chiefs wideout was trying to catch Matt Cassel knuckleballs. Now, with Brady Quinn under center? Goose egg. Nada. Nothing.
Other losers at wide receiver: DeSean Jackson, Philadelphia Eagles (2 catches, 5 yards); Jeremy Maclin, Philadelphia Eagles (0 catches); Larry Fitzgerald, Arizona Cardinals (1 catch, 11 yards); Denarius Moore, Oakland Raiders (1 catch, 9 yards, 1 carry, -5 yards); Torrey Smith, Baltimore Ravens (1 catch, 7 yards)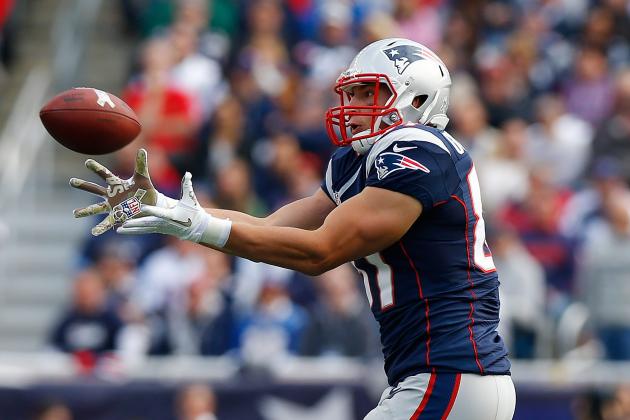 Jared Wickerham/Getty Images

There were quite a few very solid outings put forth by tight ends this week, but as in the case of Dallas Clark of the Tampa Bay Buccaneers, more than one of them came courtesy of a player who isn't on any fantasy rosters, much less in starting lineups.
With that said, at least one tight end that was in everyone's starting lineup once again had a huge afternoon, as Rob Gronkowski of the New England Patriots hauled in seven passes for 137 yards and two TDs in a blowout win over the Indianapolis Colts.
However, Gronkowski was something of a winner and a loser, as Ian Rapoport of NFL.com reports that Gronkoski suffered a broken forearm in the game that could sideline him up to six weeks.
Other winners at tight end: Brandon Myers, Oakland Raiders (six catches, 55 yards, touchdown); Jermichael Finley, Green Bay Packers (3 catches, 66 yards, touchdown); Jimmy Graham (6 catches, 29 yards, touchdown)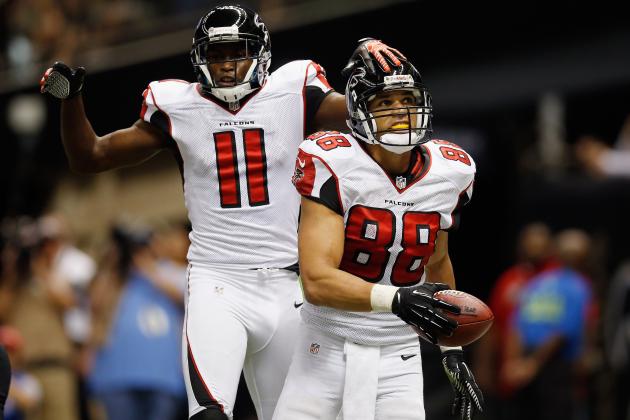 Chris Graythen/Getty Images

This one's borne as much of unrealistic expectations as anything, as every receiver has off days and at least Atlanta Falcons tight end Tony Gonzalez didn't totally stink up the joint.
However, the future Hall of Famer has us all spoiled this season and, relatively speaking, Gonzo's three catches for 33 yards in a win over the Arizona Cardinals was a big disappointment.
Other losers at tight end: Antonio Gates, San Diego Chargers (2 catches, 17 yards); Dustin Keller, New York Jets (2 catches, 16 yards)