San Diego Chargers vs. Denver Broncos: Live Score, Highlights and Analysis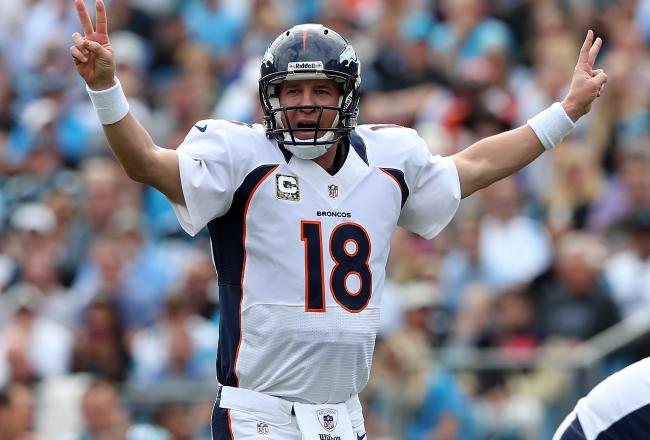 Streeter Lecka/Getty Images
Final DEN 30 SD 23
It was the same ending to the same nightmare that has haunted the San Diego Chargers all season.
In a must-win game for the Chargers, Philip Rivers managed to single-handedly give the game away, coughing up two interceptions and three fumbles in Sunday's AFC West matchup with the Denver Broncos.
In the first quarter, luck appeared to be on San Diego's side as Eric Weddle picked off Peyton Manning's tipped pass and returned it for a 23-yard score, but that would be the only form of offense the Chargers would get in the entire first half.
The Broncos then proceeded to score 17 unanswered points in the second quarter to take the lead 17-7 going into halftime. While the Chargers had an answer for Denver's run game, they were powerless against Peyton Manning, who finished the day with 270 yards passing and three TDs.
After halftime, the Chargers came out in the second half with a sense of urgency outscoring the Broncos 16-7 in the third quarter thanks to a Danario Alexander TD catch and a safety by Shaun Phillips.
However, Denver's defense stepped it up in the fourth quarter, holding the Chargers scoreless until the very last few minutes when Alexander caught his second TD catch. By then, the game was already out of reach as the Broncos recovered an onside kick attempt to seal the deal.
It seemed like nothing could go right for the Chargers. Rivers was on heels the entire day, scrambling for his life against a ferocious Denver front seven. And the run game, well, let's just say Ryan Mathews and his 47 yards went unnoticed.
It's just been that kind of season for San Diego. The quarterback is in a slump, the running back hasn't lived up to the hype and the defense is getting no help from the offense.
Meanwhile, Manning has his Broncos on a one-way road to the postseason. If Denver continues to play stiff defense and put points on the board, they'll be a tough contender in the playoffs.
Thanks for reading! Be sure to check out B/R's other live blogs for all your NFL game coverage!
That's it in Denver. The Broncos improve to 7-3 while the Chargers drop to 5-5. Denver keeps its winning streak alive with their fourth straight.
The Chargers will face the Baltimore Ravens at home next week while the Broncos head to Arrowhead Stadium for another AFC West matchup against the Kansas City Chiefs.
What a fitting end to this game. Philip Rivers winds up on the ground for a sack and the game is over.
This is it. Rivers has 23 seconds to score a TD. Anyone believe he can do it?
Touchdown Chargers!
Everyone in the building thought this one was coming back, but Danario Alexander ends up his second TD catch nonetheless. Might be too late though with a little more than a minute left.
DEN 30 SD 23 Late 4th Qtr
Two-minute warning...
DEN leads SD 30-16
FG Good by Broncos!
Prater hits another field goal, and the Broncos are pulling away.
DEN 30 SD 16 Late 4th Qtr
Broncos LB @millerlite40 joins Derrick Thomas (15, '90) as the only players 23 or younger in NFL history to have 13+sacks thru 10 games.

— Patrick Smyth (@psmyth12) November 19, 2012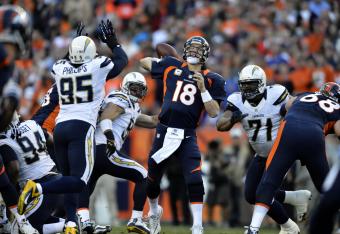 Peyton Manning is torching San Diego's secondary. He's 24-of-39 for 240 yards.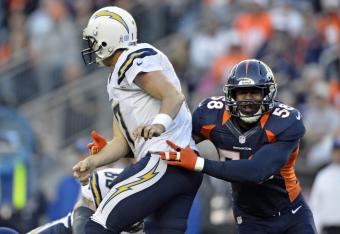 Philip Rivers throws another interception in a pivotal drive...
The pressure was swarming and Rivers forced it into coverage as he was going down. Can't do that when you're down 11 in the fourth quarter. Just throw it away!
Rivers underthrows Malcom Floyd on that 38-yard pass but he has the instinct to come back for the football. San Diego still not quitting.
FG Good by Broncos!
Prater hits the 30-yard FG to put the Broncos up 11.
DEN 27 SD 16 4th Qtr
Antonio Garay jumps on the snap count.
Can you blame the guy? He's only played in a couple games this season. He's not used to being out there.
It's time for the fourth quarter....San Diego isn't done yet.
DEN 24 SD 16 End of 3rd Qtr
Touchdown Chargers!
Rivers finally get the Bolts into the end zone with an eight-yard TD pass to Danario Alexander.
DEN 24 SD 16 Late 3rd Qtr
Rivers is starting to get in a rhythm. Chargers offense could be headed for the end zone for the first time today.
Touchdown Broncos!
Eric Decker hauls in a Manning pass and takes it all the way to the house. That's three TD passes for Manning today.
DEN 24 SD 9 3rd Qtr
Not that he's even made an impact today:
Eddie Royal (hamstring) is out for the game.
— Michael Gehlken (@UTgehlken) November 18, 2012
Von Miller streaks right through the offensive line to sack Philip Rivers and force the fumble. Wesley Woodyard recovers and Denver is back in control.
Is Rivers cursed or what?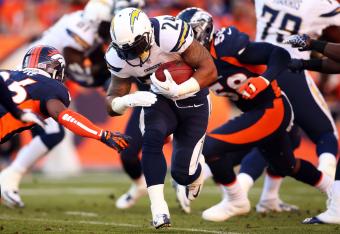 Ryan Mathews is looking like LaDanian Tomlinson with that dark visor on his helmet.
Too bad he's not playing like L.T...
No. 9 has some meaning today:
Philip Rivers has 9 completions. Mike Scifres has punted 9 times. The Chargers defense has scored 9 points. Team losing 17-9.

— Michael Gehlken (@UTgehlken) November 18, 2012
Safety by Chargers!
Shaun Phillips pumps some life back into San Diego with that sack of Manning in the end zone.
DEN 17 SD 9 3rd Qtr
Just got an update on Vasquez. He was originally questionable but he's back in.
It's going to be extremely tough to run the football and keep Philip Rivers upright. So many injuries for the offensive line:
Chargers right guard Louis Vasquez (ankle) questionable to return. Still awaiting word on left guard Tyronne Green. Both exited in 2nd Q.
— Michael Gehlken (@UTgehlken) November 18, 2012


No Gaither, no Vasquez, no Green. That's more than half of the line!
Ok, I see. A little trickery by the Chargers with that onside kick. You're already down, why not go for broke. I like this mentality from the Chargers.
This article is
What is the duplicate article?
Why is this article offensive?
Where is this article plagiarized from?
Why is this article poorly edited?