8 Reasons the 49ers' and Bears' Defenses Will Control the MNF Game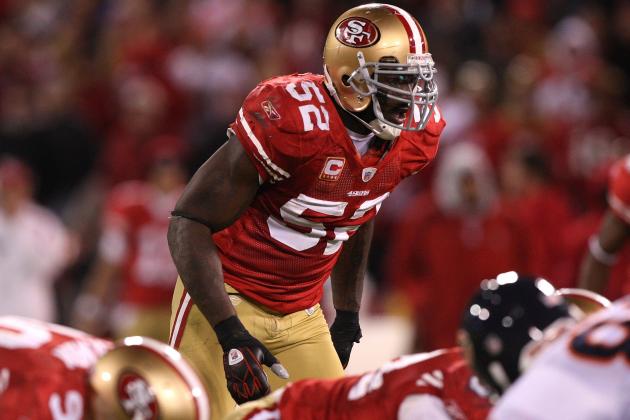 Jed Jacobsohn/Getty Images
The Bears and 49ers will square off on Monday night in a battle of the NFC's most dominant defenses.
The San Francisco 49ers and Chicago Bears, owners of the NFL's top two defenses, are set to slug it out at Candlestick Park on Monday Night Football.
I'd bet the under on this one.
The Niners, allowing a league-low 14.1 points per game, can gain sole possession of the No. 2 seed in the NFC with a win. At 6-2-1 overall, San Francisco sits a half-game behind the Bears, who are 7-2.
Chicago's defense is not only directly behind the 49ers in points allowed (14.8 PPG), it's returned a league-leading seven interceptions for touchdowns. In other words, this unit is every bit as capable of scoring points as it is preventing them.
Let's look at eight reasons you should fully expect the 49ers' and Bears' defenses to control the tempo on MNF in Week 11.
Begin Slideshow

»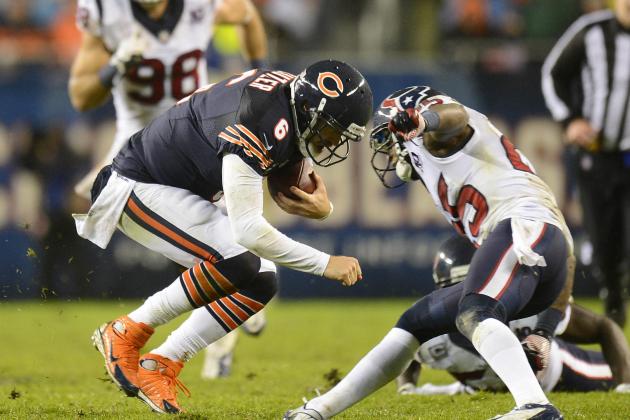 Mike DiNovo-US PRESSWIRE
Jay Cutler suffered a concussion in Week 10 and is doubtful for Monday night's game.
Both Jay Cutler and Alex Smith left early in Week 10 with concussions and never returned to the game.
ESPN's Adam Schefter reported Wednesday morning (per Evan Silva), that the 49ers feel pretty good about Smith being ready to go Monday night. Should he have to sit out, Jim Harbaugh and offensive coordinator Greg Roman may be forced away from the balanced approach they're accustomed to using.
Backup Colin Kaepernick performed well in Smith's absence, but also exposed his raw passing abilities on occasion. The second-year dual-threat QB would have a heck of a time if forced to beat the NFL's top pass defense with his arm.
Cutler, on the other hand, may not be available for Chicago.
ESPN's John Clayton reported on air Tuesday (h/t Dan Hanzus of NFL.com) that it's doubtful the signal-caller will return for Monday night's matchup. Like the 49ers, Chicago would likely put a restrictor plate on its offense should Cutler be deemed inactive. Jason Campbell was brought in for such emergencies, but his presence limits the capabilities of the offense, particularly throwing downfield.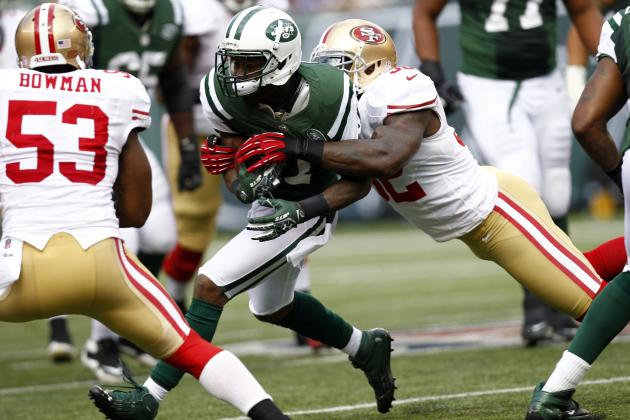 Jeff Zelevansky/Getty Images
Good luck escaping from either of these defenses.
One of the many things these two defenses have in common is that they rarely miss tackles.
According to Pro Football Focus, the 49ers have missed 40 tackles in 2012—the fifth-lowest total in the NFL. Only Houston, with 32 missed tackles, has whiffed less than the Bears, who have 36.
It's more than just proper tackling technique behind these impressive numbers, though. Both the 49ers and Bears have defenses laden with All-Pro talent that play fast, physical and smart. They play extremely instinctual football and rarely get caught out of position.
Defensive coordinator Vic Fangio deserves a ton of credit for bringing the 49ers' defense along in his complex defensive schemes so quickly. He's done so without allowing the fundamentals to slip out of view in the process.
Fangio arrived with Harbaugh prior to the 2011 season, and though he inherited a defense loaded with talent, few coordinators would have been able to accomplish so much in such a short amount of time.
High-flying defenses such as these often make opposing offenses extremely uneasy, leading to conservative play-calling which results in more of a slow-paced chess match as opposed to a shootout.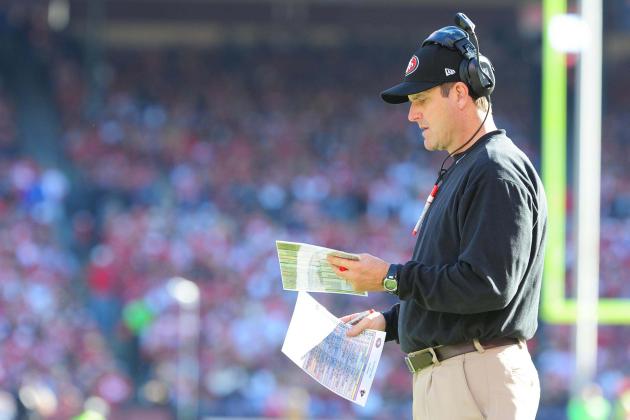 Kyle Terada-US PRESSWIRE
Expect Harbaugh to have his troops ready after a disappointing Week 10 performance.
OK, so the 49ers 24-24 tie with the Rams in Week 10 doesn't show up as a loss. But it hardly felt like a win.
It certainly should have felt like defeat. Especially considering the Niners came into the game favored by 11.5 points and failed to take control at any point despite St. Louis presenting them with several chances to do so.
Loss or tie, though, you don't want to face Harbaugh's squad with a bad taste in its mouth.
The Bears surely don't want to hear that the 49ers have allowed a total of 17 points in their five games following a loss since the beginning of 2011—all wins. The average score of those games has been 19-3.
That level of dominance is simply unheard of in the NFL. It's happening, though, because San Fran has been able to consistently bounce back and bring its A-game following a lackluster performance.
Chicago could be equally dangerous in this regard, coming off a hard-fought 13-6 loss against a brutally tough Houston squad Sunday night. The Bears followed up their first loss in 2012 by stomping the Rams 23-6 in Week 3.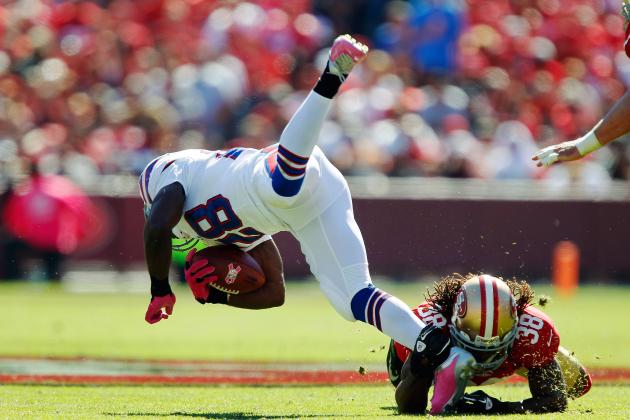 Brian Bahr/Getty Images
San Francisco 49ers' safety Dashon Goldson making a stop on Buffalo's C.J. Spiller.
One of the keys to a successful run defense is receiving timely reinforcement from the defensive backfield.
Chicago's secondary grabs attention with highlight-reel interception returns, but its ability to help the Bears' defensive front stymie an opposing offense's rushing attack is what makes it such a complete unit.
Charles Tillman, Tim Jennings and Major Wright have all been spectacular in pass coverage, but their presence in run defense often goes unnoticed.
It's no secret that the 49ers have arguably the most dominant run-blocking offensive line in the NFL. Each of San Francisco's five starting lineman are physical maulers who excel at blocking well beyond the line of scrimmage. For Frank Gore to roam free on Monday night, his O-line will have to rise to the occasion.
The Niners' secondary is no different. Free safety Dashon Goldson is extremely instinctive in recognizing run plays. He can often be 15 yards off the line of scrimmage at the snap and still track down a running back for a minimal gain. Carlos Rogers has struggled in pass coverage this season, but he's helped out against the run several times and hasn't missed a tackle all season.
The ground game plays a crucial role in each of these offenses, but open grass will be tough to come by for any ball-carrier in this contest.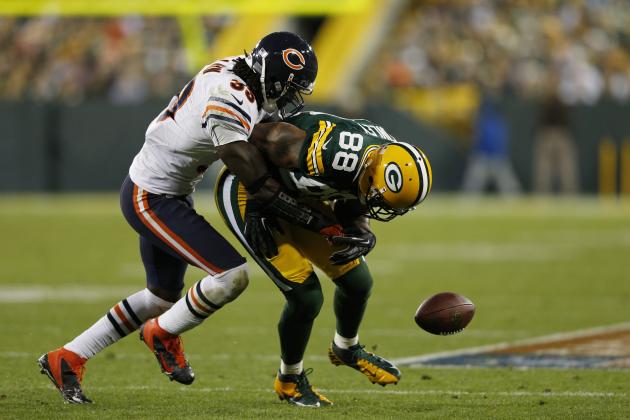 Joe Robbins/Getty Images
Chicago's secondary excels at making life hell for opposing receivers.
These defenses are stout against the run, sure. But you'll also be viewing two of the NFL's top pass defenses by tuning in on Monday night.
Chicago is tops in the league in both opponent passer rating (61.3) and interceptions (19). Along with San Fran, the Bears are allowing only 6.1 yards per pass attempt (tied for No. 3 in the NFL) and have only surrendered eight TD passes (tied with SF for league-low) on the year.
The Bears' offense also has a knack for shooting itself in the foot, having committed a whopping 39 penalties in nine games. Together, linemen Gabe Carimi and former 49er Chilo Rachal are responsible for 16 of the offense's mental mistakes.
Yards will be hard to come by as it is, not to mention that the Bears and 49ers are No. 2 and No. 3 (respectively) in the NFL at stopping opponents on third down.
Consistently falling into 3rd-and-long situations will lead to a busy day for 49ers' All-Pro punter Andy Lee and Chicago's Adam Podlesh.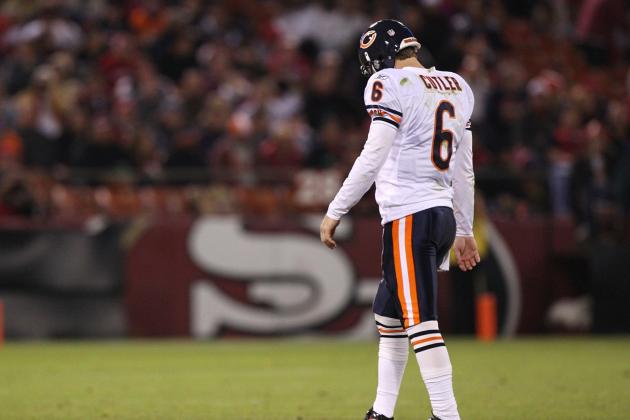 Jed Jacobsohn/Getty Images
Cutler tossed a career-high five interceptions the last time he played at the 'Stick.
If Cutler remembers his last experience at the 'Stick, sitting this one out might be his best bet.
The 49ers topped the Bears 10-6 in a defensive slugfest three seasons ago, one in which the Bears' QB tossed a career-high five interceptions—four of them coming inside San Francisco's territory.
Of course, that was 2009, not 2012. Even so, the outcome provides a pretty accurate blueprint of what to expect Monday night.
San Francisco had its share of offensive troubles in that meeting as well. Despite getting 104 rushing yards from Gore, the Niners failed to gain more than 48 yards on any one drive. Their only TD came on a one-play drive that began on Chicago's 14-yard line.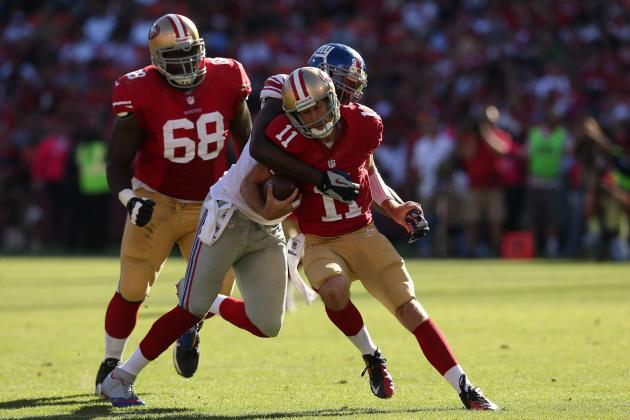 Stephen Dunn/Getty Images
San Francisco has been inconsistent against some of the better defenses it has faced.
Here's where it really gets interesting.
Of Chicago's nine opponents this season, only two of them rank higher than 15th in the NFL in points allowed. Those teams are the Packers (No. 9) and Texans (No. 3). The Bears lost both games, scoring just 10 against Green bay and six against Houston.
San Francisco's offense, particularly its rushing attack, has been nearly unstoppable at times. But it struggled mightily against Minnesota, New York (Giants) and Seattle—all teams ranking 14th or higher in points allowed.
Remember, the 49ers are No. 1 in points against, and the Bears are No. 2. No matter how you spin it, points are going to be hard to come by in this game.
Unless, of course, they're created by either defense.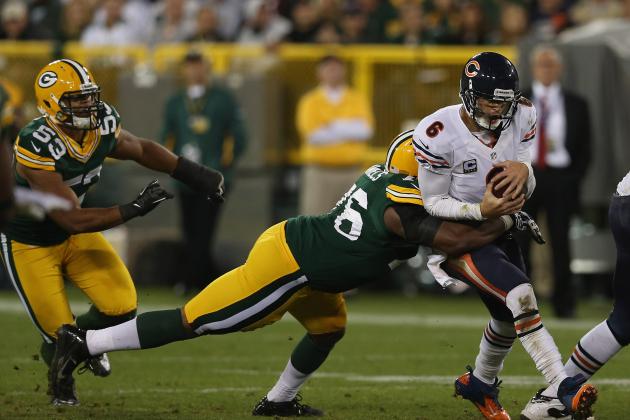 Jonathan Daniel/Getty Images
Chicago's offense hasn't fared well in night games.
It's worth mentioning that Chicago's three lowest offensive scoring outputs have all come at night and on national TV.
Why is that relevant? I don't know. Either way, the numbers have a story to tell.
The Bears are averaging 35.5 PPG in day games, as opposed to 9.7 PPG in three of their four night contests. The fourth being a 34-18 win over the Cowboys, which is substantially misleading because the defense intercepted Tony Romo five times and returned two for scores.
Plus, it's the Cowboys. The only thing they do consistently is implode in key situations.
To make matters worse for Chicago, the 49ers haven't allowed more than 19 points in any of their five night games dating back to the start of 2011. They haven't allowed a single touchdown in the past two, outscoring the Seahawks and Cardinals 37-9 in those games.
However this one plays out, I wouldn't expect either offense to have much of anything positive to contribute.
Game Prediction: 49ers over Bears, 16-9