Comparing the '93 and '08 Philadelphia Phillies: Who's Better?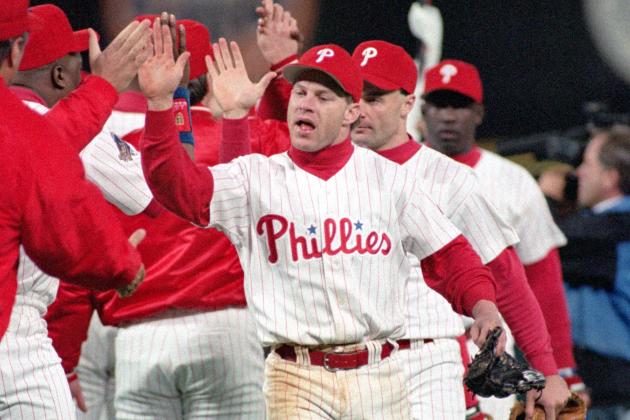 Rick Stewart/Getty Images

The Philadelphia Phillies broke their city's heart in 1993 and years later won it over in 2008.
During their respective seasons, these two distinct Philadelphia teams and fans took an emotional ride from spring training straight through to the World Series.
The 1993 Phillies were known for being "loose-cannons" or "wise-guys"—where the 2008 Phillies were a more disciplined and focused team.
Their results may have ended differently, but there is no denying both Phillies teams were incredibly talented and left us with High Hopes.
Using the Phillies' Game 1 World Series lineup from their respective season—here's a position by position comparison of the two legendary teams.
Begin Slideshow

»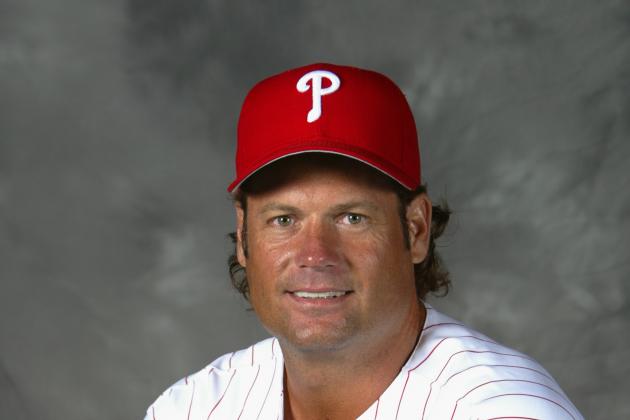 Ezra Shaw/Getty Images

*Daulton's Stats: .257 / .392 / .482 24 HR
Ruiz's Stats: .219 / .320 / .300 4 HR
The battle of "Chooch" and "Dutch".
These two dynamic catchers may have the best nicknames in Phillies' history, but statistically there is a clear-cut winner at the catcher position.
Daulton does have an unfair advantage, as he was a seasoned vet during his team's World Series campaign—compared to Ruiz, who just completed his second full season.
Pushing statistics aside, Daulton was the leader and captain of his Phillies team. He had a voice on and off the field and his teammates followed him from the pub to the clubhouse.
Ruiz has since evolved into a tremendous asset for the Phillies, but "Dutch" gets the victory in this battle.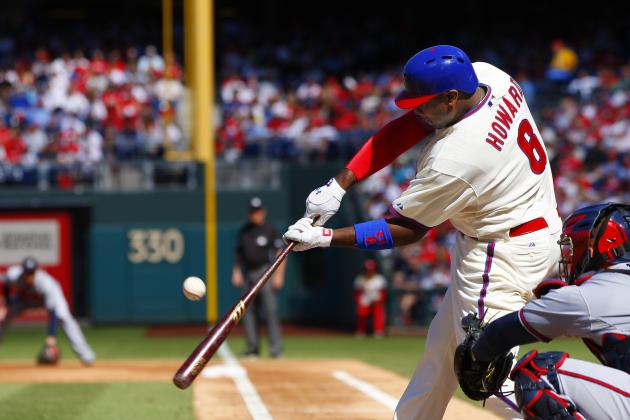 Rich Schultz/Getty Images

Kruk's Stats: .316 / .430 / .475 14 HR
*Howard's Stats: .251 / .339 / .543 48 HR
There's one rule when betting on sports—"bet with your mind and not your heart".
This is the case with first base for the Phillies.
John Kruk is loved by the Phillies organization and it's fans. He was the class clown on camera and in the clubhouse, yet a general on the field.
Kruk will forever be a fan favorite.
But Ryan Howard had an MVP type season. He finished sixty-one votes shy of Albert Pujols for the NL MVP, and was an offensive juggernaut all season—helping the Phillies clinch a World Series win.
He may not be the stat monster he was earlier in his career, but he simply torched the Majors in 2008.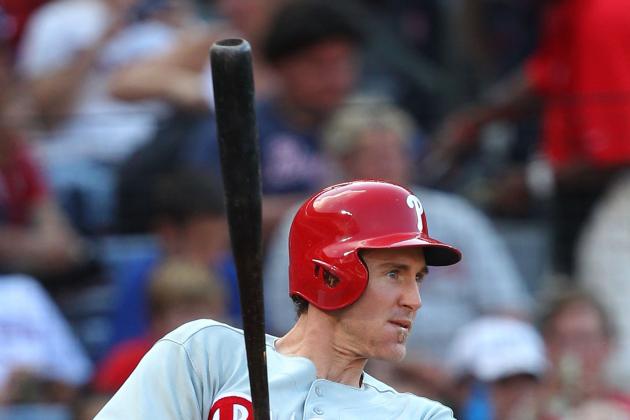 Mike Zarrilli/Getty Images

Duncan's Stats: .282 / .304 / .417 11 HR
*Utley's Stats: .292 / .380 / .535 33 HR
This was the easiest of all comparisons.
Duncan gets the comparison, even though he platooned with Mickey Morandini through out the season.
Both were good role players, who fit nicely in the organization.
Either way, Chase Utley dominates second base and epitomizes Phillies baseball.
He ran out every hit, dove for every ball and was clutch time after time.
It's a shame injuries have slowed him down in recent years, but fans still love and pull for the aging veteran.
He will go down as one the best Phillies of all time.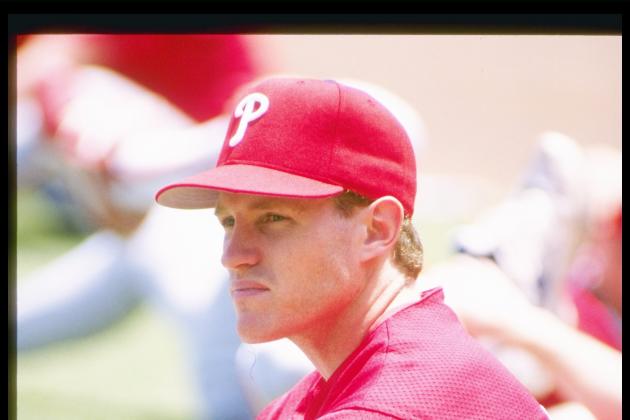 Jamie Squire/Getty Images

*Stocker's Stats: .324 / .409 / .417 2 HR
Rollins's Stats: .277 / .349 / .437 11 HR
Kevin Stocker? Really?
Stocker, the unknown rookie, was called up midseason and made the most of his opportunity.
He might have looked like a little league ball player, but he proved ready for the big show. Stocker's slap singles and stellar defense earned him a Rookie of the Year nomination in his short season.
Now, Rollins is the better ball player—without question. He has played an important role in the Phillies' success for a number of years and also serves as the team captain.
But what Stocker accomplished, as a rookie, is an incredible feat.
The upset pick goes to Stocker.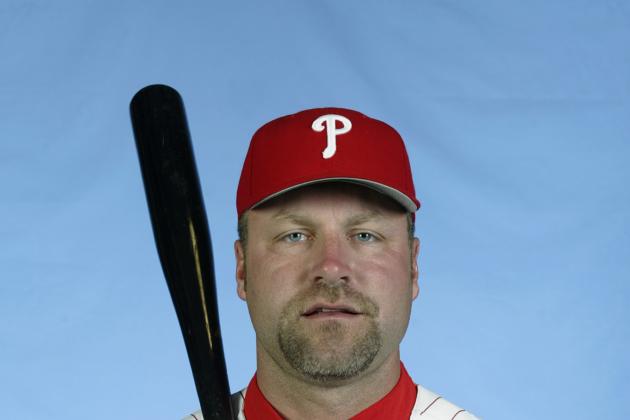 Craig Jones/Getty Images

*Hollins's Stats: .273 / .372 / .442 18 HR
Feliz's Stats: .249 / .302 / .402 14 HR
This was another easy decision.
While Feliz was an excellent role player and integral part of the Phillies success, Dave Hollins was rock solid at third base.
On a team of full of personality, Hollins quietly accomplished success with the Phillies. From leaning into pitches, hitting a clutch home run or making a diving stab at the hot corner—Hollins always did his job.
He was a no nonsense style player with a positive attitude—willing to sacrifice his body for the better of the team.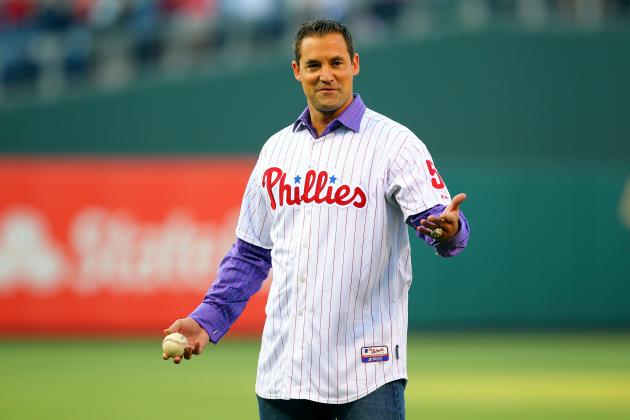 Rich Schultz/Getty Images

Thompson's Stats: .262 / .341 / .350 4 HR
Inky's Stat's: .274 / .318 / .530 24 HR
*Burrell's Stats: .250 / .367 / .507 33 HR
I cheated a bit on this one.
Milt Thompson was the Game One starter, but Pete Incaviglia was the better player.
So we will use him, because—well I said so.
"Inky" and "Pat the Bat" are pretty comparable players. Both hit bombs, strike out a ton, play shaky defense and have the ability to grow impeccable mustaches.
Although Pat wins with the ladies in Philly.
But it's not Burrell's personal life edging him over Inky— it was his patience at the plate in 2008.
Burrell had over a hundred walks for the second consecutive season. During this stretch, he was deceptively patient at the plate and still producing runs.
Burrell left a legacy from Old City to Broad Street.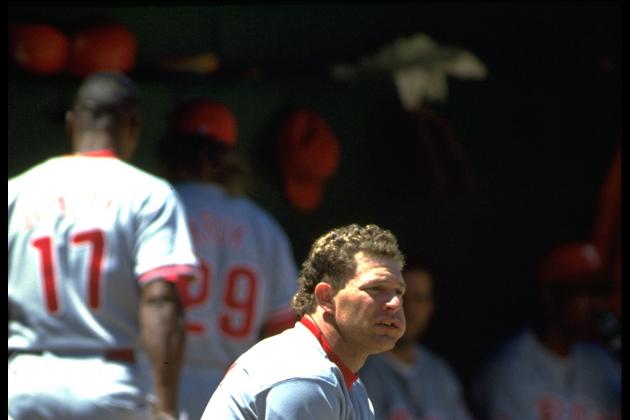 Otto Greule Jr/Getty Images

*Dykstra's Stats: .305 / .420 / .482 19 HR
Victorino's Stats: .293 / .352 / .447 14 HR
How can you not love both of these guys?
They both played the game the way it was meant to be played—hard.
Lennny "Nails" Dykstra edges out "The Flyin Hawaiian" is this close call battle.
Vicotrino was a talented, young ball player with high expectations
His hard-nosed style of play offensively and defensively earned the respect from critical Philly fans.
But the "Dude" symbolized the '93 Phils. The mullet, the chew, the jersey, the attitude— he was the package deal.
Philly fans loved him.
Not to mention, Dykstra was an extremely efficient leadoff batter—drawing 129 walks and scoring 143 runs during the season.
Much like Daulton, the Philles rallied around Dykstra straight to the World Series.
Fans can still hear Harry Kalas yelling, "This balls outta here, home run— the Dude."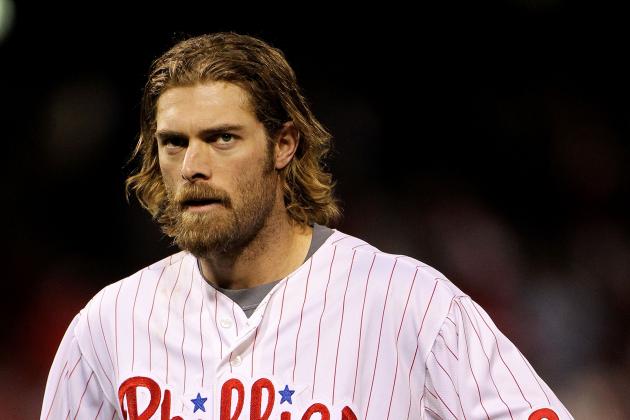 Doug Pensinger/Getty Images

Eisenreich's Stats: .318 / .363 / .445 7 HR
*Werth's Stats: .273 / .363 / .498 24 HR
This is the most interesting match up of them all.
Eisenreich once described his Phillies team, "As a bunch of truck driver, rough house type guys...I was the most normal guy on the team"
He battled Tourette Syndrome from an early age and accomplished his goal of making it to the majors and being normal.
He was an admirable ball player, who produced solid numbers—year after year.
Jayson Werth's career may not have ended well in Philly, but he did put up some incredible numbers during his run.
Werth emerged as a power hitter, who could also hit for average. He was clutch through out the entire season, specifically the World Series.
Werth's importance in the 08' Phillies championship run is grounds for victory in this tight battle.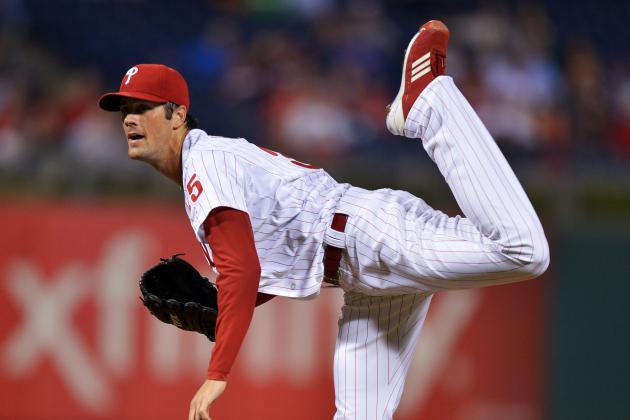 Drew Hallowell/Getty Images

Schilling's Stats: 16-7, 4.02 ERA, 1.237 WHIP, 186 K
*Hamels's Stats: 14-10, 3.09 ERA, 1.082 WHIP, 196 K
The only similarity between these two aces is their dominance on the mound.
Schilling was the outspoken, hard throwing right-hander and Hamels was the reserved, laser accurate lefty.
While Schilling was not shy about intentionally throwing at a batter's head or speaking his mind in public, Hamels quietly carved his brilliant season.
Hamels followed his dominant regular season with a perfect post season showing. He set the tone for the Phillies, going 4-0 in the playoffs.
His command during the post season earned him MVP honors for the NL Championship Series, World Series and this battle.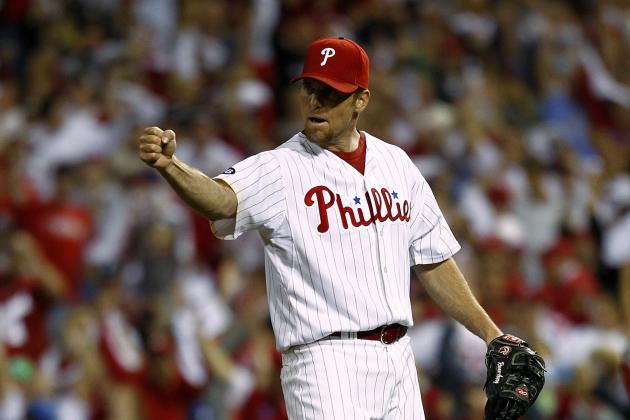 Jeff Zelevansky/Getty Images

William's Stats: 3-7, 3.34 ERA, 1.613 WHIP, 43 SV
*Lidge's Stats: 2-0, 1.95 ERA, 1.226 WHIP, 41 SV
Oh Poor Mitch Williams—he falls short, yet again.
"Wild Thing" was the craze in 1993. His unorthodox appearance, mechanics and personality fit perfectly in Philadelphia. He was dominant and cocky. He was born to be a major league closer in the "City of Brotherly Love"
Then he was run out of town.
Years later, Brad Lidge is the new sheriff in town and the fans witnessed perfection.
It was a guaranteed saved, literally. Lidge converted all 48 saves—including post season play— and was untouchable.
He would soon suffer the same fate as Williams, but Lidge's game ending, World Series winning, strike out is unforgettable.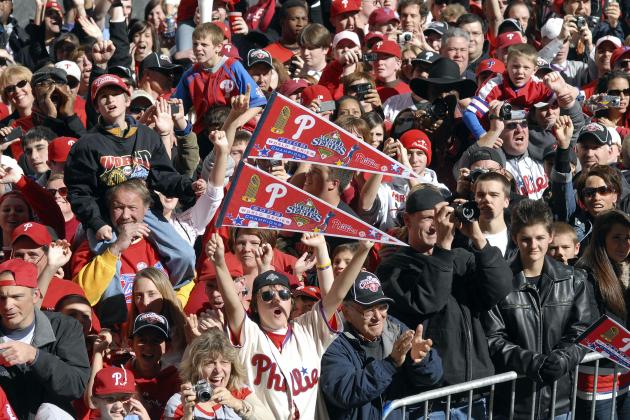 William Thomas Cain/Getty Images

The city of Philadelphia may be tough on their athletes, but they expect hard work and success.
These two Phillies teams met their fans expectations and much more. They brought a city together and fought tooth and nail to win.
The 08' Phil's World Series win finally ended the 15 year sour taste left from 1993—and put the stamp on this fun competition.
Follow me on Twitter @Mike_Pizzutillo