Who Are the Favorites for Every Major NFL Award After Week 10?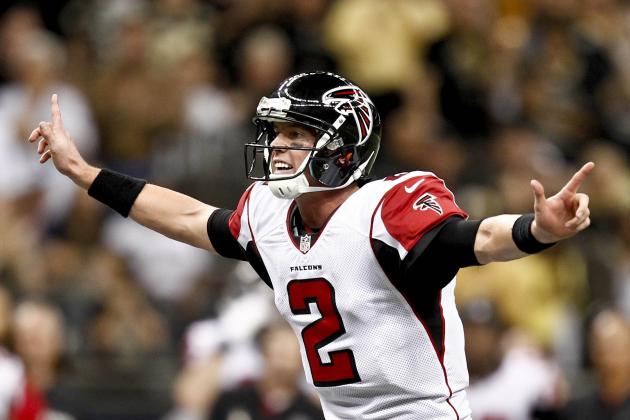 Derick E. Hingle-US PRESSWIRE
Matt Ryan threw for 411 yards, but the Falcons lost to the Saints
The early season favorites for the major NFL awards stepped up their play again in Week 10, as some of the awards are narrowed down to just a handful of candidates.
Other awards are much less clear, but there's still seven weeks left for some players to make a statement.
Week 10 of the 2012 season was memorable for a number of reasons. The Atlanta Falcons, the last team standing with a perfect record, finally tasted defeat. The St. Louis Rams and San Francisco 49ers played to the league's first tie since 2008. There were some upsets and a bunch of concussions.
Kansas City took Pittsburgh to overtime in Monday Night Football, only to come up short. Ben Roethlisberger left in the second half with a shoulder injury.
Speaking of injuries, there were some noteworthy concussions in Week 10 that impacted star players around the league. San Francisco QB Alex Smith, Philadelphia QB Michael Vick, Chicago QB Jay Cutler and Buffalo RB Fred Jackson all suffered concussions. Vick and Jackson are already declared out for Week 11, while Cutler and Smith await further tests.
Top performers from Week 10 included Atlanta QB Matt Ryan passing for 411 yards, Minnesota RB Adrian Peterson running for 171 yards and Detroit WR Calvin Johnson coming up with 207 receiving yards on Sunday.
We will look at the top performers and how their play in Week 10 impacted the races for various NFL awards.
Begin Slideshow

»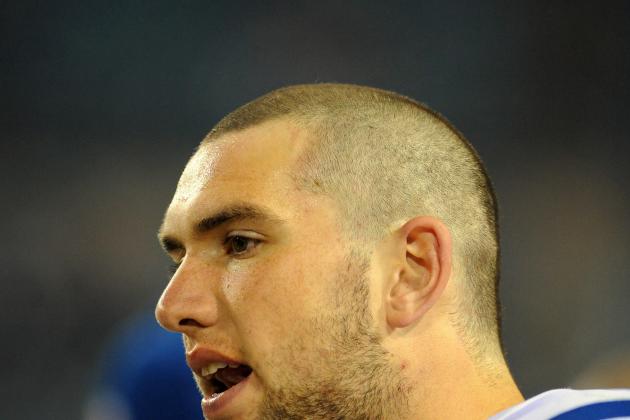 Al Messerschmidt/Getty Images
Shaved head and all, Luck is playing far beyond his years.
Washington QB Robert Griffin III won the NFL Offensive Rookie of the Year award in September. The award in October went to Tampa Bay RB Doug Martin. The player that seems to be well positioned to pick up the honor in November is Indianapolis QB Andrew Luck.
That leaves the final seven weeks for this trio to slug it out.
We also can't forget about Washington RB Alfred Morris, who is still in the running for the award.
Outside of those four candidates, we have the rest of the 2012 NFL draft class of rookie quarterbacks, which has now added another starter in Philadelphia QB Nick Foles, who replaced Michael Vick in the Week 10 loss to Dallas. It looks like Foles is going to be starting for the foreseeable future.
Foles has been sitting for too long on the sidelines to be an entry in the OROY award race, since Luck and Griffin have been starting all year long, as have rookie quarterbacks Brandon Weeden (Cleveland Browns), Ryan Tannehill (Miami Dolphins) and Russell Wilson (Seattle Seahawks).
Luck had another good game in the Thursday Night Football contest against Jacksonville. Only Houston and Baltimore have a better record in the AFC than the Colts, and Indy's 6-3 record is a huge testament to how well Luck has played.
Griffin and Morris had their bye week this past weekend. Morris and Martin are both ranked in the top 10 among NFL rushers and both rookies are on pace to top the 1,000-yard mark.
In terms of the traditional QB passer rating system, the rookie quarterbacks are ranked in this order: RG3, Wilson, Luck, Tannehill and Weeden. By Total QBR, the order is different: Luck, RG3, Wilson, Tannehill and Weeden.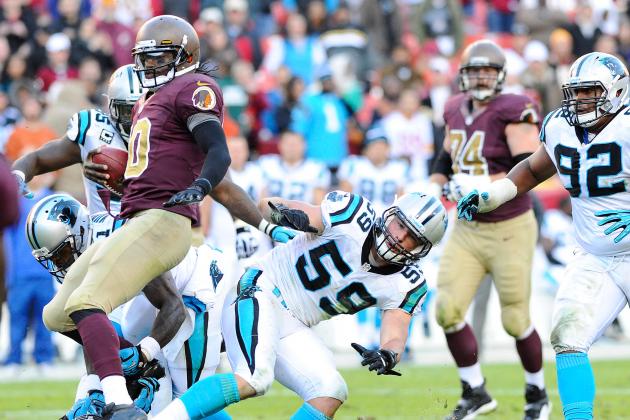 Brad Mills-US PRESSWIRE
Luke Kuechly is now No. 3 in the NFL in tackles.
New England DE Chandler Jones was the NFL Defensive Rookie of the Month in September. Green Bay CB Casey Hayward won the award in October.
Who will take the award in November? Good question, but one player that hurt his chances was St. Louis CB Janoris Jenkins, who was suspended for the Week 10 game against San Francisco for violating curfew. Some lessons are harder to learn than others.
As for the overall race for the DROY, this is a wide-open race right now.
Look at the number of rookie defenders who are making a positive impact all over the league. All of the following are ranked in the top 20 of the entire NFL in the following categories:
Tackles: Carolina LB Luke Kuechly (ranked No. 3 with 87 tackles), Seattle LB Bobby Wilson, (tied for No. 4 with 81), Tampa Bay LB Lavonte David (tied for No. 4 with 81) and Indianapolis LB Jerrell Freeman (tied for No. 15 with 73).
Sacks: Seattle LB Bruce Irvin (ranked No. 10 with seven sacks) and New England DE Jones tied for No. 18 with six sacks.
Interceptions: Green Bay CB Hayward (tied for No. 3 with four interceptions), New England S Tavon Wilson (tied for No. 8 with three) and Tampa Bay CB Leonard Johnson (tied for No. 8 with three).
Passes Defended: Buffalo CB Stephon Gilmore (tied for No. 5 with 11), Green Bay CB Hayward (tied for No. 13 with nine) and St. Louis CB Jenkins (tied for No. 13 with nine).
As you can see, there are quite a few names to consider. To try to weed them out is difficult, but the players who seem to be emerging from the pack are Chandler Jones, Luke Kuechly, Casey Hayward, Bobby Wagner and Lavonte David.
This race is still available for someone to step up and claim.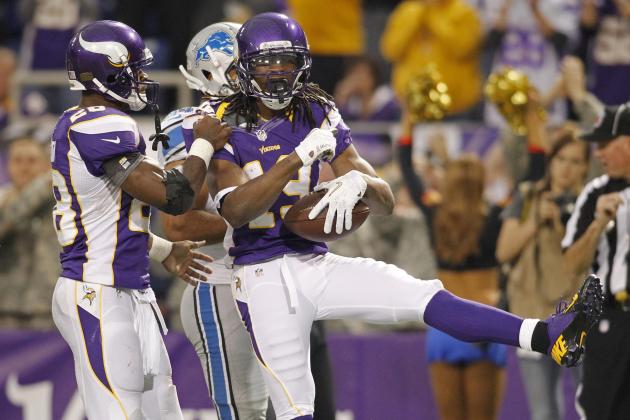 Bruce Kluckhohn-US PRESSWIRE
Adrian Peterson led all NFL running backs with 171 yards in Week 10.
The race for the NFL Comeback Player of the Year has been reduced to two players.
They are Denver Broncos QB Peyton Manning and Minnesota Vikings RB Adrian Peterson.
Manning and Peterson have played at such a superior level, playing under difficult circumstances, that they have placed a huge gap between them and the rest of the league.
Each week, Manning and Peterson continue to knock it out of the park with one strong performance after another. Week 10 was no exception. Peterson led all NFL running backs by rushing for 171 yards against Detroit. He has passed the 1,000-yard mark last week and leads the NFL with 1,128 rushing yards.
Just as important is that Peterson is carrying the Vikings offense, as Christian Ponder hasn't exactly been lights out in 2012. The Vikings are 6-4, and Peterson is clearly the MVP on that team. They would be lost without him.
Manning is lighting it up as well, having led Denver to a 6-3 record and a two-game lead in the AFC West Division. Manning completed 27 of 38 passes for 301 yards and one touchdown pass in a win Sunday over the Carolina Panthers. Manning now has thrown 420 touchdown passes, which ties him with Dan Marino for No. 2 in NFL history.
Brett Favre holds the all-time record with 508 touchdown passes.
Another indication of just how well Manning is playing is that he is the No. 1 rated quarterback in the NFL after Week 10. For all the concerns about his health and whether he'd bounce back, Manning has convinced everybody that he is still an elite quarterback.
For this award, we will continue to focus on Manning and Peterson, unless somebody steps up in the final seven weeks to challenge either of these two outstanding players.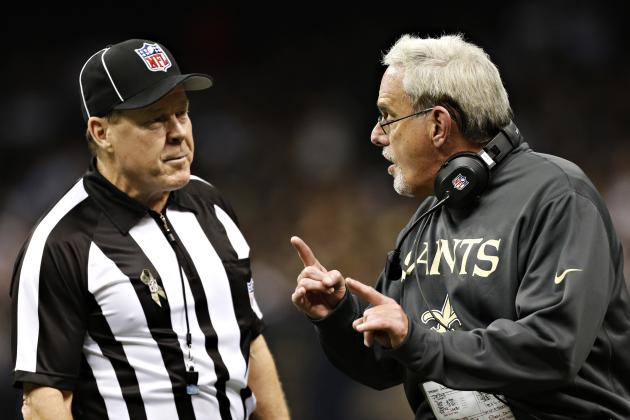 Wesley Hitt/Getty Images
Joe Vitt has the Saints one game under .500.
When the New Orleans Saints dropped the Atlanta Falcons from the ranks of the undefeated, the NFL Coach of the Year award race was now back up for grabs.
Of the teams with the best records, the leading coaches after Week 10 are Mike Smith (Atlanta Falcons), Lovie Smith (Chicago Bears) and Gary Kubiak (Houston Texans).
The next tier has the Harbaugh brothers, Jim (San Francisco 49ers) and John (Baltimore Ravens), and John Fox (Broncos).
Then we have the coaches who have been responsible for some of the biggest surprises in the league: Greg Schiano (Tampa Bay), Leslie Frazier (Minnesota) and Pete Carroll (Seattle).
Finally, we have the two unique situations of the Indianapolis Colts and New Orleans Saints. The Colts have the head-coaching duo of Chuck Pagano and Bruce Arians who have led Indy to a 6-3 start. Do you vote for Pagano who is battling leukemia? Or do you vote for Arians, who has done such a great job in the interim role.
In New Orleans, the Saints have been turning their season around after Joe Vitt came back to help settle things down. Since Vitt was suspended for six weeks, it seems difficult to consider him for the award, but if the Saints somehow qualify for the playoffs, shouldn't he deserve consideration?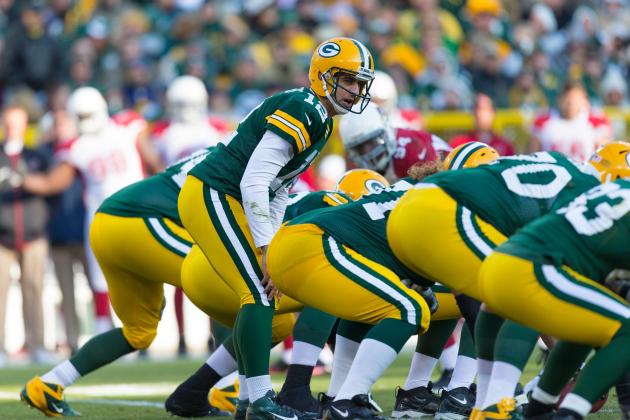 Jeff Hanisch-US PRESSWIRE
Aaron Rodgers is tied with Drew Brees with 25 TD passes.
When it comes to the NFL Offensive Player of the Year, football fans would like to see more candidates considered for the award than just quarterbacks.
In the 2012 season, the NFL Offensive Player of the Month in September in the AFC was Cincinnati WR A.J. Green, and in the NFC, it went to Atlanta QB Matt Ryan.
In October, the AFC Offensive Player of the Month was Denver QB Peyton Manning, and in the NFC, it was Green Bay QB Aaron Rodgers.
Any of the above four players are already under consideration, but there are a number of other players who have also grabbed attention with their play.
Running backs who stand out thus far in 2012 are Minnesota's Adrian Peterson, Seattle's Marshawn Lynch and Arian Foster of the Houston Texans . Peterson and Lynch have already passed 1,000 rushing yards on the season, while Foster leads all running backs with 10 rushing touchdowns.
As for wide receivers, we have four who could eclipse the 1,000-yard mark in Week 11: Detroit's Calvin Johnson, Indianapolis' Reggie Wayne, Brandon Marshall of the Chicago Bears and Denver's Demaryius Thomas.
Then we come to the quarterbacks, where there is a large pool contending for the OPOY award: Manning, Rodgers, Atlanta's Matt Ryan, the Steelers' Ben Roethlisberger, New England's Tom Brady and Drew Brees of the Saints.
This is another race that is wide open. The first tier after Week 10 is Peyton Manning, Matt Ryan, Adrian Peterson and Aaron Rodgers. But this one is far from over.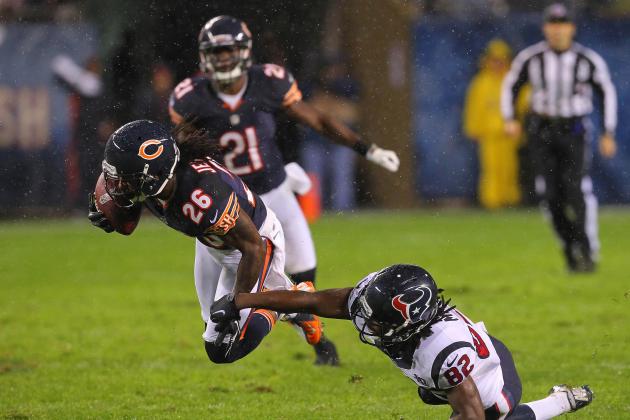 Dennis Wierzbicki-US PRESSWIRE
Tim Jennings came up with two interceptions against Houtson
For the NFL Defensive Player of the Year Award, Houston DE J.J. Watt won the AFC Defensive Player of the Month award in September and Miami Dolphins' DE Cameron Wake won the award in October.
Over in the NFC, it has been a clean sweep by the Chicago Bears secondary. CB Tim Jennings was Defensive Player of the Month in September, while teammate Charles Tillman won the award for October.
The Sunday Night Football game between the Houston Texans and the Chicago Bears featured a number of DPOY candidates. Watt, Jennings and Tillman were all on view in front of a national audience. The bad weather contributed to a turnover-filled first half of action.
J.J. Watt turned in one of his least effective games of the year, recording two tackles, one tackle for a loss and one quarterback hit. That was it. Everything else was a zero.
When you consider that the Bears offensive line had allowed Jay Cutler to be sacked 28 times this year (only Aaron Rodgers has been sacked more with 29), the lack of production has to be considered a major disappointment.
Watt's disappearing act bodes well for the Bears players. Tillman made six tackles and defended two passes. Jennings made one tackle, defended three passes and came up with two interceptions. Jennings now leads the NFL with eight interceptions and 18 passes defended. Jennings might have leapfrogged over Watt based on the strength of his Week 10 game.
Another player that we need to pay more attention to is Denver LB Von Miller. Miller now has 10 sacks on the season, trailing Watt by one-half sack. In addition, Miller came up with four tackles for a loss in Week 10 and created havoc for Cam Newton on Sunday.
Miller, Watt, Jennings and Tillman are the current favorites for the DPOY after Week 10.
The next tier would include linebackers Clay Matthews (Green Bay Packers), Lance Briggs (Chicago Bears) and NaVorro Bowman and Patrick Willis (San Francisco 49ers).
If the Bears hold out Jay Cutler in Week 11 due to his concussion, that will place even more pressure on the Chicago defense to step up. Chicago will be playing San Francisco in the Monday Night Football game in Week 11, so that game will help to determine the pecking order for DPOY consideration.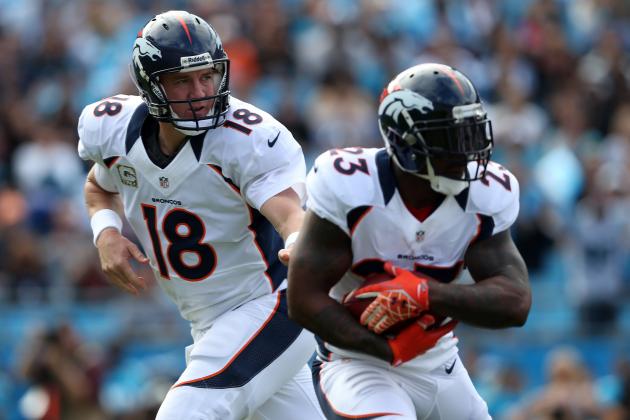 Streeter Lecka/Getty Images
Peyton Manning is making a case to win at least one major award
The NFL race for the 2012 MVP award is still up in the air. In the earlier slides we gave plenty of kudos to Peyton Manning and Adrian Peterson, and both players are in the thick of the MVP race.
Other players that have stood out this year are QBs Matt Ryan and Aaron Rodgers, along with J.J. Watt, Tim Jennings and Arian Foster. Every one of these players is firmly in the MVP race based on his consistently strong play.
The next wave of candidates would include Tom Brady, Ben Roethlisberger, Marshawn Lynch, Calvin Johnson and A.J. Green.
Johnson and Green are playing for teams with a losing record, so unless their teams start a winning streak, it will be difficult for them to capture the MVP.
There are still seven weeks left for one of these contenders to separate from the pack.
Thanks for checking out the presentation and see you next week for the Week 11 installment.