Ranking the Top 10 Rookies Through the First Half of the NFL Season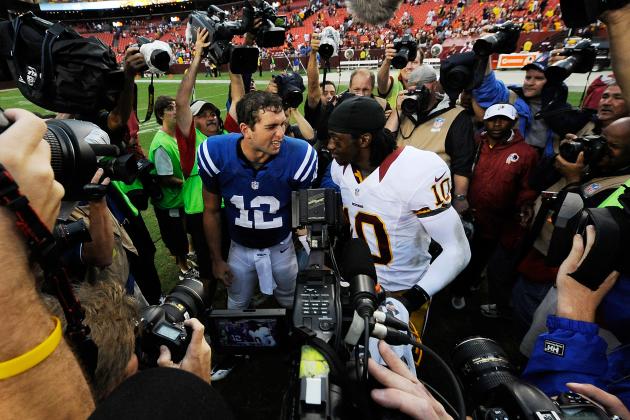 Patrick McDermott/Getty Images

The 2012 NFL Draft featured many young and talented players looking to make it big time as professional football players.
While it may take years to make names for themselves, if they do at all, some bright young rookies have already seen success.
With Week 9 nearly under wraps, the halfway point of the NFL season is officially upon us.
Some players, like Andrew Luck, Robert Griffin III, and Trent Richardson, have had at least eight games with their teams to prove if they were worth the high draft pick.
The question is, "Which rookies have been the best so far?"
Let's take a look...
Begin Slideshow

»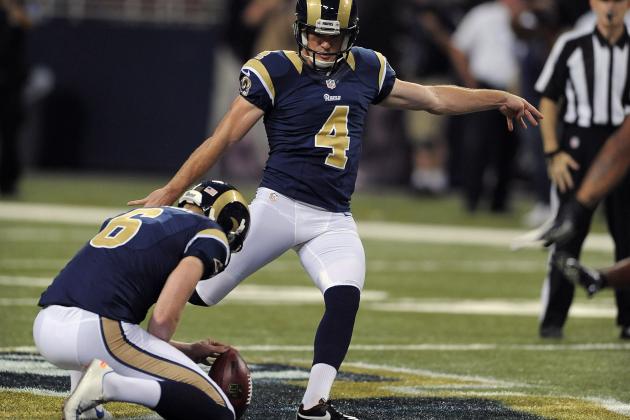 Jeff Curry-US PRESSWIRE

Starting off this rookie countdown is the man, the myth, the legend: Greg Zuerlein.
The Rams selected their kicker of the future in the sixth round of this year's draft, seemingly out of nowhere—Missouri Western State University to be exact.
Since that day, Greg the Leg has gone on to break several NFL records, including:
Being the first player to make a 60-yarder and a 50-yarder in one game
Longest field goal in the first quarter (58 yards)
Longest field goal in Rams History (60 yards)
Young GZ started off his career with an impressive 15/15 streak, which was one short of tying the NFL record.
He now sits at 17/20 on the year with all three of his misses coming in a Week 6 loss to the Dolphins.
Legatron is also tied for the most field goals of 50-plus yards on the year, while also making the most (seven) 40-49 yard kicks.
As you may have noticed, Zuerlein's name has also been a topic of conversation, as he has picked up a few new nicknames over the course of the season. That alone was good enough for him to be named a top rookie, but his amazing stats helped some as well.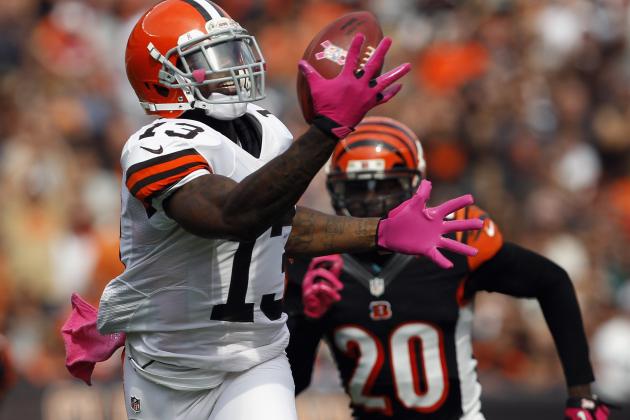 Matt Sullivan/Getty Images

If this was a list for most surprising rookies, Brown's rookie receiver Josh Gordon would be sitting in the No. 1 spot.
A second round pick in the 2012 Supplementary Draft, Gordon has taken the NFL by storm by becoming a dangerous deep ball threat.
His ability to blow by defenders has allowed him to haul in five touchdowns on the year, which leads all rookies.
Seven of his 19 receptions have earned his team a first down, and seven of those have gone for gains of 20-plus yards.
It remains to be seen whether or not this rookie has what it takes to become a consistent wide receiver in the NFL, but with the lack of depth and talent Cleveland has at that position, Gordon will have his chance to show fans what he is made of.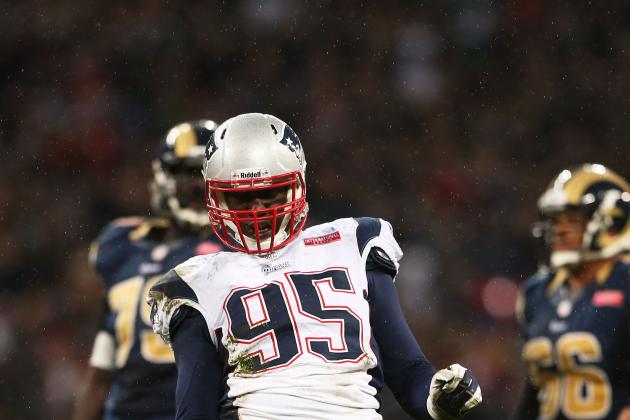 Scott Heavey/Getty Images

Defensive end Chandler Jones was selected 21st overall in this year's draft after three seasons at Syracuse.
His career got off to a great start as he recorded 17 tackles, including two sacks and two forced fumbles in his first four games. Those big numbers earned him NFL Defensive Rookie of the Month in September.
It's hard to live up to that recognition so early in a career, but Jones is trying his hardest.
In the four games since, he has put up another 16 tackles. This time, three of them were sacks.
With six sacks on the season, the 22-year-old now leads all rookies in that category and is four-and-a-half behind NFL leader J.J. Watt.
Jones' three forced fumbles on the season are good enough for fifth in the league, only two off the leader.
The impressive numbers he is putting up through his first eight games prove that he was worthy of that first round selection and a spot on this list.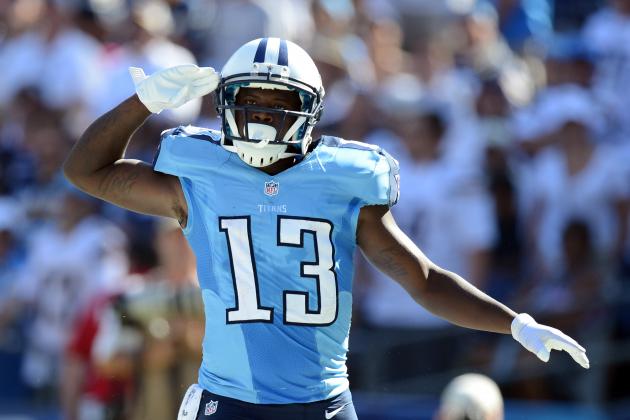 Harry How/Getty Images

When the words "rookie out of Baylor" are mentioned, most minds wander to a certain Redskins' quarterback.
A lot of people tend to forget, however, that he's not the only one off that team who is making some noise in his first year in the NFL.
Wide receiver Kendall Wright of the Titans is off to a very good start to 2012 and has been arguably the best rookie receiver from this draft class.
Through his first nine games, Wright leads all rookies in receptions with 42. That number also is the 17th best in the NFL.
Along with leading first-year players in catches, he also leads in the first down category with 25. His ability to make first downs is his biggest asset this year as he leads all of the NFL with 14 third-down receptions that resulted in a first.
That's big time.
Add up all of his first downs and his three touchdowns along with everything else, and Wright has totaled 381 yards receiving on the season.
Though the Titans' season is going downhill quickly, Kendall Wright has been one of the few bright spots of 2012.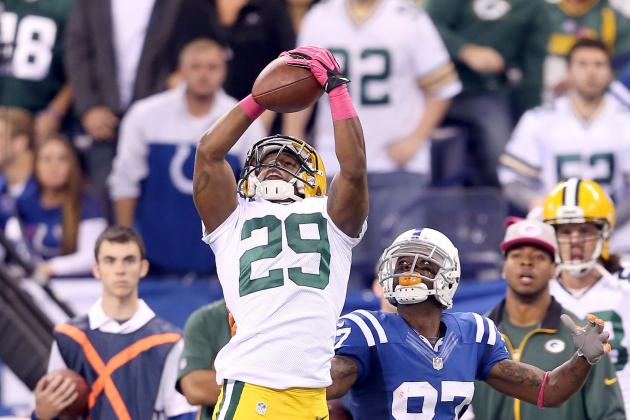 Andy Lyons/Getty Images

It only took six weeks into his NFL career for rookie cornerback Casey Hayward to nail a starting job in the Packers' secondary.
On most teams, that wouldn't necessarily be considered an impressive feat, but on a Green Bay squad that features the likes of Charles Woodson, Tramon Williams, and Sam Shields, it's very impressive.
Hayward has earned that spot fair and square, as the rookie has recorded a team-high four interceptions on the year. Those four picks rank him first overall with his fellow rookies and third in all of the NFL.
He also ranks third in the league in pass deflections.
Besides being a ball-hawk, Hayward has 32 tackles on the year, including a forced fumble.
Hayward's impressive play earned him Defensive Rookie of the Month in October, and he'll look to improve on that following the team's Week 9 bye.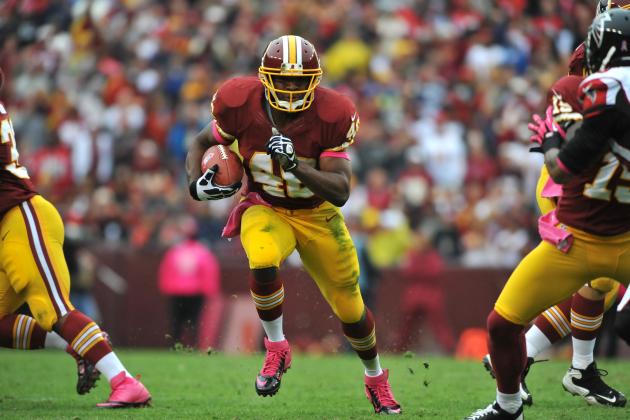 Larry French/Getty Images

Right up there with Josh Gordon, Redskins' running back Alfred Morris has been one of the biggest surprise rookies of them all.
After being selected 173rd overall in the third round, Morris wasn't even sure if he'd have a spot on the team's opening day roster due to their deep core of running backs.
Morris impressed throughout camp, however, and was eventually named the Week 1 starter.
In that game, the Florida Atlantic alum rushed for 96 yards and two scores, and the 'Skins haven't looked back since.
With nine games under his belt, Morris has now run for 793 yards (fourth in the NFL) and five touchdowns.
He has run for over 100 yards three times on the season, his high being 120 in a loss to the defending champion Giants, which led to him being named Rookie of the Week.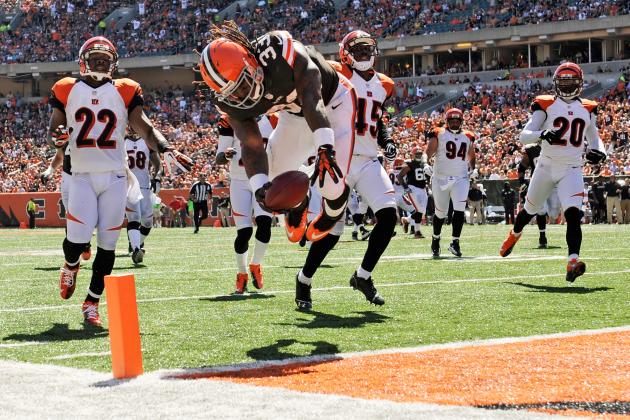 Jamie Sabau/Getty Images

Trent Richardson was a huge star in college, and almost everyone assumed his talent would translate quickly into the NFL.
Well, those people were right.
Much like the Browns' season, Richardson has seen a lot of ups and downs in the early parts of his career.
In his first game against the Eagles, the third overall pick only gained 39 rushing yards, as his team was beat in the last seconds by a struggling Michael Vick.
The next week, however, Richardson went off with a 109-yard rushing performance, scoring once on the ground and once by air. That game earned him Rookie of the Week.
The following five games were rough, as the Browns' tailback only surpassed 47 yards rushing once before finally breaking out of his slump with a career-high 122 yards against San Diego in Week 8.
He followed that up with a second straight 100-plus yard game.
Though his 575 yards rushing are over 200 yards less than Alfred Morris, Richardson's receiving ability out of the backfield sets him apart.
On the season, Morris has only caught five passes for a total of 35 yards. Richardson, on the other hand, has caught 31 passes, earning 240 yards and a touchdown.
The 31 catches are second among all rookies, receivers included, and only trail hybrid-backs Darren Sproles and Ronnie Brown for the NFL lead.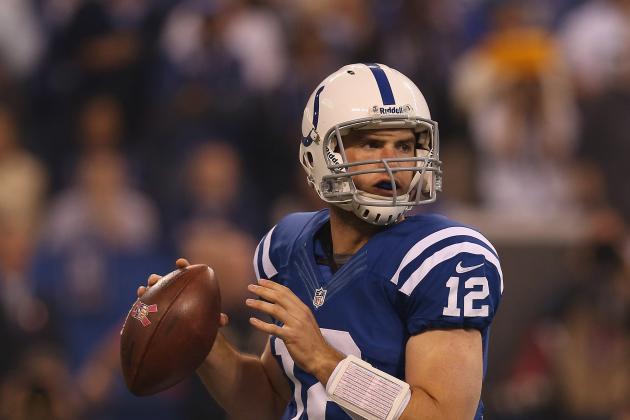 Jonathan Daniel/Getty Images

That's right, the No. 1 overall selection in this year's draft hasn't been the top rookie at the season's midway point.
But just because he hasn't been the best doesn't mean he hasn't been incredible.
In fact, in Sunday's win against Dolphins Luck threw for 433-yards and two touchdowns as his Colts improved to 5-3 on the season.
Luck's 433-yard performance broke Cam Netwon's rookie record for most passing yards in a game.
His big game put him at 2,404 yards on the year, third best in the league.
Scarily enough, his yardage total ties him with Peyton Manning, though Manning has doubled Luck's TD output with 20.
Along with his 10 touchdowns and 2,000-plus yards through the air, Luck has also rushed for 148 yards and an additional three scores.
Three times this season, Luck has been awarded NFL Offensive Rookie of the Week, with another one more than likely heading his way this week.
His numbers of late give him a legitimate argument for Rookie of the Year, but only time will tell how that race will play out.
More importantly, if the season ended today, Luck's team would have a guaranteed playoff spot, which is more than any other rookie QB can say.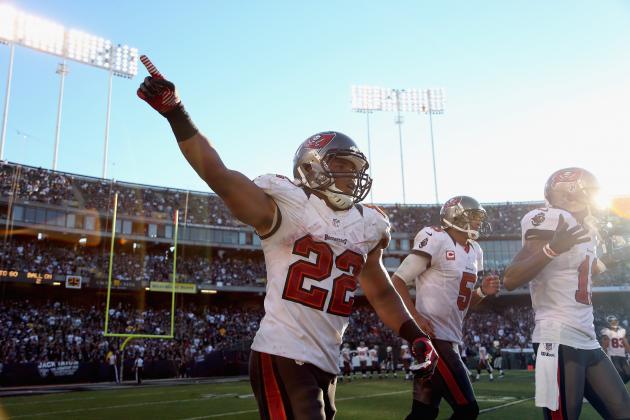 Ezra Shaw/Getty Images

Only die-hard college football fans could have predicted Doug Martin being a success in the NFL, but I don't think anyone saw him making this big of an impact, especially this early in his career.
After earning the starting role for Week 1, Martin got off to a pretty slow start, which led to him even seeing some of his carries get taken away as the season progressed.
Fast forward to Week 8, and his early-season struggles were thrown out the window, as "The Muscle Hamster" broke out for a then-career high 135 yards rushing with a touchdown. He also gained 79 yards receiving, adding another score.
As an encore, in Week 9, Doug Martin became a household name.
In one of the best running performances of all time, Martin gained 251 yards on the ground against the Oakland Raiders defense.
Throughout the game, he ran for four touchdowns, with three of those runs being 45-plus yards, which is a new NFL record. All four came in the second half, also good enough for an NFL record.
Martin also wrote his name in Tampa Bay's record book as he broke the franchise record for rushing yards and touchdowns in a game.
On the season Martin, has now rushed for 794 yards, trailing only Adrian Peterson and Marshawn Lynch. His seven TDs are second best, only behind Arian Foster of the Houston Texans.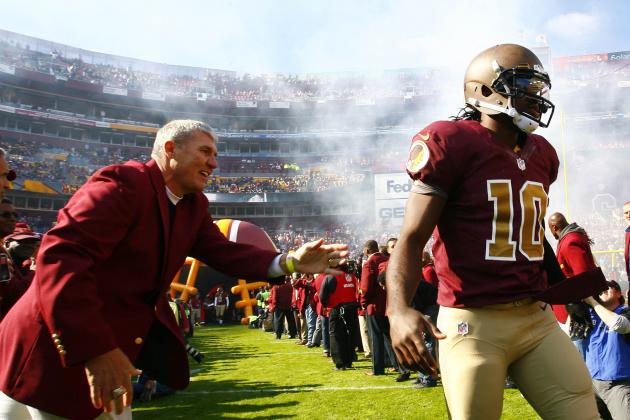 Geoff Burke-US PRESSWIRE

When it comes to the best rookie in the NFL and arguably the best all-around player, Robert Griffin III takes the cake.
The No. 2 overall pick in this year's draft has set the football world on fire this season, starting with his spectacular Week 1 performance against the Saints.
In that game, RGIII threw for 320 yards and two touchdowns while showing off his impressive accuracy by completing 19 of his 26 passes (73.1 percent). He also showed us his revered quickness by adding 42 yards rushing as he lead his team to a 1-0 record. His huge game earned him NFC Offensive Player of the Week, the first time a player has ever won the award in their debut.
His second game performance against the Rams was equally impressive. Though they took the loss, the phenom gave the football world the latest trend in the posing saga: "Griffining."
The initial hype around RGIII eventually wore off, but his talent didn't.
Washington may be off to a 3-6 start, but for once, the quarterback isn't to blame.
Through the nine games, Griffin III has thrown for 1,993 yards with a 65.6 completion percentage and eight touchdowns.
What puts this rookie ahead of all of the rest is his dual-threat ability. Not only does he have a deadly throwing arm, he also is as quick as they come. In fact, he ran the third fastest 40-yard-dash at this year's combine with a 4.38.
For the year, the reigning Heisman Trophy winner has gained 529 yards on the ground while reaching the end zone six times (third best in the league). Each of those are NFL bests for quarterbacks.
Along with winning Rookie of the Week three times, Griffin III was also named the Offensive Rookie of the Month in September.
With Luck and Martin coming on strong and a whole season left to play, there's no telling who the NFL's top rookie will be at season's end. Right now, however, it's definitely the one and only RGIII.