Reasons Matt Cassel Isn't the Kansas City Chiefs' Answer at QB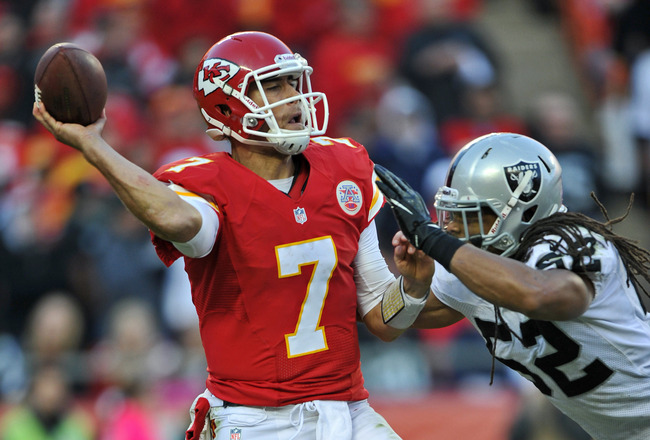 Matt Cassel and the Chiefs have struggled so far this season
Peter Aiken/Getty Images
When the Kansas City Chiefs signed Matt Cassel, they hoped that they were signing a franchise quarterback who could lead them to the Super Bowl. However, four years into his career in Kansas City, Cassel is looking more like a dud than a stud.
As the Chiefs take on the Chargers on Thursday night, Cassel will be at the helm of the Kansas City offense by default because Brady Quinn will be out with a concussion.
Once Quinn is healthy, unless Cassel has pulled a complete 180, expect to see Brady Quinn either starting or putting a lot of pressure on Cassel for the starting job.
Despite Chiefs fans hopes that Matt Cassel could be the answer to the quarterback woes that have plagued the team in recent years, Cassel is not the answer. Here's why the Chiefs are going to be better off going in a different direction at quarterback.
The Chiefs Have Not Led a Game in Regulation Yet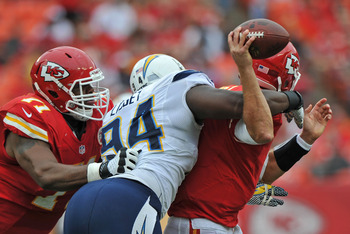 Cassel has struggled to protect the ball so far this season
Peter Aiken/Getty Images
The Chiefs inability to produce points and lead in games does not all come down to Matt Cassel; the signal-caller needs to be able to manage the offense productively. Cassel and the Chiefs have struggled to protect the ball this season, turning it over 25 times.
That is compared to 10 touchdowns.
One of the quarterback's duties is to take responsibility and control for the offense—both things Cassel has struggled to do. His inability to be a game manager has been a glaring hole in Cassel's game lately.
While Brady Quinn is not God's Gift to football, the Chiefs need someone who can take control of an offense and demand respect from opponents. Cassel was able to do both of these during his one season as a starter in New England.
This intangible has not been there since then.
The ability to win games in football starts with the quarterback. Right now Matt Cassel is not able to lead the Chiefs in a way that will allow them to win many football games this season.
Ball Security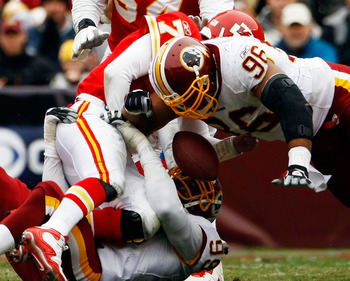 Cassel has led the way as the Chiefs have turned the ball over 25 times
Win McNamee/Getty Images
With 25 turnovers in seven games, to say ball protection has been a problem for the Chiefs would be an understatement. So far this season, Cassel has thrown 10 interceptions while fumbling the ball four times. Cassel's total of 14 turnovers this season is more than 27 of the 32 NFL teams have totaled combined.
For Cassel, hanging onto the ball has been a problem during his time in Kansas City. During his time in Kansas City, Cassel has 15 fumbles in three-and-a-half seasons. It has become evident that Cassel needs help when it comes to hanging onto the ball.
Any team looking for a star quarterback is going to look for someone who knows how to protect the ball. Cassel's problem with ball protection can and has been very problematic for the Chiefs, who have a tendency to turn the ball over at key times.
Brady Quinn, in comparison to Cassel, has coughed up the ball once in three games this season. Despite throwing three interceptions in three games this season, Brady Quinn has been the better option for the Chiefs as far as protecting the ball.
Cassel Has Been Unable to Utilize Those Players Around Him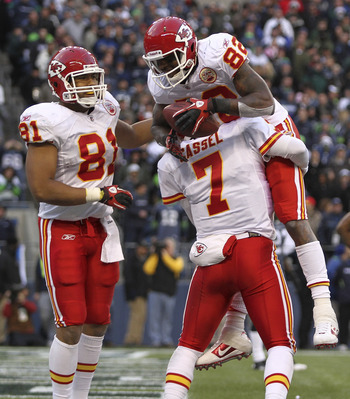 Cassel has had a dangerous target in Dwayne Bowe, but has struggled to use him
Otto Greule Jr/Getty Images
Not every quarterback has an option like Dwayne Bowe lining up on their side of the ball every week. Most would love to see a player like that looking down the line of scrimmage at them. Cassel has struggled during his tenure as a Chief to adequately use the extreme talent that is Bowe.
During his time in New England, Cassel was able to utilize the players around him to make himself better. While the options open to Cassel in New England were a significant upgrade from the roster the Chiefs trot out onto the field each week, Cassel needs to utilize what he has.
This season teams have been able to key in on Bowe to limit his production, and Cassel has not been able to do anything at all about it. The sign of a good quarterback is the ability to turn an ordinary receiver into something special.
Cassel has had the opportunity to do this the past four years, yet every year he has failed.
Ultimately, Matt Cassel has been unsuccessful in taking advantage of the few players with star potential that have been placed around him.
The Chiefs Have Already Turned the Page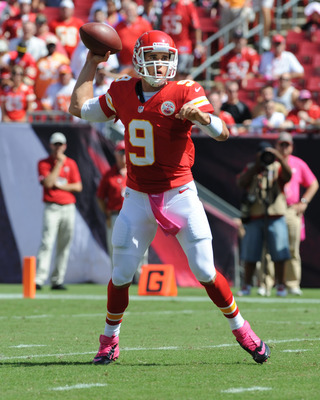 Brady Quinn looks to take over the starting job once healthy
Al Messerschmidt/Getty Images
When Chiefs coach Romeo Crennel handed Brady Quinn the starting job for last week's game against the Raiders, it signified the end of the Cassel era. Cassel is starting the Chiefs' Thursday night game against the Chargers, but expect him to be on a short leash. The Chiefs lack of faith in Cassel will not allow him to get another shot to be a long-term starter.
Cassel's struggles this season have been headline news in Kansas City and the fans began to call for Cassel's job.
During his announcement that Brady Quinn would take over the starting job from Matt Cassel, Crennel did not say that the move was just temporary. He said that Quinn would be the starter for possibly the rest of the season (via ESPN).
The move is important for multiple reasons, but mainly because it tells everyone that the Chiefs no longer trust Matt Cassel. Crennel had supported Cassel as his starting quarterback until announcing Quinn would start. Anytime a player in a leadership position, such as a quarterback, loses the faith of the head coach, it is very hard to regain it.
Plus, no team has been successful rotating between quarterbacks every few weeks, so look for Quinn to take the job and keep it.
Keep Reading

Kansas City Chiefs: Like this team?