The 5 Most Disappointing Players of the NFL's First Half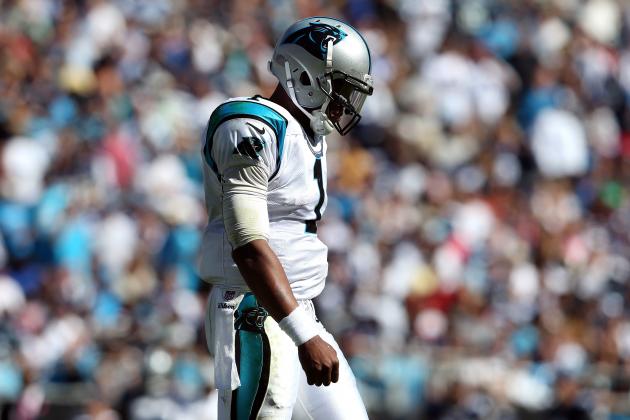 Streeter Lecka/Getty Images
Following one of the best rookie seasons ever for a QB, Cam Newton has fell flat in his second season.
Whether it's right or wrong, fair or unfair, surprises and disappointments have everything to do with expectations.
Teams and players coming off an unimpressive season tend to fly under the radar at the beginning of a new season. On the other hand, those who have enjoyed success tend to grab headlines and lofty expectations once a new season begins.
And through the first half of the 2012 season, many teams and players have been incredibly disappointing.
The NFC West—most notably its elite defenses—has been one of the most pleasant surprises of 2012. However, the NFC East has produced two teams—Dallas and Philadelphia—that have fallen well short of expectations through eight weeks.
There is a wide variety of talent among the current NFL MVP candidates. Packers quarterback Aaron Rodgers looks like a solid bet to repeat as the league MVP, but Falcons quarterback Matt Ryan is currently enjoying the best season of his career and his team remains unbeaten.
If it's not Rodgers or Ryan, Broncos quarterback Peyton Manning could be a candidate to win his fifth MVP award this season. Manning is perhaps the best story through eight weeks of the season, having thrown 17 touchdowns and just four interceptions.
Manning has long been among the league's best quarterbacks, but coming into the season, many players looked at 2012 as yet another step in their rise to the NFL's elite.
Panthers quarterback Cam Newton enjoyed one of the most impressive rookie seasons in NFL history, causing many football enthusiasts to expect a dramatic rise in production this season. However, Newton's fallen flat through seven games this season.
Let's take a look at the five most disappointing players of the 2012 season.
Begin Slideshow

»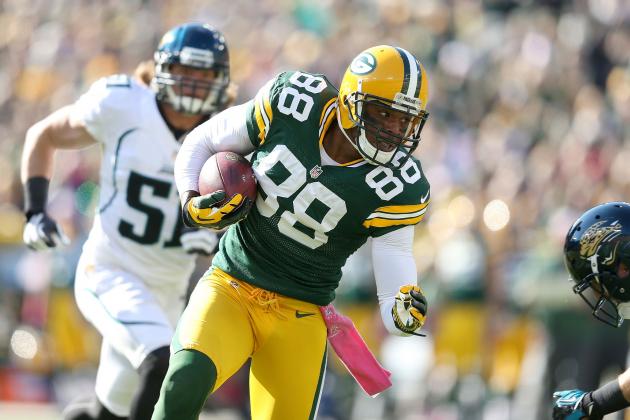 Andy Lyons/Getty Images
Finley's issues with drops date back to last season, but his production in 2012 has fallen well short of last year.
Stats: 33.1 Receiving YPG, 1 Total TD, 6, Drops, 1 Fumble Lost
Packers tight end Jermichael Finley has the talent to be one of the best tight ends in football. However, dropped passes and mental lapses tend to overshadow his on-field production.
Finley's 12 drops in 2011 were three more than any other NFL tight end. His issues with drops (6) are continuing through the first eight games of 2012, but his production is greatly diminishing.
With half the season in the books, Finley has 28 catches for just 265 yards and a touchdown. His per-game average of 33.1 receiving yards falls far short of last year's average of 47.9.
To a certain extent, Green Bay has filled Finley's void in the middle of the field with second-year wide receiver Randall Cobb. It will be interesting to see if Finley's role with the Packers increases as the year goes on, or if he will continue to be phased out.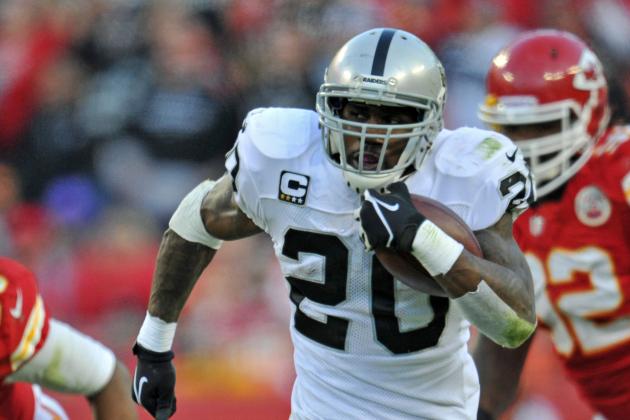 Peter Aiken/Getty Images
McFadden has stayed healthy through eight weeks, but he's fallen well short of expectations.
Stats: 62.6 Rushing YPG, 27.1 Receiving YPG, 2 Total TD, 1 Fumble Lost
The biggest knock on Raiders running back Darren McFadden is—and always has been—his inability to stay healthy.
But McFadden has played in all seven of Oakland's games this season, yet he hasn't made his presence felt on a regular basis. McFadden is averaging just 3.3 yards per carry, and he's on pace for just over 1,000 yards this season.
Without an elite air attack with Carson Palmer under center, the Raiders are forced to rely heavily on McFadden. When their "horse" isn't able to shoulder the load, the Raiders find themselves in a world of hurt.
Currently sitting at 3-4 on the season, Oakland will need McFadden to have a big second half of 2012 if it wants to have any chance at making the postseason.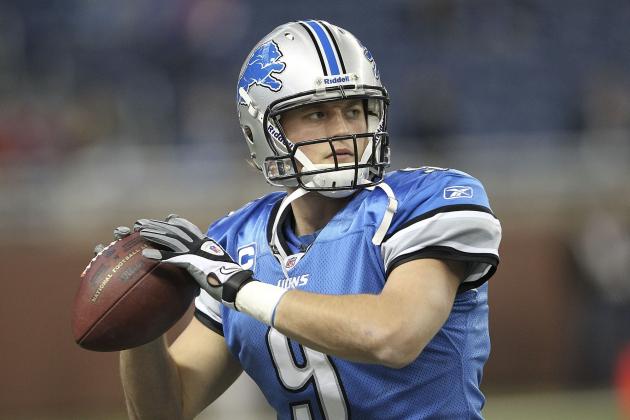 Leon Halip/Getty Images
Stafford and the Lions have failed to live up to expectations this season.
Stats: 285.9 Passing YPG, 8 TD 7 INT / 10.9 Rushing YPG, 3 TD
After racking up 5,038 passing yards and 41 touchdowns last season, the bar was set pretty high for Lions quarterback Matthew Stafford.
But through the first half of the 2012 season, Stafford has fallen far short of his 2011 numbers. While he's averaging a respectable 285.9 yards per contest, Stafford has only thrown eight touchdowns compared to seven interceptions. After extrapolating those numbers over a 16-game schedule, Stafford is on pace to throw just 18 touchdowns and 16 interceptions this season.
And when you have the best wide receiver in the world on your team, people have extremely high expectations for the quarterback.
Calvin Johnson has only one touchdown catch through seven games. Much of that can be attributed to Johnson being double- and triple-teamed, but Stafford is deserving of some of the blame as well.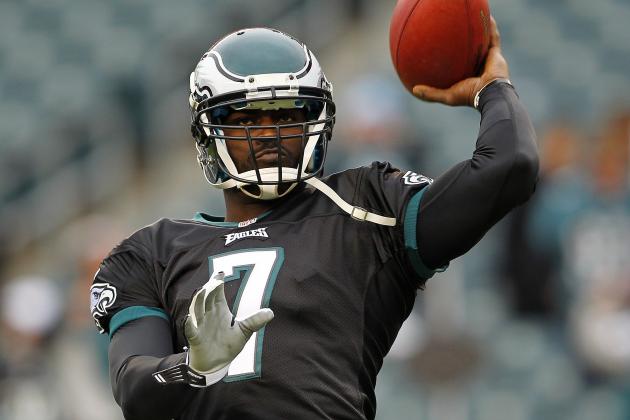 Rich Schultz/Getty Images
Vick has been a turnover machine this season, leaving some people clammoring for rookie Nick Foles.
Stats: 245.7 Passing YPG, 9 TD 8 INT / 35.3 Rushing YPG, 1 TD, 3 Fumble Lost
Eagles quarterback Michael Vick enjoyed an incredible 2010 season, throwing 21 touchdowns and just six interceptions in 12 starts. It appeared that the Eagles had a clear direction at quarterback.
But the 2011 season did not go nearly as well as 2010. In 13 starts, Vick threw 18 touchdowns and his interception total inflated to 14—on top of losing four fumbles. The "Dream Team" fell flat on its face, and the Eagles missed the playoffs.
Now, through eight weeks of the 2012 season, Vick has consistently played well below average. The heavily-scrutinized quarterback has thrown just nine touchdowns, compared to eight interceptions. He's also lost five fumbles.
But putting the turnovers aside, Vick has already been sacked 20 times in seven games. Vick was sacked 23 times in 13 starts last season. Vick's struggles have led to some conversation about whether or not he'll be benched in favor of rookie Nick Foles.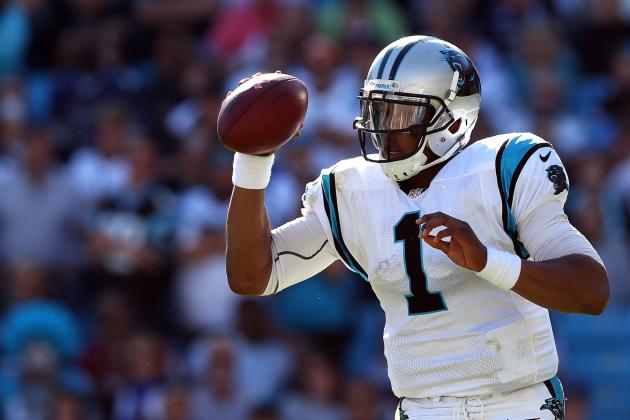 Streeter Lecka/Getty Images
Newton has been the most disappointing player of the 2012 season.
Stats: 226.0 Passing YPG, 5 TD 8 INT / 44.3 Rushing YPG, 3 TD, 1 Fumble Lost
Last season, Cam Newton put together perhaps the most impressive rookie season for a quarterback in NFL history. Newton started every game of his rookie season, throwing for 4,051 yards and 21 touchdowns, while rushing for 706 yards and 14 touchdowns.
So understandably, expectations for Newton were extremely high headed into 2012.
But through seven games, Carolina is just 1-6 and Newton has taken a giant step backwards. The former No. 1 overall pick has thrown just five touchdowns compared to eight interceptions and three lost fumbles thus far.
On top of turning the ball over, Newton has posted a QB rating of 73.4 or less in four of Carolina's seven games. Unless for an unforeseen miracle, the Panthers have already eliminated themselves from playoff contention this season.
Looking ahead at the rest of 2012, the best thing the Panthers can hope for is for Newton to continue to progress as a quarterback.