Randall Cobb and 6 NFL Players Poised for Huge Second Halves to 2012 Season
David Welker/Getty Images
Green Bay Packers wide receiver Randall Cobb is set to have a major second half of the 2012 NFL season while catching passes from quarterback Aaron Rodgers, but he is only one of many NFL players poised for a huge second half.
There are a variety of reasons NFL players can bounce back or continue to have stellar seasons. Chief among them is injuries allowing others to step up, or players returning from injuries. Rookies also have a chance to develop and have major seasons as well.
Let's take a look at six NFL players who are going to have major seasons the rest of the way in 2012.
Randall Cobb, WR, Green Bay Packers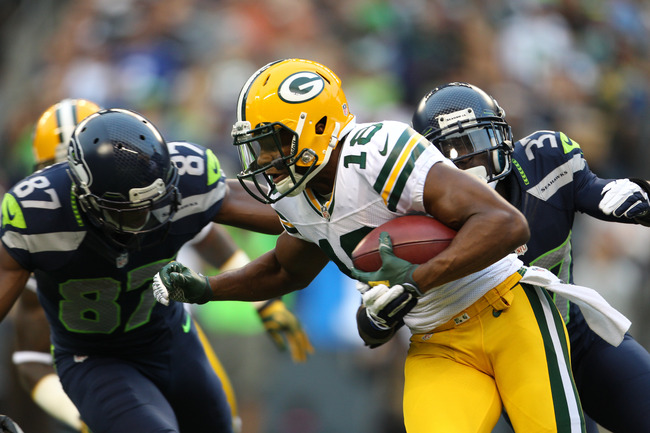 Kevin Casey/Getty Images
With Green Bay Packers wide receiver Greg Jennings continuing to have serious injury issues, second-year receiver Randall Cobb is going to have a massive second half of the season.
So far Cobb has 37 receptions for 435 yards and three touchdowns, and those numbers will only increase with more passes thrown his way.
The Packers are creative with how they use Cobb, lining him up at running back and either swinging him passes or allowing him to take a handoff. This versatility alone was going to allow Cobb to have massive numbers, but with Jennings out he will be one of the most electric players in the league.
Titus Young, WR, Detroit Lions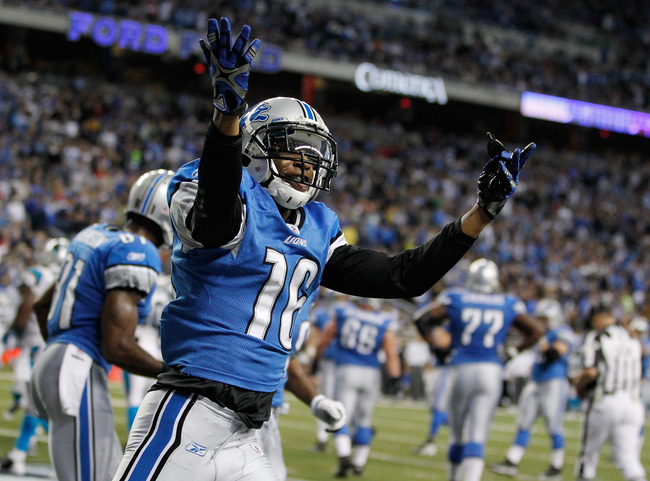 Gregory Shamus/Getty Images
Matthew Stafford and the Detroit Lions have one of the more explosive offenses in the NFL when everything is clicking, but the unit was dealt a major blow when it was revealed that Nate Burleson will miss the rest of the season with a broken leg.
Second-year wide receiver Titus Young will have to step up in a big way for the Lions. While he is battling knee soreness, he should be able to make major contributions to the offense with more opportunities.
Young is a speedster with game-breaking ability that will benefit not only from Burleson's injury, but from opposing defenses focusing on shutting down Calvin Johnson.
Robert Griffin III, QB, Washington Redskins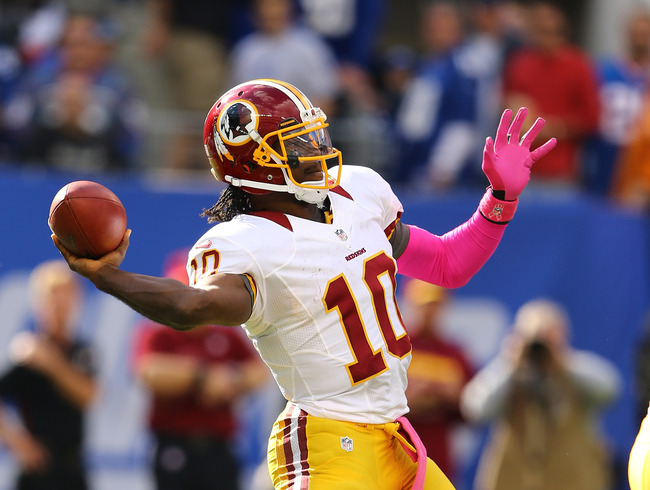 Al Bello/Getty Images
Robert Griffin III has landed in the NFL with a superstar label thanks to his stellar play thus far with the Washington Redskins, but his second half will be much better than his first as he continues to develop and adapt to the pro level.
RGIII has thrown for 1,601 yards, seven touchdowns and only three interceptions with an outstanding 101.8 rating for the season to this point. He's also added 468 yards and six touchdowns on the ground.
Expect those numbers to skyrocket in the second half.
Griffin has had his struggles, even if the numbers don't show it. Those will evaporate as his rookie season continues, and he will likely end up as the Rookie of the Year.
Terrell Suggs, LB, Baltimore Ravens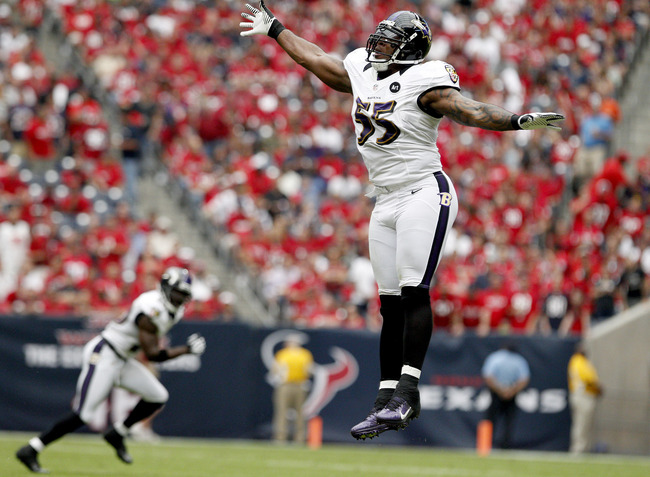 Thomas B. Shea/Getty Images
Terrell Suggs rushed back from a serious injury to have a serious impact in Week 7 against the Houston Texans, notching four tackles and a sack.
The reigning Defensive Player of the Year, Suggs is going to make or break the Baltimore Ravens' postseason hopes this season. With star cornerback Lardarius Webb and the heart of the defense Ray Lewis both out for the year, Suggs is the best player on the defense.
Suggs is going to have to step up in a big way with Lewis and Webb out, and he is more than up to the task if his first game back is any indication. Knowing Suggs, he will only get better and end up as one of the best defenders in the NFL.
Andre Johnson, WR, Houston Texans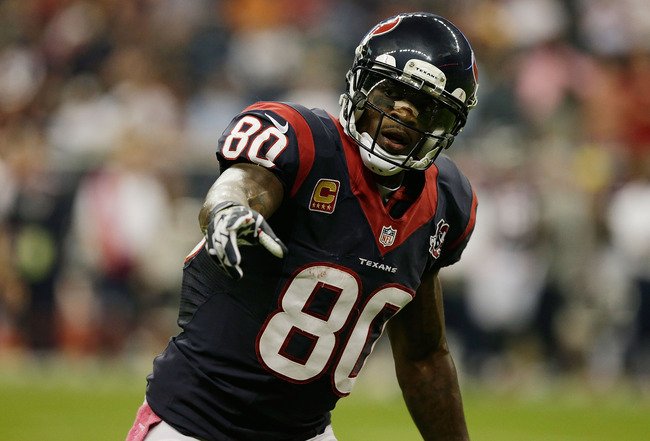 Scott Halleran/Getty Images
Andre Johnson has had a quiet go of it so far in 2012, but don't expect that to carry on for the entirety of the season.
The Houston Texans' star receiver has 34 receptions for 444 yards and two touchdowns. His two touchdowns in seven games is concerning considering he is 6'3" and 230 pounds, but he'll likely begin to see more throws his way in the redzone.
Johnson is 31 years old and is beginning to show his age, but he's still the No. 1 target on an explosive offense. There was a point when Johnson was the most feared wide receiver in the NFL, but those days are gone. With that being said, Johnson is an elite talent and will have a massive second half if healthy.
Jordy Nelson, WR, Green Bay Packers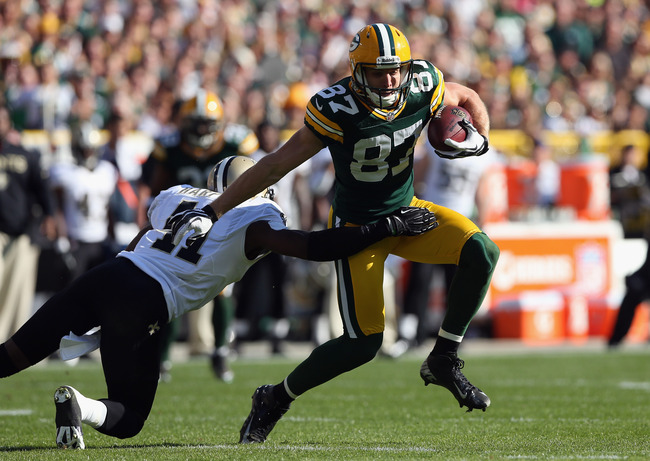 Jeff Gross/Getty Images
While it may seem unfair to put to wide receivers from the same team on this list, that's simply a testament to just how great of a quarterback Aaron Rodgers is at this point in time.
While Randall Cobb will see his production jump, Nelson will produce even more given his chemistry with Rodgers. It was debated how Nelson would perform without Greg Jennings across from him, but he has responded with 40 receptions for 532 yards and five touchdowns.
Nelson is now the No. 1 receiver on a team with the best quarterback in the NFL, and he'll shine as long as he stays healthy. His production so far has been great, but it's nothing compared to what he is about to do with the games remaining.
Keep Reading