5 NFL Playoff Matchups We'd Love to See
Harry How/Getty Images
Playoffs? You kiddin' me?
It may only be Week 8 in the NFL, but that's not too early to look at standings and try to figure out the playoff picture.
With such parity in the NFL now, so many teams have a chance to make the playoffs— just look at the AFC East and NFC West.
With that in mind, let's take a look at some of the teams we'd love to see play each other in this year's NFL playoffs.
After analyzing how the playoffs could look at the end of the season (yes, it's early, so there was a lot of options), these ended up being the most intriguing games.
New York Giants vs. San Francisco 49ers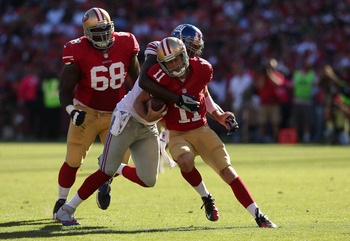 Stephen Dunn/Getty Images
We already saw the rematch of last year's NFC Championship Game in the regular season, but who wouldn't want to see this game again?
These two teams are clearly two of the best in the NFC, and another playoff game could renew a rivalry that was so great in the 80's and 90's.
After the Giants were victorious in the last two, I'm sure this 49ers team wouldn't mind another crack at the defending Super Bowl champions.
Denver Broncos vs. Indianapolis Colts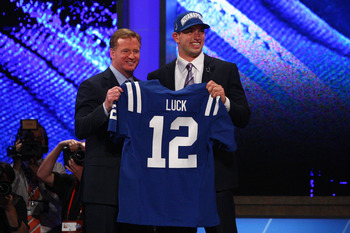 Chris Chambers/Getty Images
At 3-3, it's not completely out of the question that the Colts could make the playoffs.
Bear with me and pretend the Colts' offensive line isn't terrible and Andrew Luck has someone to throw to besides Reggie Wayne.
(Remember, this is playoff matchups we'd love to see, not necessarily ones we're going to see).
Peyton Manning and the Broncos vs. Andrew Luck and the Colts.
Could there be a cooler three-seed against six-seed first-round game? No way.
Atlanta Falcons vs. Philadelphia Eagles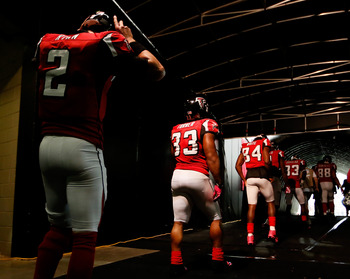 Kevin C. Cox/Getty Images
This game is actually going to take place in Week 8 of the regular season, but it would have so much more of a story in the playoffs.
Michael Vick playing his former team with Matt Ryan looking for his first playoff win.
This game could show how far the Falcons franchise has come since parting ways with Vick—and how fitting would Atlanta's first playoff win with Ryan be against a team quarterbacked by the former Atlanta star?
Baltimore Ravens vs. Pittsburgh Steelers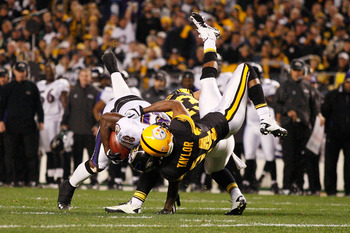 Jared Wickerham/Getty Images
Who would say no to watching a Ravens-Steelers playoff game? Maybe Bengals fans?
Baltimore and Pittsburgh have the best division rivalry in the NFL right now, and that would only be magnified in the playoffs.
Due to a lot of injuries, these aren't exactly the Steelers and Ravens teams we're used to, but this game would still be an old fashioned AFC North slobberknocker.
Green Bay Packers vs. Chicago Bears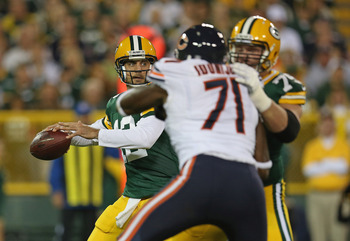 Jonathan Daniel/Getty Images
This fits into the Ravens-Steelers mold.
The Packers and Bears are another one of the great rivalries in football, and now that the Bears are looking like one of the best teams in the league, this matchup could happen.
The Bears only have one loss this year, on a Thursday night in Week 2 to the Packers.
These teams will play again Week 15 of the regular season, but again, there's no such thing as too much Packers-Bears.
Keep Reading