Redskins Midseason Grades for Every Positional Unit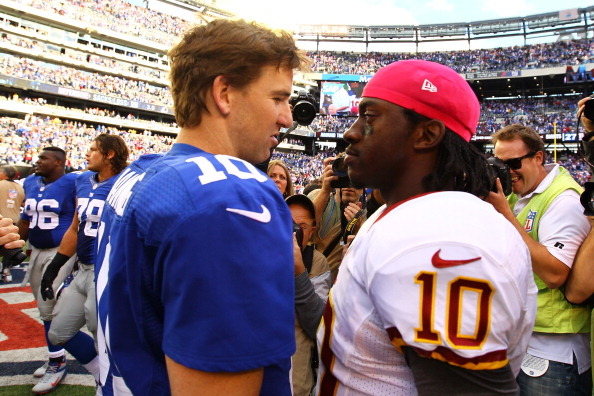 Al Bello/Getty Images

We're seven weeks in, and the Redskins stand at 3-4 after a heartbreaking loss to the New York Giants. If there's anything we've learned about this Washington team, it's that they're not boring.
Robert Griffin III leads one of the most explosive offenses in the league and one of the most intriguing rushing attacks led by not one but two rookies. Even with everything stacked against him, the kid gets it done week in and week out. He's the real deal.
But while there's all sorts of fuzzy feelings about RGIII in the DMV, the sieve that is the Washington defense leaves fans with that bittersweet taste they know all too well.
Here's how each position grades out at the midway point of the season.
Begin Slideshow

»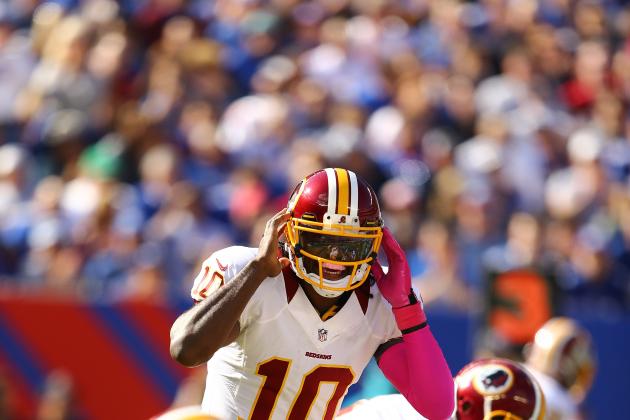 Al Bello/Getty Images

Robert Griffin III is a legitimate MVP candidate. If you can find me one more player who changes a team as much as Griffin I'm all ears, but I guarantee this team doesn't have more than one win with Rex Grossman taking snaps.
Every time he touches the ball, defenses hesitate. The fear his legs instill in defensive linemen keeps them honest and opens up the middle, the fear his arm instills keeps the defense from playing up and stacking the box. The result is the best rushing team in the NFL.
This team has no business putting up the kind of numbers they are with the top receiver injured, top tight end injured, a makeshift offensive line and a rookie sixth-round running back. But with Griffin in the mix, the entire team becomes that much more dangerous.
No matter how bad the defense plays, Griffin keeps the Redskins in the game until the end. If you said he was the best player in the league right now, I'd have a hard time disagreeing with you.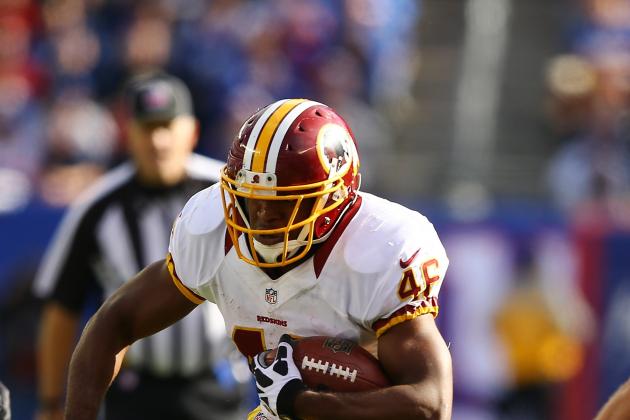 Al Bello/Getty Images

Perhaps, even more surprising than the fast start by RGIII is the equally impressive start by rookie Alfred Morris.
Morris has racked up 658 yards and five touchdowns on the ground while averaging 4.8 yards per carry. At that rate, he'll finish with over 1,500 yards, a mark that hasn't been reached by a Redskins player since Clinton Portis in 2005.
Morris is just one yard behind league leader Arian Foster and is tied with Ray Rice and Shonn Greene for second in rushing touchdowns by a running back. The sixth-round pick is playing like a 10-year veteran right now, and it shows.
Rarely is Morris brought down by first contact. On countless plays, he's been hit at or behind the line, yet still managed to make something positive out of the run. That kind of runner is exactly who the Redskins need to keep the offense moving.
I love everything about Morris. From his work ethic to the fact that he drives a $1,300 1991 Mazda 626 he calls the Bentley, the guy just oozes likability. He's a bruiser who comes into work every day looking to get better even though he has only seven career games under his belt.
It's way too early to call Morris the next Terrell Davis but get used to him because he'll be here a while. And if no one's picked up Morris in a fantasy league yet for whatever reason, do it.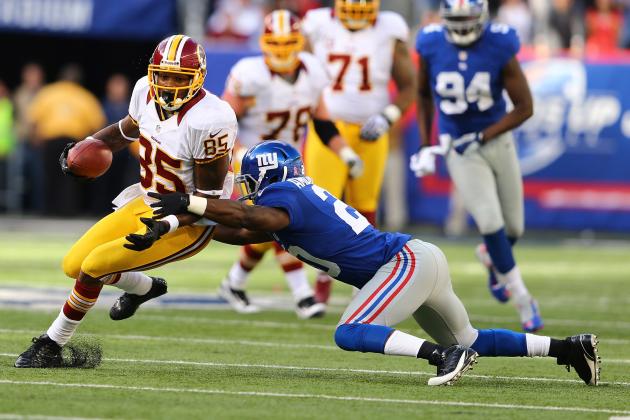 Al Bello/Getty Images

Pierre Garcon needs to get healthy. He's far beyond anything else on the roster right now, and it shows. But in his absence, the other guys have picked up the slack and helped RGIII out.
Leonard Hankerson and Josh Morgan have been great as starters, so far. While it may not show in the box score, the two are tremendous blockers who are a big part of the success the Redskins are having on the ground right now. Hankerson seems a little skittish since he got hurt last year, but he has improved as the season's worn on.
Santana Moss finally broke out against the Giants and found some of that magic he showed in the mid-2000s. His fumble aside, Moss caught two huge touchdown passes and is the best third-down target Griffin has.
Aldrick Robinson has been virtually invisible since starting in Week 2. We'll see if he gets more action in against Carolina.
This group, as a whole, is a major upgrade to last year's squad, and they fit the scheme well. There's a lot of youth here and opportunities for guys like Robinson, Hankerson and Dezmon Briscoe to get better with more reps. When Garcon finally comes back, look out.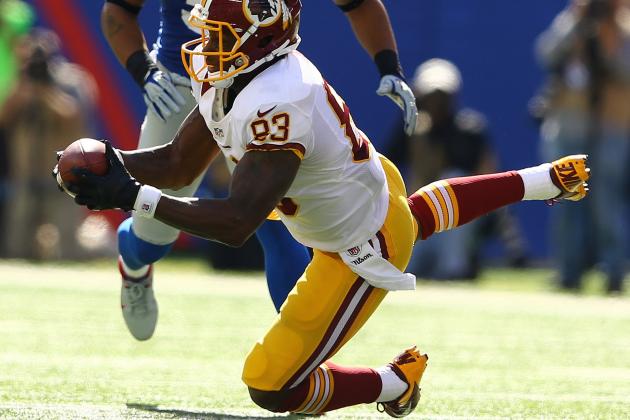 Al Bello/Getty Images

Fred Davis is a big loss. He came into the Giants game as the team's leading receiver and was on track for another big season after a slow start. But, the good news is that Logan Paulsen stepped up and had himself a game in his absence.
Chris Cooley is coming back, and Niles Paul has made some progress in his transition, so this group looks alright to me. They definitely won't be as good as they were with Davis, but there's some good blocking and solid targets in these three that should help Griffin like we saw against New York.
Paulsen is the wild card in this whole thing because we don't know much about him. He had a good preseason with Kirk Cousins throwing to him and good game Sunday, but that doesn't mean he'll show those efforts consistently.
If he can be that guy every week, then the Redskins are looking pretty set here for the future. For now, it'll be a lot of wait and see. Hopefully, Cooley stayed in shape.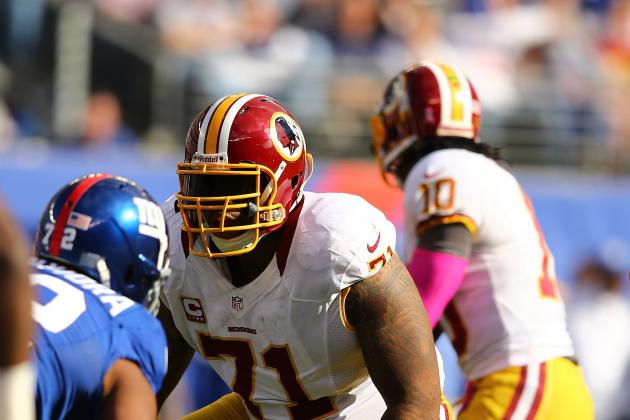 Al Bello/Getty Images

Out of every group on the team, the offensive line has surprised me the most. Against a very good pass rush in New York, they surrendered very little pressure throughout the game and allowed Washington to get things going offensively.
Sure, they give up sacks occasionally, but you can't expect this group to be perfect. Tyler Polumbus probably wouldn't start on most teams, and only Trent Williams can claim to be a top player at his position, but the interior guys are solid blue-chip guys who come in and get the job done.
Williams, by the way, is having a monster year. He made Jason Pierre-Paul look silly a few times on Sunday, a week after doing the same to Jared Allen. The drug suspension seems to have ignited something in Williams, something that Redskins fans will love to see for years.
Mike Shanahan will probably take a flier on a right tackle at some point in next year's draft, but I don't see them making a lot of moves otherwise. They like the group they have and think they can win with this lineup. Right now, the players are proving them right.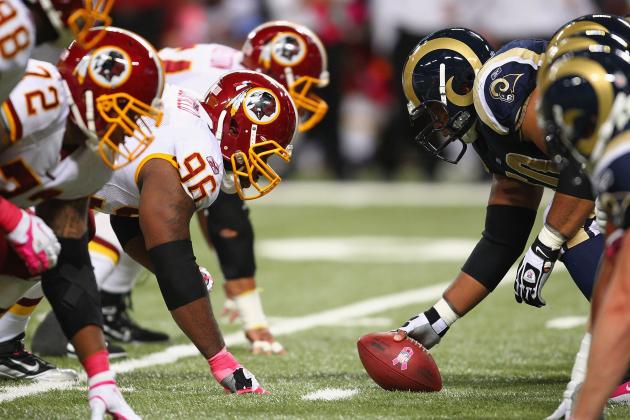 Dilip Vishwanat/Getty Images

Losing Adam Carriker hurts—a lot. He was a consistent player who got to the quarterback often last year. There's been virtually no push up front from the defensive line to collapse the pocket.
Stephen Bowen has been the standout, so far, but Barry Cofield and Jarvis Jenkins haven't been bad by any means. All three starters have played fairly similarly, not flashy but consistent. That's what you want in the trenches. They need to improve against the pass, though.
The Redskins have been great against the run, so far, this year, giving up only 3.9 yards a carry and 85.3 yards per game, and a lot of that has to do with the guys up front.
There seems to be an imbalance in this defense between the pass and the run. It all starts with the defensive line opening up some holes for the linebackers to get a run at the quarterback and driving offensive linemen off the ball. That will help Ryan Kerrigan and company improve their sack numbers while reducing the time the secondary has to stay in coverage.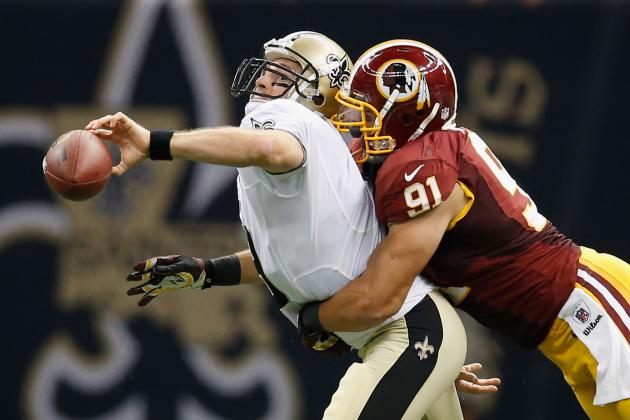 Chris Graythen/Getty Images

With the injury to Brian Orakpo, the duo of Rob Jackson and Chris Wilson has performed admirably in replacement duties. In that same vein, Lorenzo Alexander has also stepped up and played well when called upon.
Ryan Kerrigan has been solid as usual but needs to get more pressure on the quarterback. Perry Riley has gotten even better in his first year as a full-time starter alongside London Fletcher who looks to have lost a step.
Even with Orakpo out, there's a lot of depth at this position. The biggest concern is that there hasn't been much of a pass rush this season. Maybe the loss of Orakpo hurts more than we think, but it seems like someone should be getting in the backfield with some regularity and that just hasn't happened.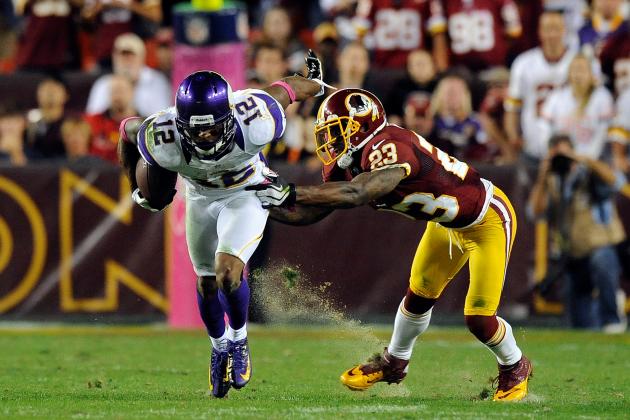 Patrick McDermott/Getty Images

DeAngelo Hall and Josh Wilson have each had games where they looked great, and others where they looked lost. While no one is confusing either for Darrelle Revis anytime soon, they've held their own with little to no help on the back end of the defense.
Vincent Jackson, Danny Amendola, Victor Cruz, A.J. Green, Lance Moore and Percy Harvin have all had huge plays against these corners, but with the exception of Moore, and maybe Amendola, those guys are all top receivers in the league.
Roddy White and Julio Jones were both shut down in the Atlanta game, but Tony Gonzalez ended up having a monster game in their stead. Bottom line is that someone will always have a good game against this secondary, and that's the way this year will go.
I don't think Hall or Wilson are bad corners by any means, but they need to play better if there's any hope of making this defense respectable in the coming weeks.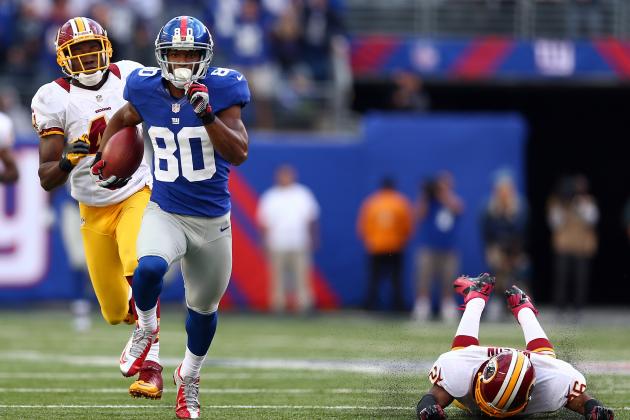 Elsa/Getty Images

The 77-yard bomb to Victor Cruz that essentially won the game for the Giants was a direct result of Madieu Williams failing to play the deep ball, and instead, waiting on an intermediate route.
Besides that killer mistake, the safeties have been a problem in coverage all year. The Redskins are tied for second worst in the league with 29 plays of 20 or more yards. Teams have been able to do whatever they want with this secondary, and that's a big reason they've lost four games.
The personnel just isn't there to make this group better. There aren't many free agents out there who could come in and replace Williams, so unless an internal change like moving DeAngelo Hall to free safety happens, this group won't change.
Team's will continue to target the safeties throughout the season; the Redskins will just have to find a way to overcome the big plays they give up.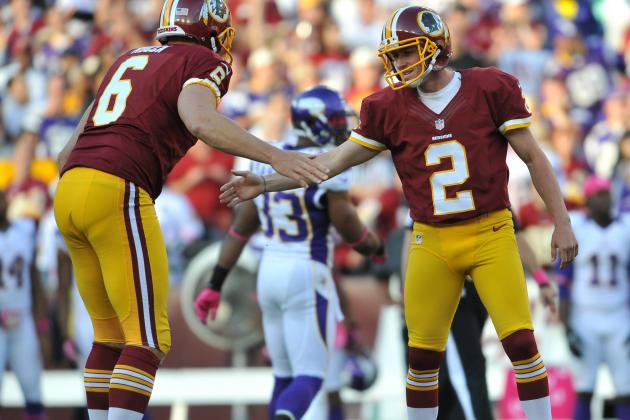 Larry French/Getty Images

It may be unfair to generalize this group to a single rating, but so far, Washington's special teams have made a solid turnaround from the debacle that took the field to begin the season.
Sav Rocca, while dealing with an injury, has been playing a tad below average at 44.4 yards per punt. But punt coverage has been excellent, so far. Niles Paul has made a few eye-popping stops.
The return game has been lacking, so far, mainly because Brandon Banks isn't getting many chances with good blocking, but he hasn't done with his the chances he does get to warrant his reputation as a return specialist.
In the days of Billy Cundiff, every field goal seemed to be a disaster waiting to happen. Kai Forbath has been perfect in two games and looks the part of an NFL kicker. His biggest concern was getting good distance on kickoffs—something he struggled with at UCLA—but so far, that hasn't been a big issue outside of one play against Minnesota.
Out of all three parts of the team, this group has made the biggest improvements, thus far. Now, they're still far from being a dominant unit, but the pieces are in place for this group to become successful for the remainder of the season.