The Best Fantasy Football Starts at Every Position for NFL Week 7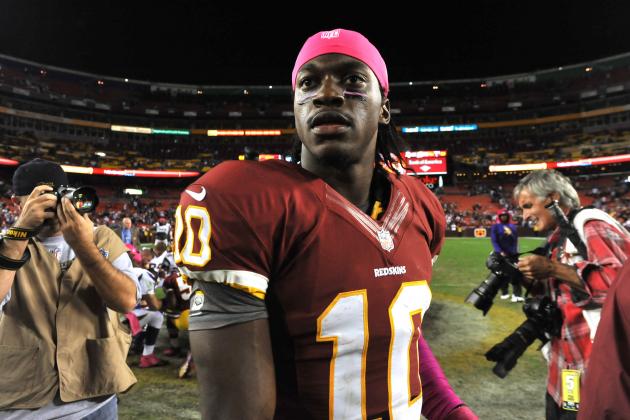 Larry French/Getty Images

Week 7 of the NFL season marks the halfway mark for most fantasy football leagues. This means time is running out for you to make your run towards the playoffs.
Starting the best player is as crucial as ever.
With a number of great individual matchups for some of the top scorers in fantasy football this season, there could really be some high-scoring games this week.
Here are the best starts at every position for Week 7 of the NFL season:
Begin Slideshow

»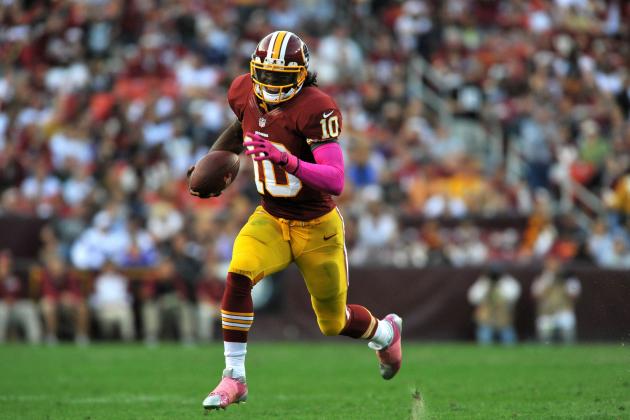 Larry French/Getty Images

It will be hard for another quarterback to displace Robert Griffin III as the best quarterback start in fantasy football for the remainder of the season.
Sure, there may be a week or two when Aaron Rodgers or Tom Brady has a better matchup, but it would have to be one heck of a matchup to overtake Griffin as the No. 1 guy right now.
Heck, Drew Brees and Eli Manning play two of the worst passing defenses in the league and they couldn't even overtake Griffin.
What makes Griffin a truly elite quarterback in fantasy football is his ability to pick up huge chunks of yards on both the ground and through the air.
We saw the ultimate showcase of these talents last week when he threw for 182 yards and rushed for another 138 yards. When you throw in the three total touchdowns, you have an unstoppable force in fantasy football.
With the New York Giants on the schedule this week, the Washington Redskins are going to depend on the incredible play of Griffin just to keep up in this likely high-scoring affair.
Don't be surprised if Griffin has his highest fantasy output this week and literally carries your team to victory.
Bonus Sleeper Pick: Brandon Weeden, Cleveland Browns
While Weeden has been sporadic this year, he is coming off his first ever NFL victory and he gets to play a weak defense in the Indianapolis Colts this week.
As long as Weeden can limit his mistakes, he should be in for a huge week against the Colts.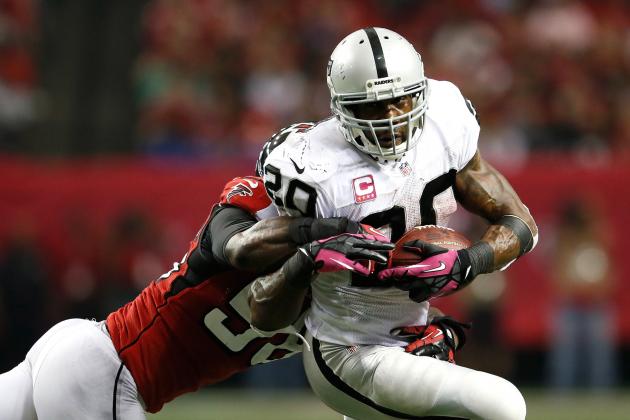 Kevin C. Cox/Getty Images

While Darren McFadden hasn't been nearly as spectacular as he's been in the past, his easy matchup this week (versus the Jacksonville Jaguars) makes him the best start this week at running back.
The Jaguars are giving up the third-most yards per game to running backs at 163, and have already given up seven touchdown runs in only five games. Jacksonville is also struggling against the pass—this is where McFadden can truly rack up points in Week 7.
After posting 13 receptions in Week 1 against the San Diego Chargers, Run DMC has leveled off quite a bit in the passing game, recording only eight receptions in the other four games he's played this year. Jacksonville struggles with running backs that can act as receivers, however, and McFadden should be the next back to demolish the Jaguars defense in all facets of the game.
Look for McFadden to easily eclipse 100 rushing yards, add another huge chunk of yards through the air and end up with a couple touchdowns on Sunday.
Bonus Sleeper Pick: Vick Ballard, Indianapolis Colts
The Cleveland Browns also have one of the worst defenses against run in the NFL, allowing over 130 yards per game right now. With Andrew Luck struggled some last week, the Colts would be wise to try to get Ballard involved in the offense a little early.
If he can break off one or two big runs, he could be in for a truly great Week 7 in fantasy football.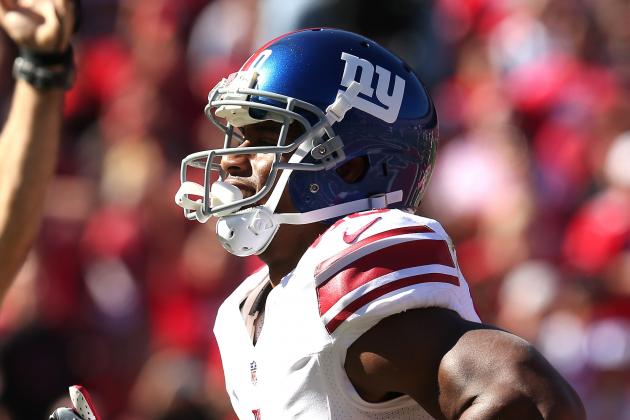 Stephen Dunn/Getty Images

Victor Cruz has been a touchdown machine in recent weeks, recording five in the past three games.
While three of those came in one game, he could easily have another performance like that this week against the Washington Redskins.
He isn't always a threat to pick up a massive amount of yards, but his ability to find the end zone makes him one of the better starts every single week. His ability to get open in a short amount of time makes him one of the best red zone receivers in the NFL.
The Redskins are giving up the most yards through the air in the NFL, and Eli Manning and his receivers are in for a truly huge game. Even though Hakeem Nicks is as healthy as he's been all season, I still expect Cruz to be the main target for Manning this week.
He should have no trouble finding the end zone at least once this week, and it is even more likely that he'll finish Week 7 with another multiple-touchdown game.
Bonus Sleeper Pick: James Jones, Green Bay Packers
Greg Jennings continues to struggle with his groin injury, and as long as he is out of the lineup, Jones has some serious fantasy value.
He currently leads the NFL in touchdown receptions with seven, and while his matchup isn't ideal against the St. Louis Rams this week, he could easily be Aaron Rodgers' top target in Week 7.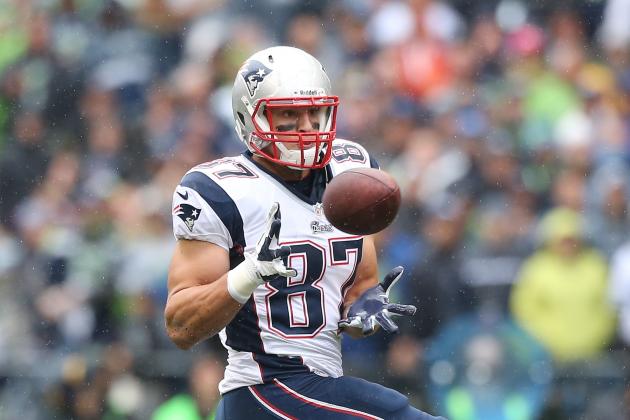 Otto Greule Jr/Getty Images

With Vernon Davis putting up a giant goose-egg on Thursday and Jimmy Graham still at less than 100 percent, Rob Gronkowski is the easy pick for the top scorer from the tight end position this week.
While he hasn't been nearly as productive this year as he was last year, Gronkowski is still a threat to have a huge game every time he steps on the field. The main reasons for that have been the lack of involvement of Wes Welker and the injury to Aaron Hernandez.
Now that Hernandez is healthy, however, it should open the field back up for Gronkowski.
Look for him to have a stellar game against a very friendly New York Jets defense.
Bonus Sleeper Pick: Jared Cook, Tennessee Titans
The Buffalo Bills have been absolutely horrid on defense this season, giving up 113 points over the past three weeks.
Cook has yet to reach his potential this season, but against a soft defense that lacks playmakers to keep up with an athletic player like Cook, he could finally have a breakout game.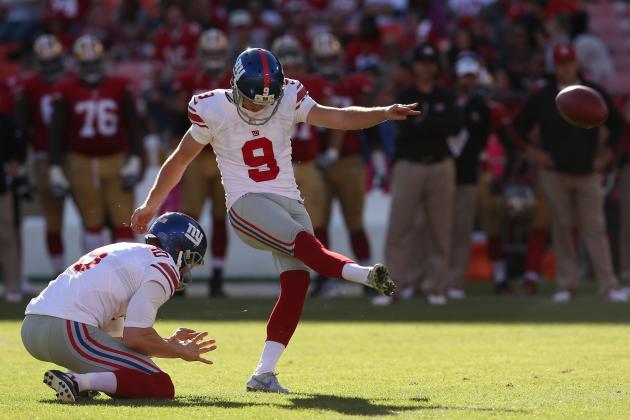 Stephen Dunn/Getty Images

The game between the New York Giants and Washington Redskins is going to be one of the highest scoring games of the week.
That means every key player on both teams is going to be a must-start player this week, and that includes the kickers. The reason Lawrence Tynes gets the nod is because the Redskins are still breaking in their new kicker, Kai Forbath.
These two teams should have no trouble breaking the 30-point mark this week, which means Tynes will have plenty of opportunities to put up some points in fantasy football this week.
Bonus Sleeper Pick: Connor Barth, Tampa Bay Buccaneers
Tampa Bay gets the New Orleans Saints this week. They're coming off a 38-point performance last week and could easily match or surpass that point total this week.
If the Buccaneers get into a shootout this week, Barth could be in for another big week.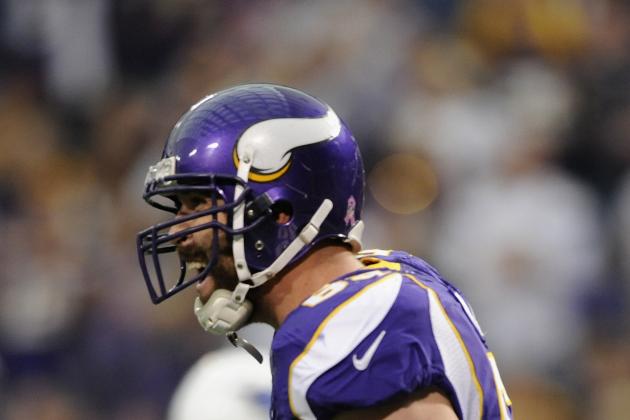 Hannah Foslien/Getty Images

There aren't many great matchups for defenses this week, as many of the top defenses play the top offenses this week.
The Minnesota Vikings have been stellar on defense this year, however, and they get an offense in the Arizona Cardinals that has been struggling mightily in back-to-back weeks. Considering how weak the Cardinals' offensive line has been this season, Jared Allen and Co. should have no difficulty getting after the quarterback.
It could be a long day for John Skelton, with many sacks and turnovers as the Vikings defense berates the Cardinals offense.
Bonus Sleeper Pick: Oakland Raiders
Anytime a team goes up against the Jacksonville Jaguars, look for their defense to have a big game. Jacksonville has one of the worst offenses in the league, and while the Raiders certainly aren't spectacular on defense, this is as good of a matchup that they'll have this year.