NFL Week 7 Predictions: Latest Odds and Picks Against the Spread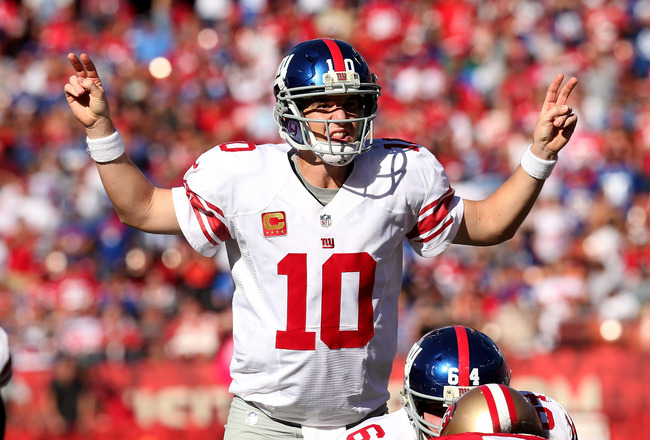 Stephen Dunn/Getty Images
In the NFL world, gambling is pretty huge, as you may have noticed. That's why there are tons of articles written about it each week.
Even if you aren't into gambling, you may be involved in a pick 'em league which utilizes spreads. And with the spread, every matchup is a potential down-to-the-wire finish.
So what is each spread looking like for Week 7? Find out who to pick and who to avoid.
*All spreads come courtesy of footballlocks.com
Seattle Seahawks (-7.5) vs. San Francisco 49ers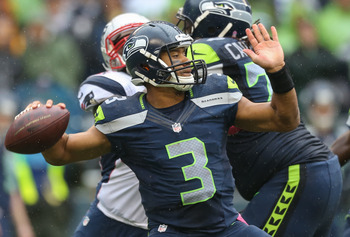 Otto Greule Jr/Getty Images
The Seahawks have been a good team thus far in 2012, but, San Francisco, ignoring a poor performance against the Giants, has been fantastic. Look for a rebound victory from the 49ers.
Seattle's offense lacks the playmakers to effectively score against San Francisco, and the 49ers should be able to pick up a few points against an above-average Seahawks defense.
This one could be close, but the 49ers should cover.
Tennessee Titans (+3) vs. Buffalo Bills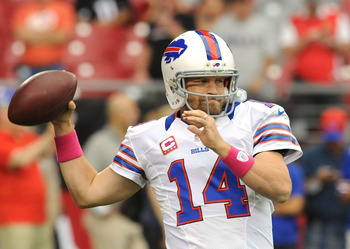 Norm Hall/Getty Images
This is a battle of two not-so-great teams. However, Buffalo has a strength matched up perfectly with a Tennessee weakness, and that could make all the difference.
The Bills can run the ball, and the Titans can't defend it.
Neither team's passing attack is all that great, and neither is their defenses. However, C.J. Spiller should be able to break loose against Tennessee, while Chris Johnson will probably struggle.
In an otherwise even matchup, that is huge.
Baltimore Ravens (+6.5) vs. Houston Texans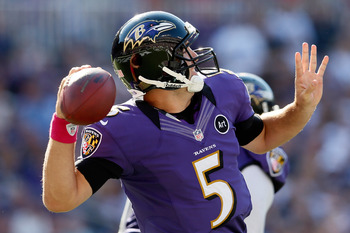 Rob Carr/Getty Images
Throughout 2012, Baltimore's defense has struggled some, and it is now without two of its best players in Ray Lewis and Lardarius Webb. Against Houston's offense, this could be devastating.
The Texans lost big against the Packers in Week 6, but they remain one of the NFL's best teams. The Ravens will struggle to contain Houston's explosive offense, and the Texans defense should be able to defend the Ravens reasonably well.
This is a matchup between two excellent teams, but the Texans are clearly superior.
Cleveland Browns (+3) vs. Indianapolis Colts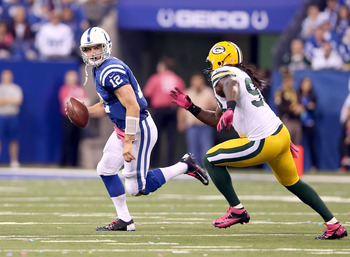 Andy Lyons/Getty Images
Coming off a respectable victory against the Bengals, Cleveland is showing some signs of improvement. And playing against a weak Indianapolis defense, the Browns might be able to keep the offense going.
Cleveland should be able to score, but the question is whether they can stop the Colts. Joe Haden being back for another week will help, as will Indianapolis' lack of a rushing attack.
This could be close, and it's easy to see the game going either way, but look for the Browns to build upon their first win of the season.
Dallas Cowboys (-2) vs. Carolina Panthers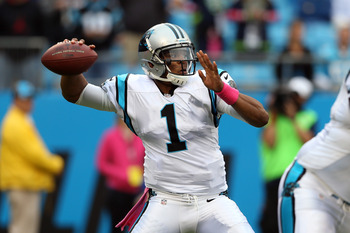 Streeter Lecka/Getty Images
Dallas has had its rough moments early in 2012, but they are still a better team than the Panthers are. Playing against a terrible Carolina defense, the Cowboys should be able to score almost at will.
Carolina may be able to put up some points, but they won't keep pace with the Cowboys. With just a two point spread, this is an easy decision. Go with the Cowboys.
Green Bay Packers (-5.5) vs. St. Louis Rams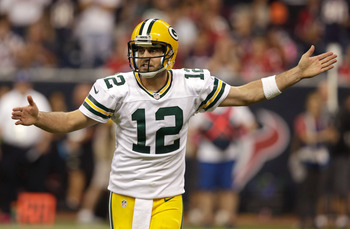 Scott Halleran/Getty Images
Though the Rams have been surprisingly decent thus far, the Packers are clearly the better team. And coming off the team's first dominant performance of the year, Green Bay could just be hitting its stride.
Against an excellent Houston defense, the Packers scored with ease. It should be even easier against a weaker St. Louis unit.
This isn't a huge point spread, and Green Bay is the clear favorite. Don't think too hard here.
Arizona Cardinals (+6) vs. Minnesota Vikings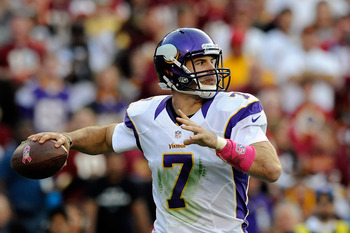 Patrick McDermott/Getty Images
This has the makings of a really good game. Arizona's defense has been fantastic, but its offense is dreadful. The Vikings are a little less extreme but share a similar story.
If it weren't for the six point spread, I would choose Minnesota. However, this game could be a nail-biter, and the points favor Arizona.
Look for the Cardinals to lose the game but beat the spread.
New Orleans Saints (-3) vs. Tampa Bay Buccaneers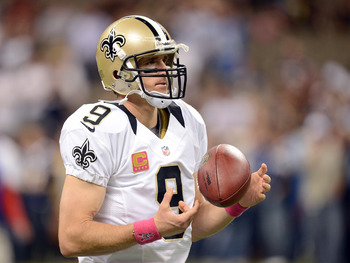 Harry How/Getty Images
The Saints have struggled, sure, but are they really so bad that they can't beat a terrible Tampa Bay team? The Buccaneers' secondary will struggle to contain New Orleans' passing attack.
If Tampa Bay had a dynamic offense, this would be closer. However, the Buccaneers lack a great rushing attack and struggle through the air.
As disappointing as the Saints have been, they are still better than Tampa Bay and should win by more than three.
Washington Redskins (+6) vs. New York Giants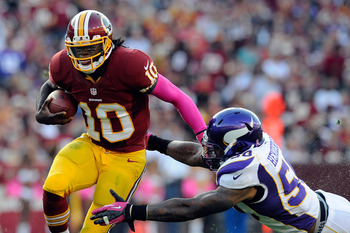 Patrick McDermott/Getty Images
The Giants are perhaps the best team in the NFC, and though they aren't awful, the Redskins aren't on nearly the same level. New York should pass all over Washington.
Robert Griffin III has been fantastic as a rookie, but like all young quarterbacks, he struggles some in the face of pressure. This could be a problem against the Giants and could result in some turnovers.
As fun as the Redskins are, they simply aren't ready to compete with the Giants yet. Take the better team.
Jacksonville Jaguars (+4) vs. Oakland Raiders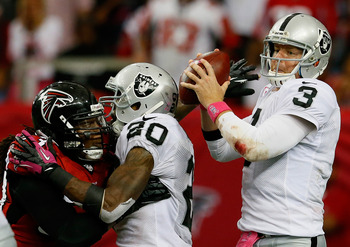 Kevin C. Cox/Getty Images
This is a battle between two terrible teams. In all honesty, the Raiders may be the better team, but with the points helping them, the Jaguars are the better bet.
Jacksonville and Oakland are similarly bad across the board. The Jaguars' one hope is the possibility of Maurice Jones-Drew busting out with a big day.
When two teams of this caliber meet, there is potential for an ugly game. That is most definitely the case here, and the end result could go either way.
In other words, take the points.
New York Jets (+10.5) vs. New England Patriots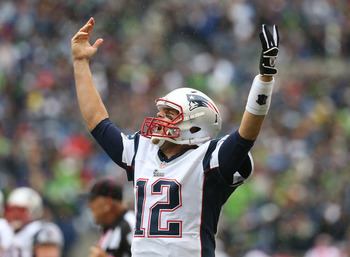 Otto Greule Jr/Getty Images
The huge point spread makes this a challenging pick. It seems likely the Patriots will win, but can they win by 11 points? That's a big margin, regardless of who is playing.
With Aaron Hernandez back in the fold, New England has another matchup problem for the Jets and should be able to score some points. And, as usual, Mark Sanchez and his ragtag group seem unlikely to produce much offense of their own.
Though this is a difficult pick, go with the Patriots. They are more than capable of blowing teams out, and the Jets are equally capable of being blown out.
Pittsburgh Steelers (-2.5) vs. Cincinnati Bengals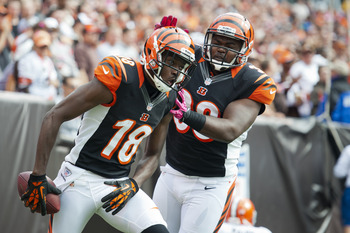 Jason Miller/Getty Images
The Bengals showed their flaws as they lost to the Browns, but they still aren't a terrible team. In fact, they are just as good as Pittsburgh is.
However, the Steelers match up favorably with Cincinnati. Pittsburgh is excellent against the pass, and the Bengals struggle to move the ball any other way. On offense, the Steelers can mix their attack up.
As the narrow spread indicates, this game could go either way. The matchup clearly favors the Steelers, though, and they are the better bet.
Detroit Lions (+6) vs. Chicago Bears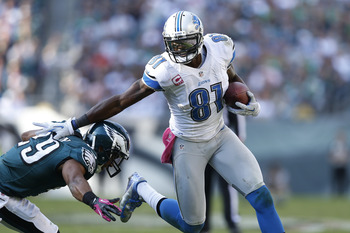 Joe Robbins/Getty Images
Off to a disappointing start, Detroit's offense hasn't lived up to its 2011 status, and its defense is as bad as ever. The Bears, on the other hand, have played quite well.
However, it seems unlikely that the Lions' offense will continue to perform at this low level. Detroit rarely utilizes a rushing attack, which helps neutralize Chicago's superb run defense.
If the Lions can neutralize the Bears' pass rush, they have a shot to put up some points. The question comes down to whether or not Detroit can stop Chicago at all.
This is based more on hope than play in 2012, but the Lions could easily win this game. Go with the underdog.
Keep Reading