Chicago Bears: Predicting the Results of the Remaining Games This Season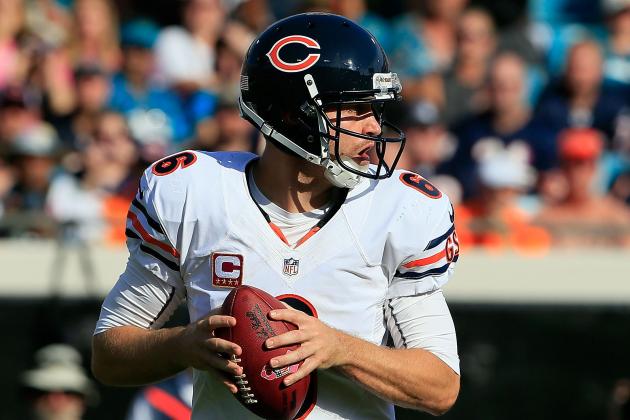 Sam Greenwood/Getty Images

The Chicago Bears headed into this bye week with a swagger and confidence that was earned through an early-season record of 4-1, along with a somewhat improved offense and a defense that is playing as if it has discovered the fountain of youth.
Actually, the aging core of this Bears defense is playing better than it did when they were each younger, especially Lance Briggs and Charles Tillman, who became the only teammates in history to record touchdowns in consecutive weeks on defense.
The offense, meanwhile, exploded in the second half of the Jacksonville Jaguars contest last Sunday, after looking rather pathetic in the first half of that game. But, they still haven't fully realized the potential of that offense, in my opinion.
While the offense faces some concerns—most notably the loss of WR Alshon Jeffery—the Bears can hold their heads up proudly as they face the post-bye week schedule.
With that in mind, I will take a look at each remaining game on the schedule and offer analysis and predictions of the outcomes.
Obviously, I don't have a crystal ball, but I will attempt to take an objective viewpoint with these prognostications. So, while I am a fan, I will not just be drinking the Kool-Aid with these picks, even though I do believe the arrow is pointing up for this team.
Here we go!
Begin Slideshow

»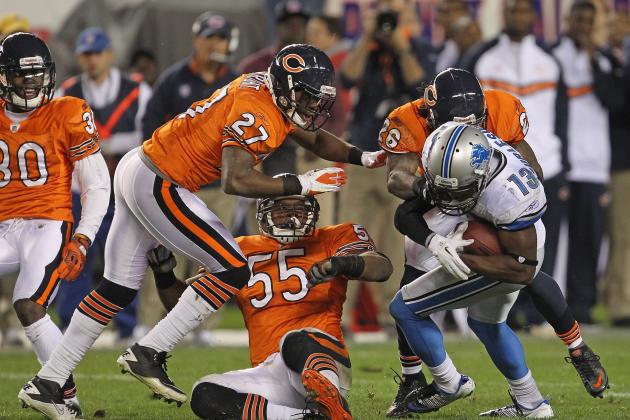 Jonathan Daniel/Getty Images

Coming off the bye, Chicago will be facing a Lions team that has been very disappointing, so far, this season. Not only will the Lions be hungry for a win, it's a Monday Night Football matchup, so anything can happen.
Even with their win on Sunday, Detroit simply needs this game more than Chicago, which can be a dangerous thing for the Bears. So, despite a game that appears to favor the Bears on paper, it could be a tough one to win.
Meanwhile, Detroit has had trouble running the ball, ranking 24th in the NFL in rushing yardage, so Chicago can focus on teeing off on QB Matthew Stafford.
Speaking of Stafford, while he has racked up yardage—three times exceeding 300 passing years in a game, so far, this season—he has more interceptions (five) than touchdowns (four).
Stafford's hip is getting healthier by the week, and he has thrown just one pick in three weeks. But, it's very strange to see that Calvin Johnson has not scored a TD yet this season on a throw of more than 10 yards downfield. Heck, both Tillman and Briggs have more touchdowns than "Megatron."
While everything points to a win by the Bears, I'm wary of an upset special here.
In the end, however, I see the Bears edging out an unexpectedly close decision on a late field goal from Robbie Gould. But, it will not be as easy as some may think.
Prediction: Bears 24, Lions 21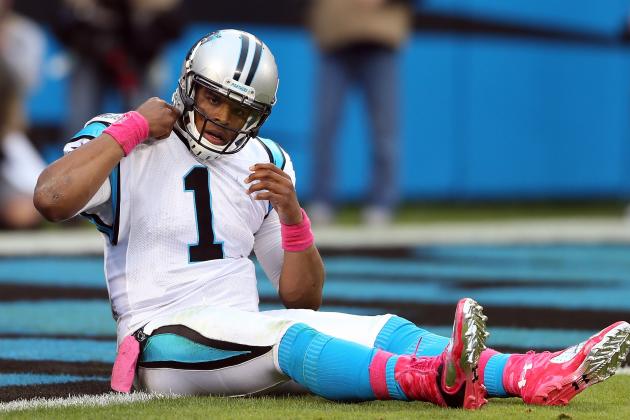 Streeter Lecka/Getty Images

Is Cam Newton going through a "sophomore slump" or is this a sign of things to come for the celebrated second-year QB? While Newton has played poorly this season, he was the Panthers only running game this past weekend in their loss to Seattle.
Newton, always a threat to run, had 42 yards on seven carries, good for a six-yard average. But no other back had more than six carries or exceeded 16 yards rushing.
That spells trouble against a Bears defense that should eat up a one-dimensional offense. That minus-five differential on takeaways isn't a positive indicator for the Panthers either.
Prediction: Bears 34, Panthers 10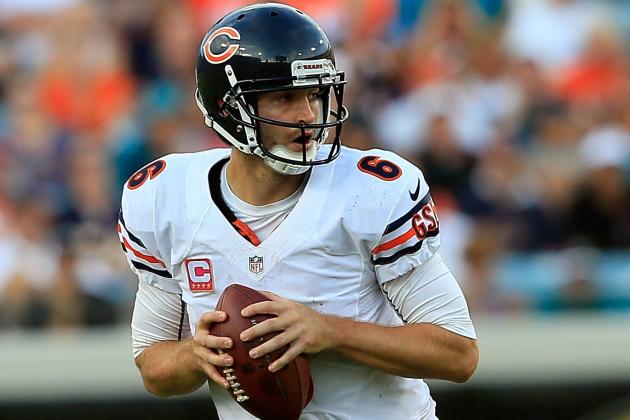 Sam Greenwood/Getty Images

The Titans give up a lot of points to the opposing teams, so the Bears offense should continue to roll here. Even on the road, the Titans will have trouble containing the two-head running monster of Forte and Bush and the passing of Jay Cutler to Brandon Marshall.
But, the Titans have beaten the Lions (in overtime) and just topped the Steelers this past weekend, so they have been somewhat bipolar. When you look at the way they performed against the Vikings, Chargers, Texans and Patriots, one can only conclude this should be another easy victory for Chicago.
Whether it's Matt Hasselbeck or Jake Locker at QB, this is yet another one-dimensional offense the Bears defense should be able to tee off against. The Titans have averaged a league-worst 70.2 yards per game rushing this season.
Prediction: Bears 38, Titans 21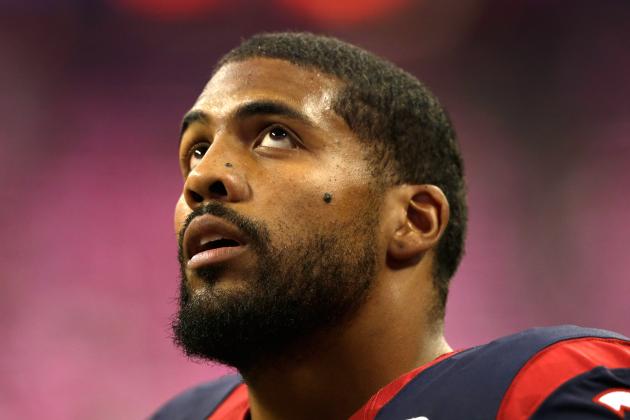 Scott Halleran/Getty Images

Just when you think the Bears may never lose another game, along comes the Texans, and make no mistake—despite the loss to Green Bay—this is a very good team.
Even with that disastrous showing against the Packers, Houston's team defense ranks seventh against both the pass and the rush.
And this is a team that can certainly run the ball, led by all-world Arian Foster. Despite his unexplainable 29 yards rushing vs. Green Bay, Foster laid 152 yards on the Panthers the week prior, so he is a back who cannot be taken lightly.
Still, if the Bears can stop the run, QB Matt Schaub is good, but he doesn't scare me. If forced throwing into coverage, like the Packers made him do, he can turn the ball over. His two interceptions against the Packers was a rarity—Schaub has only four all season—but it shows it can be done.
I say the Bears, at home, surprise by beating the Texans, though I wouldn't bet my house on it.
Prediction: Bears 20, Texans 17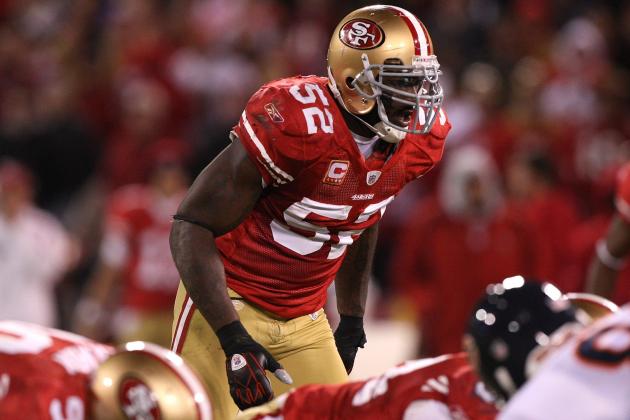 Jed Jacobsohn/Getty Images

I know, if I say that Schaub doesn't scare me, why in the world would 49ers QB Alex Smith scare me? Well, he doesn't, yet this feels like a loss to me, on the road on a Monday night against a very good team.
I know they looked awful against the Giants, but I still really like the 49ers and feel that this is a legitimate Super Bowl contender. And the Bears, on a four-game winning streak following the bye week, can't win them all.
The Niners defense, ranked second against the pass, forces a couple of picks out of Cutler, and the Bears drop a miserable one in California.
Prediction: 49ers 27, Bears 13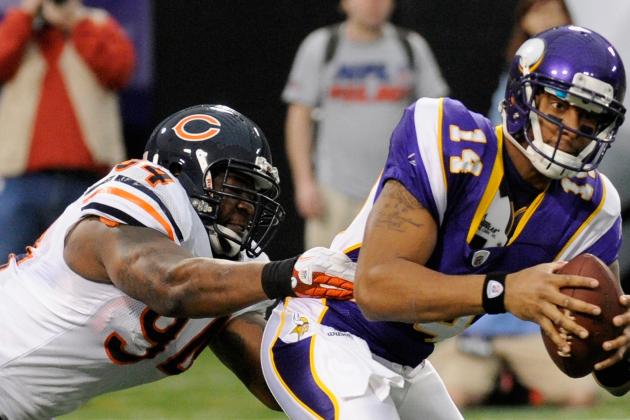 Hannah Foslien/Getty Images

I just don't believe the Vikings are as good as their record might indicate. But, they are also a lot better than many of us thought there were heading into this season. They are no longer a guaranteed two victories for any NFC North opponent.
Still, the Bears—at home and coming off a rough performance against the Niners—shut down Adrian Peterson and force QB Christian Ponder into mistakes, taking this one in a fairly close game.
Prediction: Bears 17, Vikings 13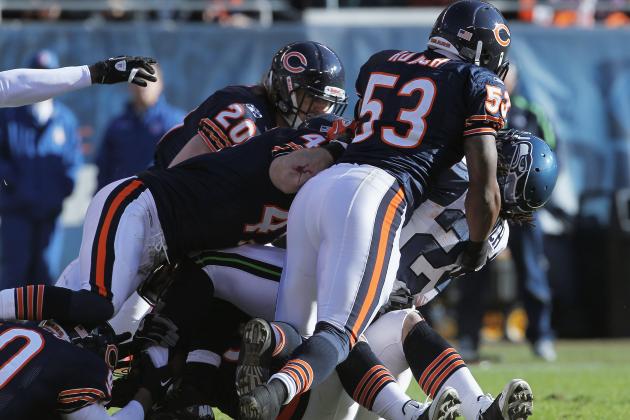 Jonathan Daniel/Getty Images

Seattle is a tough house to play in for opposing teams, so if this game were on the road for Chicago, I might have a completely different outlook.
But, it's at Soldier Field, and while Seattle does have a solid defense, they rank 31st in passing yards. If the Bears can control the rushing attack, the Seahawks will be forced into relying on the arm of Russell Wilson.
Now, Wilson can push the ball downfield, as he did against the Pats, when he threw for almost 300 yards and three TDs. But assuming they can get pressure on the young QB, the Bears should be able to win another close one.
Prediction: Bears 19, Seahawks 16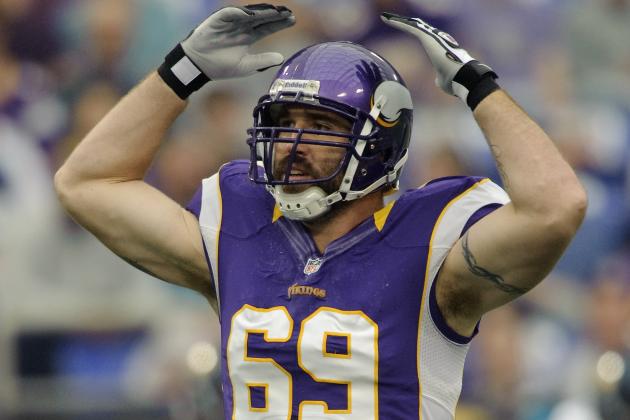 Hannah Foslien/Getty Images

As I indicated earlier, the Vikings may not be as good as their record, but they are much better than many of us figured they would be heading into the season, and at home, they will be tough against a Bears team that is not good enough to win all their remaining games.
The Bears are legitimate Super Bowl contenders in my eyes, but even the best teams falter now and again. In this one, Peterson busts out a couple big runs, and Ponder does just enough to be effective, limiting mistakes and not turning the ball over.
When the Bears defense doesn't force turnovers, it can be beaten. And you can only keep Jared Allen down so long. That may have worked in their first matchup, but he goes crazy in this one.
Prediction: Vikings 23, Bears 17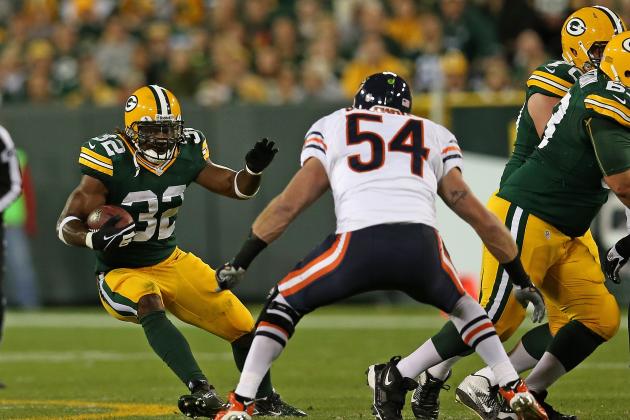 Jonathan Daniel/Getty Images

It will be interesting to see if Cedric Benson, who is on the injured reserve/designated to return list after dealing with a Lisfranc foot injury, is back for this matchup. Against the Bears in Week 2, Chicago's former first-round pick was effective, rushing for 81 yards in 20 attempts, while catching four passes.
Benson will be eligible to return against the Vikings in Week 13, but he will be eligible to start practicing with the team in six weeks, so we'll see.
But, the Packers reminded everyone on Sunday night of just how devastating their offense can be when Aaron Rodgers is on his game. I like the Bears to perform better this time since they are at home, but if Rodgers is on, they will be tough to beat.
It's time the Bears teach the Packers that this is Chicago's year, and they defend their home turf in a thrilling, last-second win.
Prediction: Bears 23, Packers 21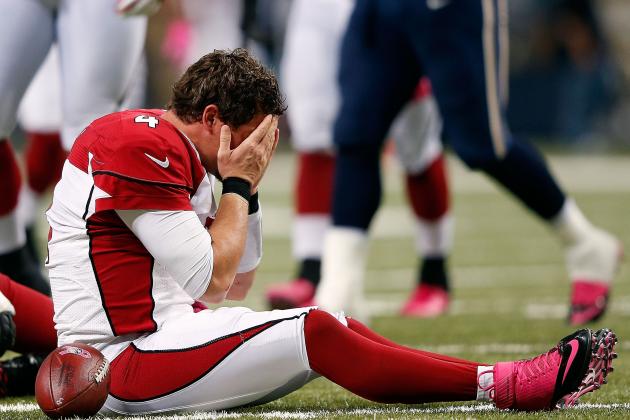 Jamie Squire/Getty Images

One of the weaknesses of the Cardinals, so far, this season has been in pass protection. Enter the Bears, who lead the league in takeaways, with a defense playing at a very high level, generating a pass rush from its front four without having to blitz very much.
Meanwhile, Cards QB Kevin Kolb has been taking a lot of hits, so it's anybody's guess as to whether or not he will even be upright by the time this game is played.
Despite this, Arizona is currently sitting at 4-2, though I expect at least three more losses before this game is played. The Cards defense, while not great, is good enough to keep this game close.
The Rams sacked Kolb nine times, so expect the Bears defense to be licking its chop for this one.
Prediction: Bears 17, Cardinals 10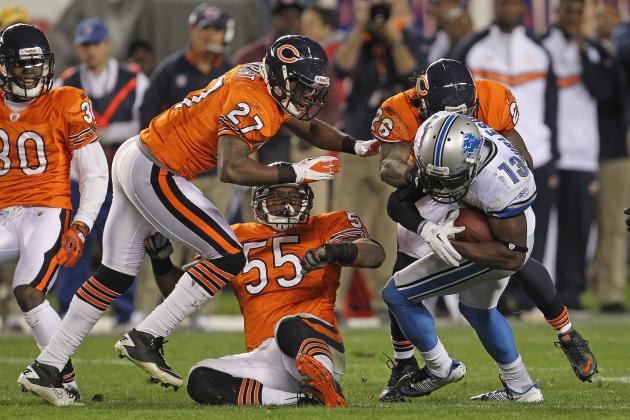 Jonathan Daniel/Getty Images

I predict that the Bears come into this game with a record of 12-3, so they do not need this game. And on the road, they rest some of their regulars just enough to give the Lions a fighting chance.
Perhaps, the Lions turn things around and need the win to sneak in as a wild-card entry, or maybe, they are just angry at watching the Bears slide into the playoffs while they stay home. But no matter what, this looks to be a tough one for Chicago to win unless the game has meaning for Chicago.
Now, one hedge to all this is if the Bears need the win to get the best record in the NFC. But unless that happens, I'll give the Lions this one at home. Hey, the Bears finish 12-4, win the North and go into the playoffs as the No. 1 or No. 2 seed in the NFC.
All is good in Bears land.
Prediction: Lions 24, Bears 21