Fantasy Football: 4 Last-Minute Changes You Need to Make for Week 6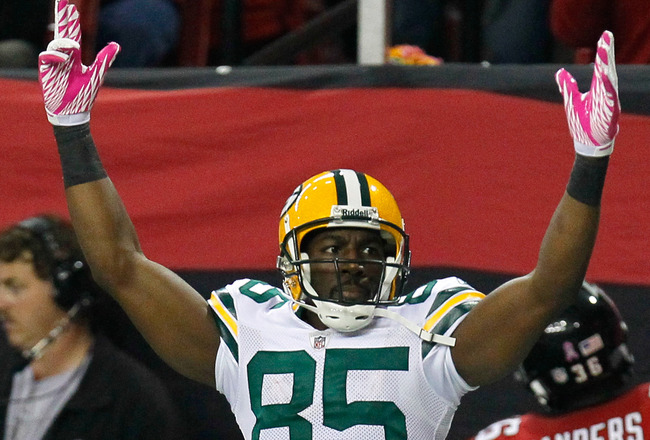 Kevin C. Cox/Getty Images
Don't get caught with your fantasy football pants down this weekend!
Every week there's at least one chump in every fantasy football league. A last-minute trip to the store, a down Wi-Fi connection, an alarm clock that didn't go off—whether it's a good excuse or not doesn't matter, Fantasy football is a cruel mistress.
Failing to make those last-minute roster changes can crush any fantasy football season; don't let it crush yours.
Here are five last-minute changes you should consider.
Start Vick Ballard at RB2/Flex in Deep Leagues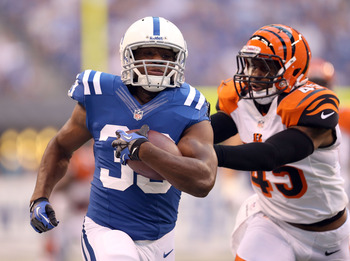 Andy Lyons/Getty Images
With Donald Brown out at least the next two weeks, Vick Ballard should be on your roster by now. If he is, consider starting him against a Jets defense that, quite frankly, hasn't been able to stop runners like Ballard yet this season.
If you watched the preseason (or his college career), you know that Ballard isn't elusive, and he doesn't have elite upside, but he'll run as hard as possible on every single play and continue churning his legs.
Effort is not something the Jets have been able to match this season, and one can reasonably expect that Ballard will find the end zone.
Sit Greg Jennings This Week and Until Further Notice
Jonathan Daniel/Getty Images
Bob McGinn is one of the best beat writers in the business and his tea leaves are saying that the Packers are "finally playing it smart" with Jennings.
When Jennings has played this season, he hasn't finished the games and hasn't looked like his usual explosive self. Groin problems come in all shapes and sizes (yes, you may snicker) and Jennings' issue looks like it's going to linger for a while. Shutting him down and letting him get to 100 percent is the only option for the Packers.
Sit him until further notice and stop playing start/sit games with him at kickoff. Until he plays, plays well, and looks healthy, he needs to be on your bench.
Cut Randy Moss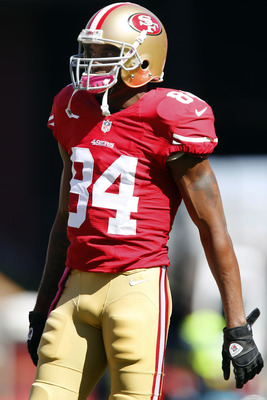 Brian Bahr/Getty Images
Seriously, what is Moss still doing on your roster?
The 49ers are 4-1, have a great offense this year, and Alex Smith is absolutely dealing. Moss, however, has 14 targets on the season, 99 yards and one lonely touchdown. If, by chance, he does bust out at some point, he'll likely be on your bench when it happens, and there's zero evidence that any breakout would last more than one game.
Moss is acclimated to the offense, he's just not a big part of it.
Unless there is absolutely nothing on the waiver wire or you have extra roster spots, there's no reason Moss should be taking up space.
Put Robert Griffin III on the Trading Block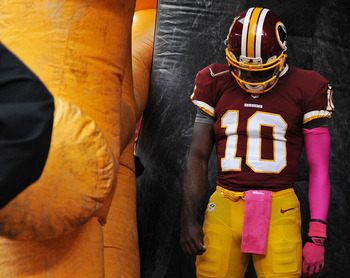 Patrick Smith/Getty Images
Hear me out, I'm 100 percent serious and have not been drinking.
RGIII is great in real life and is also one of the best fantasy quarterbacks this year. Sadly, however, there's no reward for guessing right in the middle of the draft and being able to start the QB you drafted as your backup.
This is about asset management.
RGIII's stock is flying high right now and would likely be an upgrade for almost every team in your league. Take a look at your backup who (one would assume) was drafted much earlier. Is it someone like Matt Stafford? Tony Romo? Ben Roethlisberger? If so, consider the fact that the season-long point totals for those guys are probably going to be about the same as RGIII.
Then, take RGIII's injury and his propensity to get hit. He's not playing all 16 games, there's almost no chance of that happening.
I'm not saying trade him for nothing and I'm not saying cut him, but if you can get starters at RB, WR (or both) and some extra thrown in, it could be the difference between finishing in the middle of the pack and a fantasy championship.
Michael Schottey is the NFL national lead writer for Bleacher Report and an award-winning member of the Pro Football Writers of America. Find more of his stuff alongside other great writers at "The Go Route."
Keep Reading