Why J.J. Watt Should Enjoy a Field Day Against Packers OL, Aaron Rodgers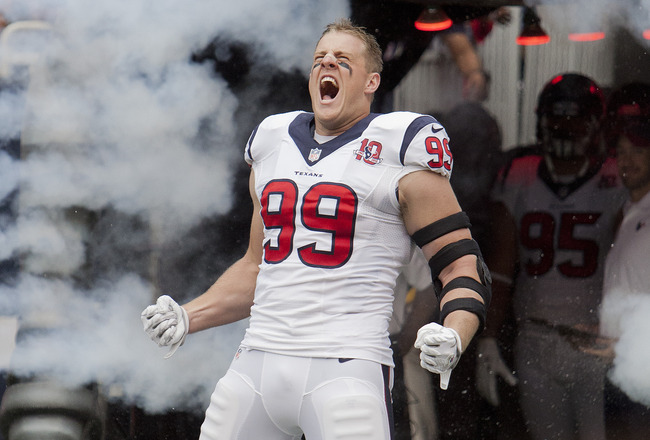 J.J. Watt will be a handful for the Packers' offensive line and quarterback Aaron Rodgers.
Bob Levey/Getty Images
Five weeks into the NFL season, Texans defensive end J.J. Watt has already racked up 7.5 sacks.
For a defensive end in a 3-4 alignment, 7.5 sacks would be a great season. To put up these kinds of numbers in just 20 quarters of football is simply unheard of.
This Sunday, the 5-0 Houston Texans will host the 2-3 Green Bay Packers at Reliant Stadium. If the Packers have any hopes of pulling off an upset, they'll need to slow down Watt and his relentless pass rush.
That, however, is much easier said than done.
1. Bryan Bulaga Has Struggled Mightily in 2012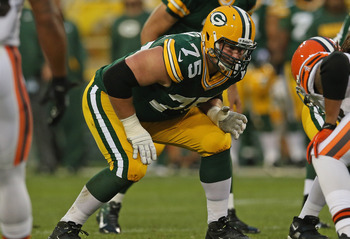 Bulaga had a great season in 2011 but hasn't played at the same level this year.
Jonathan Daniel/Getty Images
Packers right tackle Bryan Bulaga was one of the best offensive tackles in football last season.
According to Pro Football Focus, Bulaga graded out as the eighth-best tackle (left or right) in the NFL last season. He was charged with only one sack allowed and 18 quarterback hurries in 12 games played.
However, the 2012 season has been much different for Bulaga.
In just 20 quarters of football this year, Bulaga has already equaled last season's total of 18 quarterback hurries allowed. He's also given up three sacks, surpassing last year's grand total of one.
Bulaga doesn't have the prototypical body type for an offensive tackle in the NFL. With just 9 1/4" hands and 33 1/4" arms, Bulaga will certainly have his work cut out for him this week against Watt, whose 11 1/8" hands and 34" arms make him a dominant force in the trenches.
The Packers will likely need to give Bulaga some help on the right side of the line, or they could be in for a long night this Sunday.
2. Packers Have Been Victimized by "Coverage Sacks"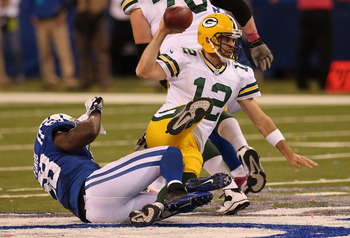 Whether due to the receivers or Rodgers, the Packers have given up way too many sacks.
Jonathan Daniel/Getty Images
Of the 21 sacks the Packers have allowed through five games, Pro Football Focus has charged quarterback Aaron Rodgers with five sacks allowed.
No, Rodgers hasn't been asked to block a 300-pound defensive lineman at any point this season, but he has been guilty of holding on to the ball too long at times. PFF has charged left tackle Marshall Newhouse with four sacks allowed, but no player has been charged with more sacks than Rodgers.
While the quarterback is partially responsible for these sacks, much of it has to do with tight coverage on the outside.
In their first five games, the Packers have played some stout pass defenses in San Francisco, Chicago and Seattle, and this Sunday night won't be any different.
If Green Bay's wide receivers are unable to get separation against Houston's defensive backs, it will open the door wide for Watt to take over the game. Against all-world cornerback Johnathan Joseph, the Packers could have a long night.
3. Watt's Reach Will Disrupt Packers' Short Throws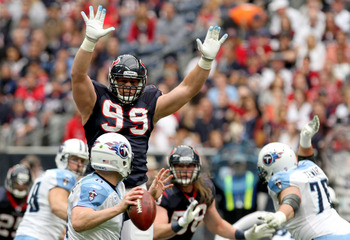 Green Bay loves to throw quick-hitters, but Watt's reach will make that difficult.
Thomas B. Shea/Getty Images
After Watt batted down Mark Sanchez's pass on the final play of last Monday's game, ESPN cameras caught him clearly saying, "You can't try to throw it over my head."
Well, he's right.
The 6'5", 290-pound Watt has a 82 1/2" wingspan and a 37" vertical. Seriously. The guy not only has the Energizer Bunny's motor, he's an athletic freak.
Last year in the playoffs, Watt read a pass, stepped back and intercepted Bengals quarterback Andy Dalton. Quarterbacks always need to be mindful of defensive linemen batting the ball down at the line of scrimmage, but most 300-pound athletes aren't capable of snatching the ball out of mid air and taking it to the end zone.
Rodgers will certainly know where Watt is lined up at all times, and he'll have to think twice about making similar quick-hitting throws on three-step drops. The Packers often try to use short passing routes to compensate for their mediocre running game.
Look for the Packers to try to use Watt's aggressiveness against him by mixing in some screens, draws and perhaps a shovel pass or two to move the ball on early downs. But if Rodgers and the Packers aren't careful, they will fall to 2-4, and the Texans will remain unbeaten.
Keep Reading