Cleveland Browns: 5 Decisions Owner Jimmy Haslam Needs to Make in the Offseason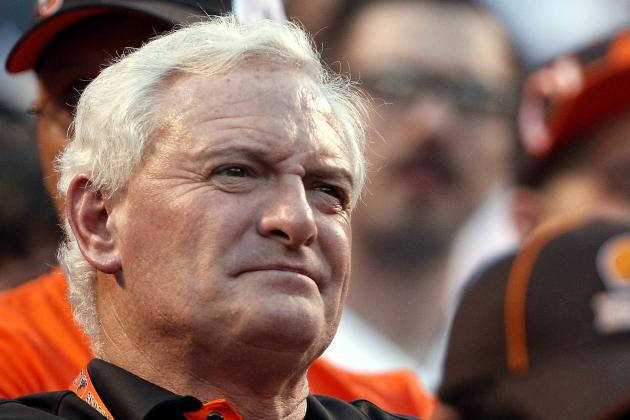 Matt Sullivan/Getty Images

Jimmy Haslam is set to take over the Cleveland Browns as their new owner on Tuesday.
Browns fans should be ready for a dramatic shift in how business is done in Berea.
All media reports point to Jimmy Haslam being an extremely competitive owner who will demand accountability.
There will be no honeymoon period for Haslam though, as Browns fans will not have the patience to sit through yet another five-year plan.
Haslam needs to make sure he finally hires the right people so the Browns can have stability (something Browns fans would know nothing about) at the decision making positions.
Let's take a look at five decisions owner Jimmy Haslam needs to make in the offseason.
.
Begin Slideshow

»
Al Messerschmidt/Getty Images

Browns Head Coach Pat Shurmur is a sure bet to not return next season.
While he has had a lot of challenges since he got hired, it is inexcusable to have a current 5-17 record, even with his first division win Sunday against the Cincinnati Bengals.
Jimmy Haslam will want to make it known to fans that he is all in with this franchise and try to hire a big-name head coach.
Jon Gruden would be a perfect fit for the Browns.
His career record is 95-81 and he turned around two franchises in the Oakland Raiders and Tampa Bay Buccaneers.
While it can be argued that he won with a team that Tony Dungy built up, he was able to take the team over the hump and win the Super Bowl.
He has taken some shots from some of his former players for his coaching style (via profootballtalk.com), but four years off the job should be plenty of time for him to have reflected on changes he needs to make.
Gruden also runs the West Coast offense, so learning a new offense can't be used as an excuse for next year.
Jon Gruden will be a breath of fresh air to the sideline as there isn't a more intense coach around.
If Gruden declines the job offer, Jason La Canfora has reported Eagles defensive backs coach Todd Bowles and Cincinnati Bengals offensive coordinator Jay Gruden are high on Haslam's list (via CBSlocal.com).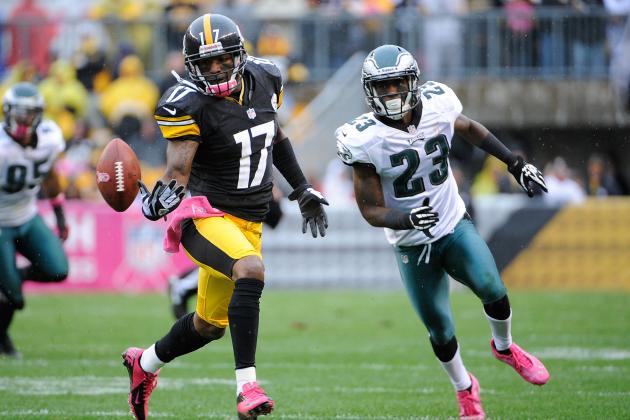 Joe Sargent/Getty Images

I wholeheartedly agree with the philosophy of building through the draft, as that is how a team should build 90 percent of its roster.
Jimmy Haslam shares this philosophy.
However, the smartest teams do use free agency as well, and the Browns have shyed away from free agency as if it was the plague.
It doesn't help that the Browns have been an extremely tough sell the past decade to any impact free agents.
A vibrant owner in Jimmy Haslam and a potential head coach of Gruden's caliber should be able to convince free agents the Browns are truly going in the right direction, that they are just a very young team about to take off.
The Browns will be a projected $40 million under the salary cap for the 2013 offseason. Only the Cincinnati Bengals ($42 million) and Indianapolis Colts ($43 million) will have more money (via ESPN.com).
There are some very interesting options in free agency for 2013, including Pittsburgh Steelers WR Mike Wallace and New Orleans Saints WR Devery Henderson.
The Browns biggest need in free agency is to get a veteran wide receiver to bring some stability and help mentor young receivers in Josh Gordon and Greg Little.
This upcoming offseason is more important than any, and Haslam needs to speed up the process by picking up one or two impact players.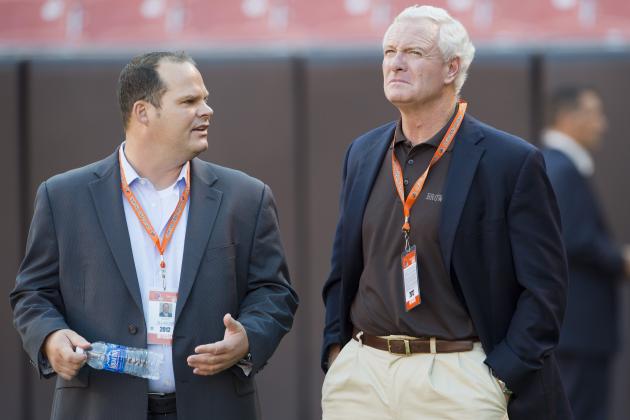 Jason Miller/Getty Images

Browns GM Tom Heckert has done a nice job turning this roster around in just three years.
Whoever the new coach is, he will have a roster that is 10 times better than it was when Tom Heckert inherited it.
For every good pick Heckert has made though, there is one that hasn't quite worked out.
Two of his first round picks, CB Joe Haden and RB Trent Richardson, are clearly top-five talents at their respective positions. S T.J. Ward, DE Jabaal Sheard, DT Phil Taylor and RT Mitchell Schwartz are all starting-caliber players. WR Josh Gordon also looks like he could be a special player.
He has made some questionable picks as well in RB Montario Hardesty, WR Greg Little and drafting a 28-year-old QB in Brandon Weeden.
If Jimmy Haslam can lure a more qualified talent evaluator to be the new GM then he should, but firing a respectable GM in Tom Heckert just for the sake of cleaning house wouldn't be wise.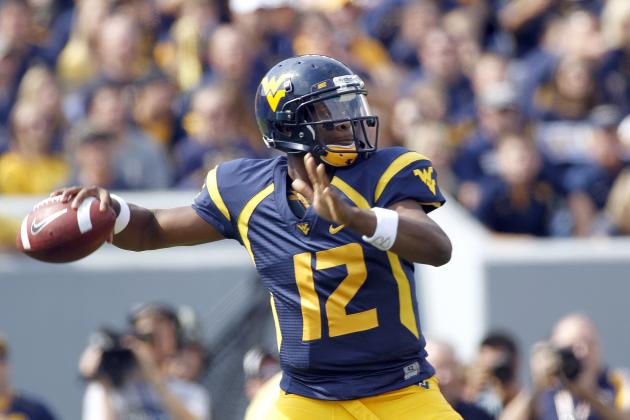 Justin K. Aller/Getty Images

The Browns are in good position to land a top-three pick in the 2013 NFL Draft, and a new regime will strongly consider drafting a new franchise quarterback.
However, QB Brandon Weeden has the skill set to win in the division as soon as next year. A new quarterback will most likely not give the Browns immediate results.
If the Browns have elite draft grades on either West Virginia QB Geno Smith or USC QB Matt Barkley, then they should draft him. I don't believe either of them are of that caliber, so the Browns might be smart in trading down a couple of picks and maybe picking up another 1st and 2nd round pick.
Many fans are concerned about Weeden's age and believe he only has four or five years left. I'm a believer he could play at a very high level until age 37 or 38. It's not like he is a football age of 29 because he hasn't taken that many hits.
He has a tall, thick body frame which will allow him to last until his late 30s like Kurt Warner.
Weeden has thrown nine interceptions already, but that is a byproduct of him going through the rookie learning curve. He will learn that he can't take the same risks that he did at Oklahoma State.
Weeden has thrown for 1,288 passing yards the first five games, which is second all-time for a rookie QB through the first five weeks.
That is pretty impressive when looking at his receivers.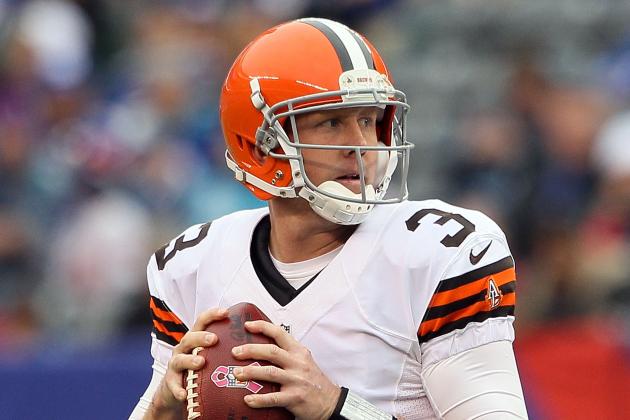 Alex Trautwig/Getty Images

The most important decision Haslam will have to make: whether or not to change the jerseys.
I'm being sarcastic, of course.
A nice change in the jerseys though would bring some more excitement and provide a physical symbol of a new culture Haslam will bring to the Browns.
I'm not in favor of doing a complete overhaul to the jerseys or even adding a logo to the helmet. they could be improved though, as Haslam could make the jerseys "jazzier."
Since Nike is the new uniform partner of the NFL, they should be able to come up with a new design that will resemble the old Browns uniforms but look noticeably different as well.
The only aspect of the uniform I wouldn't touch at all would be the iconic orange helmet.