2013 Mock Draft: Tennessee Titans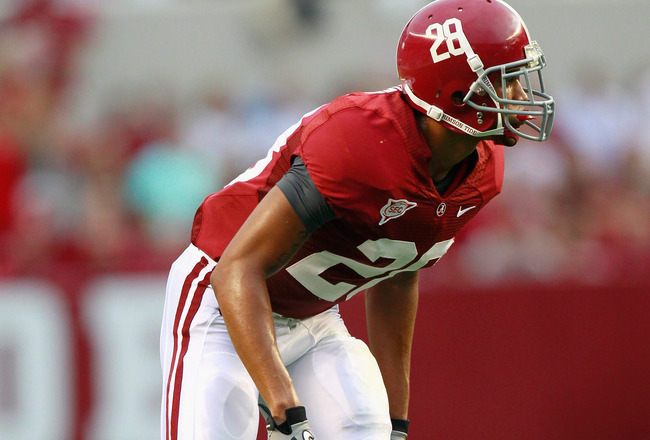 Kevin C. Cox/Getty Images
Well, it's been three weeks since my last mock draft, and surprisingly little has changed for the Titans in the needs department. What has changed is the draft outlook for some positions.
Chris Johnson's great game against the Texans appears to have been a fluke, the defensive end position obviously still needs help, and the interior offensive line is having trouble.
Still, even with the Titans needs looking the same, where they'll be picking and who the best prospects are has shifted again, even in as little as three weeks.
Here is an updated seven-round mock for the Titans (just for clarity, I had the Titans picking sixth overall in my most recent mock).
Round 1: Bjoern Werner, DE, Florida State
Streeter Lecka/Getty Images
With their first pick, the Titans will essentially be picking between a defensive end and a cornerback. I think the decision will just come down to which player they have higher on their big board.
On my big board, the highest player I have of those two positions is DeMarcus Milliner of Alabama. However, I also had him being taken before the Titans pick, so instead, the Titans settle for the Germanator, Bjoern Werner.
Werner is currently one of the country's leading sack artists, racking up 6.5 sacks over the first five weeks. He also has three more quarterback hurries, four broken up passes, a forced fumble and 10 tackles for loss.
Werner also had a great 2011 campaign when he tipped the scales at 270 lbs. He's since dropped to 255, but because he's played well at both weights, he can fit into whatever role the Titans could want for him.
Having Werner start with Kamerion Wimbley and Derrick Morgan rotating in would finally give the Titans a consistent and dangerous pass rush, which would help disguise some of the problems in the secondary.
Round 2: Dallas Thomas, OG/OT, Tennessee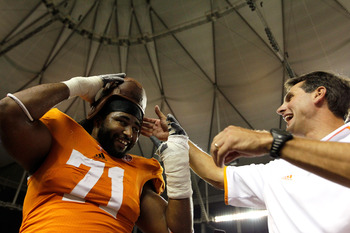 Kevin C. Cox/Getty Images
Here, there was a tough choice between Le'Veon Bell, Jordan Poyer and Dallas Thomas. I went with Thomas not only because he fills the bigger need, but because he's a local product who could play either guard or tackle if the situation called for it.
Thomas started out as Tennessee's left tackle, but moved to left guard this year to make way for Antonio "Tiny" Richardson. He was great at both positions as both a pass blocker and a run blocker.
He's already proven himself against some tough matchups in the SEC. Sharrif Floyd got the best of him in the second half of the Florida game, but Thomas held his own before that. Against Georgia, Thomas turned John Jenkins into a near non-factor.
Thomas has the mobility and polish to immediately start a left guard, and if his arm measurements are good, he could even play left tackle when Michael Roos starts to slip. Otherwise, he'd still be a fantastic guard for years to come.
Round 3: Robert Lester, SS, Alabama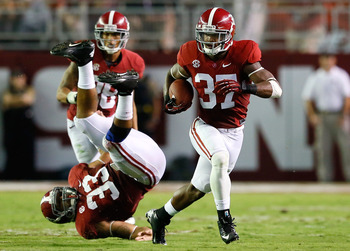 Kevin C. Cox/Getty Images
The Titans biggest area of weakness on defense may actually be at the safety position. Jordan Babineaux may be last season's leading tackler, but he's made several mistakes that have led to first downs or huge passing plays.
When he's out, it's been even worse, and those big plays are exactly the reason that the Titans are 1-4. They need an upgrade here more than anywhere else on the defensive side.
I thought about giving the Titans a running back, but I think that they may decide that fixing the interior line as best they can and seeing what they have in Jamie Harper and Javon Ringer might be the better route.
Robert Lester has contributed all over the field for the Crimson Tide, getting 13 total tackles, 1.5 tackles for loss, 1.5 sacks, a broken up pass and an interception. He shows good instincts, and, like Thomas, has some versatility (he played free safety in 2011).
Eric Reid, Matt Elam and Tony Jefferson are all ranked higher on my big board, but Lester would probably be the best strong safety still available at the top of round three.
Round 4: Mario Benavides, C, Louisville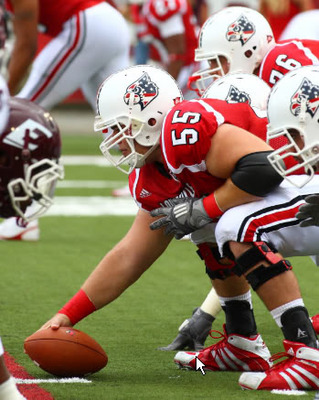 This center class isn't looking great. However, there are a few choice prospects and Mario Benavides is one of them.
Last season, centers slipped down draft boards far further than they were projected, so having him available at the top of the fourth round isn't a big stretch.
Louisville is rushing the ball very well when you consider they don't have a standout running back. A lot of that has been due to the superb blocking by Benavides.
Of course, his best two attributes are his toughness (only missed three games as a four year starter) and his consistency (never fumbled a snap to Teddy Bridgewater). He's a little light at just over 280 lbs, but he's got the frame to bulk up to what he'd need in the NFL.
I think Benavides could be a pro-ready center, but he could sit behind Fernando Velasco if he needed to until he was ready to take over.
Round 5: Andrew Jackson, MLB, Western Kentucky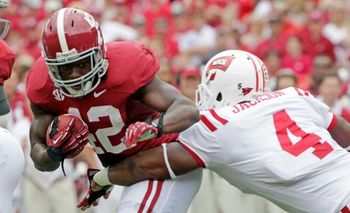 The Titans linebacker situation is actually pretty good when all three starters are in (Akeem Ayers, Colin McCarthy and Zach Brown). However, when one is missing, the lack of depth becomes apparent.
To fix this they could take the monstrous small school linebacker prospect, Andrew Jackson.
Other than having an awesome name, Jackson is 6'1" and 265 lbs. That's enormous for a middle linebacker. He's a little slow, but he makes up for it with good instincts and tenacity.
For the season, Jackson has 38 total tackles, 6.5 tackles for loss, 1.5 sacks and a forced fumble. He also had a good game against Alabama, getting 1.5 tackles for loss and seven total tackles against the Tide's vaunted running game.
Having Jackson in the lineup could really fix the depth problem at middle linebacker, and maybe even on the strong side too.
Round 7: Blaze Foltz, OG, TCU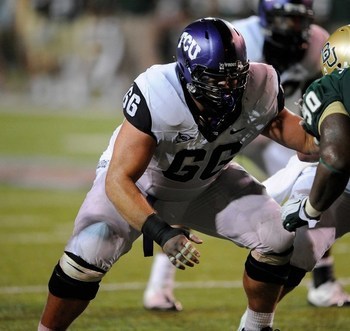 That's right, I have the Titans picking three interior linemen in this draft. They could use it.
In this draft scenario, I have the Titans picking Dallas Thomas to play left guard and moving Hutchinson to the right. Hutchinson will be with the team at least another two years, but after that, they'll need a right guard to replace him.
Blaze Foltz is a sleeper prospect who's a natural right guard. He was an All-Mountain West guard in 2011, and now, with the move to the Big 12, it's likely that he'll stay a little unheralded for most of the season.
Foltz has the quickness and the track record to be a very good player down the road, so if he's there, the Titans ought to take him.
Late round picks tend to be low positional value picks or developmental guys, so the Titans would be best served by using it on something like a future starter at a low value position (like a guard), rather than something like a defensive end or a corner.
Supplemental Picks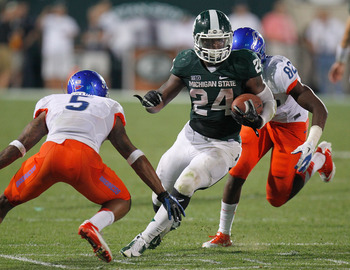 Gregory Shamus/Getty Images
Last year, the Titans picked up zero supplemental draft picks, and it's too early to guess how many they'd get this year and what round they'd be in. That said, if they do get an additional pick or two, here are a few positions they'll be looking at.
Running back: If Chris Johnson doesn't renegotiate his contract, this might be his last season as a Titan. If that happens, look for Tennessee to spend a mid-rounder on a running back if they can spare it.
Cornerback: I think the Titans are more likely to forgo picking a cornerback unless a guy they really like falls to them. They like Jason McCourty and Alterraun Verner, and Coty Sensabaugh may still develop into an outside starter. However, with extra picks and free agency, they could spend an early pick on one.
Wide receiver: Kenny Britt is constantly injured and is a headache off the field. The Titans can't rely on him to play consistently, so they may spend another pick on a wide receiver to replenish depth.
Tight end: Jared Cook is a free agent, so anything could happen. If he leaves, the Titans will probably look to replace him.
Keep Reading

Tennessee Titans: Like this team?