Denver Broncos vs. New England Patriots: NFL Week 5 Live Score and Analysis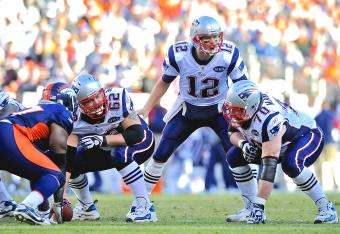 Broncos Can't Solve Brady
The Denver Broncos entered today's game with the New England Patriots with a new feeling of hope that they now have a quarterback that can compete with the Patriot's Tom Brady.
Both quarterbacks put up big numbers, but Brady's defense came up with stops when it had to, and preserved the win.
Peyton Manning showed that he is still capable of competing with Brady. He finished the game 31/44 for 351 yards with three touchdowns. Denver finished the game with 402 total yards but their lack of a consistent run game and their struggles on third down (7/13) would not allow them to keep pace with Brady and the Patriots.
Tom Brady, on the other hand, was surgeon-like in his dismantling of the Denver defense. Brady finished the game with 223 yards while going 23/31 with a single touchdown. And while his numbers don't seem as big as Manning's, Brady was far more efficient.
The Patriots converted 11 of 17 third downs and finished the game with a whopping 35 first downs.
Patriot wide receiver Wes Welker finished the game with 13 catches for 104 yards and a touchdown and running back Stevan Ridley ran for 151 yards and a touchdown on 28 carries.
In the past three games against New England going back to last December the Denver defense has allowed 117 points to the Patriots.
The Patriots improve to 3-2 on the season and stand alone in first place in the AFC East. New England will now travel to Seattle to face the Seahawks next Sunday.
Denver falls to 2-3 and continues to trail the 3-1 San Diego Chargers in the AFC West. The Broncos and Chargers will face off in a very important divisional game next Monday night.
Denver 21 New England 31 Final
1:04 4th Quarter
Brady and the Patriots can no take a knee and run out the remainder of the game clock.
Denver 21 New England 31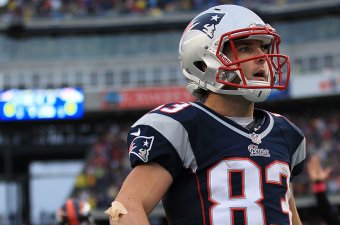 Jim Rogash/Getty Images
3:21 4th Quarter
3rd and three yards to go. Denver has to get a stop.
Brady hits Welker on a quick slant for a gain of nine.
Brady is now 23/31 for 223 yards and a touchdown.
That reception by Welker gives him 13 catches on the day for 104 yards and a touchdown.
3:42 4th Quarter
With the Broncos driving at the New England 10 yard line Willis McGahee fumbles and the Patriots recover.
5:19 4th Quarter
Von Miller causes a fumble by Ridley and Mike Adams recovered.
Broncos take over on their own 32 yard line.
6:43 4th Quarter
Peyton Manning hits Brandon Stokely for a five yard touchdown pass.
Denver 21 New England 31
8:08 4th Quarter
The Broncos sack Tom Brady on 4th down and cause Brady to fumble. Patriots recover the fumble.
Denver takes over on downs at the New England 44 yard line.
10:50 4th Quarter
Bronco running back Willis McGahee drops a pass on 4th and one that would have converted to a first down.
McGahee was clearly looking upfield and never locked up the catch.
14:38 4th Quarter
Patriots convert a 3rd and 12 with a 25 yard pass from Brady to Deion Branch.
The _enver Broncos seem to be missing something.
1:08 3rd Quarter
Peyton Manning throws a back shoulder fade to Eric Decker for a two yard touchdown.
Denver 14 New England 31
2:13 3rd Quarter
Broncos driving right back down the field and trying to give themselves a pulse in this game.
Demaryius Thomas had the early fumble but has had a solid game since.
On the day Thomas has six catches for 147 yards.
LB Keith Brooking has a concussion and is out for the remainder of the game.

— Broncos Gameday (@BroncosGameday) October 7, 2012
Patriots just scored two touchdowns in 18 seconds of game time. Bill Belichick thinks it wasn't fast enough.

— BuzzFeed Sports (@BuzzFeedSports) October 7, 2012
4:42 3rd Quarter
Eight yard touchdown run by Stevan Ridley. Ridley has 21 carries for 114 yards and a touchdown.
Denver 7 New England 31
4:51 3rd Quarter
Peyton Manning sacked on 1st and ten. Manning fumbles. New England recovers.
Patriots take over on the Denver 14 yard line.
That was Welker's 10th catch of the day - he's now tied for 3rd all-time in @nflhistory in 10-reception games w/ 15

— New England Patriots (@Patriots) October 7, 2012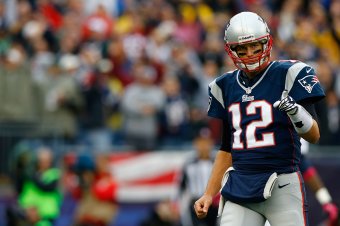 Jared Wickerham/Getty Images
5:00 3rd Quarter
Tom Brady with the one yard quarterback sneak to give New England the touchdown.
Denver 7 New England 24
9:05 3rd Quarter
Third and 17 for the Pats and Danny Woodhead runs around left end for 19 yards.
The Patriots on the day are 6/9 on third downs.
That may not sound all that great but keep in mind that the Denver defense has had problems just getting them TO third down.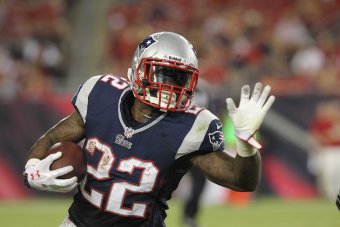 Kim Klement-US PRESSWIRE
11:18 3rd Quarter
Patriot running back Stevan Ridley is quietly putting together a very good game.
Ridley has 15 carries for 92 yards.
11:31 3rd Quarter
Let me see if I have this correct...you have Peyton Manning and Willis McGahee on your team. And on third and four yards to go on an important drive you go with the draw play to Lance Ball.
Broncos to punt.
Again.
14:21 3rd Quarter
Von Miller with the sack of Tom Brady and I can't believe I'm writing this but the Bronco defense holds New England to a three and out.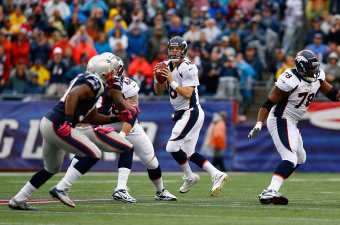 Jared Wickerham/Getty Images
Halftime
If you like offense don't go anywhere this game is featuring a ton of it.
There have been just eight incomplete passes in the entire first half.
Tom Brady and Peyton Manning are moving the ball up and down the field.
Take a look at these halftime statistics:
Peyton Manning is 13/18 for 137 yards and a touchdown.
The Broncos have 176 total yards so far.
Tom Brady meanwhile is 17/20 for for 165 yards and a touchdown.
The Patriots have gained 276 total yards and have 20 first downs.
Keep in mind that Manning has been better in the second half this season so this game is far from over.
:05 2nd Quarter
New England placekicker Stephen Gostkowski hits a 23 yard field goal giving the Patriots a 10 point lead at halftime.
Denver 7 New England 17 Halftime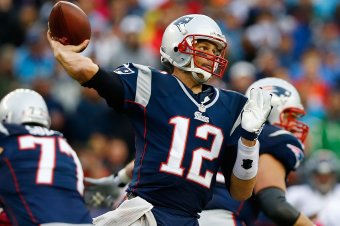 Jared Wickerham/Getty Images
I can't emphasize enough how impressive this Patriots offense it. Fast, efficient, just has the Broncos completely in retreat.

— Lindsay Jones (@PostBroncos) October 7, 2012
3:42 2nd Quarter
Bronco linebacker Joe Mays is getting killed in pass coverage. This time its Danny Woodhead catching a 25 yard pass from Tom Brady on 3rd and 14.
Patriot's coach Bill Belchick is a master of exploiting matchups.
This article is
What is the duplicate article?
Why is this article offensive?
Where is this article plagiarized from?
Why is this article poorly edited?