NFL Week 5 Picks Against the Spread for Every Game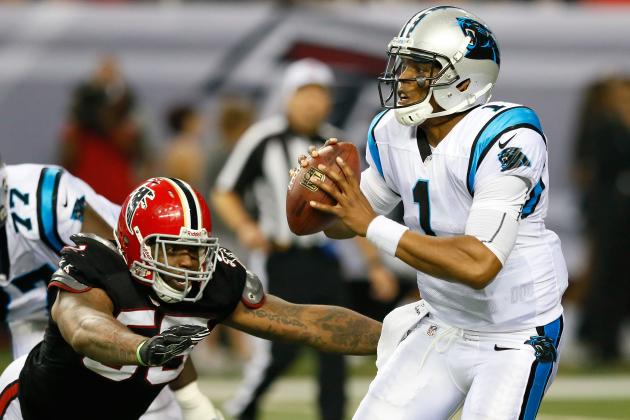 Kevin C. Cox/Getty Images

Dear Vegas, you got lucky. I was one measly point from putting back-to-back non-losing weeks together. That only serves to embolden me as I dole out my NFL Week 5 picks against the spread.
The 7-8 record from last week wasn't entirely poor. The picks I felt great about went well, with the exception of Ryan Tannehill channeling his inner Dan Marino. But who saw that coming?
Regardless, the quest for mediocrity (.500) continues. So click through for this week's picks.
Last Week's Record: 7-8
Season Record: 28-33-2
All point spreads provided by www.bovada.lv
Begin Slideshow

»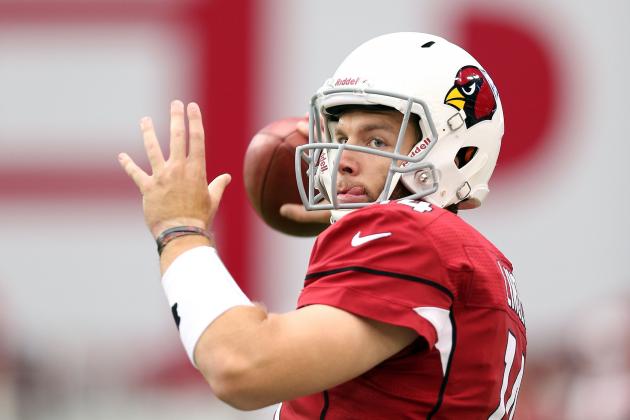 Christian Petersen/Getty Images

Why? Because I'm willing to overlook one poor performance from the Arizona Cardinals defense and instead focus on the positive.
Kevin Kolb came to play. He threw for 324 yards and three touchdowns. Sure, there were two interceptions and it took him 48 attempts to get it done, but that's still decent for him.
Actually, the real positive to accentuate is that Arizona pulled out a win when nothing seemed to be going right. That's the mark of a good team.
The St. Louis Rams are a year away. While the Rams are undefeated at home, both wins came at the expense of the Seattle Seahawks and Washington Redskins, who happen to be two mediocre teams that aren't on the Cards' level.
Besides, Sam Bradford doesn't have the weapons to attack the only weakness of Arizona's defense: cornerbacks. Well, outside of Patrick Peterson.
Jeff Gross/Getty Images

The Atlanta Falcons are an elite team. The Washington Redskins are not. Lay the three points.
The Skins are floating between a bad team and the edge of mediocrity. They have two wins, but they haven't played anyone above their level.
Matt Ryan and company are well beyond anyone that Washington has faced. The Falcons are going to come out swinging, and there will be little Washington will be able to do to stop them.
Robert Griffin III has been great, but he won't be good enough. If you're going to pick a three-point underdog, you should firmly believe it can win. All caveats about the NFL being crazy aside, I don't see it happening.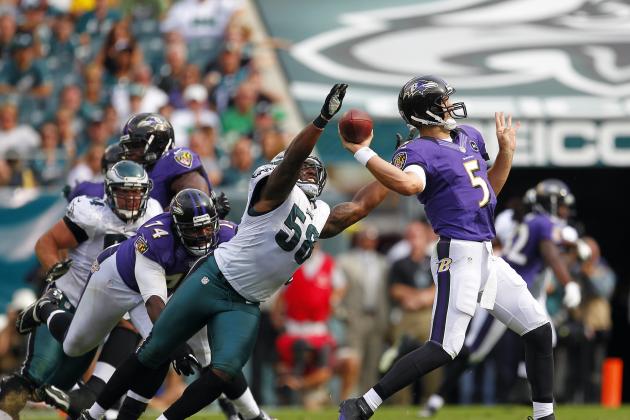 Rich Schultz/Getty Images

The power of a half-point.
That's the difference between taking the sure-to-be-reenergized Pittsburgh Steelers instead of the Philadelphia Eagles.
Michael Vick has struggled this season, but he might be realizing that he doesn't have to go crazy for the team to win. He kept it simple against the Giants (19-30, 241 yards, 1 TD) and the Eagles walked away victorious.
The Steelers are probably bringing back James Harrison, Troy Polamalu and Rashard Mendenhall. However, I'm not sure how good the team is considering its 1-2 record against middling to poor competition.
Bring on the half-point.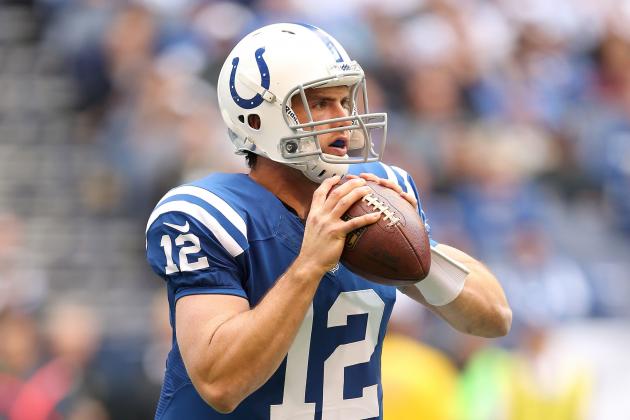 Andy Lyons/Getty Images

Is the Packers offense back after Aaron Rodgers threw for four touchdowns against the New Orleans Saints? Eh, I'm not convinced.
That Saints defense gave up 40 points to the Skins and 35 to the Carolina Panthers. Therefore, Green Bay needing a Jordy Nelson touchdown with seven minutes left is not impressive.
The Indianapolis Colts aren't knocking on the door of elite either, but they did have a bye week to prepare. Additionally, Dwight Freeney's return could mean a field day for himself and Robert Mathis against the weak Packers line.
I'm not sure the Packers are the Packers this year. Until then, I'm not laying seven with them again.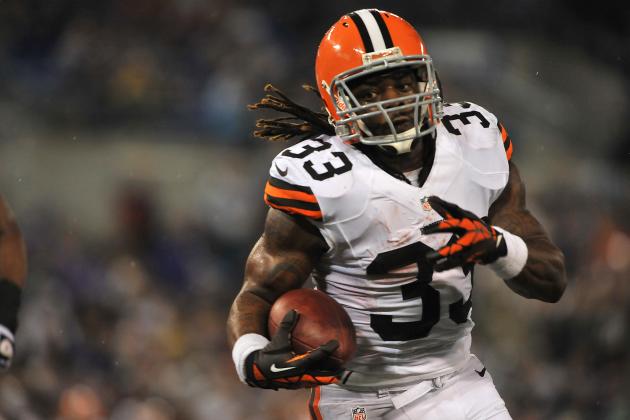 Larry French/Getty Images

The Cleveland Browns aren't good at any one thing. They rank 23rd in total offense and 25th in total defense.
However, they always seem to be hanging around near the end of the game. Their worst loss was by 10 points and every other game was a one-possession contest.
As for the New York Giants, they're an awkward team at home. They have yet to put it all together in the Meadowlands. It's as if they aren't comfortable being in front of their friends.
I'll grab the nine points and promptly watch the Browns get blown out.
Sam Greenwood/Getty Images

Andy "Dealin" Dalton and the Cincinnati Bengals are the quietest 3-1 team in the entire league. This is because they have beaten crappy teams and lost to the only real competition they've faced.
Luckily, the Miami Dolphins fall into the former category.
The Phins brought it against the Arizona Cardinals, but Ryan Tannehill can't be counted on to put up those types of numbers again.
Besides, the Dolphins gave up a ton of yards and touchdowns to Kevin Kolb. What will happen when they line up against the surprisingly steady Dalton and his 103 passer rating?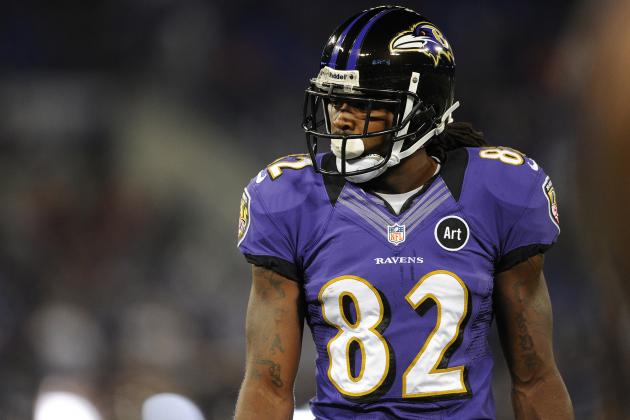 Patrick Smith/Getty Images

Arrowhead hasn't been kind to the Kansas City Chiefs this year, so I'm going to continue to ride the Baltimore Ravens.
They didn't cover the spread against the Browns, but divisional games are always tough.
Joe Flacco can still get it done, especially against a team that is giving up 38.5 points at home. That should be enough to top Matt Cassel from keeping up since the Ravens are still capable of stuffing the run.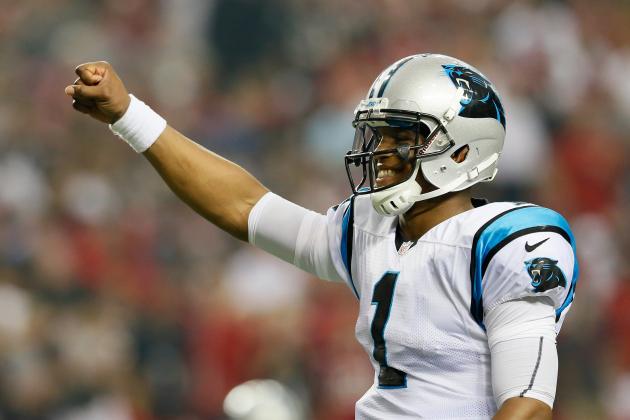 Kevin C. Cox/Getty Images

Seems silly to give points with a Carolina Panthers team capable of anything.
Capable of putting up points. Capable of stinking up their own house like they did against the Giants.
The conundrum is expecting the Seattle Seahawks to deliver on the road, something they haven't done all season.
Normally I'd take the points in such a situation, but I'll go with the home team in this one. Too much explosiveness to ignore against a bland Marshawn Lynch-led offense.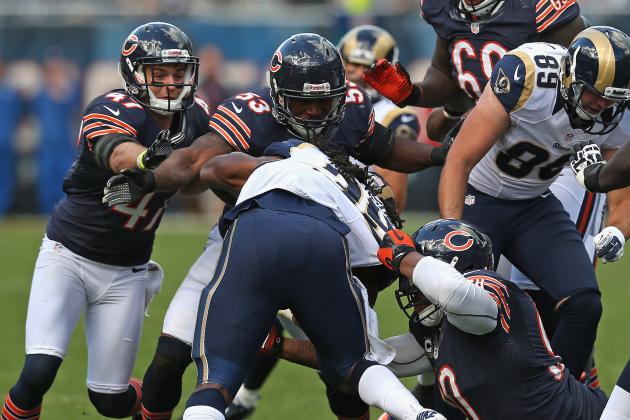 Jonathan Daniel/Getty Images

There have been a few constants throughout this season, and the Chicago Bears defense is one of them.
The Jacksonville Jaguars are another team that doesn't enjoy performing at their place, based on their two losses by an average of 18.5 points.
Things only get worse for the Jags in this matchup because Maurice Jones-Drew is going to struggle against the third-best rushing defense.
As for the six points, I trust Matt Forte, Jay Cutler and Brandon Marshall to cover that end.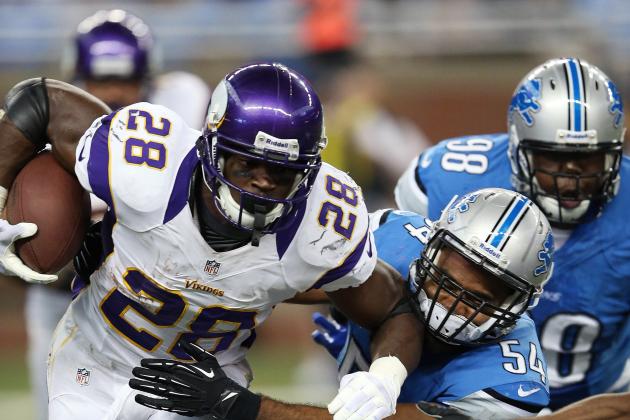 Leon Halip/Getty Images

A good defense versus one of the worst in the league.
Adrian Peterson versus the ghost of Chris Johnson.
Even the special teams is a wash at best for the Tennessee Titans.
There just aren't any reasons to think the Titans will get it done on the road against the surprise of the season.
I'm rolling with the Minnesota Vikings, if you couldn't tell.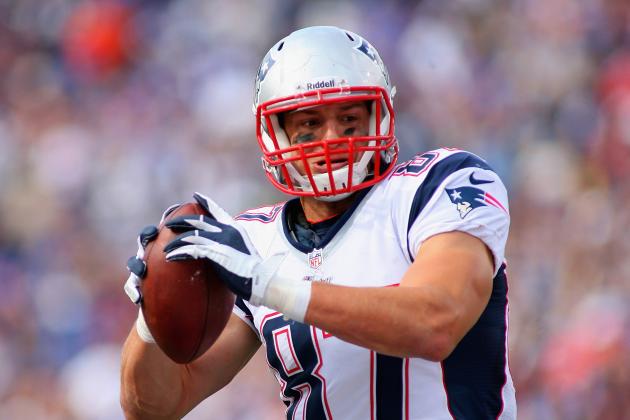 Rick Stewart/Getty Images

Yes, I trusted Peyton Manning and his Denver Broncos to get it done last week, and they did. That doesn't mean I actually trust this team in general.
Facing the New England Patriots is an entirely different animal than dealing with Carson Palmer.
It sure seems like the Pats remembered who they were when they rolled up 45 points in 38 minutes.
There were plenty of passes to go around for Wes Welker, Rob Gronkowski and Brandon Lloyd. There will be more of the same against the weak Broncos defense.
The Manning-Brady rivalry no longer means you should take the points, unless that Manning is Eli.
Tom Szczerbowski/Getty Images

Let's not get too carried away with last week's 34-0 dismantling of the New York Jets. The San Francisco 49ers are a very good team, but they aren't throwing up tons of points without a little help (read: turnovers).
And betting on a team getting help is always dangerous.
C.J. Spiller shook off his shoulder injury and played last week. He wasn't supremely effective, but another week should do his body good.
The Niners defense will present problems for Spiller and the rest of the offense. However, I don't feel comfortable laying 10 with the Niners against a team capable of keeping the scorekeeper busy.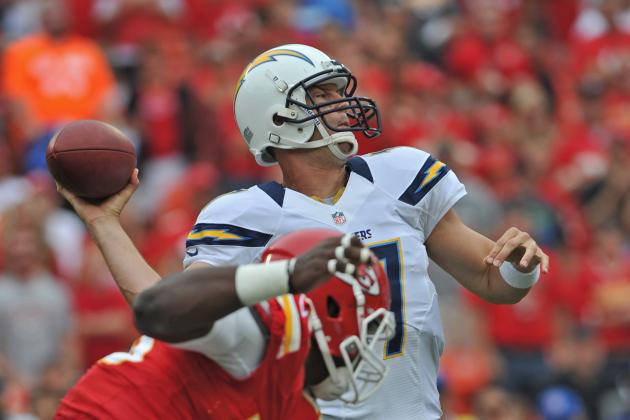 Peter Aiken/Getty Images

I don't understand this one at all.
The New Orleans Saints haven't won a game this season. Sure, they looked decent at Lambeau last week, but are we convinced the Packers are that good?
Conversely, the San Diego Chargers have taken the season by storm for once, ending September with a 3-1 record.
Vegas sees the Saints as a point better than the Chargers when you take away the three-point home-field tax.
I don't get it, but I'll take the gift.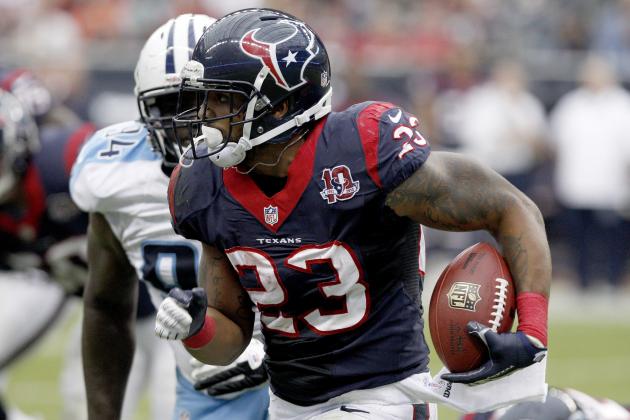 Thomas B. Shea/Getty Images

How bad does ESPN wish they could flex this game?
I know that doesn't work for Monday games, and that flex scheduling doesn't begin for another month. None of that changes the fact that ESPN would love just about any other game from this weekend's slate.
As for the point spread, I would have taken the Texans unless they were laying 20 or more points.
The New York Jets don't have Darrelle Revis on defense. Now, the non-existent offense is supposed to make things happen without Santonio Holmes, aka their only offensive player?
Whatever you say, Vegas. Whatever you say. Just be sure to honor the bets.