AL Rookie of the Year Rankings: 2012 Season Ends with No-Brainer Choice for ROY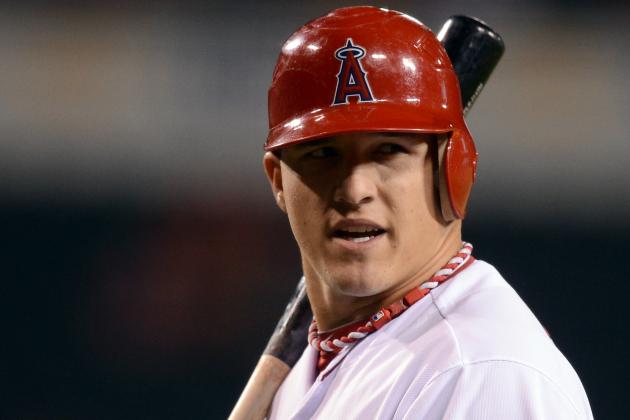 Harry How/Getty Images
Pictured: The (eventual) 2012 American League Rookie of the Year.
When it comes time for the voters to fill out their American League MVP ballots, they're going to have to think long and hard about who deserves to win.
When it comes time for the voters to fill out their American League Rookie of the Year ballots, on the other hand, determining who deserves to win the award should only take about two seconds. Tops.
It's been a great year for rookie players in the Junior Circuit, but there's no question that the best of the bunch is a certain Los Angeles Angels outfielder. I won't pretend like the issue is in doubt. You will find Mike Trout at the top of this year's final AL Rookie of the Year rankings.
But what the heck. I recommend checking out the rest of the rankings anyway because there are other AL rookies out there who deserve their due respect as well.
Note: Stats are current as of the start of play on Wednesday, October 3, and they come from Baseball-Reference.com unless otherwise noted.
Begin Slideshow

»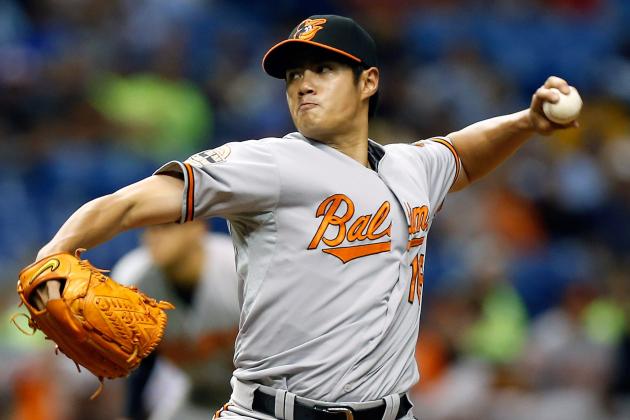 J. Meric/Getty Images

*Restricted to only five this week.
Wei-Yin Chen, SP, Baltimore Orioles
Chen has stumbled to the finish line, going 2-5 with a 5.34 ERA over his last 10 starts. However, he still managed to finish the season with 32 starts under his belt, more than any other AL rookie. Of those, 17 were quality starts.
His 4.02 ERA may look mediocre, but what's important in Chen's case is that he never climbed too high above or below the 4.00 mark. For much of the season, he was a model of consistency.
Scott Diamond, SP, Minnesota Twins
Diamond had starts here and there in which his sinker wasn't quite sinking enough, but his rookie season will go into the books as a success. In 26 starts, he compiled a 3.54 ERA while winning 12 games for a bad Twins team. He logged 16 quality starts, one fewer than Chen in six fewer starts.
Kelvin Herrera, RP, Kansas City Royals
There's a reliever in the top five, but I wanted to include at least one reliever in the honorable mentions section as well. With all respect to Robbie Ross and his 2.24 ERA, the second-best rookie reliever in the AL this year was Kelvin Herrera. He led all AL rookies with 76 appearances, posting a 2.35 ERA and a solid 8.22 K/9.
Will Middlebrooks, 3B, Boston Red Sox
After Mike Trout and Yoenis Cespedes, the rookie position player in the AL who made the biggest impact this year was Will Middlebrooks. He only played in 75 games, but he managed to hit .288/.325/.509 with 15 homers and 54 RBI. Per FanGraphs, Middlebrooks still ranks third among AL rookie position players in WAR despite being out since early August with a broken wrist.
Tommy Milone, SP, Oakland A's
No rookie pitcher in the American League was more overlooked this season than Milone. He made 31 starts and won a team-high 13 games with a 3.74 ERA. Only Chen and Yu Darvish logged more innings among rookies, which is a key reason why Milone ranks third among AL rookie hurlers in WAR, according to FanGraphs.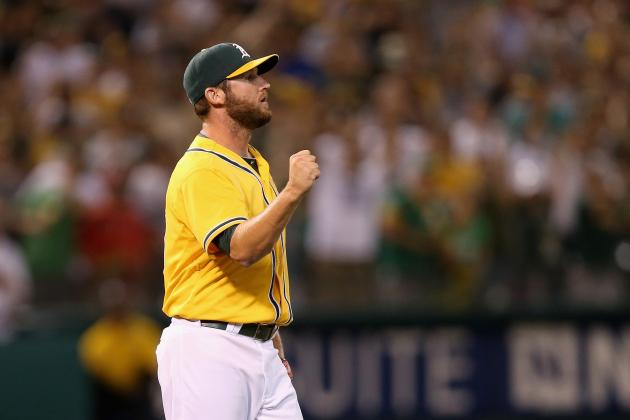 Ezra Shaw/Getty Images

Last Week: No. 5
I doubt anybody wants to face Oakland's bullpen these days, and the presence of Ryan Cook in the eighth inning setting things up for Grant Balfour is a major reason why.
Cook has been brilliant ever since Bob Melvin decided to move him back to the setup role from whence he came in the middle of August. Over his last 22 appearances, Cook has compiled a 0.75 ERA while holding hitters to a .171 batting average and a .414 OPS. In a total of 24 innings, he's struck out 29 and walked just four.
Oakland's record in these games? How about 19-3.
For the season, Cook's numbers are now excellent across the board. He leads all AL rookies with a 2.12 ERA and a 0.94 WHIP, and the only AL relievers with a better opponents' batting average than Cook's .162 are Balfour and Ernesto Frieri.
As I've pointed out in weeks past, some of Cook's other numbers highlight just how diverse of a role he has played coming in out of Oakland's pen this season. He's won six games, saved 14 games and compiled a total of 20 holds.
No other reliever in baseball has as many as six wins, 14 saves and 20 holds. Cook is basically in a league all by himself when it comes to versatile relievers.
That's impressive for any relief pitcher, much less a rookie.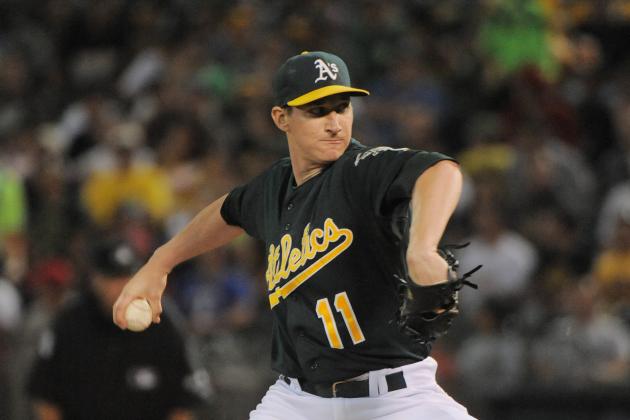 Kyle Terada-US PRESSWIRE

Last Week: No. 3
When you think about the American League aces who are going to be showcased in the postseason this year, you think of names like Justin Verlander, CC Sabathia and maybe Yu Darvish.
Do you think of the name Jarrod Parker?
If not, well, you should. Slowly but surely, he's developed into one of the American League's top pitchers this season.
Parker's numbers look good enough at first glance. In 29 starts, he's compiled a 13-8 record and a 3.47 ERA, and he's held hitters to a .248 batting average and a .670 OPS.
However, these numbers are slightly skewed by some bad outings in the middle of the year. What's noteworthy is that Parker has had 13 starts this season in which he's allowed one or zero earned runs in at least six innings of work.
That's five more than Darvish, nine more than Sabathia, and just as many as Verlander.
Parker has been pitching well lately, compiling a 2.63 ERA over his last six starts in which he's held hitters to a .240 average and a .613 OPS. Thanks in part to his season-ending hot stretch, Parker is going to finish the year with a WAR that FanGraphs has calculated at 3.7.
Among the pitchers Parker has a higher WAR than are Jered Weaver, Doug Fister and Hiroki Kuroda.
If you haven't watched Parker pitch yet, don't worry. It will be a lot harder to miss him in the playoffs.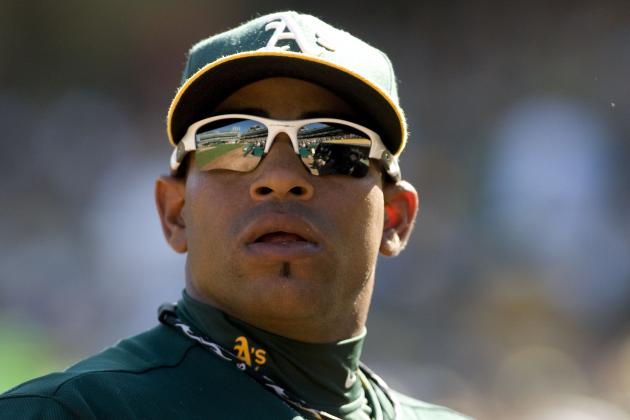 Ed Szczepanski-US PRESSWIRE

Last Week: No. 4
As Yoenis Cespedes goes, so go the A's.
There's no hyperbole there. Cespedes has been banged-up this season, but the A's are an 81-46 team in games in which he's played. That's a winning percentage of .638, if you're scoring at home.
The A's are 13-8 in the last 21 games in which Cespedes has played, and that record is no accident. Those 21 games have seen Cespedes hit .321/.413/.692 with seven homers, four doubles, two triples and 16 RBI. He's clubbed four homers and racked up nine RBI in his last 11 games alone.
Cespedes went into Oakland's final game, hitting .291/.353/.506 with 23 homers, 82 RBI and 16 stolen bases. Over a full 162-game campaign, production like that would equate to a 29-homer, 104-RBI, 20-steal season.
So yeah, it's fair to say that Cespedes has surpassed expectations in his first full major league season. The only rookie who's had a better offensive season is none other than Mike Trout.
Even knowing that, the season Cespedes has had is better than you probably think. According to FanGraphs, Cespedes' weighted on-base average checks in at .367. That ranks him ahead of standout hitters like Austin Jackson, Albert Pujols, Adam Jones, Nick Swisher and Derek Jeter.
If this is Year One of the Cespedes experiment, Year Two could be something really special.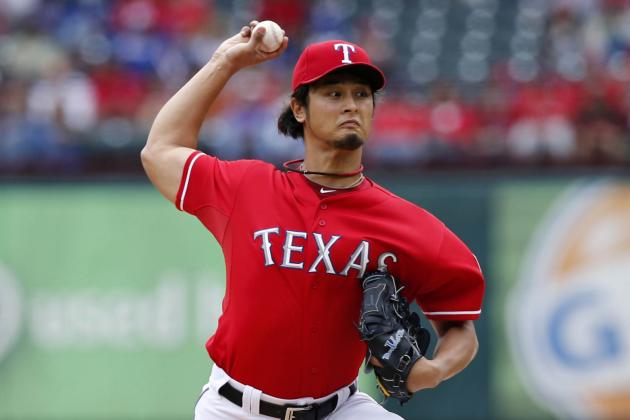 Jim Cowsert-US PRESSWIRE

Last Week: No. 2
Yu Darvish was shaky in his return from a stiff neck the last time he took the mound on Sunday. The Los Angeles Angels got to him for three earned runs on nine hits in 6.2 innings.
The thing to bear in mind is that "shaky" used to mean other things when used in conjunction with Darvish. In the past, a shaky outing for him typically consisted of five or six earned runs and five or six walks in five or six innings.
Things have changed for Darvish since the middle of August. In his last seven starts, he compiled a 2.13 ERA and 59 strikeouts in 50.2 innings, holding hitters to a .167 batting average and a .467 OPS along the way.
But the best part? Darvish walked only 10 hitters in those 50.2 innings, which equates to a 1.79 BB/9. That's the kind of walk rate that only the elites are capable of, and it represents a huge turnaround from where Darvish was with his control through most of the season.
Darvish will end the season with a 16-9 record and a 3.90 ERA that doesn't quite reflect how well he pitched. Per FanGraphs, he posted a FIP (fielding independent pitching) of 3.29, good for sixth in the American League.
His low FIP helped Darvish achieve a WAR of 5.1. That puts him on the same level as David Price and behind only Justin Verlander and Felix Hernandez among AL hurlers.
Pretty good company to keep right there.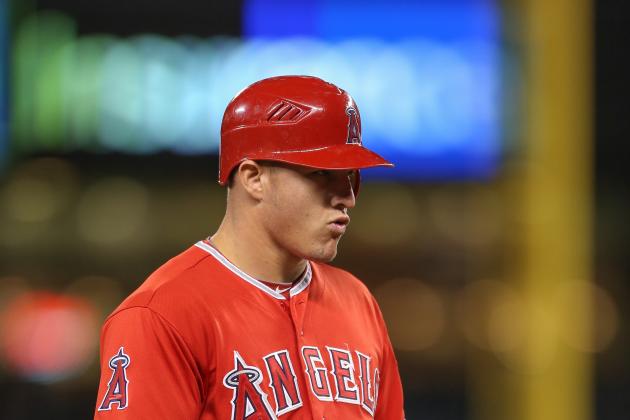 Otto Greule Jr/Getty Images

Last Week and Every Week: No. 1
Obvious choices don't get more more obvious than this, so we can keep this discussion relatively brief.
Trout heads into the final day of the regular season hitting .324/.397/.561 with 30 homers, 83 RBI, 129 runs scored and 49 stolen bases. There's a very legitimate chance that he'll end the season as the first player to ever hit better than .320 in a season with 30 homers and 50 steals.
Elsewhere, Trout is leading all major league players in wOBA and WAR, according to FanGraphs. Many have argued, and will continue to argue, that Miguel Cabrera has been the best hitter in baseball this year, but there's no question that Trout has been the best player in baseball this year.
That's worth at least an American League Rookie of the Year award.
And dare we ask...best rookie ever?
I vote yes.
Ronald Martinez/Getty Images
Jarrod Parker
5. Ryan Cook, RP, Oakland A's
Steady as she goes.
4. Yoenis Cespedes, OF, Oakland A's
3. Jarrod Parker, SP, Oakland A's
Down this week, but only because Cespedes has really turned it on over the last couple weeks.
2. Yu Darvish, SP, Texas Rangers
Turns out he was worth the money.
1. Mike Trout, OF, Los Angeles Angels
No amount of money is good enough for the year Trout just had.
Feel free to check out last week's rankings.
If you want to talk baseball, hit me up on Twitter.