AL Rookie of the Year Rankings: A's Hurler Jarrod Parker on the Rise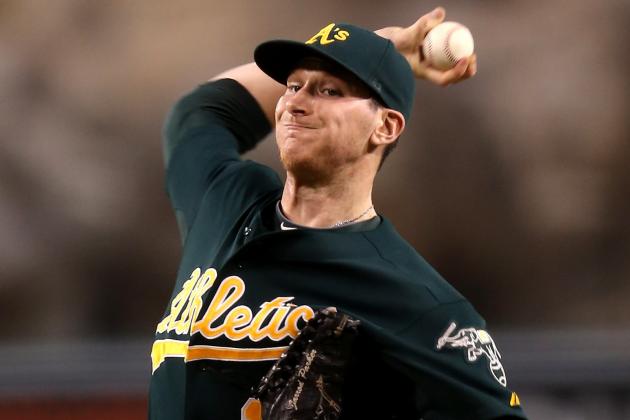 Stephen Dunn/Getty Images

If star power was any sort of measurement, the Oakland A's would have one of the worst starting rotations in baseball. They're currently using four rookies and a journeyman Aussie who was pitching for the illustrious Kia Tigers last season.
Star power isn't any sort of measurement, of course, and the A's have been proving that pretty consistently all season long. Their starters have a 3.72 ERA, which ranks fifth in baseball, and the club's rotation has posted a solid 3.49 ERA in September despite its sudden lack of depth and experience.
Much of the credit is owed to rookie righty Jarrod Parker. He's quietly been one of the most effective pitchers in the American League for virtually the entire season, but he's kicked things into an extra gear in the season's final month. He's pitching like a true ace these days.
Parker resurfaced in my weekly AL Rookie of the Year rankings a couple weeks ago, and he's earned the right to keep moving on up in this week's rankings. Scroll ahead to see where he and the other top candidates stand with a week to go (!) in the regular season.
Note: Stats are current as of the start of play on Wednesday, September 26, and they come from Baseball-Reference.com unless otherwise noted.
Begin Slideshow

»
J. Meric/Getty Images
Matt Moore
Wei-Yin Chen, SP, Baltimore Orioles
Chen was a fixture in the top five of these rankings for most of the season, but he's fallen on hard times in September. He has a 5.90 ERA this month with seven home runs allowed in 29 innings pitched. It's been over a month since he last won a game.
Sean Doolittle, RP, Oakland A's
Doolittle is the best-kept secret in Oakland's highly underrated bullpen. His 3.21 ERA is just OK for a reliever, but he ranks second behind Steve Delabar among AL rookie relievers with a K/9 of 12.0. Per FanGraphs, Doolittle's fielding independent pitching (FIP) is 1.77, which puts him in Huston Street and Aroldis Chapman territory.
Kelvin Herrera, RP, Kansas City Royals
Herrera has picked up three wins in the month of September with an ERA of 1.46. He leads all AL rookies with 72 appearances this season, and he boasts a solid 2.33 ERA and a 3.8 strikeout-to-walk ratio.
Will Middlebrooks, 3B, Boston Red Sox
Middlebrooks' season ended in early August, but his numbers still look impressive all this time later. In just 75 games, he hit 15 home runs and drove in 54 runs with a triple-slash line of .288/.325/.509. Despite the fact he hasn't played in over a month, he still ranks third among AL rookie position players with a WAR of 2.0, according to FanGraphs.
Matt Moore, SP, Tampa Bay Rays
Moore was very hot in his first nine starts immediately following the All-Star break, going 5-2 with a 2.08 ERA and a .213 opponents' batting average. In four September starts, however, he's 1-3 with a 7.31 ERA and an opponents' batting average of .290. He's compounded matters by walking 10 in just 16 innings pitched.
Robbie Ross, RP, Texas Rangers
Ross has six wins and eight holds pitching out of Texas' bullpen, and he leads all AL rookies with a 1.86 ERA. The fact that he tends to be restricted to the sixth and seventh innings goes to show just how deep the Rangers bullpen is.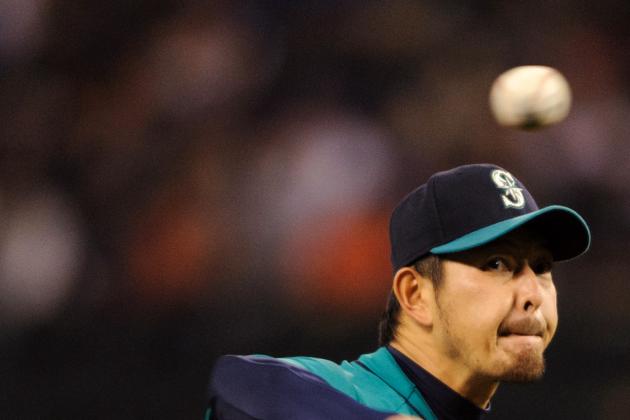 Steven Bisig-US PRESSWIRE
Hisashi Iwakuma
Scott Diamond, SP, Minnesota Twins
Diamond snapped out of a minor funk by allowing two earned runs in seven innings in his last start against the Detroit Tigers. For the season, he's 12-8 with a solid 3.64 ERA. It may not be saying much, but he's the best starter the Twins have.
Hisashi Iwakuma, SP, Seattle Mariners
All eyes are on Felix Hernandez in Seattle, and rightfully so. Over the last few weeks, however, Hisashi Iwakuma has been nearly as good as King Felix. Iwakuma made 14 starts thus far, and in those, he's 6-4 with a 2.93 ERA. He had a 4.75 ERA in 14 appearances as a reliever.
Tommy Milone, SP, Oakland A's
Milone went through a rough patch in late July and early August, but in his last seven starts, he's 4-1 with a 2.70 ERA. Jarrod Parker is the best starting pitcher the A's have right now, but Milone has been quietly productive for them all season long.
Addison Reed, RP, Chicago White Sox
You never know what you're going to get when Reed enters a given game, but his 28 saves lead American League rookies by a wide margin. The next guy on the leaderboard has half as many saves as Reed.
Speaking of that next guy...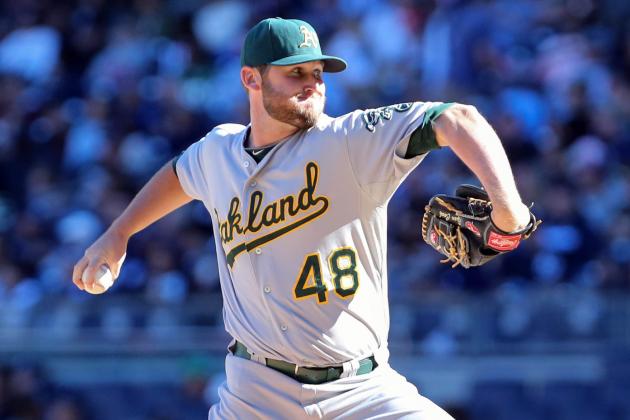 Anthony Gruppuso-US PRESSWIRE

Last Week: No. 5
Ryan Cook has allowed runs in nine appearances this season. In the other 57, he's been spotless.
In other words, there's about an 86 percent chance that he's not going to be scored upon when he enters a game. To put that in perspective, Aroldis Chapman is at about 89 percent.
Cook has been particularly good lately. He had some struggles in early August, but he's allowed only two earned runs in his last 20.1 innings pitched (a 0.89 ERA). In these 20.1 innings, he's struck out 24 and allowed just 11 hits.
This hot stretch has helped Cook lower his ERA to 2.23, the lowest it's been since August 2. For the season, he's holding opposing hitters to a .162 batting average and a .255 slugging percentage.
Only Kelvin Herrera has logged more innings among rookie relievers than Cook has, but Cook has been the more versatile reliever of the two. He's tackled pretty much every task Bob Melvin has put before him, and for his efforts, he's collected six wins, 18 holds and 14 saves.
Want to know how many other relievers have six wins, 18 holds and 14 saves?
Exactly none. For that matter, Santiago Casilla and Greg Holland are the only relievers with at least six wins and 14 saves. Neither of them has nearly as many holds as Cook.
Go, tell the people.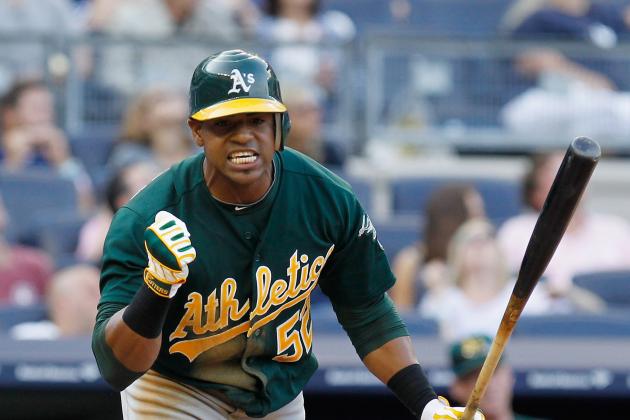 Mike Stobe/Getty Images

Last Week: No. 3
Yoenis Cespedes has gone AWOL at times this season. One minute, he'll be hitting balls about 600 feet at a rate of a million miles per hour, and the next, he'll be looking like Pedro Cerrano.
Cespedes went missing for a period of about three weeks from the middle of August to early September. In 12 games, he hit just .221/.253/.302 with no homers and six RBI. Of the 19 hits he managed to collect, only six went for extra bases.
In the last two weeks, however, Cespedes has come back with a vengeance, Bruce Willis-style.
Over his last 14 games, Cespedes is hitting .314/.419/.667 with five homers and 11 RBI. He's collected at least one RBI in nine of these 14 games.
For the season, Cespedes is now hitting .289/.350/.492 with 21 homers, 77 RBI and 16 stolen bases. For all his struggles, he's turned out to be a surprisingly productive offensive player.
In fact, he's been more productive than a lot of people probably think. FanGraphs has his weighted on-base average (wOBA) at .364, and that ranks him ahead of standout AL hitters like Alex Rios, Torii Hunter and Derek Jeter.
So why is he down a spot this week?
It has nothing to do with him, and everything to do with a certain teammate of his.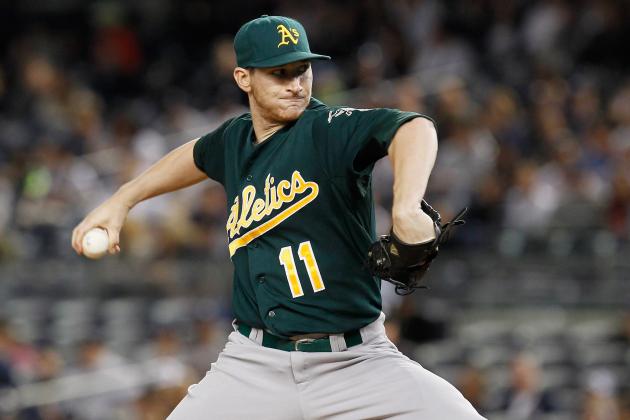 Mike Stobe/Getty Images

Last Week: No. 4
Last Friday in The Bronx, all eyes were on CC Sabathia. The New York Yankees' burly ace turned in a vintage performance, shutting out the A's through eight innings while allowing just three hits and striking out 11.
As good as Sabathia was, he didn't walk away with a win to show for his efforts. He has Jarrod Parker to thank for that.
Parker was nearly as good as Sabathia last Friday. He also went eight innings, allowing six hits, no walks and just a single earned run. He struck out seven.
Such is life for Parker at the moment. He's made four starts in September, and all four of them have seen him go at least seven innings and give up two earned runs or fewer. He's logged a total of 29 innings this month, compiling a 1.86 ERA while limiting opposing hitters to a studly .565 OPS.
For the season, Parker is 11-8 with a 3.40 ERA and a 1.26 WHIP in 27 starts. FanGraphs has his FIP at 3.39 and his WAR at 3.5.
Those last two numbers put Parker in elite company. Only Yu Darvish has a higher WAR among AL rookie hurlers, and Parker's FIP is good for seventh overall among all qualified AL starting pitchers. His WAR tops those of Jered Weaver, Jon Lester and C.J. Wilson.
His WAR also ranks him ahead of Cespedes, which is as good a sign as any of just how much Parker has meant to the A's both all season and recently. Cespedes is one the Oakland's offense's main power supplies, but Parker is the ace of the pitching staff.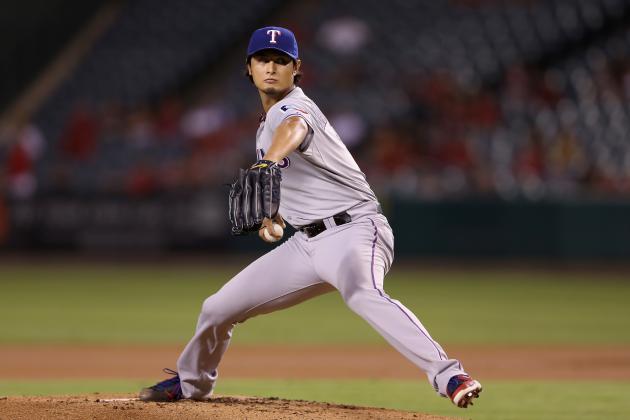 Jeff Gross/Getty Images

Last Week: No. 2
Apparently, the only thing that can slow Yu Darvish down these days is a pain in the neck.
As reported by Evan Grant of The Dallas Morning News, Darvish had to be scratched from his start against the A's on Tuesday with a bad neck. It doesn't sound like his injury is too serious, but it was serious enough to put Darvish's incredible hot streak on hold.
In his last five starts, Darvish is 4-0 with a 1.46 ERA. He's held hitters to a .138 batting average and a .368 OPS (not a misprint), and he's struck out 42 and walked only eight in 37 innings pitched.
Darvish's ERA is under 4.00 at 3.90 for the first time since late July, and he has his WHIP down to a respectable 1.27. His 214 strikeouts are good for third in the American League, and the only AL pitcher with a higher K/9 is Max Scherzer.
Per FanGraphs, Darvish's 3.30 FIP is good for sixth in the AL. His 4.8 WAR is good for fifth, behind only Chris Sale, David Price, Felix Hernandez and Justin Verlander.
Assuming his neck gets better over the next week or so, there's little question that Darvish is the right man to start Game 1 for the Rangers when they get to the postseason. He finally knows where his electric stuff is going when it leaves his hand, and he's done more than enough over his last few starts that he's capable of matching up with the top aces in the American League.
And yes, he's very much in the discussion when it comes to who the top aces in the AL are.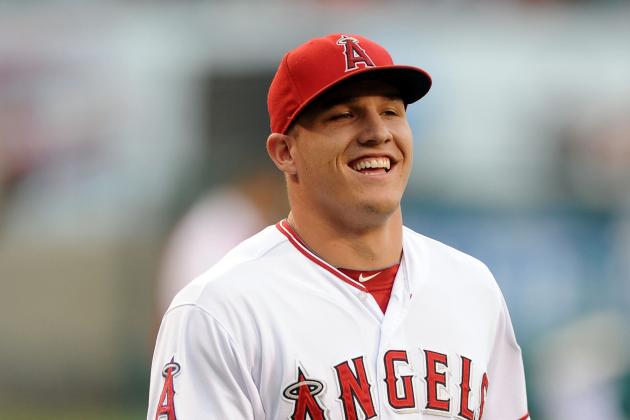 Kelvin Kuo-US PRESSWIRE

Last Week and Every Week: No. 1
Everyone gather around for the weekly Mike Trout worship.
September hasn't been a great month for Trout. He's only hitting .268/.375/.415 with three homers and four RBI. He's swiped only five bases and scored 18 runs.
Not that it matters. Trout could have gone 0-fer and taken to making imaginary snow angels in the outfield this month, and he'd still be the leading contender for the AL ROY by a mile.
To date, Trout is hitting .324/.395/.554 with 28 homers, 78 RBI, 47 stolen bases and 124 runs scored. He leads the AL in steals and runs, and he ranks third in average, fifth in slugging and third in OPS.
Yes, Miguel Cabrera is having a better offensive season than Trout, but not by a wide margin. Per FanGraphs, Cabrera leads Trout in wOBA by a single point, .419 to .418. Trout is blowing him out of the water in WAR, 9.5 to 6.8. This is because Trout can do things like play defense and run the bases, and he does these things as well as any player in the major leagues.
Trout should win the AL MVP, but it's not hard to imagine the voters spurning him in favor of Cabrera. He could end up earning the first Triple Crown in 45 years, after all, and there's a sentiment out there that Cabrera is owed an MVP at this point in his career.
If Trout doesn't get the MVP, oh well. At the very least, he should know by now that he's going to be a unanimous selection for the Rookie of the Year award.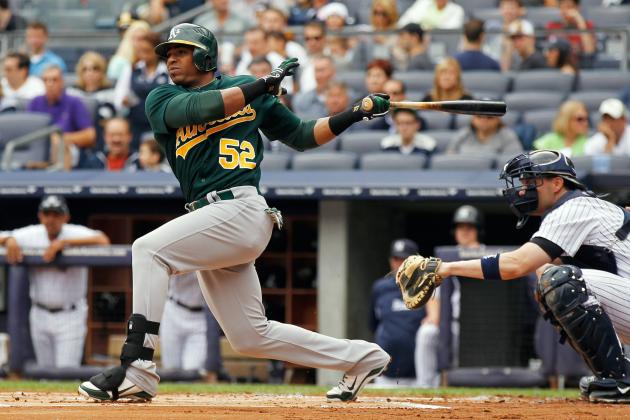 Mike Stobe/Getty Images
Yoenis Cespedes
5. Ryan Cook, RP, Oakland A's
Steady as she goes.
4. Jarrod Parker, SP, Oakland A's
3. Yoenis Cespedes, OF, Oakland A's
Down one, but not his fault.
2. Yu Darvish, SP, Texas Rangers
Pains in the neck are a pain in the neck.
1. Mike Trout, OF, Los Angeles Angels
Mike Trout is good at baseball.
Feel free to check out last week's rankings.
If you want to talk baseball, hit me up on Twitter.