MLB: Predicting End of the Year Awards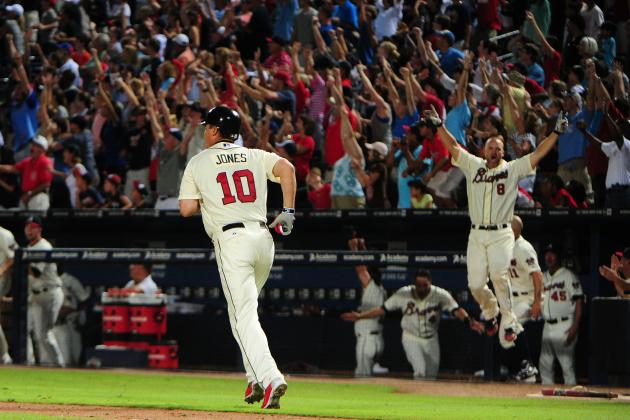 Scott Cunningham/Getty Images

Now that Major League Baseball's regular season has come to a close, the time has come to hand out awards for the best—and worst—performances of the year.
Baseball is inherently ambiguous which naturally leads to discussion and argument. No matter what you are trying to prove in the realm of baseball, it is possible to back it up with an obscure statistic or a quote from an old player's memoir.
The uncertainty of the sport is what keeps many people invested.
With that in mind, the following are my picks for various awards and honors.
Feel free to respond in the comment section with your own thoughts and opinions.
Begin Slideshow

»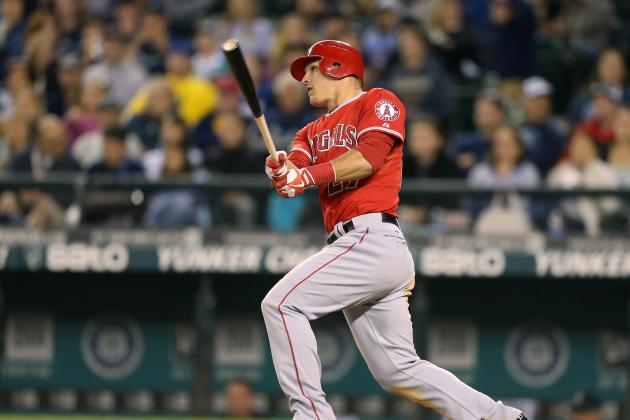 Otto Greule Jr/Getty Images

American League MVP - Mike Trout
I went back and forth on this one, but settled for the old gut check.
Both Trout and Miguel Cabrera have statistical backing for their MVP bids.
Trout not only hit 30 home runs, but also stole close to 50 bases, and had a success rate of more than 90 percent.
Cabrera, however, has the elusive Triple Crown in sight and has been unstoppable in big situations.
But despite Cabrera's incredible and unprecedented year at the plate, Trout has been the guy all year long that I just could not stop talking about. Every day, I just had to see what ridiculous, game-saving play he made the night before and just had to tune in to see if he could maintain his insane WAR numbers.
He ignited a team that could have easily collapsed under the weight of Pujols' poor start. Trout's emergence took some of the pressure off the highly paid superstars and let them concentrate on baseball.
Because of his electric play, the Angels are a very different team right now.
Statistically, it's a coin toss, but Trout wins on intangibles. Congratulations, Trout, on the first of many.
AL MVP Top 5:
1. Mike Trout
2. Miguel Cabrera
3. Adam Jones
4. Adrian Beltre
5. Josh Hamilton
National League MVP: Buster Posey
Buster Posey simply does it all for the San Francisco Giants.
Not only did he lead one of the most dominant pitching staffs in all of baseball from behind the plate, he also owned the plate offensively, earning the batting title honor (once you scratch out Miguel Cabrera) and surpassing 20 home runs. He also started close to 30 games at first base.
Posey has been rock solid all season long and recorded his best stats when it mattered most, posting absolutely insane numbers since the All Star break to lead his team to the postseason.
He has put together an incredible season at a critical position and has more than earned this honor.
His two primary competitors, Ryan Braun and Andrew McCutchen, both have had stellar years as well.
Braun, despite the increased attention due to his unprecedented win in a drug suspension case this offseason, put together an even more impressive stat line than his MVP season a year ago. He hit more than 40 home runs for the first time in his career and ended the season in the top four for—among other statistics—home runs, average, runs and RBI.
If the Brewers make the playoffs, Braun has a strong case to repeat, but Posey's contributions to the Giants' playoff run give him an edge.
McCutchen was arguably the first half MVP, posting outlandishly high numbers at the plate and making stellar defensive plays in center day in and day out. More importantly, he led Pittsburgh to one of the best records in the league through the first half and excited a loyal fan base that had not seen success for almost two decades.
But sadly, as McCutchen's production fell off in the second half, so did his team's. If he had maintained his early season numbers and if the Pirates make the playoffs, he runs away with this award.
NL MVP Top 5:
1. Buster Posey
2. Ryan Braun
3. Andrew McCutchen
4. Adam LaRoche
5. Yadier Molina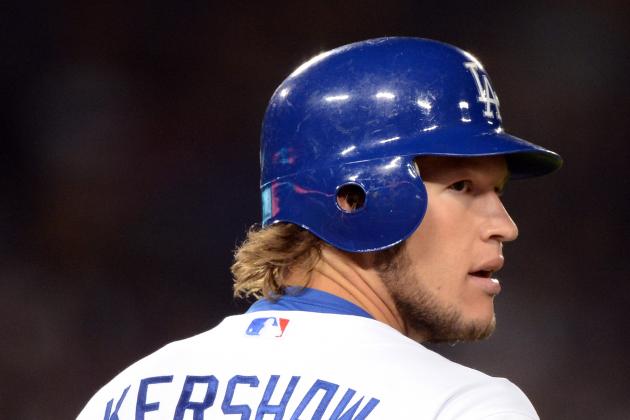 Harry How/Getty Images

American League Cy Young - Justin Verlander
I thought long and hard about picking Verlander, but realized that my only knock against him was that he won it last year. If he was not the reigning honoree, he would be winning everyone's ballot by a landslide.
No, he had not been as dominant as last year, but he is still the best in the league, and by a decent margin.
He wins across the board statistically, but what really sets him apart is his performances against tough competition and his durability.
No, the AL Central is not nearly as competitive as other divisions, but against the White Sox and other quality competition, he has been absolutely lights out.
And his innings pitched so far surpasses his closest Cy Young competitors, preserving the Tigers' bullpen and maintaining unwavering command on a game.
He is simply the class of the American League.
AL Cy Young Top 5:
1. Justin Verlander
2. Chris Sale
3. David Price
4. Fernando Rodney
5. Jared Weaver
National League Cy Young - Clayton Kershaw
No, Kershaw does not have anywhere near Gio Gonzalez's league-best 21 wins. In fact, he's only 13-9. But haven't we given up on putting so much emphasis on a pitcher's wins?
If you ask yourself which pitcher in the National League has unabashedly dominated the competition, it has to be Kershaw.
Throw out the win-loss columns and the statistics agree as Kershaw wins in ERA, WHIP and is essentially tied with R.A. Dickey for the strike out title.
But most importantly, Kershaw has pitched his absolute best in September as the Dodgers try to keep their playoff hopes alive.
On as star-studded a lineup as exists in Major League Baseball since the Red Sox mega-deal, many thought that he would get lost in the hype. But he has completely outshone his new teammates and is the main reason why the Dodgers have competed until the end of the season.
NL Cy Young Top 5:
1. Clayton Kershaw
2. Gio Gonzalez
3. R. A. Dickey
4. Johnny Cueto
5. Craig Kimbrel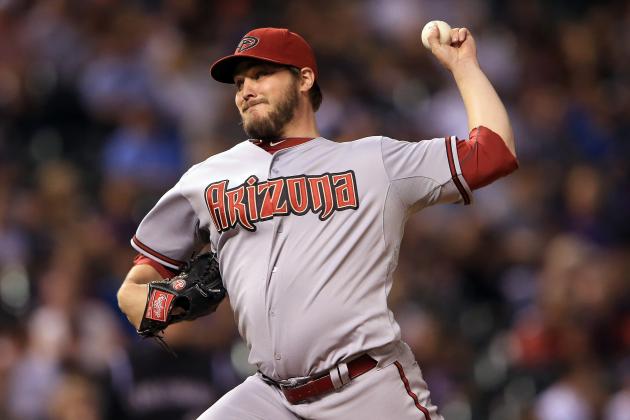 Doug Pensinger/Getty Images

American League Rookie of the Year - Mike Trout
Decisions really don't get much easier than this. The American League had a very impressive crop of rookies this year, but no one ever came close to Trout. Take a look at all of his MVP credentials and then factor in that he is only 21 years old.
He is not only the Rookie of 2012, he is arguably the most impressive rookie in history.
AL Rookie of the Year Top 3:
1. Mike Trout
2. Yu Darvish
3. Yoenis Cespedes
National League Rookie of the Year - Wade Miley
This was a close race, bogged down by the uber-hyped Bryce Harper and other solid performers in Norichika Aoki, Todd Frazier and Wilin Rosario, but I think that Miley gets a hard-fought win.
He has been solid all year long on a pitching staff anchored by Ian Kennedy who had a season to forget.
Instead of falling into Kennedy's black hole, Miley posted impressive numbers for any starting pitcher without even considering he's a rookie.
Bryce Harper might be the better player three or four years from now, but as for 2012, Miley leads the NL class.
NL Rookie of the Year Top 3:
1. Wade Miley
2. Bryce Harper
3. Wilin Rosario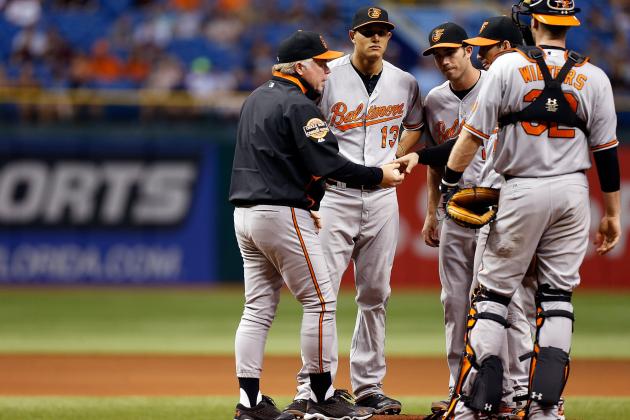 J. Meric/Getty Images

American League Manager of the Year - Buck Showalter
This was a tough choice between Showalter and Athletic's manager Bob Melvin, but the Orioles manager gets the nod for a couple reasons.
First of all, the Orioles have been so bad for so long that their name had become synonymous with failure and disappointment.
It takes a truly special manager to turn around a culture of losing and Showalter has made this team a legitimate playoff contender in no time at all.
And secondly, he did it in the AL East. The Blue Jays were thought to be an emerging threat to the powers that be, but Showalter's Orioles leapfrogged them into playoff contention.
National League Manager of the Year - Dusty Baker
The race for Manager of the Year has been incredibly clustered, but Dusty Baker has done an especially commendable job leading his team.
Sure, Joey Votto and Johnny Cueto can make any manager's life a little easier, but Baker should get credit for weathering an incredible storm of injuries to this team.
His bench was considered a weakness heading into the season, but he plugged the right holes with the right guys and discovered lots of surprise stars, such as rookie Todd Frazier.
He also did a fantastic job juggling his bullpen and keeping his pitchers happy.
Many people would put Davey Johnson in this spot, but I think that Baker has overcome more obstacles this season.