NFL Draft 2013: 5 College Players Who Are Streaking Up the Board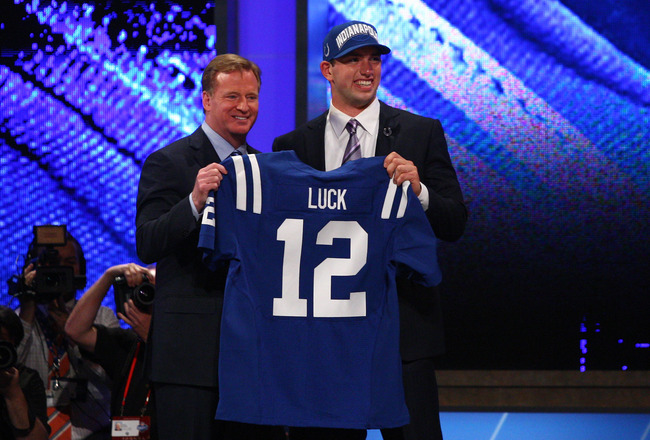 Chris Chambers/Getty Images
Talking or writing about the NFL draft is never out of season.
It seems like almost every day there is someone on SportsCenter talking about which players will be going where in the NFL draft next April.
Here at the Bleacher Report, things are no different.
With the first month of college football over, there has been much speculation about which players are top 10 worthy.
Here, I will not try to give you a list of potential top 10 picks in this year's NFL draft. Instead, I will give you five players who are having great collegiate seasons so far and are thus looking at rising up the draft board in the coming months.
Geno Smith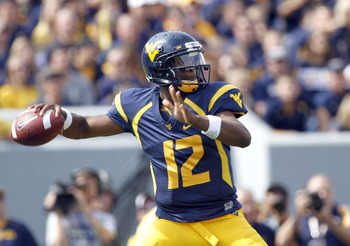 Justin K. Aller/Getty Images
After his ridiculously great game last weekend against Baylor, Geno Smith is not just drawing serious Heisman Trophy consideration. He is also quickly climbing NFL draft boards.
In the aforementioned game against Baylor last weekend, Smith threw for 656 yards and eight touchdowns. He also threw only six incompletions out of his 51 passes.
Those are some gaudy numbers.
Now, the case could be made that a guy like Smith is just a product of the offense that he plays in.
However, the same could be said about guys like Cam Newton and Robert Griffin III when they came out of college. The two of them were not only selected in the top two picks but have also found success at the next level.
NFL teams are tending to take dual-threat QBs like Geno Smith in the draft these days, and that can only help his draft stock rise.
Manti Te'o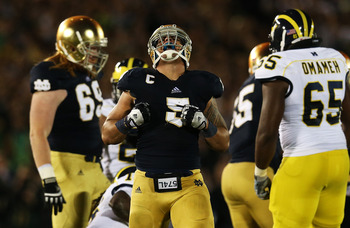 Jonathan Daniel/Getty Images
Prior to the start of this season, Manti Te'o was already considered to be one of the top linebacker prospects for the NFL draft.
His performance on the field thus far has done nothing but enhance his draft stock.
Te'o has been the clear leader on defense for the 4-0 Irish. Te'o's two-interception game against Michigan two weeks ago was the highlight of a dominating defensive performance.
Look for Te'o's draft stock to keep rising if Notre Dame continues to win by playing great defense the rest of the season.
Le'Veon Bell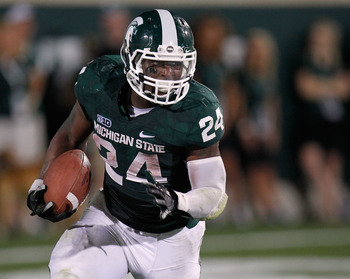 Gregory Shamus/Getty Images
Yes, his stats were not great against top opponents Notre Dame and Ohio State this year.
But that shouldn't and won't stop Le'Veon Bell's draft stock from rising this year.
Bell has already had two 200-plus rushing yard games this year and looks as if he will eclipse the 1,000-yard barrier with relative ease before the end of the season.
Bell is also a big physical specimen at 6'2'', 244 pounds and possesses a skill set that combines a physical power running style with breakaway speed.
Thus, he has the making of a top-tier running back at the next level. Watch out for Bell to continue to build on the success he has had so far this season.
Marcus Lattimore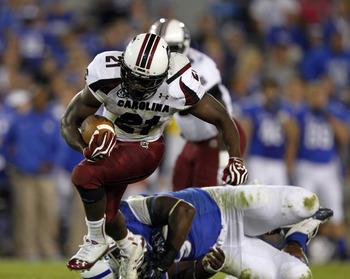 John Sommers II/Getty Images
After suffering a season-ending knee injury last season, junior Marcus Lattimore picked up right where he left off prior to his injury.
In his freshman season, he rushed for over 1,000 yards and 17 touchdowns and had over 400 yards receiving and two more touchdowns.
In his injury-plagued sophomore campaign, he amassed over 800 yards and 10 touchdowns rushing to go with another 182 yards receiving and one touchdown in just seven contests.
This year he has amassed 440 yards rushing and eight touchdowns to go with another 109 yards receiving.
Lattimore's dual-threat capabilities will make him a hot commodity at the next level. Look for him to rise up draft boards as the season progresses and as the NFL draft draws near.
Johnathan Hankins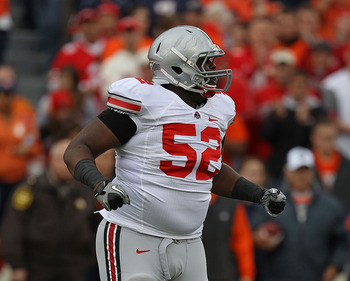 Jonathan Daniel/Getty Images
This big guy has somehow kept a relatively low profile over the past two years.
Strange, considering his size.
Hankins measures in at a massive 6'3'', 317 pounds.
At 317 pounds, he is big enough to go toe-to-toe with some of the biggest offensive linemen in the game. And any offensive linemen smaller than him will have to try to outmuscle him in order to block him.
While his size is a big part of his game, he also gets a great push from his lower body in goal-line situations and has shown the ability to chase down a quarterback or two.
The biggest thing going for Big Hank right now is the attention that opposing teams are paying to his linemate, John Simon. Opposing teams double-teaming Simon leaves Hankins free to beat his man and create havoc in the backfield.
Look for his name to start rising up the boards as Big Ten conference play begins to heat up.
Keep Reading