Projecting the NFL All-Pro Team at the 2012 Season's Quarter Mark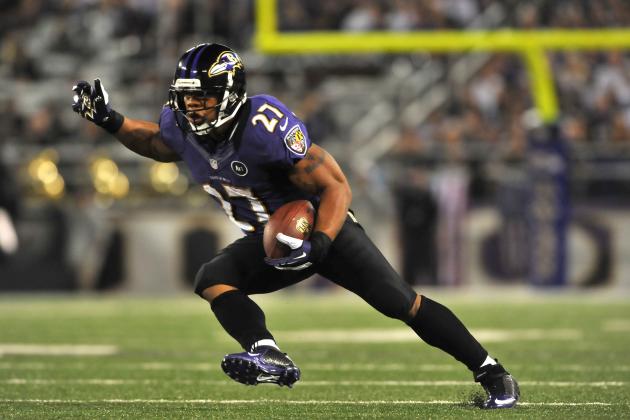 Larry French/Getty Images

Forget about Pro Bowls; players don't want to make a forced trip to Hawai'i and waste their time with pointless practices and a game that could result in injury.
One honor players do care about is the All-Pro teams selected at the end of each year. Players know that the Pro Bowl vote is largely biased with fan voting included. To know who the best players in the game really are, check out an All-Pro roster.
With one quarter of the season gone, we're taking a fresh look at which players are standing out most at each position.
Begin Slideshow

»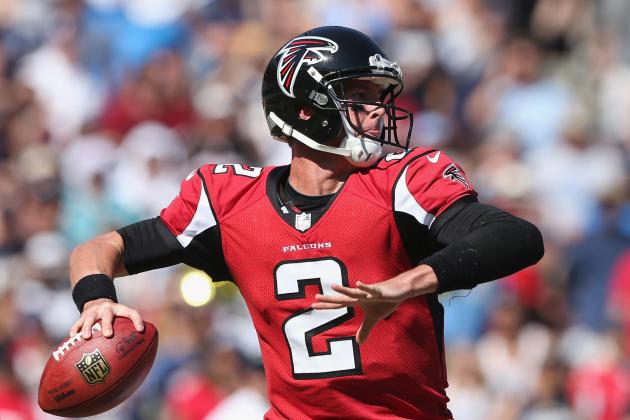 Jeff Gross/Getty Images

First Team: Matt Ryan, Atlanta Falcons
The NFL is loaded with great quarterbacks, but no one has outplayed Matt Ryan this season.
With a 4-0 record, Ryan has the merits of wins and stats to back up his claim. Whether you want to judge by raw numbers or on-field performance, the Atlanta Falcons quarterback is the only choice as the top quarterback in the game right now.
Second Team: Tom Brady, New England Patriots
Tom Brady isn't listed here on reputation. He's earned his spot on the All-Pro roster.
Brady has been on fire again this season, throwing seven touchdowns to just one interception through four games. He's also thrown for the fourth-most yards (1,227) and put up a passer rating of 102.4. It would be easy to list the future Hall of Famer here on name alone, but Brady's play this year is as good as ever.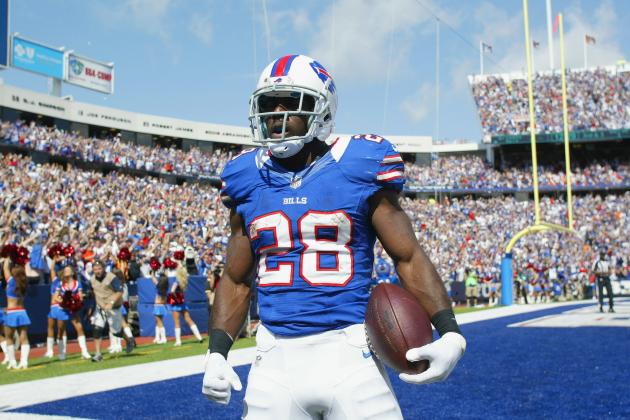 Rick Stewart/Getty Images

First Team: C.J. Spiller, Buffalo Bills
Injuries and shared carries with Fred Jackson may ultimately end C.J. Spiller's All-Pro chances this season, but through four weeks, he has to be given the nod.
Spiller is averaging 8.3 yards per carry, and on 41 carries, that's pretty amazing. His open-field moves and speed make him a threat any time he gets his hands on the ball. As a runner and receiver, Spiller has been the Bills' most valuable player.
Second Team: Ray Rice, Baltimore Ravens
Today's running back must be a runner and a receiver. You see that with both of our selections at running back.
Rice has been a great runner this year, even with limited opportunities (64 carries). What makes the Ravens back so valuable is that when he's not picking up yards on the ground, he's a safety valve in the passing game and a sure-handed option for Joe Flacco.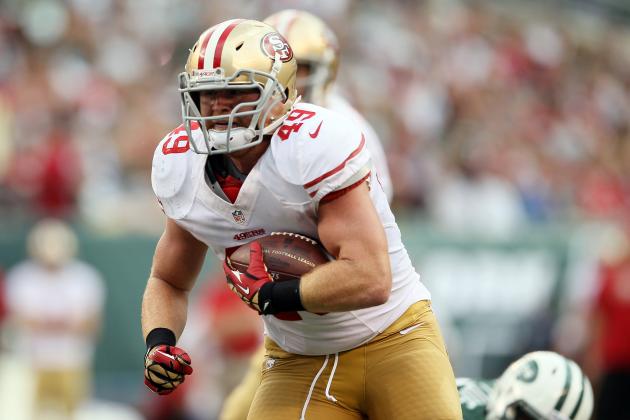 Elsa/Getty Images

First Team: Vonta Leach, Baltimore Ravens
There is no statistical metric to analyze fullbacks, as their responsibilities vary from team to team, but based on pure ability and performance, Vonta Leach gets our vote as the game's best.
Leach is the most dominant lead blocker from the position, and he's head and shoulders above the rest.
Second Team: Bruce Miller, San Francisco 49ers
Versatility is the key to the San Francisco 49ers offense, and Bruce Miller fills that role beautifully. He's able to play in a traditional lead-blocker role, can flex out to the slot position as a receiver and even played some as the boundary receiver in the team's win over the New York Jets.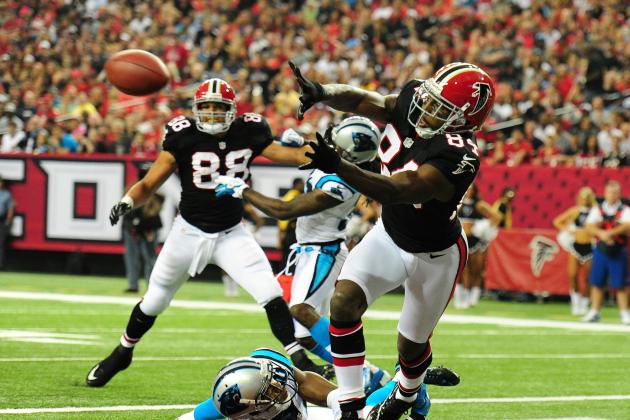 Scott Cunningham/Getty Images

First Team: Calvin Johnson, Detroit Lions and A.J. Green, Cincinnati Bengals
If you asked NFL scouts to list the traits they'd want in a wide receiver, you'd get Calvin Johnson and A.J. Green.
The two oversized monsters are more than just big bodies. Johnson and Green have the crazy ability to outrun smaller cornerbacks, to cut and change direction to throw off the most agile players and then the strength to go up for the football and overpower defenders.
There isn't a more gifted receiver in the game than these two.
Second Team: Roddy White, Atlanta Falcons and Percy Harvin, Minnesota Vikings
Roddy White's picture should show up when you Google "franchise wide receiver." White isn't flashy; he's just damn-near perfect for the position. His 27 catches are tied for fifth-most in the NFL, and with Matt Ryan having a career season, White's numbers should take off even more.
Percy Harvin has been off the charts good this season. He's fourth among all receivers in catches and has made a huge impact as a returner.
The 3-1 Vikings owe their fast start to a lot of players, but Harvin is finally realizing his potential and playing up to the level the team saw when it drafted him out of Florida.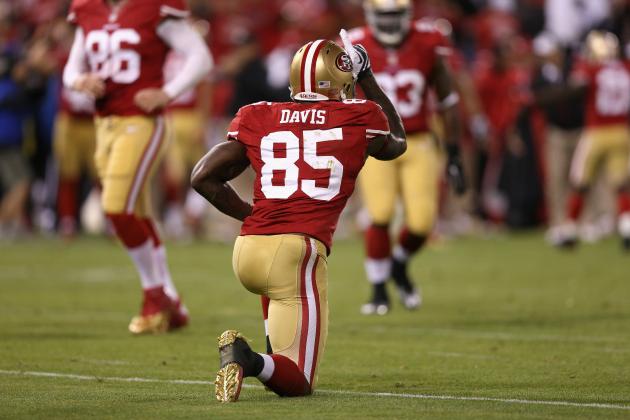 Ezra Shaw/Getty Images

First Team: Vernon Davis, San Francisco 49ers
When you combine the athletic ability of a wide receiver with the blocking ability of an offensive lineman, you get Vernon Davis.
Davis' ability isn't understandable. Players his size aren't supposed to be fast and strong. A 253 lb tight end shouldn't be able to move defensive ends, but Davis does it. And when he's not dominating as a blocker in the run game, he's making plays as one of the most athletic players in all of football.
Second Team: Martellus Bennett, New York Giants
We took a lot of heat for praising Martellus Bennett in the 2012 B/R 1,000 series, but that scouting report looks pretty good right now.
Bennett has proven that given the opportunity to play more, he could thrive. And thrive he has. Bennett's three touchdown catches are second-most among tight ends, and his blocking has been a key element to the Giants' run game.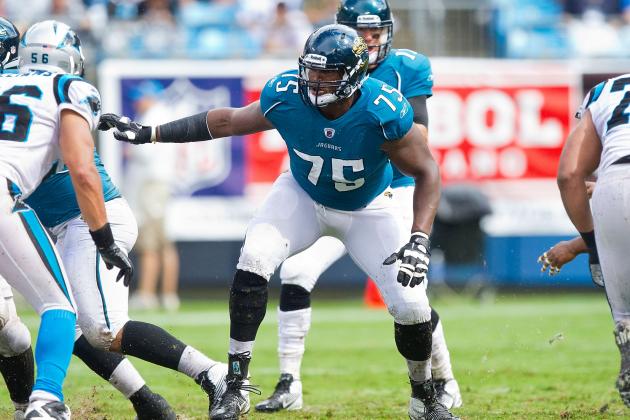 Brian A. Westerholt/Getty Images

First Team: Ryan Clady, Denver Broncos and Duane Brown, Houston Texans
Not one sack has been allowed on the watches of Ryan Clady and Duane Brown so far this season. The two left tackles have been exceptional at protecting their quarterbacks, but also at getting out in front and fueling strong running offenses.
Brown continues to dominate following a 2011 season in which he didn't allow a sack. That makes 20 straight regular season games he's played without giving up a sack.
Clady has protected Peyton Manning to perfection, allowing the veteran quarterback plenty of time to execute.
Second Team: Eugene Monroe, Jacksonville Jaguars and Joe Staley, San Francisco 49ers
Joe Staley has struggled in spurts this season, and his sacks allowed number (five) is high, but his all-around game has been remarkable. Staley shut out Jared Allen and has been perfect as a run blocker.
Eugene Monroe has surrendered just one sack, but like Staley, his play in the run game has been ideal. Monroe won't get much national attention, but he's playing at a very high level.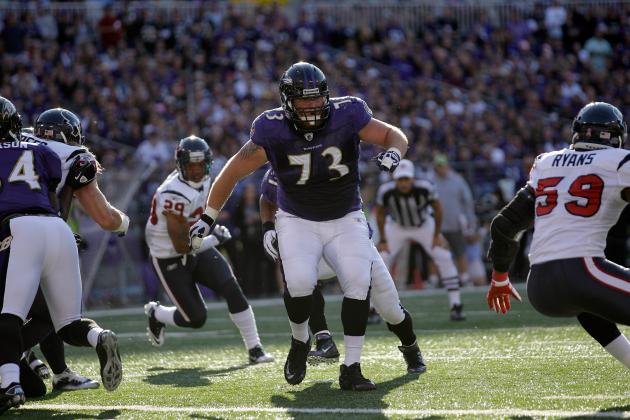 Rob Carr/Getty Images

First Team: Marshal Yanda, Baltimore Ravens and Ben Grubbs, New Orleans Saints
Both of our first-team guards spent the 2011 season with the Baltimore Ravens, which should tell you just how good their offensive line was.
Yanda continues to be the cream of the crop at offensive guard. He's nearly flawless in technique and execution. Grubbs, in his first season with the Saints, has hit the ground running. His agility is key to their screen and run game, and his protection of Drew Brees has been great.
Second Team: Mike Iupati, San Francisco 49ers and Evan Mathis, Philadelphia Eagles
Mike Iupati is one of the best run blockers—regardless of position—in the NFL today. His strength at the point of attack is legendary, and as he develops, we figure to see his name on many All-Pro ballots.
Mathis has been worth the money in Philadelphia. He's not allowed a sack all season, a pretty telling stat considering he protects the most run-happy quarterback in the league. Michael Vick loves to hold on to the ball, and Mathis does a great job keeping him clean.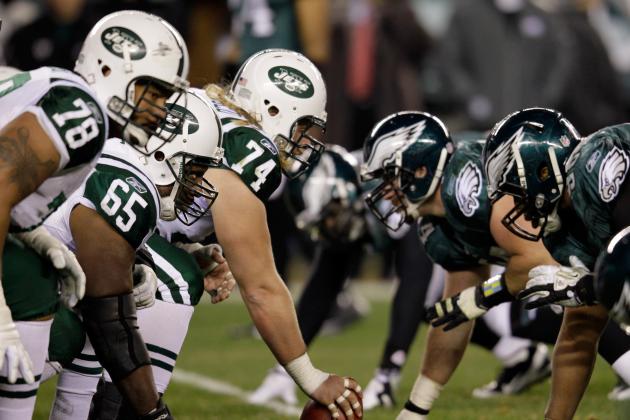 Rob Carr/Getty Images

First Team: Nick Mangold, New York Jets
No surprise here; Nick Mangold has been the NFL's top center for quite some time.
Mangold does all the little things well. Even in an offense that's struggling this season, his play stands out as an example of how to play the position with great leverage and strength.
Second Team: Mike Pouncey, Miami Dolphins
Mike Pouncey has made a huge jump in production from last season, earning himself a seat at the table with the best linemen in the game.
Pouncey's run blocking has been the best of any center this season, and Reggie Bush would agree. Pouncey's ability to fire off the ball and clear the "A" gap is textbook for how a center should anchor in the run game.
Thomas B. Shea/Getty Images

First Team: J.J. Watt, Houston Texans and Chris Clemons, Seattle Seahawks
What J.J. Watt has done this year is tough to put in numbers, but let's try: Eight sacks, five passes batted down and seven quarterback hurries. All that in four games—oh, and this is only his second season in the league.
Watt has been the most dominant defensive player in football through four weeks. If he keeps this up, a Defensive Player of the Year award will be his.
Chris Clemons has been dominant as well, coming off the edge for the Seahawks defense. His play against Green Bay put his name on the map for casual fans, but Clemons has been doing this since entering the league--just maybe not at such a high rate.
In a pass-heavy NFL, players like Clemons who can threaten to sack the quarterback consistently are invaluable.
Second Team: Justin Smith, San Francisco 49ers and Chris Long, St. Louis Rams
Justin Smith isn't having the once-in-a-decade performance he turned in last season, but he's still showing up in a big way for the NFL's best defense.
Smith's play as the right defensive end for the 49ers is the key to everything they do defensively. He's stout against the run, great when going after the quarterback and his ability to stunt with Aldon Smith opens up so much for the team's blitz packages.
Chris Long is having another great year. Jeff Fisher's scheme has been ideal for the big defensive end, and he's producing with 20 quarterback hurries in four games. That's an unreal rate for any player.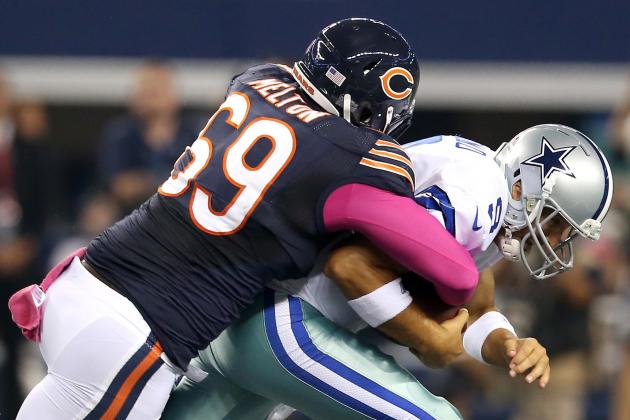 Ronald Martinez/Getty Images

First Team: Gerald McCoy, Tampa Bay Buccaneers and Geno Atkins, Cincinnati Bengals
If grading defensive tackles on their ability to get to the quarterback, no two players have made more of an impact than Gerald McCoy and Geno Atkins.
McCoy has been on a tear this year now that he's finally healthy. His three sacks and 11 quarterback hurries have set the tempo for the Tampa Bay defense. McCoy isn't just a pass rusher, though. Pro Football Focus ranks McCoy as a Top 10 run-stopper among defensive tackles.
Atkins is continuing on what he started in 2011, and few are able to stop him. With five sacks and 13 quarterback hurries, Atkins leads all defensive tackles in his ability to get to the quarterback and make plays. The Bengals have a stud in their young defensive tackle.
Second Team: Henry Melton, Chicago Bears and Haloti Ngata, Baltimore Ravens
Henry Melton needed a breakout game, and he got one on Monday night of Week 4. Facing the Dallas Cowboys, Melton couldn't be stopped. There are a number of great defensive tackles in today's game, but Melton's combination of quickness and strength make him a favorite of ours.
You can't list All-Pro defensive tackles without Haloti Ngata. His versatility is the catalyst for the Baltimore Ravens front, as he moves around between end and tackle depending on the down and distance. No matter where you put him, Ngata is sure to make plays.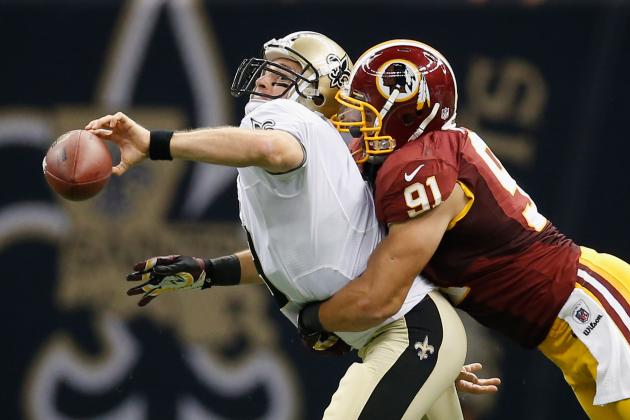 Chris Graythen/Getty Images

First Team: Clay Matthews, Green Bay Packers and DeMarcus Ware, Dallas Cowboys
You really can't do the job of an outside linebacker any better than Clay Matthews has through four weeks.
With 7.5 sacks and 11 quarterback hurries, Matthews is on pace for a record-setting season. Along with J.J. Watt, Matthews is a front-runner for the Defensive Player of the Year award and maybe a shot at a league MVP.
Ware continues to excel year after year. With five sacks and nine quarterback hurries, Ware is once again making big plays for the Dallas defense. He's a perennial first-teamer.
Second Team: Ryan Kerrigan, Washington Redskins and Justin Houston, Kansas City Chiefs
As great as Matthews has been, Ryan Kerrigan actually has more quarterback hurries (15). Kerrigan has a very reputable five sacks through four games, perhaps all the more impressive considering he's doing it without Brian Orakpo lined up on the other side.
Houston has come on strong this year, taking the spotlight away from Tamba Hali. With four sacks in his first four starts, Houston is showing the burst and flexibility that made him a first-round draft prospect coming out of Georgia.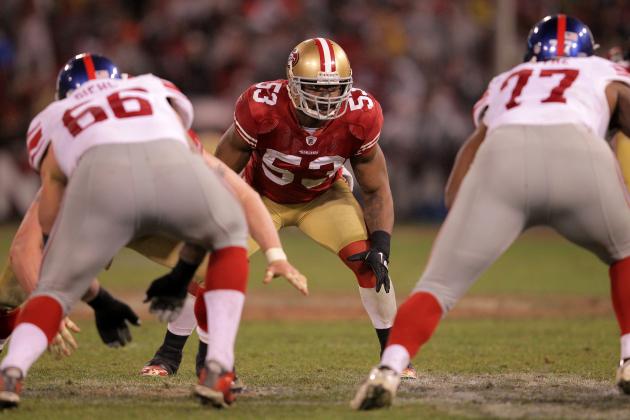 Doug Pensinger/Getty Images

First Team: NaVorro Bowman and Patrick Willis, San Francisco 49ers
It's scary that the two best inside linebackers in the NFL play for the same team, but they do.
Bowman and Willis have opposing offenses on lockdown from the opening snap. Combined, they have 54 tackles and two interceptions, but numbers don't even do it justice. Bowman and Willis are truly three-down players—able to stop the run as best as anyone in the NFL and then able to get deep to cover tight ends and backs coming out into routes.
Second Team: DeMeco Ryans, Philadelphia Eagles and Daryl Washington, Arizona Cardinals
The trade that sent DeMeco Ryans to the Eagles is paying off for Philadelphia. Ryans has been all over the field for the Philly defense, making big plays against the run and even picking off one pass in coverage. Ryans' spot should be secure if he can keep up this pace.
Daryl Washington might be a name new to some casual fans, but his play has been impressive. Washington does it all, playing much like Bowman or Willis for the 49ers. He's a key tackler in the Cardinals' hybrid scheme, and his athletic ability allows him to make plays in coverage and as a pass-rusher.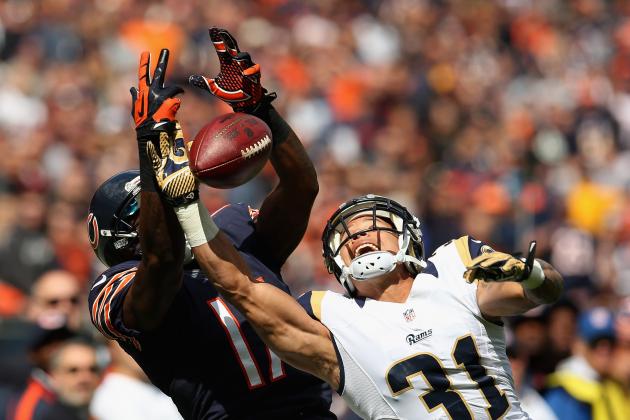 Jonathan Daniel/Getty Images

First Team: Tim Jennings, Chicago Bears and Lardarius Webb, Baltimore Ravens
The injury to Darrelle Revis opens the door for a new first-team cornerback, and Tim Jennings has jumped out to an early lead.
Jennings has been dominant thus far, intercepting four passes through four weeks and making his presence known in the run game as well.
Lardarius Webb has taken Revis' place as the best cornerback on the field right now. When quarterbacks do through his way, bad things happen for the offense. Webb has allowed quarterbacks a passer rating of just 46.3 this year.
Second Team: Cortland Finnegan, St. Louis Rams and Alterraun Verner, Tennessee Titans
Cortland Finnegan may not have many fans outside of St. Louis, but his play has been amazing this season. Finnegan is allowing a passer rating of 36.7, according to Pro Football Focus, and has been a physical presence as the Rams become a more aggressive team overall.
Alterraun Verner's spot was originally going to Dominique Rodgers-Cromatie, but the Week 4 games brought on a change. Verner has been lights-out this year, keeping quarterbacks in check and also showing he can be a physical presence against the run. Rodgers-Cromartie has been good; Verner has been great.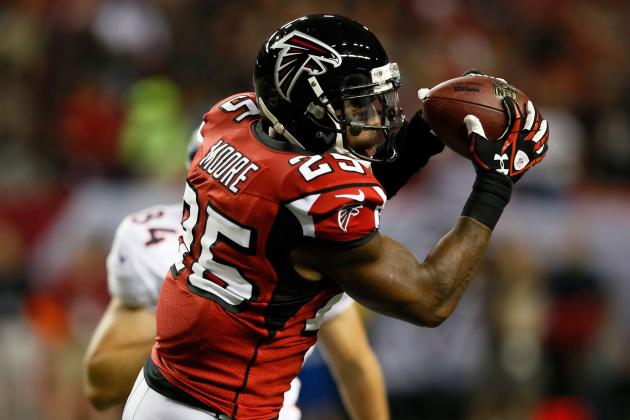 Kevin C. Cox/Getty Images

First Team: William Moore, Atlanta Falcons
However you want to look at it, William Moore has been dominant for the Atlanta Falcons defense this year.
With one sack, 12 tackles and two interceptions, Moore has made his mark in every game thus far. He's keeping offenses in check with his range and ability to pull the chain and make tackles against the run.
Unsure of how good Moore has been? Just ask Peyton Manning. Moore was a big part of the reason the Falcons walked all over the future Hall of Famer.
Second Team: Eric Weddle, San Diego Chargers
The human football magnet is at it again.
Weddle's two interceptions are second among NFL safeties, and his quarterback rating allowed of just 37.1 is fifth among starters at the safety position. Weddle continues to impress, building on a strong reputation from the 2011 season and showing once again why he's a top performer.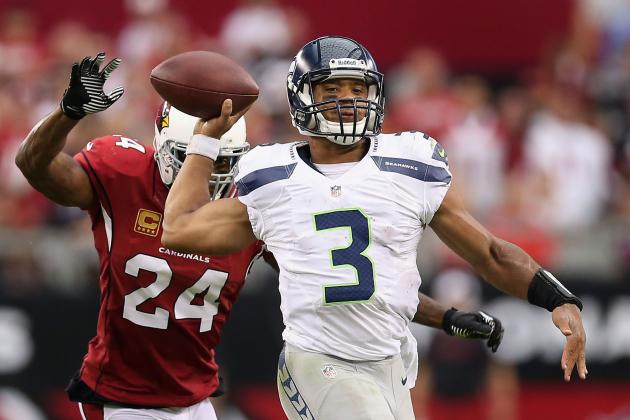 Christian Petersen/Getty Images

First Team: Adrian Wilson, Arizona Cardinals
This is almost too good to be true: Adrian Wilson's allowed passer rating is 0.7. That's it.
Wilson has long been known as a hard-hitter, but he's playing his best ball through four weeks of the year. Wilson's impact has helped the Arizona Cardinals jump out to a surprising 4-0 start, putting him on the fast track to a first-team All-Pro spot.
Second Team: Thomas DeCoud, Atlanta Falcons
In terms of pass coverage, few players in the NFL at any position have been as good as Thomas DeCoud.
DeCoud, through four games, is allowing a passer rating of 10.2. That's Tim Tebow bad. DeCoud has been all over the field, picking off three passes and turning in 21 tackles. He's not the most well-known safety, but that's just fine; he's playing like the best.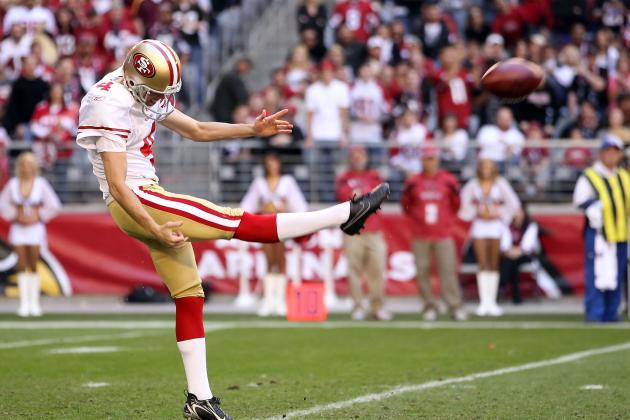 Christian Petersen/Getty Images

Kickers: Phil Dawson, Cleveland Browns and Greg Zuerlein, St. Louis Rams
Phil Dawson may very well go down as one of the greatest kickers of all-time. His play in the 2012 season will definitely help that candidacy. Dawson has been perfect for the Browns, giving them a reliable go-to when the offense bogs down. And that's happened a lot.
David Akers was set to take the second-team vote until his miserable performance against the New York Jets. Instead, rookie Greg Zuerlein steps up. Zuerlein has been a top-three kicker all season, impressive considering he was at tiny Missouri Western State last year.
Punters: Andy Lee, San Francisco 49ers and Shane Lechler, Oakland Raiders
Andy Lee's ability to pin the ball deep is hands-down the best in the NFL. No one else should be considered for the top spot on the All-Pro roster.
The second-team punter was tougher. Shane Lechler and Bryan Anger have both played very well, but given the conditions that Lechler must punt in, he gets the early season nod.
Returners: Darius Reynaud, Tennessee Titans and Josh Cribbs, Cleveland Browns
Had he not been listed at wide receiver, Percy Harvin would have won a spot here. Since he was, the top two returner positions easily go to Darius Reynaud and Josh Cribbs.
Reynaud came out of nowhere to spark the Titans' special team play with a punt return touchdown and an across-the-field pass that set up a touchdown return by Tommie Campbell. That's called being a dual threat.