NY Yankees: 4 Reasons Joe Girardi Needs a Deep Playoff Run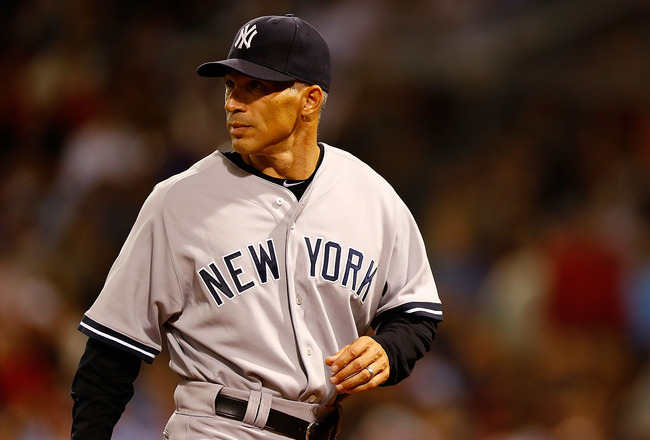 Joe Girardi needs a deep playoff run from his Yankees, and here's four reasons why.
Jared Wickerham/Getty Images
The New York Yankees may have already clinched a playoff berth, but Joe Girardi has his fingers crossed for a deep playoff run.
The Yankees are playing average ball as of late—having won six of the last 10 games they've played.
The Yankees aren't going to advance far if they continue playing the way they are, and that's going to be detrimental to Joe Girardi and have a ripple effect on the entire organization.
That's why Girardi needs to advance, but there's more to it than just that.
All Eyes Are on Him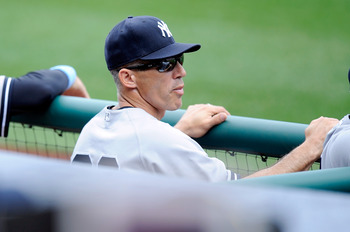 The shades can't hide Girardi from the fans that have their eyes on him.
Greg Fiume/Getty Images
When you manage a sports team in New York, you know that you're on the biggest stage of them all.
That's the exact situation Joe Girardi is in with the Yankees.
The New York Yankees are a franchise that is synonymous with success and championships, and with that comes envy.
Girardi is aware that all eyes are on him, and he knows that for every one person that wants him to succeed, there's two hoping he fails—the pros and cons of being in the "concrete jungle" of New York.
With the way the Bronx Bombers have been playing lately, there's no question that Girardi is on the hot seat. Everyone's watching to see how his team is performing, or if they're living to the potential of the payroll.
Even those that aren't Yankee fans are watching the games just because of how close the race is.
It's almost like watching a postseason game.
Having Girardi in the bright lights could be a bit intimidating—even if he's been in this position before.
His Job Depends on This Season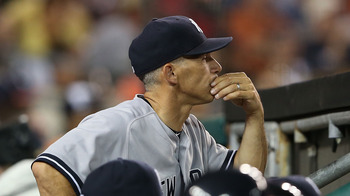 Joe Girardi has been the Yankees' skipper for the last five years, but this could be his last if the Yanks don't shape up.
Leon Halip/Getty Images
Joe Girardi came over to New York in 2008 and has been their manager for the last five years, but if the Yankees don't advance deep enough, he could be shown to the exit.
Up to this point in his career with the Yanks, Girardi is 806-475—a win-loss percentage of .586. However, since 2008, he's only claimed one pennant and one World Series title. While those aren't bad accomplishments, they're not up to New York's standards.
While winning, things appear just peachy for the Yankee skipper, but when the Yankees lose games because of a questionable move Girardi pulls, things begin to get sour quick.
I'll let this marinate in the back of your mind. If the Yankees let go of Joe Torre after a 94-win season, Girardi is replaceable.
Deep Run Could Lure Free Agents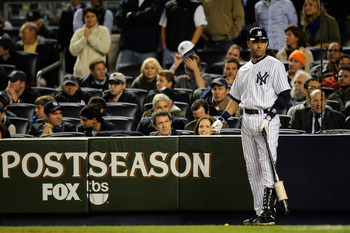 Every free agent has two things on their minds—money and a championship. Coming to the Yankees enables them to chase both.
Patrick McDermott/Getty Images
Every manager wants to have weapons at their disposal, and if Joe Girardi's Yankees can advance deep enough, free agents will be watching and surely considering to play for New York.
There are always athletes that want more exposure—and what better place to gain exposure than the Big Apple?
The Yankees present the opportunity to not only make the playoffs annually, but to compete and advance in each one of them—Girardi is banking on the latter for this 2012 season.
Guys like Josh Hamilton, Shane Victorino and Ryan Dempster could see new homes next season, and maybe, just maybe, GM Brian Cashman will make a pitch.
If Girardi can advance deep enough, free agents will definitely give New York a look, and if the Yankees can make a splash in free agency, Girardi might become better suited to succeed in the future—but all that hinders on the upcoming postseason.
There's Other Guys for the Job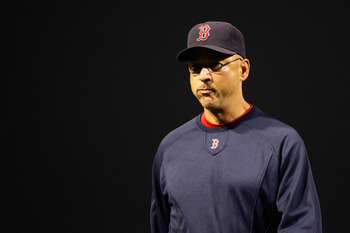 There's an abundance of replacements that could easily transition into pinstripes with ease.
Rob Carr/Getty Images
There's no shortage of replacements for Joe Girardi—quality replacements too!
Terry Francona is looking for a job; Joshua Barnett of USA Today reported that Francona is set to interview for the vacant managerial spot with the Cleveland Indians.
Time and time again we've seen Lou Piniella on the YES Network giving his expert analysis on pre-game shows. You've got to believe that he's got an itch to be back, especially if he still has love for the game.
Heck, Andrew Marchand of ESPN.com reported that even Joe Torre is coming back to manage—don't get too happy, it's just the U.S.team in the World Baseball Classic. Could you imagine if the Steinbrenners brought back the former Yankees skipper?
While those three are long-shot candidates, you've got to believe that if Joe Girardi doesn't advance far enough in the playoffs then his job is in jeopardy...even if it is to someone that may be less qualified.
Keep Reading

New York Yankees: Like this team?