Fantasy Football: 10 Prominent Players to Realistically Trade for Right Now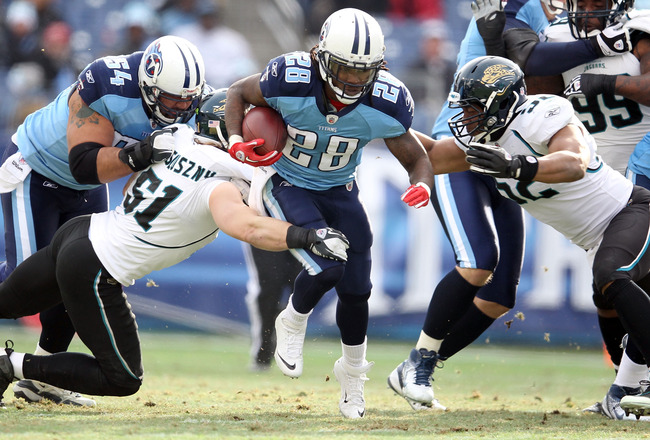 Running back Chris Johnson, a consensus Round 1 fantasy pick during the preseason, has produced only 45 rushing yards (108 total) in his opening three games with the Titans.
Andy Lyons/Getty Images
The following countdown details 10 playmaking stars whose fantasy values have noticeably declined since the preseason—for various reasons.

As a result, each one could be had for a reduced-market trade price before Sunday's slate of games, provided prospective owners can push the right buttons during negotiations.

For an extended listing of 25 assets to realistically acquire before Sunday, click here.
10. RB DeMarco Murray, Dallas Cowboys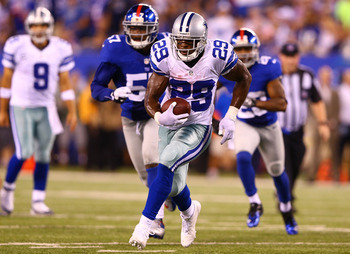 Al Bello/Getty Images
2012 Stats: 270 Total Yards (213 Rushing), 1 TD

Skinny: The Cowboys only have 47 total points on the season, which has fantasy owners (frantically) wondering if they may have overrated the collective impact of Tony Romo, Dez Bryant, Miles Austin, Jason Witten and DeMarco Murray.

Especially when third-stringer Kevin Ogletree is responsible for two of Dallas's six touchdowns.

But I'm not too worried about Murray's fantasy ceiling from this point forward.

He's still the same back who punished the Giants for 140 total yards on opening night, and he's still the best option in the Cowboys' backfield (sorry, Felix Jones, but it's not close).
9. QB Cam Newton, Carolina Panthers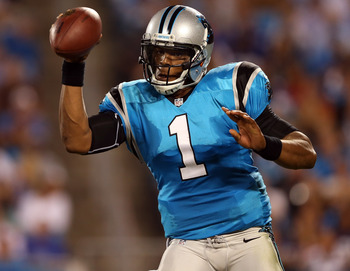 Streeter Lecka/Getty Images
2012 Stats: 879 Total Yards (798 Rushing), 4 TD

Skinny: It took 19 professional games to happen, but Cam Newton finally played and acted like a rookie.

In the Panthers' blowout home loss to the Giants on Sept. 20, Newton accounted for only 248 total yards and one touchdown, while tossing three ugly interceptions.

It was the awkward, head-shaking experience that Newton amazingly bypassed during a rookie campaign that included 4,757 total yards, 35 touchdowns and back-to-back outings of 400 yards passing.

A month ago, you would have been laughed out of the room for initiating Newton-focused trade discussions with Owner B.

But after one wretched performance, don't be surprised to hear that same GM stealthily inquire, "Just curious. What would you have given me for Newton?"

There's a reason why Newton had perhaps the greatest fantasy season of any rookie in history. His passing/rushing talents are off the charts, and his cast of playmakers is slowly rounding into tip-top shape for the final 13 weeks.

Bottom line: Prospective owners have a short window of time to take advantage of a Newton owner's short-term frustration.
8. RB Darren Sproles, New Orleans Saints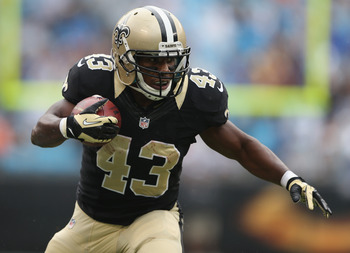 Streeter Lecka/Getty Images
2012 Stats: 215 Total Yards (62 Rushing), 1 TD

Skinny: Color me crazy, but there's just something eerie about a premium talent like Darren Sproles posting two games of zero carries...and then one of zero catches after three weeks of NFL action.

It's almost like the Sean Payton-less Saints are having trouble defining Sproles' role in a high-capacity, but sluggishly performing offense.

In points-per-reception leagues, perhaps few people care that Sproles (18 catches) didn't register his first carry of the season until Week 3.

And perhaps things will get back on track in Green Bay this weekend, when the Saints and Packers (combined records: 1-5) go for broke in a must-win clash—for September, at least.

But it still doesn't hurt to nudge Sproles owners for an assessment of his current market value.

And it certainly doesn't hurt to pursue a slightly deflated asset who scored nine touchdowns from within 20 yards last year.
7. RB Steven Jackson, St. Louis Rams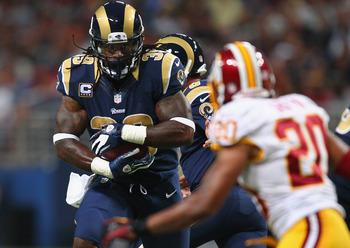 Dilip Vishwanat/Getty Images
2012 Stats: 176 Total Yards (140 Rushing)

Skinny: There's no point in justifying Steven Jackson's pedestrian average of 3.8 yards per touch this season, which includes six catches for 36 yards. So why even go there?

And it's hard for me to empirically silence the loud whispers that Jackson, at age 29 and 2,554 career touches, may be approaching that period in a running back's shelf life when he falls off the proverbial cliff of production.

(It also doesn't help that Jackson's Sundays continually involve groin or quad injuries.)

From a value standpoint, though, I still believe in Jackson's capacity for one more season of 1,200 total yards and seven touchdowns.

Take a look at the Rams' roster. Danny Amendola looks stellar only on field turf. Isaiah Pead isn't quite ready for prime-time carries. And QB Sam Bradford still has a lot of growing pains to work through.

For this campaign, St. Louis needs Jackson to finish strong.
6. RB Ahmad Bradshaw, New York Giants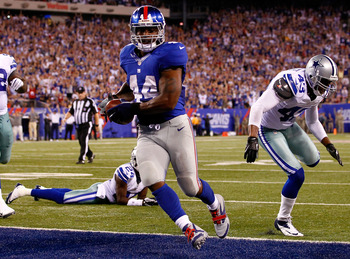 Jeff Zelevansky/Getty Images
2012 Stats: 109 Total Yards (94 Rushing), 1 TD

Skinny: There are people out there who believe Andre Brown (130 total yards, two TD in Week 3) is a better rusher than Ahmad Bradshaw.

The same Andre Brown who has latched onto five NFL teams (including the Giants twice) in just three short years, with minimal success.

There's also a pocket of fantasy-goers who believe rookie David Wilson (a first-round pick in April) could easily handle Bradshaw's workload, as soon as he figures out how to stop fumbling and get out of coach Tom Coughlin's doghouse.

Throw in the fact that Bradshaw might be hindered by a sore neck all season...and we have a golden opportunity to acquire him for a fraction of his draft-day price.
5. RB Fred Jackson, Buffalo Bills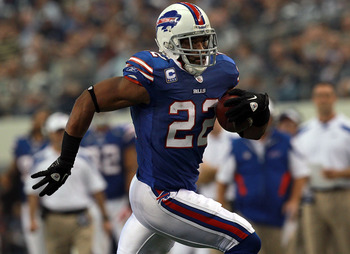 Ronald Martinez/Getty Images
2012 Stats: 6 Total Yards

Skinny: For once in this countdown, I understand the concerns that a major talent may not have the capacity for elite numbers this season.

After all, Fred Jackson has missed a good chunk of games the last two years with leg and knee injuries, and C.J. Spiller (the No. 1 fantasy tailback for Weeks 1 and 2) is a younger, faster, more explosive version of F-Jax.

And then there's Tashard Choice, who could certainly handle the role of Buffalo's No. 2 rusher in a pinch. For the remainder of the season.

But I'm not ready to give up on Jackson, not by a long shot. There's a reason why he was the AFC's leading rusher last year, before going down in Week 10.

When healthy, he's still an ideal cog in the Bills' big-play offense.
4. QB Michael Vick, Philadelphia Eagles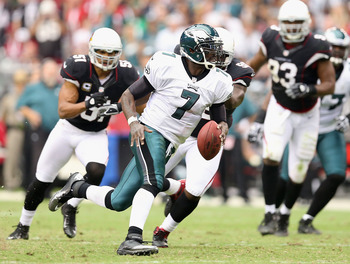 Christian Petersen/Getty Images
2012 Stats: 999 Total Yards (905 Passing), 4 TD

Skinny: From a fantasy standpoint, Michael Vick's seasonal numbers (333 total yards per game) are fine. No problem here.

But from a real-world perspective, it's fair to wonder how long Vick can stay healthy enough to lead the Eagles...or how long coach Andy Reid may want Vick to run Philly's offense in a make-or-break season.

That's the fallout of one bad loss to the Cardinals...and the result of Eagles fans falling head over heels for rookie QB Nick Foles during the preseason.

Here's the happy reality: When healthy, Vick represents the Eagles' best chance to win the division and go deep in this year's playoffs.

And if certain fantasy owners don't see that...then it's time to strike with an enticing offer.
3. WR Jordy Nelson, Green Bay Packers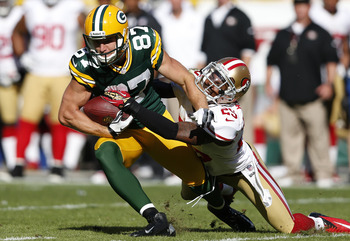 Joe Robbins/Getty Images
2012 Stats: 13 Catches, 167 Yards

Skinny: Need a overly simplistic reason to explain the Packers' diminished aura this season, compared to last year's 15-1 campaign?

Look no further than Jordy Nelson, who scored 15 touchdowns in 2011 but doesn't even have 20 targets on his resume in 2012.

But savvy fantasy owners know better.

They know that, prior to the Green Bay-Seattle game last Monday, Nelson had respectable per-outing averages of 5.5 catches and 74 yards.

They also know that healthy principals from one of the NFL's most prolific offenses just don't disappear overnight.
2. RB Michael Turner, Atlanta Falcons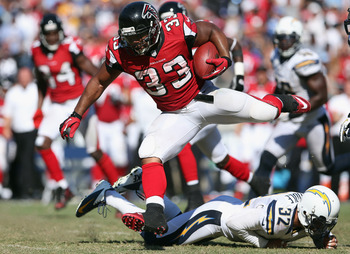 Jeff Gross/Getty Images
2012 Stats: 155 Total Yards (154 Rushing), 2 TD

Skinny: As stated many times during the summer, Michael Turner owners would see a great payoff in Week 4...if they could just wait out a sluggish three weeks to start the season.

And for the most part, that's exactly what happened. For two games (against Kansas City and Denver), Turner looked old and slow and obsolete in the Falcons' high-powered passing offense.

But against San Diego, the seeds of a breakout were sown when Turner bowled over his old team for 81 yards and one touchdown.

Now, Turner gets a wonderful shot at the Panthers on Sunday—the same defense that allowed Andre Brown to roll for 130 yards and two touchdowns in Week 3.

Bottom line: Of all the fantasy backs, Turner may have the best odds of scoring two touchdowns in Week 4.
1. RB Chris Johnson, Tennessee Titans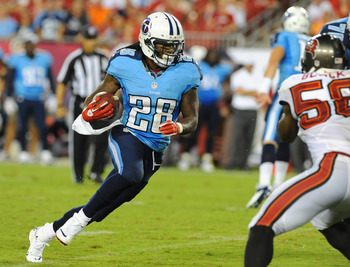 Al Messerschmidt/Getty Images
2012 Stats: 108 Total Yards (45 Rushing)

Skinny: It breaks my heart to see a healthy Chris Johnson rate behind Vonta Leach and Curtis Brinkley in the updated rankings of fantasy running backs (h/t FFToday.com).

In the same rankings, it's similarly humiliating to see Johnson listed just above no-names like Jorvorskie Lane (Dolphins) and Brandon Bolden (Patriots).

But make no mistake: Johnson has earned all the negative feedback from those who drank the offseason Kool-Aid on the Titans star, attributing last year's 1,465-yard, four-TD "off" year to nothing more than a bump in the road.

(Full disclosure: I was one of the most visible Kool-Aid beta-testers during the offseason.)

After all, Johnson (4,118 total yards, 30 TD from 2009-10) worked out with his Tennessee teammates during the spring and summer and pronounced himself in the "best shape of his life." Heck, he even dropped hints of beating Olympic gold medalist Usain Bolt in a sprint competition.

But alas, Johnson's three-game start to the season has been abysmal in every way. And while it's hard to make definitive judgments about a star player before he logs 20 touches in any game...it's also fair to ask:

From this point forward, does Johnson even deserve an increased workload?

From a trade standpoint, Johnson's market value has never been more depressed. And for those in desperate need of a running back in 12-team leagues, it might be time to take a medium-sized risk on a high-ceiling talent.
Keep Reading