Greg Little and 6 Other NFL Starters Who Need to Be Replaced Pronto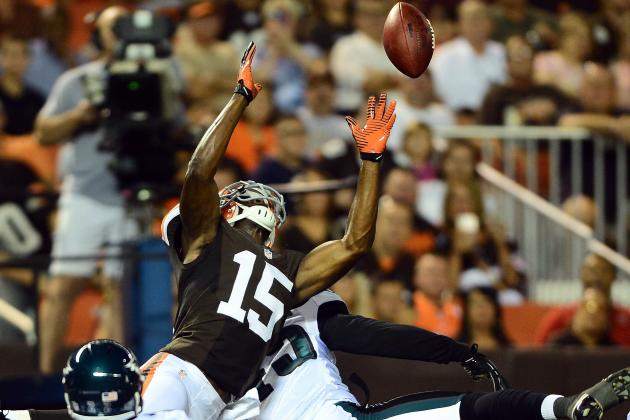 Andrew Weber-US PRESSWIRE

Greg Little is not playing at a level worthy of a starting roster spot in the NFL. He continues to drop passes, cost the Cleveland Browns valuable field position and build a poor reputation with the fan base.
However, it turns out he is not the only starter that doesn't belong on the field.
From safeties that are in line for an AARP card to quarterbacks that refuse to reach their already limited potential, let's look at seven starters that need to become acquainted with the bench.
And even though you will undoubtedly agree with all of the players listed, feel free to share your feelings and thoughts in the comment section.
Begin Slideshow

»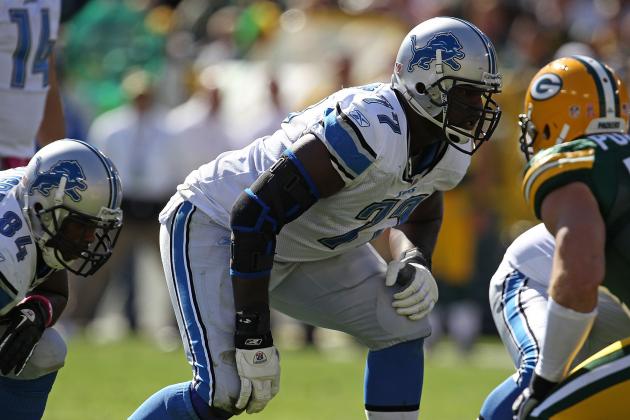 Jonathan Daniel/Getty Images

Gosder Cherilus is an average right tackle.
He is not terrible, but there is absolutely never a time where you go "What a pancake by Cherilus!"
Detroit has a tackle of the future ready to go in Riley Reiff and would be best served to get him into the lineup sooner rather than later; groom him at right tackle now while he waits to take Jeff Backus' spot at left tackle in a year or two.
The Lions have not been terrible along the offensive line so far this season, allowing just four sacks, but Reiff is the future.
Cherilus is just the mediocre present.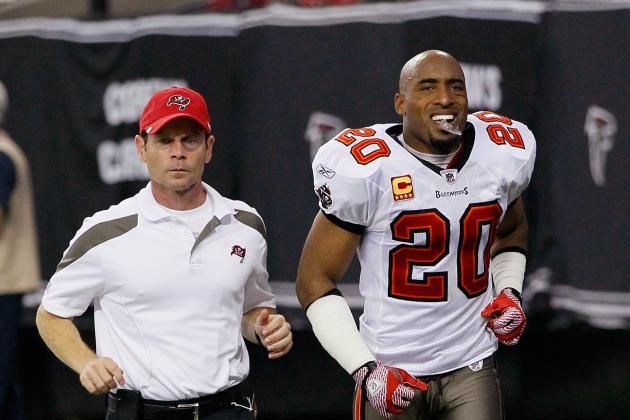 Kevin C. Cox/Getty Images

Ronde Barber is a defensive liability at this point in his career.
There is no way around that fact. He is 37 years old and was moved from cornerback to safety because he can't hack it in man coverage anymore.
Barber still has solid hands and decent zone coverage skills, but he is far slower than in his prime and cannot accelerate with most NFL wide receivers.
Tampa Bay has the worst ranked secondary in football this season, and Barber is clearly a part of the problem and not the solution.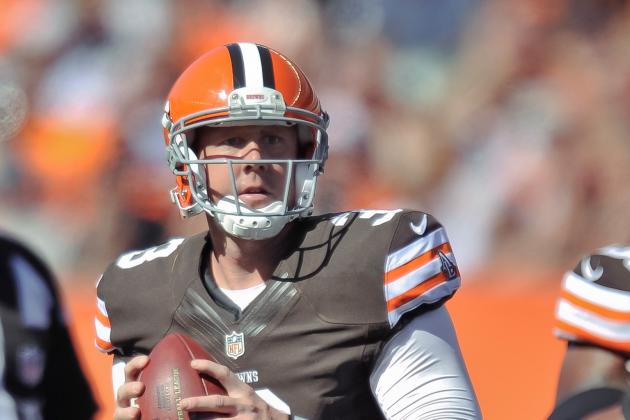 Jamie Sabau/Getty Images

Brandon Weeden is 28 years old, and he is not ready to be a starting NFL quarterback.
As weird as that sounds, Weeden is only a rookie and comes from an Oklahoma State offense that translates poorly to the professional level.
Weeden has thrown six interceptions through three games and is struggling behind a less-than-stellar offensive line.
Throwing a rookie into the mix on a bad team rarely yields great results, and Weeden does not even have the benefit of solid receivers to lean on for support.
Colt McCoy knows this offense and would have given the Browns better chances to win football games this season.
Because of Weeden's advanced age, it makes sense that Cleveland needed to start him right away to maximize value on its draft pick, but is that not all the more reason not to draft him in the first place?
McCoy is the right man for the job.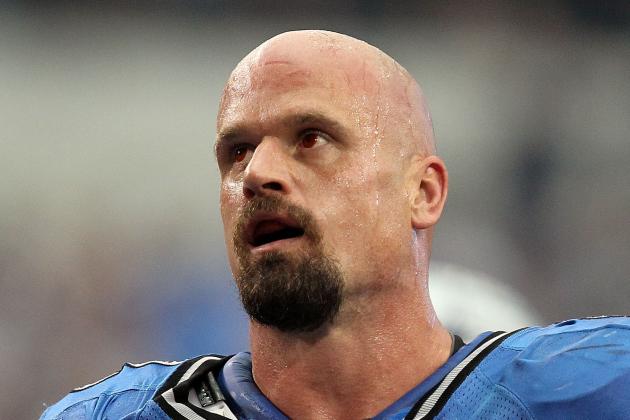 Ronald Martinez/Getty Images

Kyle Vanden Bosch has one of the best motors in all of football.
He gives premium effort on every play and is undoubtedly a tremendous leader in the Detroit Lions locker room.
That does not excuse his declining skills and unreliability as a starter. Vanden Bosch claimed the Lions would lead the NFL in sacks this season; the team currently ranks 10th with just seven.
He has just six tackles and one sack through three games.
Vanden Bosch is not the player he once was, and Detroit needs to accept that.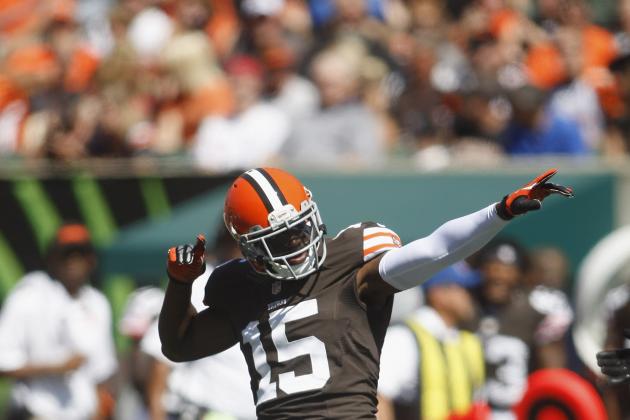 Jamie Sabau/Getty Images

Somewhere inside of Greg Little is a talented wide receiver with potential, but that is trapped beneath a guy that simply cannot catch passes.
Touchdown passes, crucial third down passes, meaningless passes, warm up passes, Little drops them all and shows no remorse.
It is frustrating to watch a player with the speed and route running ability of Little consistently let the ball slip right through his fingertips.
Little had just two touchdowns a season ago, and that means few chances to see his Usain Bolt touchdown pose.
Get it together, Little.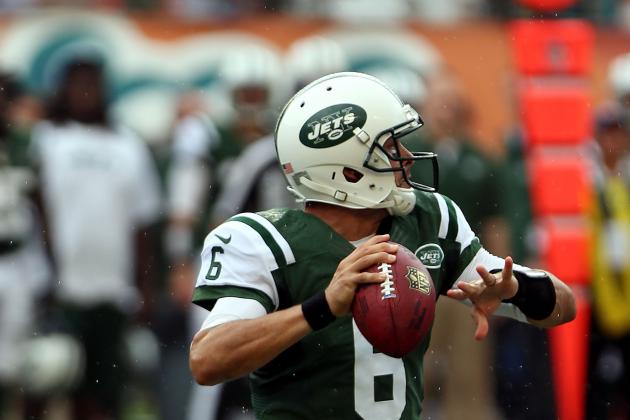 Marc Serota/Getty Images

Whether or not Tim Tebow is the answer at quarterback for the New York Jets is irrelevant. What is relevant is knowing that Mark Sanchez continues to prove he is not a viable starting option in this league.
He has been proving that for over three years now.
Sanchez has a career completion percentage of just 55 percent. He has thrown only six more touchdowns than interceptions and averaged his most passing yards-per-game in his rookie season.
Anyone who claims Sanchez is developing properly is nothing more than a liar. The Jets do not have a reliable passing game because Sanchez is, by his very nature, unreliable.
Sanchez is asked to be a game manager in New York, yet more often than not he fails at that task.
Eventually the Jets need to cut their losses and go in a different direction.
Otto Greule Jr/Getty Images

"CJNoK," I mean "CJ2K," has lost all semblance of being an elite running back for the Tennessee Titans.
Let's be honest, he is not even an average running back right now.
Johnson has talent, we all know that. He has perhaps more talent than any other RB in the league, but for whatever reason that is no longer displayed with the Titans.
Maybe this is simply a situation where two sides need to part ways for the better of them both.
Johnson desperately needs a change of scenery and Tennessee isn't getting anything out of him right now anyway.
Johnson is averaging 1.4 yards-per-carry this season and has zero touchdowns. Tennessee needs to replace him as soon as possible.