10 Very Early Predictions for Wheelings and Dealings at MLB's Winter Meetings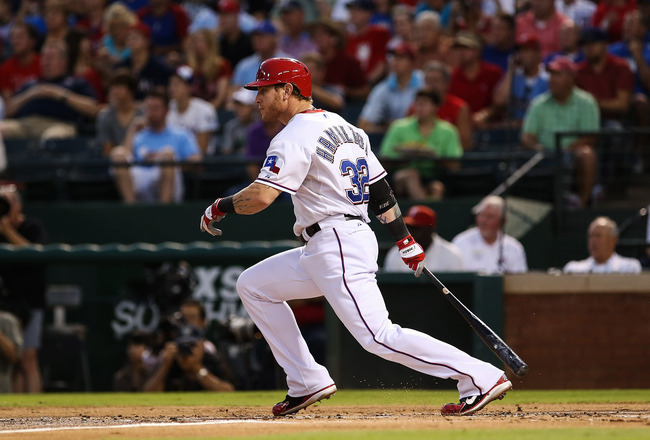 Kevin Jairaj-US PRESSWIRE
The annual MLB winter meetings take place this year from Dec. 3-6 in Nashville, Tenn. As always, it promises to be four days of whirlwind activity.
Each year, the hotel which hosts the meetings is filled to the brim with team executives, managers, player agents and hundreds of media bloodhounds snooping around to land that one big scoop.
Trades and free-agent signings are typical, with at least one blockbuster announcement to be expected each year.
Last year, the Los Angeles Angels announced the signings of both Albert Pujols and C.J. Wilson, putting an end to the frenzy surrounding Pujols' possible landing place.
The Miami Marlins also made a big splash with the signings of Heath Bell, Mark Buehrle and Jose Reyes.
Bleacher Report will take a look at what could possibly happen this year at the Gaylord Opryland Resort.
Expect Boston Red Sox to Be Major Players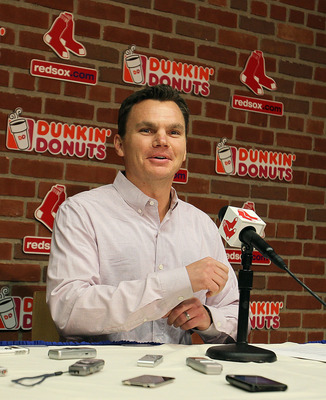 Jim Rogash/Getty Images
The Boston Red Sox will be heading into the winter with their wallets significantly heavier.
They'll be carrying around all the cash that they saved with the trade of Adrian Gonzalez, Josh Beckett and Carl Crawford—a cool $262 million, in fact.
They saved $60 million alone for the 2013 season, and that money won't be lying around burning holes in their pockets.
GM Ben Cherington has said all the right things, like that the Red Sox will make "prudent" signings and continue to develop homegrown players.
Yada, yada, yada.
Owner John Henry simply isn't going to stand for another losing season—they are hell-bent on putting a competitive product on the field.
If anyone believes they'll take the road of fiscal conservancy, there's a bridge about four hours southwest of Boston I will gladly sell you.
The Red Sox will make waves at the winter meetings. You can put their new-found $262 million on it.
At Least One Blockbuster Trade Will Occur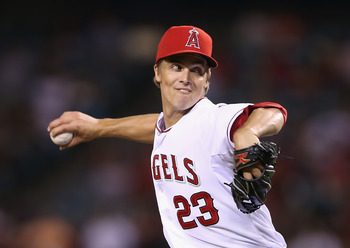 Zack Greinke was traded midseason, and the L.A. Angels are now faced with the possibility of receiving no compensation if they fail to sign him.
Jeff Gross/Getty Images
Last year at the MLB winter meetings in Dallas, much of the excitement centered on free-agent signings, and big ones at that.
However, no big trades occurred. Closer Huston Street was the only player of note to be dealt, but that was certainly not a trade of the blockbuster variety.
That might change this winter.
The free-agency landscape has certainly changed with last year's new collective bargaining agreement. As a result, there wasn't a tremendous amount of activity during the season.
Teams may be much more willing to make deals involving players in the final year of their contract when they actually have a full year left. Teams are now taking a chance by trading for a rental player during the season, not being able to sign them and then not getting any compensation in return.
There could be more trading than normal during the offseason, starting at the winter meetings.
Miami Marlins Will Not Be Nearly as Active at This Year's MLB Winter Meetings
Is it possible that Jose Reyes could be involved in another transaction again this winter?
Jason Arnold/Getty Images
The Miami Marlins made a huge splash last winter with the signings of Heath Bell, Jose Reyes and Mark Buehrle. In total, the Marlins committed $200 million.
Don't hold your breath waiting for that to happen again.
The Marlins jettisoned Hanley Ramirez, Randy Choate, Edward Mujica, Anibal Sanchez and Omar Infante before the trade deadline. It was obvious that the Marlins' hope of contending for the playoffs with their winter booty wasn't about to happen.
The Marlins could be active again this winter, but it will likely be in the form of finding suitors for their high-priced veterans, not spending to bring in more.
Chicago Cubs Will Deal Alfonso Soriano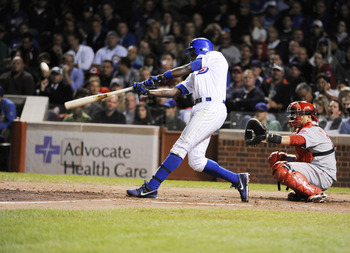 David Banks/Getty Images
Yes, I know; I said the same thing last year.
But this year, the Chicago Cubs have some leverage.
Alfonso Soriano has put together his finest year as a Cub, with 31 home runs and 105 RBI entering play on Thursday, Sept. 27.
With only $36 million remaining on his contract, the Cubs will likely pick up the bulk of that money to facilitate a deal, and American League teams could have great interest in bringing Soriano on board as a designated hitter.
San Diego Padres Will Come Away from Winter Meetings with Impact Starter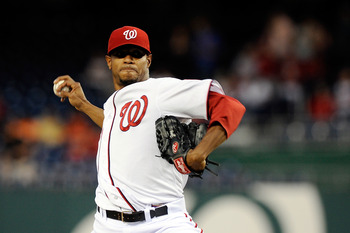 Will Edwin Jackson finally get the multi-year deal he wanted last year?
Patrick McDermott/Getty Images
The new owners of the San Diego Padres will be attending the MLB winter meetings for the first time this December.
Expect them to walk away with a starting pitcher in tow.
The market isn't rich with pitchers; Zack Greinke, Edwin Jackson and Hiroki Kuroda top the list.
But if recent reports are to be believed, Dan Haren and Ervin Santana could be available as well.
The Padres have been much better in the second half, and the new ownership has already locked in Carlos Quentin and Huston Street. They plan on contending in 2013, and more pitching will help get them there.
Expect Toronto Blue Jays to Be Active All Week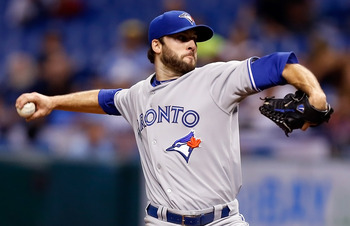 J. Meric/Getty Images
The Toronto Blue Jays are reeling this season, and starting pitching has been part of the problem.
With a 4.90 ERA, the Jays starting rotation is ranked 25th in the majors. According to Gregor Chisholm of MLB.com, the Jays won't be standing pat this winter.
Chisolm writes, "The Blue Jays have made the rotation their top priority for the offseason and don't want to rule out acquiring at least a couple of upgrades."
Those upgrades could come via the winter meetings. GM Alex Anthopoulos has usually relied on trades to help bolster his roster, but he will explore free agency this winter as a means to achieve his goal.
Atlanta Braves Will Come Away from Winter Meetings with Center Fielder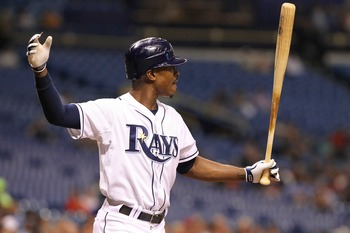 Could B.J. Upton be headed north to Atlanta?
Kim Klement-US PRESSWIRE
Atlanta Braves center fielder Michael Bourn is likely headed to free agency, as his asking price is too rich for his current team.
Bourn and the Braves have had no talks at all about an extension, so while he is discussing a new deal with other teams, the Braves will be shopping for a replacement.
B.J. Upton and Shane Victorino are players the Braves could be looking at. A guy by the name of Hamilton is out there, as well.
By the end of the week, the Braves will have their man in tow.
Los Angeles Dodgers Will Also Walk Away with Better Pitching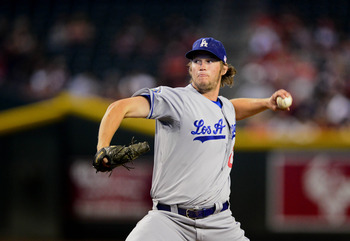 Beyond Clayton Kershaw, the Dodgers have veteran pitching, but not a legitimate No. 2.
Mark J. Rebilas-US PRESSWIRE
The Los Angeles Dodgers have six veteran starters under contract for next season.
Clayton Kershaw, Chad Billingsley, Ted Lilly, Chris Capuano, Aaron Harang and Josh Beckett are all locked up for the 2013 season.
However, if the Dodgers fail to make the postseason—which could be a reality as early as Friday, Sept. 28—it's doubtful that all six will be returning to Los Angeles in the spring.
Lilly and Billingsley were banged up for a good portion of the 2012 season, Capuano suffered through a miserable second half, and Harang was solid but not a stopper.
Deals will be made by the Dodgers during the meetings to upgrade their rotation.
Expect Minnesota Twins To Make Noise at Winter Meetings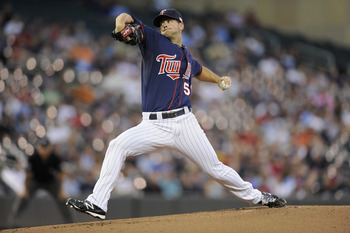 Scott Diamond has been terrific for the Minnesota Twins, but he needs a whole lot of help.
Hannah Foslien/Getty Images
The Minnesota Twins pitching staff is the worst in the American League. Only the Colorado Rockies looked worse on the mound this season than the Twins.
GM Terry Ryan has spoken about the need to upgrade his pitching staff on numerous occasions.
In the past, the Twins have never used the winter meetings to make a big splash. But it's apparent that the old way of doing things hasn't worked, especially in recent years.
The Twins will be players in Nashville come early December.
The Status of Josh Hamilton Will Be the Focal Point of the MLB Winter Meetings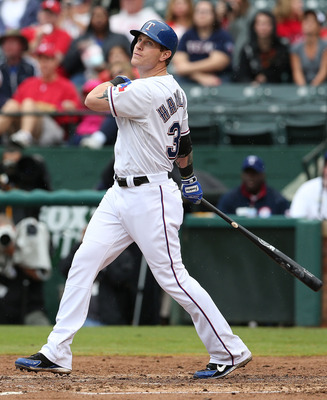 Ronald Martinez/Getty Images
At the MLB winter meetings in Dallas last year, there was much intrigue surrounding the free-agent statuses of Albert Pujols and Prince Fielder.
This year, the focus will be on Texas Rangers outfielder Josh Hamilton.
Hamilton's immense talent automatically makes him one of the most intriguing free agents in history. However, throw in his substance abuse and injury history, and all of a sudden you have tremendous debate about his worth and what teams will pay.
All of that will likely come to a head at the Gaylord Opryland Resort in Nashville. By the end of the winter meetings, someone will walk away with Hamilton in tow, and the entire week will revolve around his status.
Doug Mead is a featured columnist with Bleacher Report. His work has been featured on the Seattle Post-Intelligencer, SF Gate, CBS Sports, the Los Angeles Times and the Houston Chronicle.
Keep Reading