Fantasy Football: 25 Lessons We've Already Learned from the 2012-13 NFL Season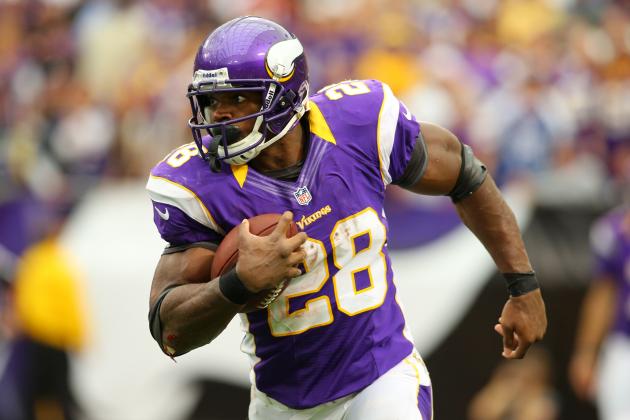 Adam Bettcher/Getty Images

The game of football never ceases to amaze.
Just when you think you have figured this game out, a wrench is thrown into the mix (and no, I'm not referring to Monday Night Football's Simultaneous Catchgate). When it comes to fantasy football, you learn new things with each passing season.
With three weeks in the books, I present to you the 25 lessons we have learned so far in the young season.
Begin Slideshow

»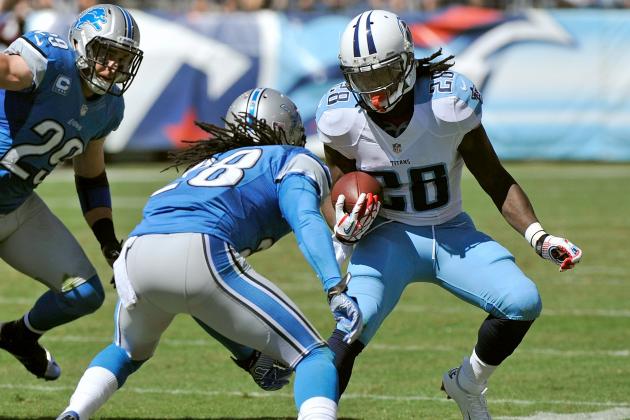 Frederick Breedon/Getty Images

What can be said that hasn't been said already?
Johnson is once again driving his fantasy owners crazy with his pathetic rushing outings. In three games thus far, Johnson has rushed for 45 yards on 33 attempts for an abysmal 1.4 yards per carry.
2011 should be considered the halcyon days for Johnson when compared to the beginning of his 2012 campaign.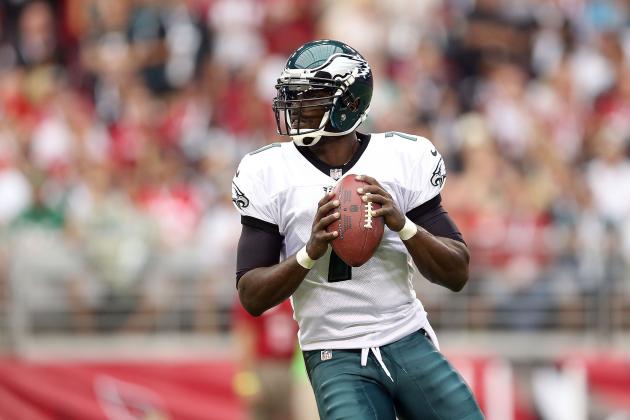 Christian Petersen/Getty Images

With the way he has been hit and beaten this year, Vick appears to be on borrowed time. It seems like a matter of when and not if he either suffers an injury or is benched due to ineffectiveness.
Vick has thrown six interceptions to just three touchdowns in three games this year, while also being sacked nine times.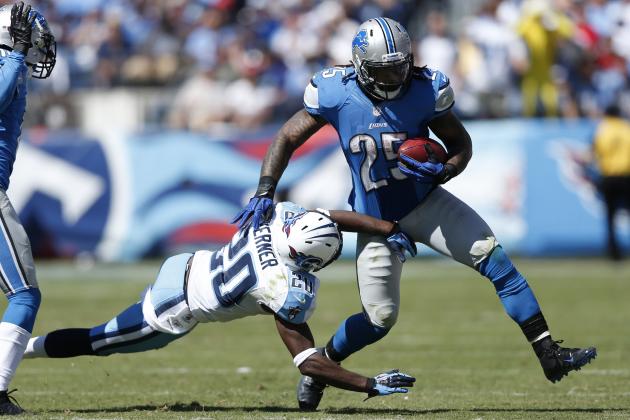 Joe Robbins/Getty Images

In his first ever game as a pro after missing the whole 2011 season with an Achilles injury, Leshoure looked like he never missed a beat when he rushed for 100 yards and touchdown in his debut in Week 3.
In fact, the main running back for the Lions for the first two weeks, Kevin Smith, didn't even so much as sniff the field, as he was completely held off the board.
So obviously, the Lions value Leshoure a lot more than Smith. Leshoure should make for a solid start so long as he stays healthy.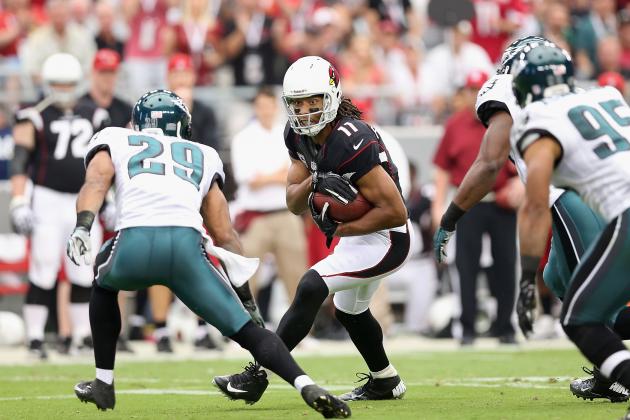 Christian Petersen/Getty Images

There was a lot of trepidation concerning Welker and Fitzgerald heading into Week 3, but the tried and true vets showed exactly why you spent early-round picks on them.
Despite shaky quarterback play, Fitzgerald can't be held down for too long. He showed as much in Week 3 by recording nine receptions for 107 yards and a score.
Welker, meanwhile, dispelled notions that he will be phased out of the Patriots offense by being a major factor in the passing game against the Baltimore Ravens. He racked up 142 yards receiving on nine catches and 10 targets.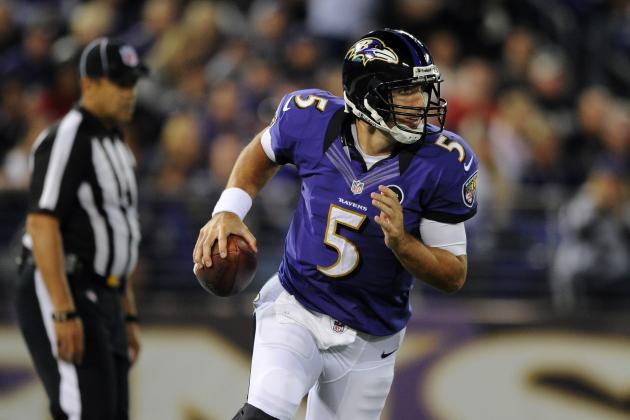 Patrick Smith/Getty Images

Flacco made headlines this offseason when he publicly considered himself as one of the top quarterbacks in the league. While he may not be a top-five QB, he is proving this year he can perhaps crack the top 10.
So far this season, Flacco has passed for 913 yards while also throwing six touchdowns to just two interceptions.
With Torrey Smith and Dennis Pitta emerging as threats in the passing game, Flacco has the chance to flourish this year and establish himself as a dependable starting quarterback in most leagues.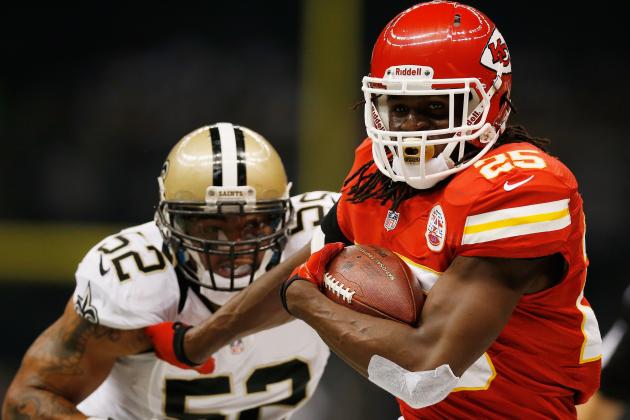 Chris Graythen/Getty Images

After an uninspiring start (specifically his Week 2 performance), Charles quelled all doubts about his playmaking abilities by erupting in Week 3.
Against the New Orleans Saints, Charles was all over the place, rushing the ball 33 times for 233 yards and a score while also recording six catches for 55 yards.
Considering Peyton Hillis suffered an ankle injury on Sunday and has been ineffective from the start anyhow, Charles will be the Chiefs' workhorse this year, and he should no doubt be trusted as a top-10 running back.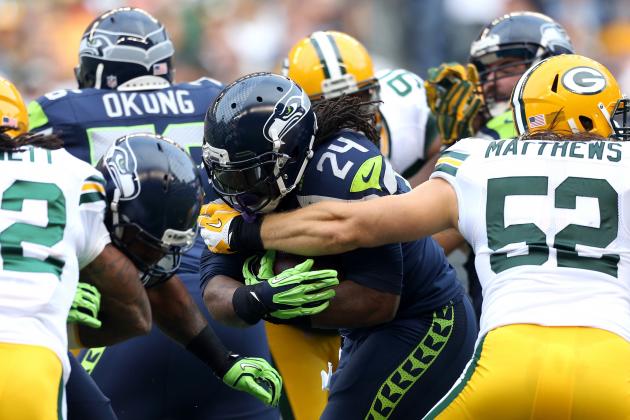 Otto Greule Jr/Getty Images

A lot of fantasy owners thought Lynch's sensational 2011 campaign would be a fluke, considering his spotty history as a lead back and that he was coming off a big payday in the offseason.
Well, three weeks in, Lynch is fourth in the league in rushing yards (305) and is still the centerpiece in Seattle's offense.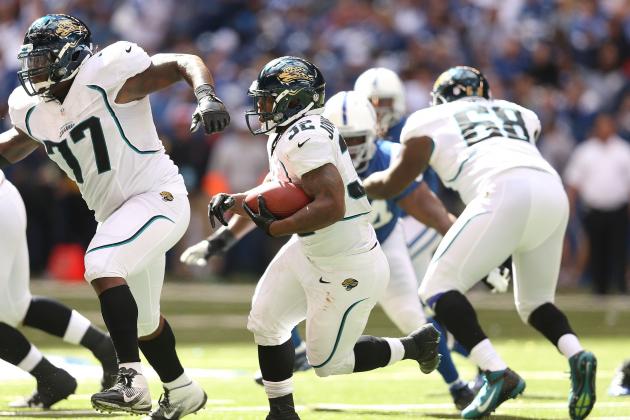 Andy Lyons/Getty Images

While he held out an excessive amount of time, Jones-Drew showed he was worth the wait with an excellent performance in Week 3 in which he ran for 177 yards and a touchdown. And it's not like was terrible before Week 3, as he rushed for a combined 137 yards in two games prior.
Make no mistake, this won't be a Chris Johnson-type repeat of a guy who struggles after a protracted holdout.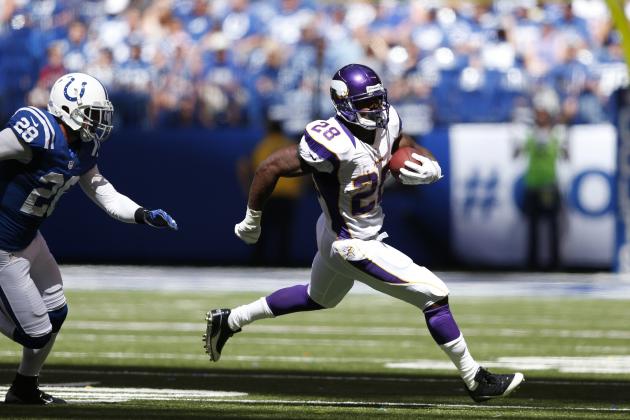 Joe Robbins/Getty Images

After tearing multiple ligaments in his knee last December, there was a lot of doubt that Peterson would even start the season healthy, let alone be effective.
To his credit, Peterson worked hard in his rehab and is back on his lofty perch as one of the elite running backs in the league.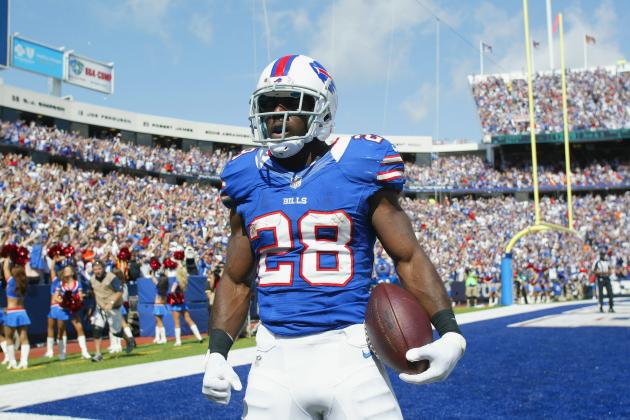 Rick Stewart/Getty Images

Three weeks in, the Bills are already down two good running backs.
While Fred Jackson, who injured his knee in Week 1, may possibly beat the odds and come back in Week 4, C.J. Spiller will be lost for one to two weeks with a sprained AC joint. Thus, the Bills' running back situation is now a muddled one, with Tashard Choice as the best option if Jackson can't go this week.
Hopefully, in a month or so, the Bills will have a healthy Jackson and Spiller, making them both good plays in fantasy.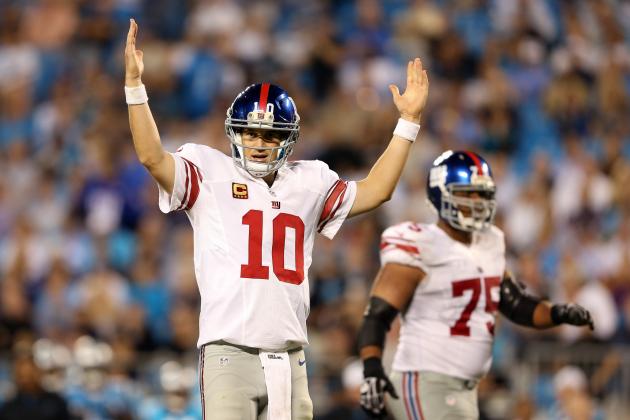 Streeter Lecka/Getty Images

I don't know what Manning has to do to get the credit he truly deserves.
The two-time Super Bowl champion MVP isn't just a great playoff quarterback, but he puts up the stats to matter in fantasy too. Manning is first in the league in passing yards (1,011) and is three touchdowns (five) behind the league leader (three tied with eight).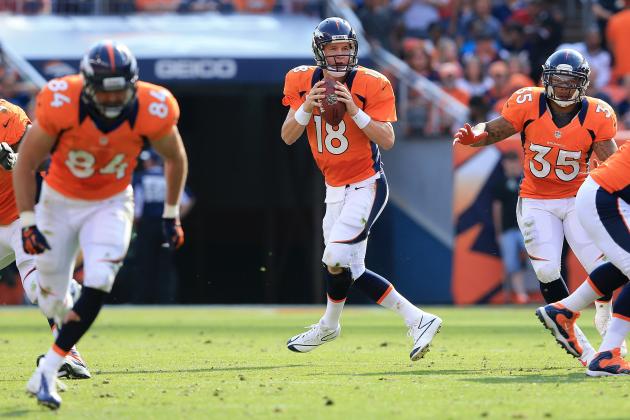 Doug Pensinger/Getty Images

While Eli is proving he is elite, his big brother Peyton (who is elite himself) is showing that he is at least healthy after sitting out all of last season.
The elder Manning is posting solid numbers too, as he has passed for 824 yards and five touchdowns so far in the young season.
Give Manning more time to get acquainted with his teammates. He can be a great option down the stretch given his playoff pedigree.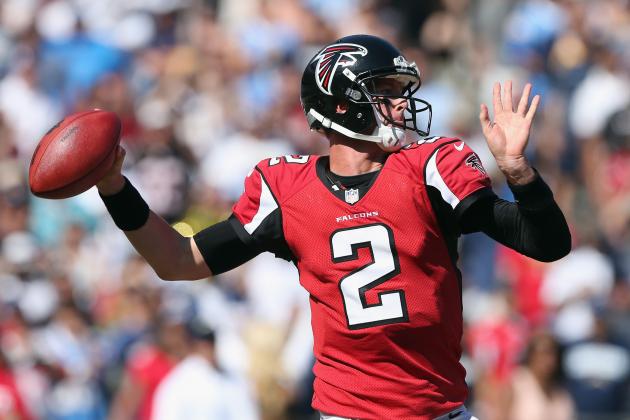 Jeff Gross/Getty Images

There was a lot of love for Ryan in the preseason, and so far he has proven to be all that and a bag of chips.
Ryan has been in an absolute groove from the beginning and is tops in the league in QB rating (114) while also tied for the league lead in touchdown passes (eight).
With Roddy White, Julio Jones and Tony Gonzalez as his weapons, Ryan should continue to have a banner year.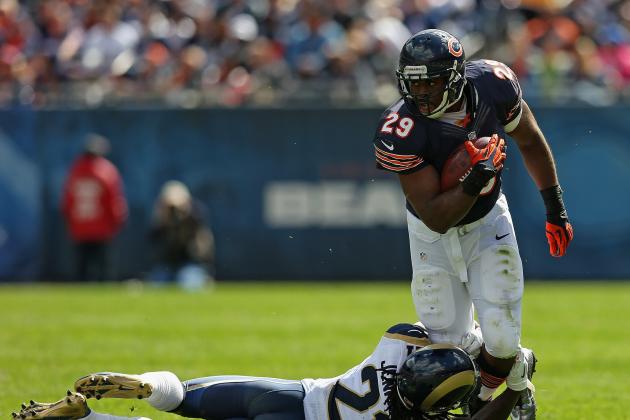 Jonathan Daniel/Getty Images

Be it with the Raiders or the Bears, as a lead back or backup, Bush makes enough plays to make an impact for any team.
With Matt Forte going down with an injury the week prior, Bush carried the load in Week 3. As he usually does, he scored in the game.
While Forte should come back soon, Bush will still be involved in the Bears offense going forward, as he is one of the best—if not the best—touchdown vultures in the league.
Jeff Gross/Getty Images

Although he's 36 years old, Gonzalez has aged like fine wine.
Gonzalez has scored in three straight games to open the season and has some solid reception (21) and yardage (214) numbers as well.
With the Falcons offense humming along, don't expect Gonzalez to slow down any time soon.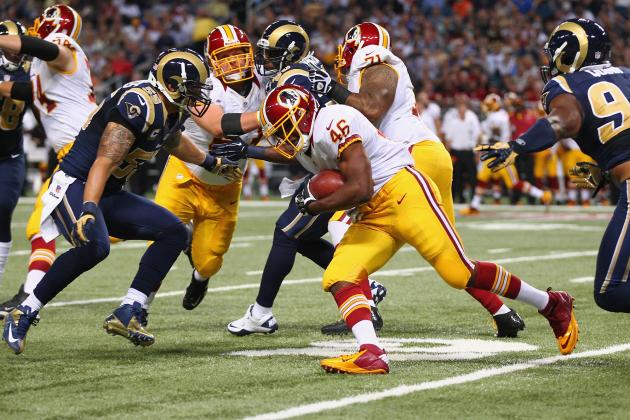 Dilip Vishwanat/Getty Images

Trusting Shanahan in regards to how he uses his running backs is usually an exercise in futility, but this year it appears Shanahan has bucked the trend while only trusting rookie Alfred Morris to carry the ball in D.C.
Morris has been a revelation thus far and is having himself quite the year, rushing for 263 yards (ninth in the league) and scoring three touchdowns.
For now, Morris should be used with confidence.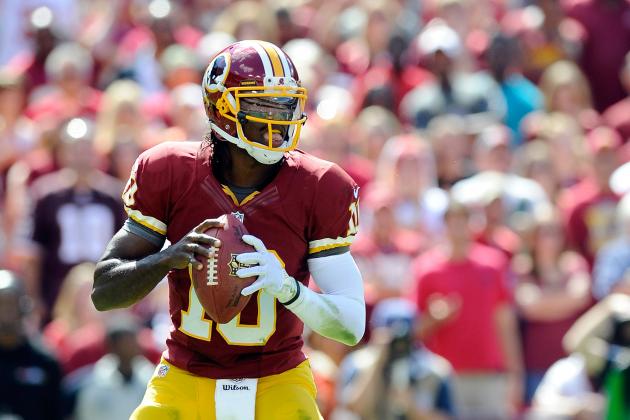 Patrick McDermott/Getty Images

Although he didn't have the best of games throwing the ball in Week 3, Griffin is doing enough through the air and on the ground to achieve must-start status.
Griffin has 747 passing yards and four touchdowns with only one interception, while also rushing for an additional 209 yards and three scores.
Indeed, RGIII might be this year's Cam Newton after all.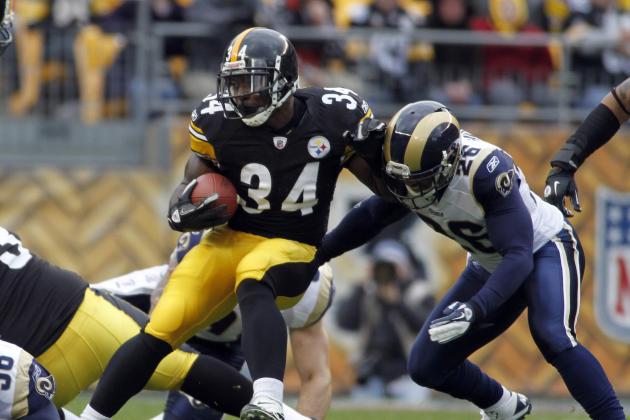 Justin K. Aller/Getty Images

It's obvious after three games that the Steelers miss the explosiveness of Mendenhall, as fill-ins Isaac Redman and Jonathan Dwyer have rushed for a combined 146 yards on 52 carries in three games.
The Steelers have a bye in Week 4. The hope is that Mendenhall will be ready by the following, as Redman and Dwyer are simply not cutting it.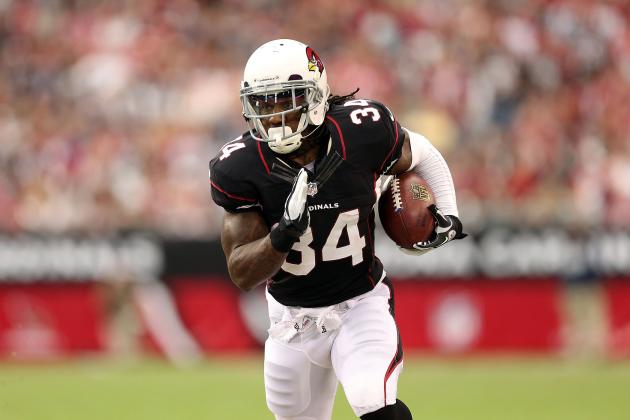 Christian Petersen/Getty Images

After rushing for a career-high 83 yards on the same day Beanie Wells got injured, Ryan Williams may be preferred running back of choice in Phoenix as early as next week.
Wells will certainly be iffy for next week. Besides, Wells wasn't lighting the world on fire, only rushing for 76 yards on 29 carries in three games.
In the Cardinals' rout of the Eagles this past week, Williams showed great speed and burst out of the backfield. He finally looks healthy after sitting all of last year with a torn patellar tendon.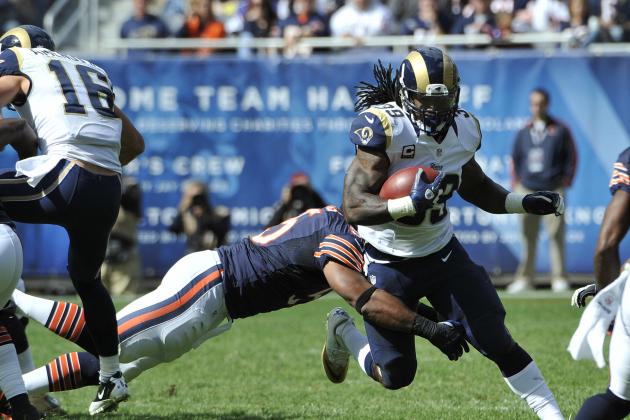 David Banks/Getty Images

Whether it be his age, his career workload or nagging injuries, it's hard to trust Jackson these days.
Jackson has not topped 60 yards rushing in any game this year. At this juncture, his playing time could get impeded due to the emergence of rookie Daryl Richardson.
Jackson is nothing better than a flex play these days.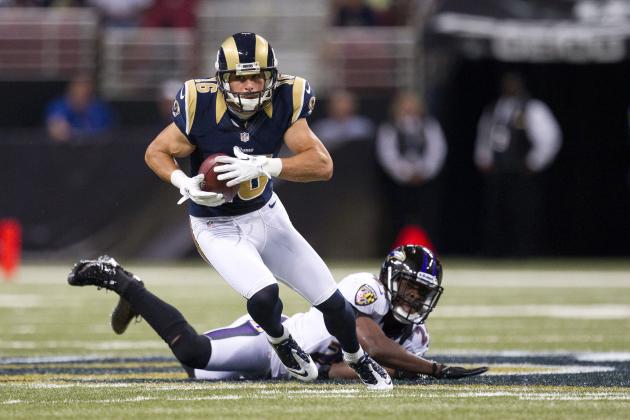 David Welker/Getty Images

Although he doesn't quite have the QB Victor Cruz has, Amendola is a similar-type slot receiver who could break out the way Cruz did last year. Amendola has great speed and is a target Sam Bradford absolutely loves.
Amendola is a PPR-league monster, as he is second in the league in receptions with 25 and is tied for third in the league in passing yards (296).
There should be little doubt about starting Amendola these days.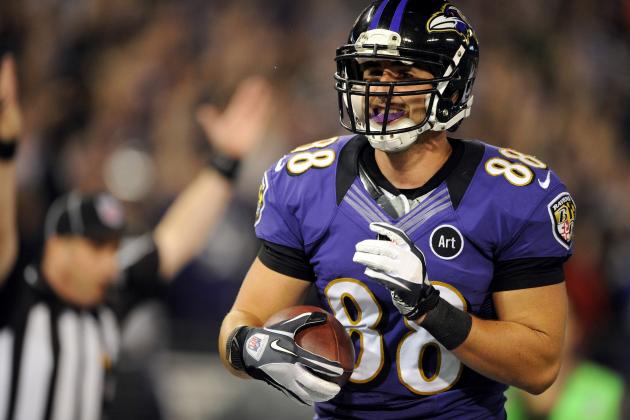 Patrick Smith/Getty Images

With Jimmy Graham and Rob Gronkowski raising the bar last year and making us reconsider how we view the tight end position, we thought we had every good tight end covered.
But alas, we have been surprised yet again. Heath Miller, Martellus Bennett, Dennis Pitta and Kyle Rudolph (almost all unanimously undrafted) are four of the top-10-ranked tight ends in fantasy points.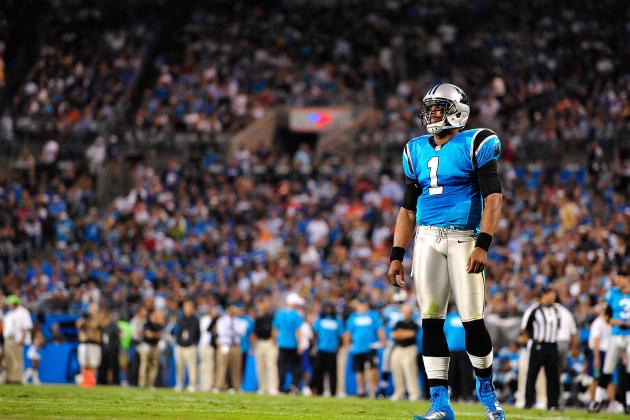 Grant Halverson/Getty Images

Through three games, Newton is not quite reliving the magic that propelled to him to glory in his rookie year.
Newton has thrown only two touchdowns while tossing five interceptions. He isn't exactly lighting it up on the ground either (24 carries, 81 yards, two TDs).
There is still time for Newton to turn it around, but at this moment he makes for a risky start considering the state of affairs in Carolina, as many players in the Panthers' clubhouse are pointing fingers at each other.
Patrick McDermott/Getty Images

With the way Carson Palmer, Andy Dalton, Andrew Luck, Ryan Fitzpatrick, Christian Ponder and Jake Locker have played thus far, it only enhances the opinion that should an injury befall your stud QB or you need one for the bye weeks, you'll always have some solid fall-back options.
Heck, even Brandon Weeden threw for over 300 yards and two touchdowns in a game this year.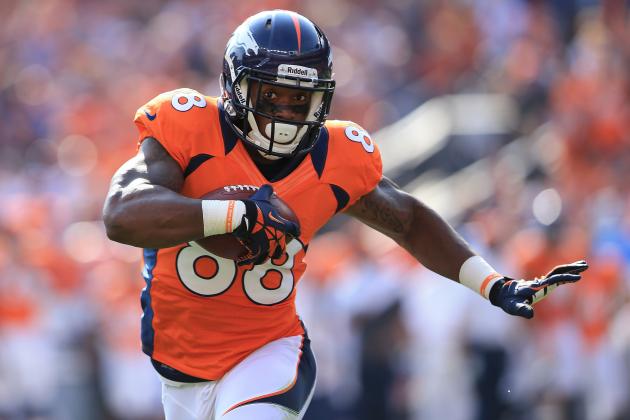 Doug Pensinger/Getty Images

Although he put up a stinker in Week 3 (three receptions for 34 yards), Thomas has shown enough to prove that he is indeed the real deal.
With 222 receiving yards and two touchdowns, Thomas has made his mark in the early season. He is only scratching the surface of his immense potential.
With a competent quarterback in Peyton Manning, expect Thomas to shine all season.
Follow me on Twitter @Stacdemon