How NFL Week 3 Injury Report Will Impact Your Fantasy Team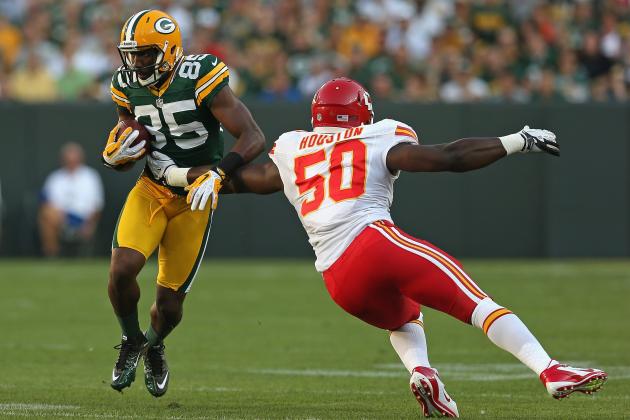 Jonathan Daniel/Getty Images

Coming into Week 3 of the 2012 NFL regular season, injuries are playing a key factor in the fortunes of NFL franchises, as well as the fortunes of fantasy-football owners.
You could have drafted Matt Forte, Fred Jackson and Aaron Hernandez and are now left to wonder what to do to keep your team competitive. Well, all three players are expected to be back sometime during the month of October, but you need to find somebody to plug into their place now.
After reviewing the Week 3 injury report at ESPN.com and NFL.com, we are looking at a total of 38 players—ranging from quarterbacks, wide receivers and running backs to tight ends and kickers—that could have an impact on your fantasy team this weekend, depending on how deep your fantasy-football league is.
Unfortunately, this report is slated for publication Saturday morning, or else we could have looked like geniuses by telling you to plug in New York Giants RB Andre Brown for the injured Ahmad Bradshaw and WR Ramses Barden for the injured Hakeem Nicks. The Thursday Night Football game just goes to show you that you never know who is going to step up at a moment's notice to help your fantasy team out when you have lost key players.
As for those 38 players, we will place them into a group of four or five players per position (whenever it is applicable) and offer advice as to whom to start and whom to sit for Week 3.
Since some of these injuries are looking like they will be game-time decisions, you are advised to check in for updates either Saturday night or Sunday morning to see if the player will dress for the game or if he has suffered a setback.
Begin Slideshow

»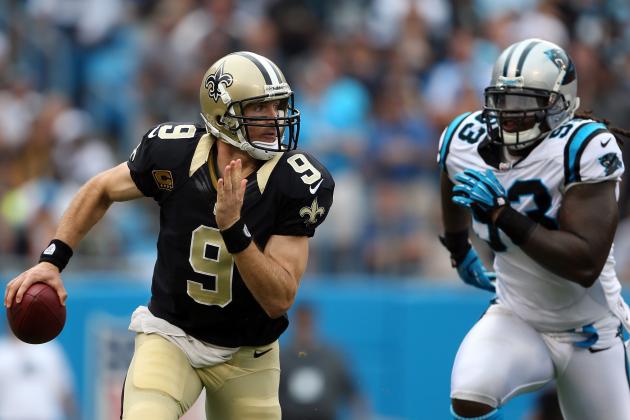 Streeter Lecka/Getty Images
Start Drew Brees against a K.C. Chiefs team allowing 37.5 points a game
On the Week 3 Injury Report, the only quarterbacks listed this week are Mark Sanchez (New York Jets), Drew Brees (New Orleans Saints) and John Skelton (Arizona Cardinals). Let's take a closer look at what is going on with each of them and their matchup this week.
Drew Brees
Brees is dealing with an ankle injury this week.
Brees has struggled so far in the 2012 season, as the Saints are 0-2 and Brees is ranked No. 28 with a passer rating of 71.6. Part of the reason for his struggles is that he has made some poor decisions on where to throw the football, having thrown four interceptions to go along with four touchdown passes.
The good news for Brees is that his Week 3 opponent is the Kansas City Chiefs, who are tied with New Orleans for most points allowed per game so far in 2012 (37.5).
This figures to be a high-scoring affair, so start Drew Brees with confidence.
Mark Sanchez
Sanchez had a great performance in Week 1, and then he turned in a dud in Week 2. He will be performing most weeks somewhere between those two extremes.
For Week 3, Sanchez—who's been dealing with some lower back tightness—is traveling to Miami to face a Dolphins defense that is ranked No. 18 overall, but is No. 11 in points allowed at 21.5 points a game.
For fantasy purposes, the Dolphins' pass defense is pretty weak right now, as they are ranked No. 30. But the run defense, ranked No. 4 in the NFL, is very tough.
Tim Tebow wasn't any kind of a factor in Week 2, so it is hard to know how the Jets will utilize him every week.
Tebow will be involved in various personnel packages and his snaps will depend on the opponent. Since Miami knows the Wild Cat offense so well—combined with that stout run defense—expect limited use of Tebow this week.
Thus, with more snaps against the questionable Dolphins secondary play, Sanchez could put up decent numbers this week.
If you check out the quarterback rankings for fantasy football at NFL.com, Sanchez didn't even crack their list of the top-24 quarterbacks for Week 3. That tells you everything you need to know.
Sit Sanchez this week.
John Skelton
He is still trying to recover from his ankle injury.
Kevin Kolb is expected to get the start this week when Arizona hosts the Philadelphia Eagles. The Eagles' defense is strong enough on its own to discourage you from starting any Arizona quarterback this weekend.
But with Skelton expected to be on the bench, it's an obvious call to sit Skelton this week.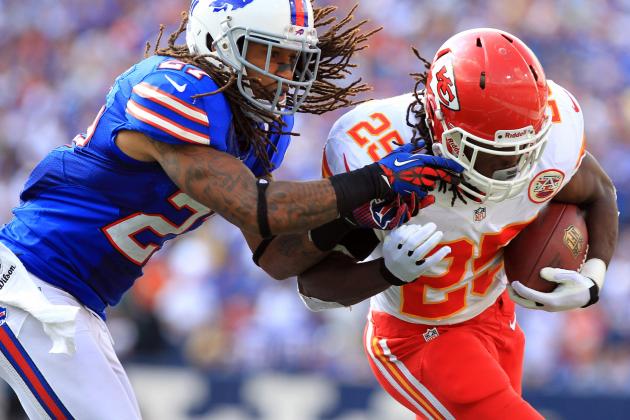 Kevin Hoffman-US PRESSWIRE

Jamaal Charles
The Kansas City Chiefs' RB has been about as bad as Chris Johnson so far in 2012; neither of these former 1,000-plus-yard rushers can seemingly get things going this season.
Charles is dealing with a knee injury coming into his Week 3 contest at the New Orleans Saints. The good news for Charles' owners is that the Saints' run defense is ranked dead last in the NFL, as they are allowing 186 rushing yards per game.
Charles does have a run of 46 yards on the season, but the rest of his 21 carries have only generated 44 yards. He has only gained 19 yards on three receptions. Factor in that he has yet to score a touchdown this year, and his fantasy owners are thinking about benching him, releasing him or trading him away. My advice is to stay patient and see if that gets him going. If he turns in another dud against the NFL's worst run defense, then be prepared to punt.
Ryan Mathews
The San Diego Chargers' RB is ready to return to action from his clavicle injury.
This weekend, Mathews will face the Atlanta Falcons' run defense, which is ranked No. 25 in the NFL, allowing 135 yards per game. Establishing the ground game with Mathews will allow the Chargers to have the type of balanced attack on offense that they prefer.
Jonathan Dwyer
Pittsburgh's Dwyer is fighting a foot injury, and before much longer, he will be fighting for snaps when Rashard Mendenhall is declared active for game day.
For Week 3, the Steelers are playing at the Oakland Raiders. The Raiders' run defense ranks near the bottom of the NFL (No. 29), allowing 147 yards per game. That is a great scenario for Dwyer owners.
Steven Jackson
The Rams' long-time RB is dealing with a groin injury that might be serious enough to prevent him from playing this week at the Chicago Bears.
It appears that this will boil down to a game-time decision, so you need to check back Sunday morning to see if Jackson is going to be declared active or inactive.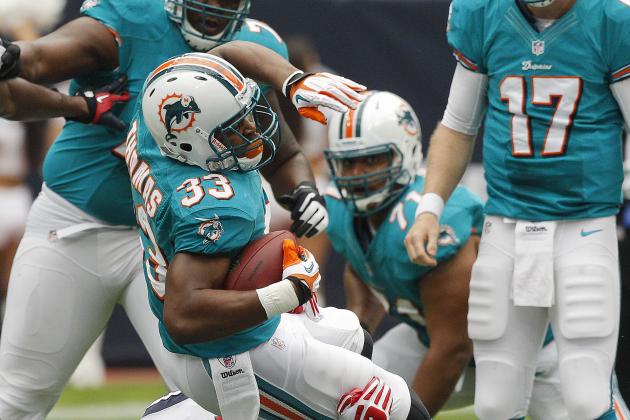 Bob Levey/Getty Images

Daniel Thomas
The Dolphins' RB suffered a concussion last weekend, but he has been medically cleared to play this week against the New York Jets. With Reggie Bush averaging 20 carries per game, Thomas' role has been reduced to getting a few scraps here and there.
Jacobs hasn't been active yet due to a knee injury, and that appears to be the case for Week 3 as well.
As a result, keep Jacobs on your bench until you know that he is being activated.
Rashard Mendenhall
While the Steelers' RB is inching closer to returning from his knee injury, he won't take back the starting job in Week 3. This blurb from CBSSports.com reports that Mendenhall is looking like he will be taking over as the starter in Week 5.
If you own him, that gives you two more weeks to use your bench players.
Ryan Williams
The Arizona RB is dealing with a knee injury. This weekend, the Cardinals are hosting the Philadelphia Eagles, who have given up 105 yards per game on the ground this season. The Cardinals expect to start Beanie Wells instead.
Given Williams' poor production this season (22 yards on 18 carries), he deserves to stay firmly on your bench until you see better results.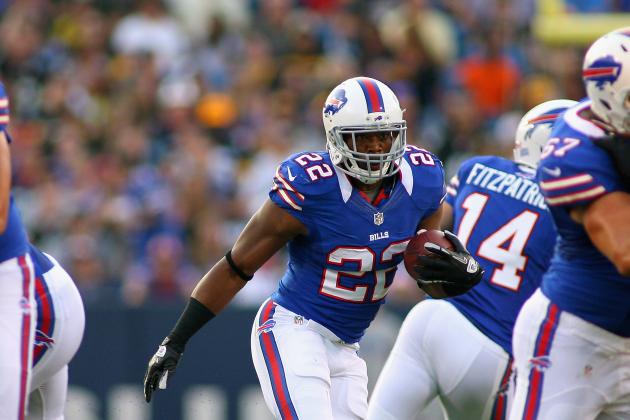 Rick Stewart/Getty Images
Fred Jackson is still rehabbing his knee injury. Keep him on your bench.
Bernard Scott
The Bengals' RB has been hampered by a hand injury that kept him out of the first two games. Scott is cleared to play this week, but he is still going to be behind BenJarvus Green-Ellis in Cincinnati's pecking order.
So for now, keep Scott on your bench.
Shane Vereen
Vereen has been dealing with a foot injury. New England is playing Baltimore this weekend, and even though the Ravens' defense has been struggling so far (ranked No. 27 overall), this is not the time to get cute.
Vereen is clearly dropping far behind Stevan Ridley on the depth chart in New England's backfield, so you have no reason to keep Vereen on your roster for now.
Two of the better running backs in the league, Fred Jackson of the Buffalo Bills and Matt Forte of the Chicago Bears are both out due to injuries suffered earlier in the season. Neither one will play this weekend, and you need to keep checking back to monitor their rehab progress.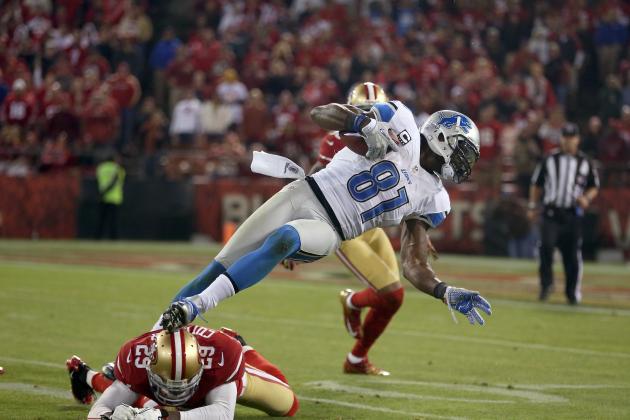 Ezra Shaw/Getty Images

Calvin Johnson
Johnson is still dealing with an ankle injury, but he continues to play through the discomfort and provides your fantasy team with a superior player.
Megatron will battle against the Tennessee Titans this week. Detroit will have RB Mikel Leshoure on Sunday, but the likelihood is that the Lions will still be relying heavily on their passing attack to move the ball.
Marques Colston
The Saints' wideout has a foot injury that has limited him to only seven receptions through the first two games. He is averaging a very strong 17.1 yards per catch, but it is somewhat surprising to see that he has yet to catch a touchdown pass.
This week, the Saints face the Kansas City Chiefs' defense, which is tied with the Saints for giving up the most points so far in the NFL this year (37.5 points per game).
Eddie Royal
The Chargers' wide receiver has a shoulder injury, but is expected to play this weekend against the Atlanta Falcons. The Falcons, of course, have lost Brent Grimes for the year, which is a huge blow to the Atlanta secondary.
So, if you are in a deep league where you would normally start Royal in your flex spot, go ahead and start him this week.
Brandon Lloyd
The New England wideout has a thigh injury that has forced him to miss practice time this week. The Patriots are facing the Baltimore Ravens on Sunday Night Football.
With the loss of Aaron Hernandez, Tom Brady has to look for other options, and Lloyd is one of those players that should benefit from the extra targets thrown his way.
Greg Little
The Browns' receiver has a back injury, but still managed to go through all his reps this week in practice. He will be playing against the young Buffalo Bills corners of Aaron Williams and Stephon Gilmore.
Browns QB Brandon Weeden made a noticeable improvement from Week 1 to Week 2, so there is still hope for the Cleveland passing attack.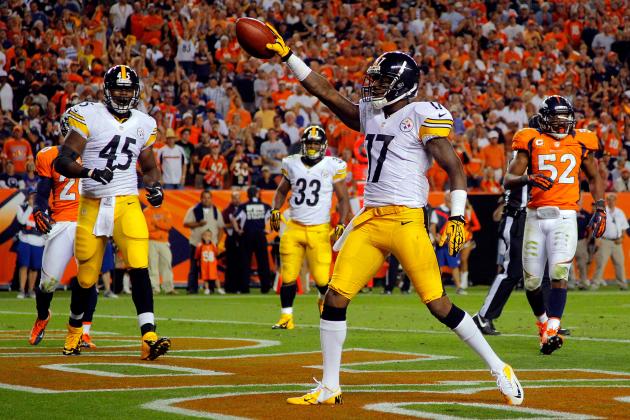 Doug Pensinger/Getty Images
Start Mike Wallace against the Oakland Raiders
Pittsburgh Steelers WR Mike Wallace is coping with a groin injury, while fellow receiver Emmanuel Sanders has some issues with his knee.
This weekend, the Steelers are facing the Oakland Raiders, but the Raiders' defense is more susceptible to the running game than it is to the passing game.
As a result, expect the Steelers to try to take advantage and run the ball, but Ben Roethlisberger will always make it a point to throw as much as Todd Haley will allow. So, start both Steelers wide receivers.
Our next three wide receivers are all dealing with hamstring injuries, but none of the three are expected to miss their Week 3 contests.
The three receivers in question are Philadelphia Eagles WR DeSean Jackson, Oakland Raiders WR Denarius Moore and Green Bay Packers WR Randall Cobb.
Cobb plays in the Monday Night Football game against the Seattle Seahawks, so if he suffers a setback over the weekend, you would be in an awkward spot.
Jackson is slated to face the Arizona Cardinals, who are only allowing 17 points per game.
Moore is facing the Pittsburgh Steelers' talented secondary, but they are probably going to be missing both James Harrison and Troy Polamalu, which gives Moore a better chance to put up some bigger numbers for your fantasy team.
If you would normally start any of these three players, go ahead and start them this week. But, hamstring injuries can be tricky, so check in prior to kickoff on all three players to make sure they didn't have any setbacks.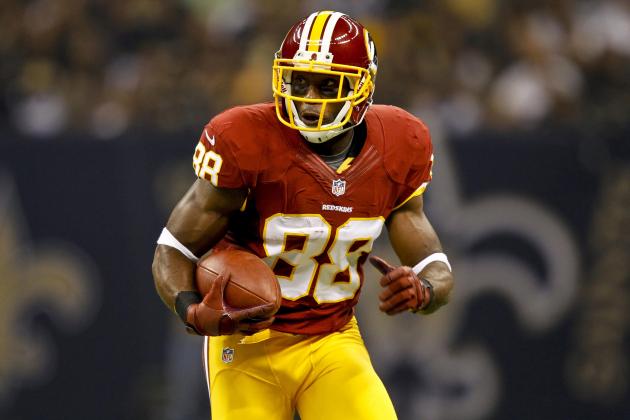 Derick E. Hingle-US PRESSWIRE
Pierre Garcon will be a game-time decision on Sunday
Based on their rehab progress, there are four wide receivers that are too up in the air right now with respect to their availability to play this weekend. As a result, all four could very well wind up being game-time decisions, and you need to be ready to know how to respond.
The four wide receivers in question are the Kansas City Chiefs' Dexter McCluster (shoulder), the Tennessee Titans' Kenny Britt (knees), the Washington Redskins' Pierre Garcon (foot) and the Green Bay Packers' Greg Jennings (groin).
Of the four players in question, three of them will be game-day decisions on Sunday, while the fourth, Greg Jennings, plays on Monday Night Football. If the Packers declare Jennings inactive on Monday night, you won't have time to make any adjustments, so you are advised to start him only if you have no other options, or if you see he was upgraded over the weekend.
As for this whole group, you need to be checking the inactive lists to see who pops up on them Sunday morning, and then react accordingly.
Out of this group of receivers, both McCluster and Garcon have favorable matchups, as they are going up against the New Orleans and Cincinnati secondaries, respectively, and both of those units are in the bottom tier of the NFL after two weeks.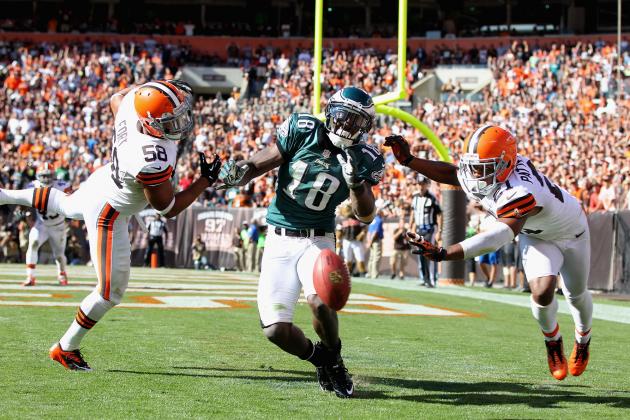 Matt Sullivan/Getty Images
The Eagles have declared Jeremy Maclin out this weekend.
Jeremy Maclin
Maclin has already been declared out for Week 3. His hip pointer has been deemed to painful for him to play for the Eagles this week.
Nate Washington
He is dealing with a calf injury in addition to losing snaps to fellow Titans WR Kenny Britt. Jake Locker and the rest of the offense have been far from productive, so there is no real pressing reason to start Washington.
Austin Collie
The Indianapolis WR has a concussion that has kept him out of practice, but he is getting closer to being able to play. Collie still needs to go through the NFL approval process to be cleared for action, and that hasn't happened as of yet.
If he gets the OK to play on Sunday, you then need to make a judgement call on whether to sit him or start him.
I think he will be rusty, so sit him.
Devery Henderson
The New Orleans wideout is also dealing with a concussion. Henderson typically takes a back seat to Marques Colston, so relegating Henderson to your bench seems to make sense for Week 3.
Jarius Wright
The Minnesota WR has an ankle injury, so he is hoping to start making a contribution to the Vikings' offense. This is not the time to be starting the rookie. Leave him on your bench until you see some production out of him.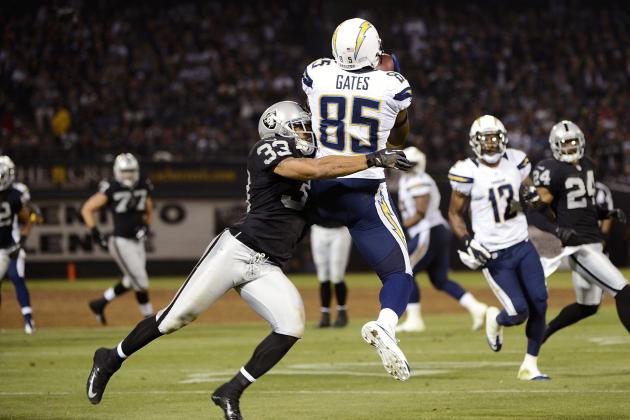 Thearon W. Henderson/Getty Images
Start Antonio Gates this week against the Atlanta Falcons
Antonio Gates
The Chargers' TE seems to be more hurt than healthy in recent years. Week 3 is no exception, as Gates is now dealing with rib injuries.
However, Gates and company are taking on the Atlanta Falcons, who no longer have standout corner Brent Grimes to help shut down the passing game. Gates was able to practice this week.
Dustin Keller
The Jets' tight end has been dealing with a troublesome hamstring issue for the past few weeks. In Week 3 action, New York travels down to Miami to face the Dolphins. The Dolphins have changed some personnel in the secondary, so start Keller this week, if you normally start him.
Heath Miller
Pittsburgh's Miller has a rib injury that has slowed him down a bit, but he is prepared to play this Sunday against the Oakland Raiders, who have lost some key personnel in the secondary.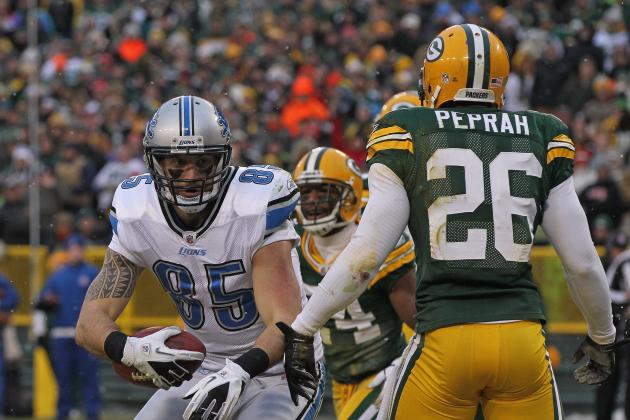 Jonathan Daniel/Getty Images
Tony Scheffler has yet to practice all week.
Tony Scheffler
First up is the Lions' Scheffler, who hasn't been able to practice this week due to a calf injury, so he is looking less and less likely to play this weekend. If he plays, I wouldn't be expecting much, so I think you are better off going with a healthier option.
Todd Heap
Heap has a knee injury. The Cardinals' quarterbacks have been struggling, and with the injury to Heap, this is a situation that I think is best avoided altogether.
Aaron Hernandez
Unless you were traveling cross-country or are just coming out of a coma, you know that Hernandez suffered a bad ankle injury last week and probably won't be ready to play again until Week 5.
Consider keeping Hernandez on your bench next week as well.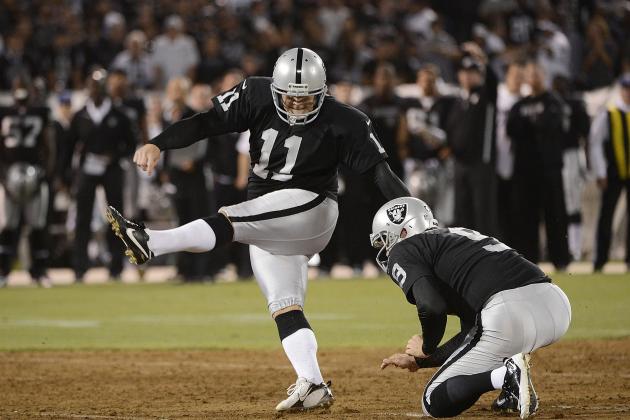 Thearon W. Henderson/Getty Images

Sebastian Janikowski
The Oakland placekicker has been dealing with a groin injury, which is never a good thing for a kicker to cope with.
As a result, Janikowski has been limited in practice this week, so you might want to consider adding a second kicker to your roster for the short term until the Raiders start generating more points.
The Raiders' offense has struggled to give Janikowski enough field-goal opportunities to be relevant for your fantasy-football team. If he is still available as a free agent, you might want to consider adding Baltimore Ravens kicker Justin Tucker in favor of Janikowski.
Good luck to you in your fantasy-football contests this weekend and thanks for checking out the presentation.