The Best Fantasy Football Starts at Every Position for NFL Week 3
Tim Fuller-US PRESSWIRE

One is a fluke, two is a coincidence and three is a...trend?
While no player has been steady through two weeks of the 2012 NFL season, we've had two occasions to monitor their production and use that to project how they'll play in the future—from a fantasy perspective, of course.
Here are the top fantasy football starts for Week 3.
Begin Slideshow

»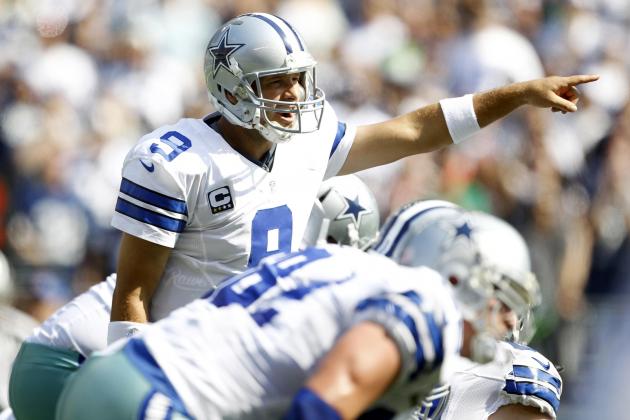 Joe Nicholson-US PRESSWIRE

1. Drew Brees vs. Kansas City
By Brees standards, the 2012 version of Drew has been relatively disappointing thus far. Yes, he's surpassed the 300-yard mark in both outings, but he's also thrown four interceptions with four early-season touchdowns.
His Saints team was supposed to trample Robert Griffin III and the Washington Redskins in Week 1. They lost, but Brees did throw for 339 yards with three scores and two picks.
He faces a Kansas City Chiefs club that's been thrashed in two games to start the year, one that should struggle mightily when dealing with the Saints playmakers.
At home, Brees gets it done with a huge game against a weak opponent.
2. Tony Romo vs. Tampa Bay
Tampa Bay's been competitive in its first two games, but it's allowed over 400 yards passing per game. Sure, Eli Manning's 510-yard explosion doesn't help the average, but in Week 1, even when the Buccaneers played rather well against Cam Newton, he still threw for 303 yards.
Romo's Cowboys fell flat against an underrated Seahawks team in Seattle last week, but their offensive playmakers should thrash the Buccaneer secondary at home.
3. Robert Griffin III vs. Cincinnati
RG3 tapered off a bit in Week 2, throwing for 206 yards with one touchdown and one interception after lighting up the Saints for 320 yards, two touchdowns and zero picks in Week 1.
So what?
In the Week 2 loss to upstart St. Louis, Griffin added 82 yards rushing and scored twice on the ground.
That, my friends, is what you call fantasy versatility.
While the designed runs for RG3 are risky and could lead to injury down the road, there's no reason for Mike Shanahan to stop calling them at this point.
On paper, Cincinnati's defense is good, but it's yet to live up to expectations. Remember, it allowed 439 yards to the Browns last week and made Brandon Weeden look rather respectable.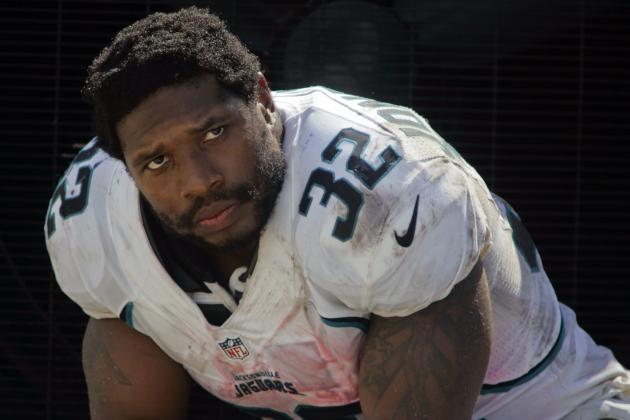 Phil Sears-US PRESSWIRE

1. Arian Foster at Denver
Is there a steadier fantasy running back than Arian Foster? If so, drop a line in the comments section. I can't find one.
Dating back to mid-October of last year, he's only had one game in which he didn't eclipse 75 total yards or didn't score a touchdown.
The guy's money.
2. C.J. Spiller at Cleveland
The Bills are 1-1. Spiller is 2-0.
He's looking like the Clemson stud Buffalo drafted in the first round of the 2010 draft, demonstrating a tremendous initial burst that's complemented by improved vision and decisiveness.
More importantly, Chan Gailey is utilizing the speedy runner out of the spread offense, and the Bills offensive line is severely underrated. Therefore, Spiller is seeing some gaping holes in front of him and has the skill set to make the most of them.
The Browns defense is developing into a sound unit, but they did allow LeSean McCoy, a guy with similar abilities to that of Spiller, to run for 5.5 yards per carry in Week 1.
3. Maurice Jones-Drew at Indianapolis
MJD is BACK!
Well, kind of.
He actually received fewer carries and was not as productive in Week 2 as he was in Week 1, but not to worry.
Jones-Drew is again the featured runner in Jacksonville's offense with Rashad Jennings nursing a knee injury.
In a game that should be tightly contested, look for Mike Mularkey to lean on the veteran bruiser.
John Grieshop/Getty Images

1. Calvin Johnson at Tennessee
Another week, another No. 1 ranking for Megatron. No, he hasn't gotten off to a blistering start like he did last season, but it's not like he's been disastrous or has lost a step.
The Titans have been shredded by Tom Brady and Philip Rivers, guys that together have averaged a 118.5 QB rating against Tennessee.
Matthew Stafford has been a bit shaky, but he gets on track this week, and Johnson pieces together a typical enormous afternoon.
2. A.J. Green at Washington
The Redskins defense may be more stingy than we initially believed, but there's no way they're the same unit without Adam Carriker and Brian Orakpo.
That means Andy Dalton should have plenty of time to throw the football, especially when he looks for A.J. Green down the field.
Green reeled in seven passes for 58 yards and a touchdown last week. Expect those numbers to be better in Week 3.
3. Julio Jones at San Diego
Four catches for 14 yards.
A Julio Jones stat line?
What the?
The Denver Broncos did everything in their power to take away Jones, and it worked. The only problem was that Roddy White and Tony Gonzalez picked up the slack in victory.
The Falcons will make adjustments to get their most athletically gifted wideout the ball in what could be s shootout in Cali.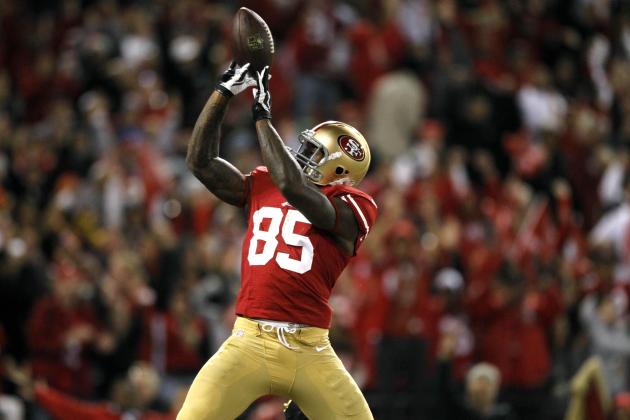 Cary Edmondson-US PRESSWIRE

1. Jimmy Graham vs. Kansas City
Drew Brees is the top-ranked quarterback this week. Graham is the top-ranked tight end. Makes sense, right?
Graham has had two fine games to start the year, and he should have his best game against a porous Chiefs secondary in New Orleans.
That simple.
2. Vernon Davis at Minnesota
Vernon Davis is the go-to target in San Francisco and has one of the steadier quarterbacks throwing him the football.
Who would have thought Alex Smith would ever be referred to as a steady signal-caller?
Under Jim Harbaugh's tutelage, he is, and his surgical play should continue against a poor Vikings secondary.
Remember, Davis is the 49ers' top red-zone target as well.
3. Brent Celek at Arizona
Brent Celek, elite fantasy tight end?
Well, he's getting there.
After four catches and 65 yards in the season opener, Celek caught eight passes for 157 yards against the stout Baltimore Ravens defense in Week 2.
Michael Vick is running for his life much more often than he should be, and Celek and Vick have established a cerebral rapport when the quarterback is flushed out of the pocket.
The Cardinals defense is good, but they'll let Celek beat them.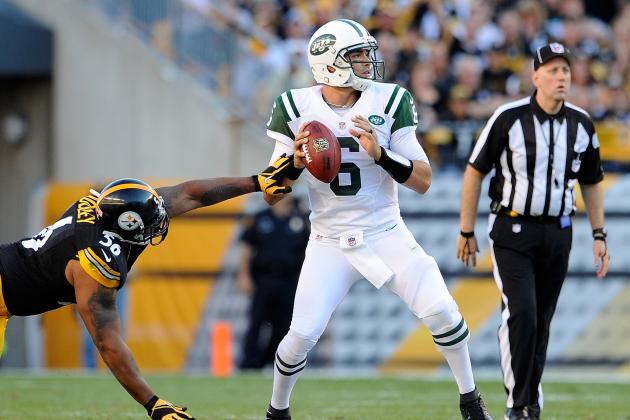 Joe Sargent/Getty Images

1. San Francisco 49ers at Minnesota
The 49ers defense made Aaron Rodgers look human and Matthew Stafford look pedestrian. Imagine what they'll do to Christian Ponder.
Sure, the Vikings may look to pound Adrian Peterson to alleviate the pressure on their young signal-caller.
Yeah, good luck with that.
2. Pittsburgh Steelers at Oakland
The Steelers will be without James Harrison and Troy Polamalu again in Week 3, but they're facing one of the most abysmal offenses in the AFC.
Without its two stars in Week 2, Pittsburgh held the New York Jets to 219 yards and 10 points.
Dick LeBeau knows what he's doing, doesn't he?
3. Detroit Lions at Tennessee
The Lions certainly aren't known for their defensive prowess, but have you seen the Titans offense to start the year?
Chris Johnson has fewer rushing yards than a handful of quarterbacks, and Jake Locker has been more flustered than anything else.
After building a big lead, expect the Lions to aggressively attack Locker and Johnson with an array of blitzes, which should yield a nice fantasy day.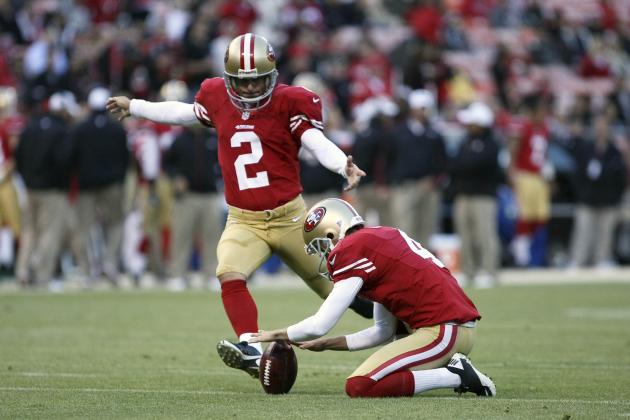 Kelley L Cox-US PRESSWIRE

1. Nate Kaeding vs. Atlanta

The Chargers have a respectable offense, but as we saw in Week 1, they can stall in the red zone. If they do, Kaeding will have a big outing. If Philip Rivers and Co. punch it in often, Kaeding should kick many extra points.
2. David Akers at Minnesota

Shady Akers kicks for what's been one of the most efficient offenses in the NFL through two weeks. Against Minnesota, he should be kicking often.
3. Jason Hanson at Tennessee
The Lions should light up the scoreboard in Nashville, meaning lots of kicking opportunities for the veteran Hansen.